Ontario housing development restarts after stalling during recession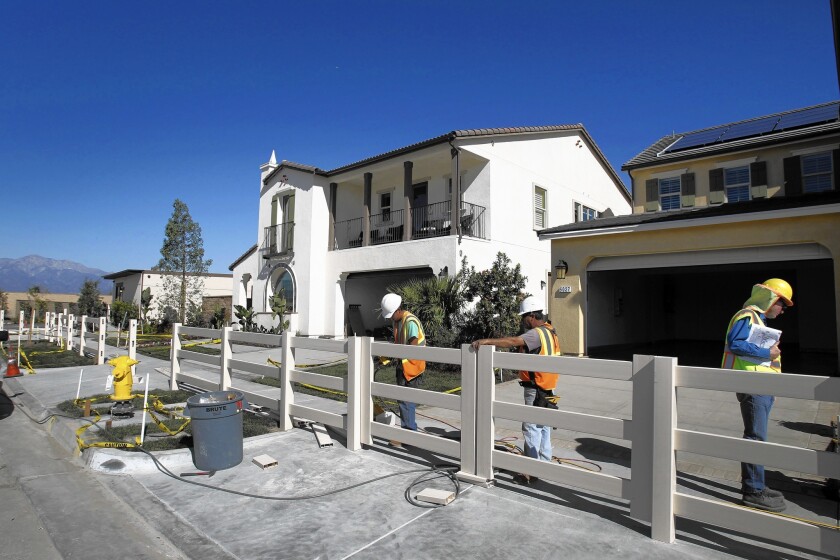 A massive housing development waylaid by the economic downturn is springing back to life, marking a return of large-scale projects to Southern California.
The 47,000-home New Model Colony, planned on 8,200 acres of former Ontario dairy lands, barely got off the ground before the housing crash plunged the country into recession and decimated the Inland Empire economy.
Now — nearly a decade after the housing bubble burst — developers are trying again, reminiscent of the days when ambitious developments transformed Southern California from agricultural stalwart to suburban mecca.
This weekend, developers Stratham Communities and the Lewis Group plan to hold a grand opening for their 1,200-home Park Place community, the first New Model Colony project to debut since the financial crisis. A band will play, food trucks will be on hand and prospective buyers can tour 18 model homes.
Park Place, adjacent to the city of Eastvale, is planned in three phases. The first neighborhood, which opens Saturday, will have 432 homes ranging from 1,600 square feet to 4,000 square feet. Developers expect the single-family houses to fetch from the low $400,000s to the mid $600,000s. A community center has already been built, complete with a gym, tennis court, pool and theater.
Eventually, Park Place will have 24 acres of parks.
"They are going to walk out … and say 'I feel like I am living in a resort,'" Randall Lewis, executive vice president with the Lewis Group, said of future residents.
With an improving economy and a healthy housing market, the timing is right for developing Park Place, Lewis said.
Although unemployment remains high, the Inland Empire is seeing the fastest job growth in Southern California, and the area is expected to maintain the robust growth rate over the next five years, according to a recent forecast from Beacon Economics.
New Model Colony will help generate jobs, offering construction employment that disappeared during the recession, said John Husing, an economist who specializes in the Inland Empire. The development, about 40 miles east of downtown Los Angeles, is one of the largest master-planned communities in Southern California history.
Ontario city planners envision 47,000 homes, a 355-acre park and 30 million square feet of industrial and commercial space. More than 160,000 residents are expected to call the community home when it's finished in coming decades, nearly doubling the city's population.
The number of homes that could be constructed may be lower depending on market conditions, said Lewis, who is part of a consortium of builders constructing the community's infrastructure.
Because of its location in western San Bernardino County, west of Interstate 15, the homes are expected to be priced higher than those farther inland. Most buyers are likely to be families priced out of Los Angeles and Orange counties, Husing said.
If the housing recovery continues — and coastal areas become increasingly unaffordable — New Model Colony could develop faster than the expected 25 to 30 years, Husing said.
For now, the vision of a new metropolis can be difficult to imagine.
There are ample reminders that the Chino basin was once the nation's dairy capital. About 60 dairies and cattle-raising businesses still operate on land planned for New Model Colony, according to Rob Vandenheuvel of the Milk Producers Council. On a recent afternoon, the smell of manure wafted onto the patio at Park Place's pool.
"It's a dairy area in transition," Lewis said.
Farmers — mostly of Dutch, Portuguese and Basque descent — arrived en masse in the 1970s, forming a tightknit community centered around their farms and nearby churches. They came from the west as the postwar housing boom pushed them out of Paramount and Bellflower, then Cerritos and La Palma.
Many moved on to the Central Valley and to other states in the last housing boom a decade ago. That exodus has picked up again as the housing recovery draws higher prices for farmers' land.
"Many folks … call this progress," said Vandenheuvel, whose parents operate a dairy in Chino. "But as someone who grew up in the dairies, there is a certain nostalgia. The trend is sad but fairly predictable."
In real estate circles, New Model Colony — surrounded by urban development and major freeways such as the 60, 15 and 91 — is called the "hole in the doughnut." Developers passed over the farmland in prior decades for less attractive points farther east because it was once part of an agricultural preserve. It was a "historical anomaly," Husing said.
New Model Colony's first and, until this weekend, only community opened in 2007. But the Edenglen community developed by home builder Brookfield Residential struggled as the recession took hold and the dairy exodus slowed.
After the housing crash, some real estate analysts predicted the death of large-scale master-planned communities. The infrastructure was too expensive, they said, and people would choose to live in dense, urban centers.
"People were saying 'large master plans are dinosaurs,'" said Gerd-Ulf Krueger, chief economist with KruegerEconomics.
Such projects remain a rarity in a wobbly housing recovery. Developers have largely focused on upscale communities near job centers, where land is scarce.
But New Model Colony is moving forward, helped by its proximity to Los Angeles and Orange counties. And Edenglen developer Brookfield Residential plans to open another community in the middle of 2015.
"The dinosaurs," Krueger said, "have come alive."
Twitter: @khouriandrew
---
Inside the homes of the rich and famous.
Glimpse their lives and latest real estate deals in our weekly newsletter.
You may occasionally receive promotional content from the Los Angeles Times.