Santa Monica City Council takes first step to rein in short-term rentals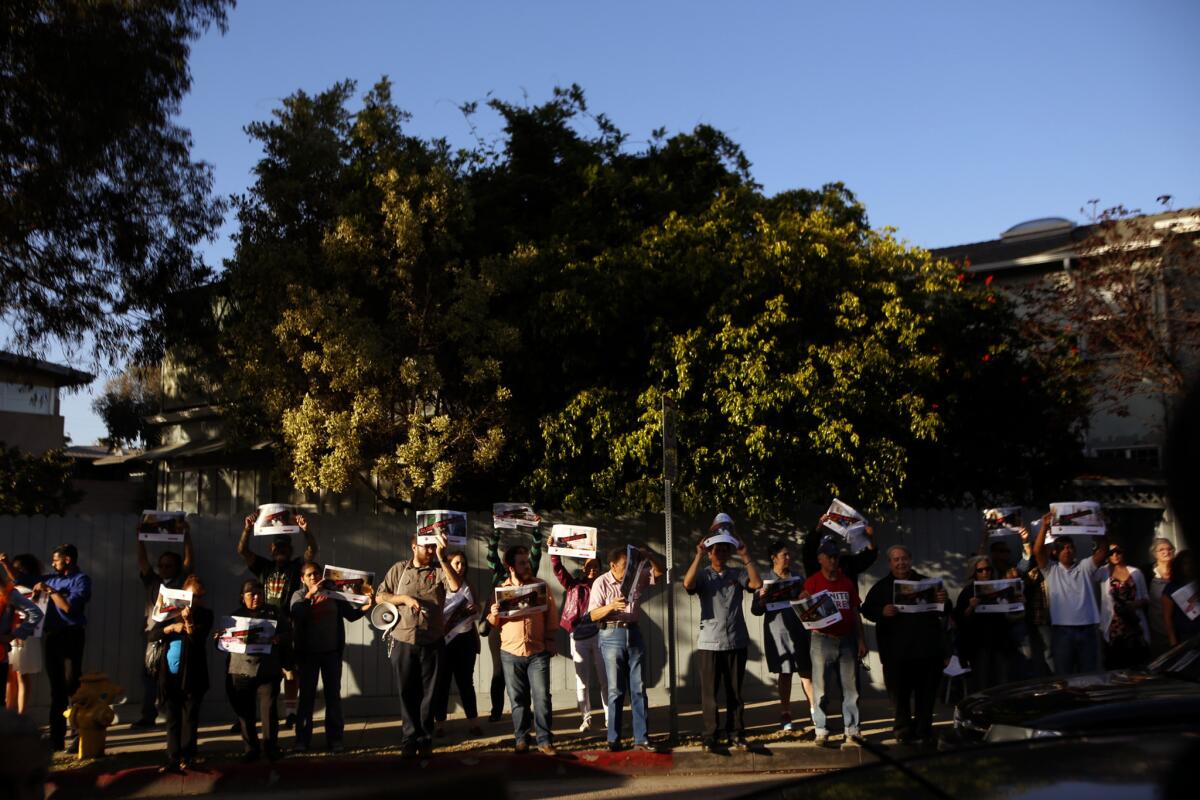 Santa Monica officials Tuesday night took a big step toward enacting some of the region's toughest rules yet to regulate the booming short-term rental industry.
After more than two hours of public comment, the City Council voted unanimously to support new rules that would ban full-time vacation rentals in the beach city. Home-sharing -- in which a person rents out a spare bedroom or cottage on his or her property -- would be legalized but more tightly regulated. A final vote probably will come next month.
The move comes as rental sites such as Airbnb proliferate in Southern California, and amid growing pressure from housing advocates and hotel worker unions to set clear rules for the industry. Cities including Malibu and West Hollywood have also passed short-term rental laws in recent months, and Los Angeles is considering them.
Santa Monica's though, are the toughest yet. City officials say prohibiting vacation rentals would ban about 1,400 of the roughly 1,700 listings they found on three major websites. But, they say, allowing home-sharing would still enable Santa Monicans to earn extra income by renting out extra space in their homes.
"We are trying to navigate tricky waters here," said City Council member Gleam Davis.
The rules in Santa Monica would allow short-term rentals only in cases where the host stays on site. That's a bid to block "de-facto hotels" that Airbnb critics say are popping up in tourist hot spots across Southern California and exacerbating an already-acute housing shortage.
"It's important that we focus our enforcement on people who have apartment buildings and are basically turning them into hotels," said Councilwoman Sue Himmelrich.
The measure was hotly debated, with about 60 people addressing the council for more than two hours.
A small majority said they supported the new regulations, including Jennifer Kennedy, a member of the Santa Monica Planning Commission. Too many apartments, she said, are being taken off the general housing market to rent to visitors.
"This was supposed to be about home-sharing but it really has gotten out of hand," she said. "It really pits resident dollars against tourist dollars. Residents can't win that competition."
No one from Airbnb or any other major short-term rental site spoke at the meeting, but a number of people who use the sites to rent their apartments opposed the new rules. Several pointed out that hosting allows them to continue to afford housing in the pricey beach city.
Cortland Connell started renting his one-bedroom on Airbnb last year, after losing a job.
"It worked out really well," said Connell, whose rental would be illegal under the new law because he stays with a neighbor. "I was able to cover my rent while I was out of work. It saved me from financial catastrophe."
Some hosts, though, said they appreciated the middle ground the council was trying to walk.
Andrew Nicholas said he's made about $7,000 each of the last two years renting space in his apartment in downtown Santa Monica. The cash helps him live close to work, and he meets lots of interesting travelers too. He was glad to hear Tuesday night that as long as he stays in his place, he can keep doing it.
"I'm pro-Airbnb, and I'm pro this law," he said.
Keep an eye on housing and real estate in Southern California. Follow me on Twitter at @bytimlogan