Korean banks sue Southern California computer parts retailer Newegg, alleging 'Ponzi scheme'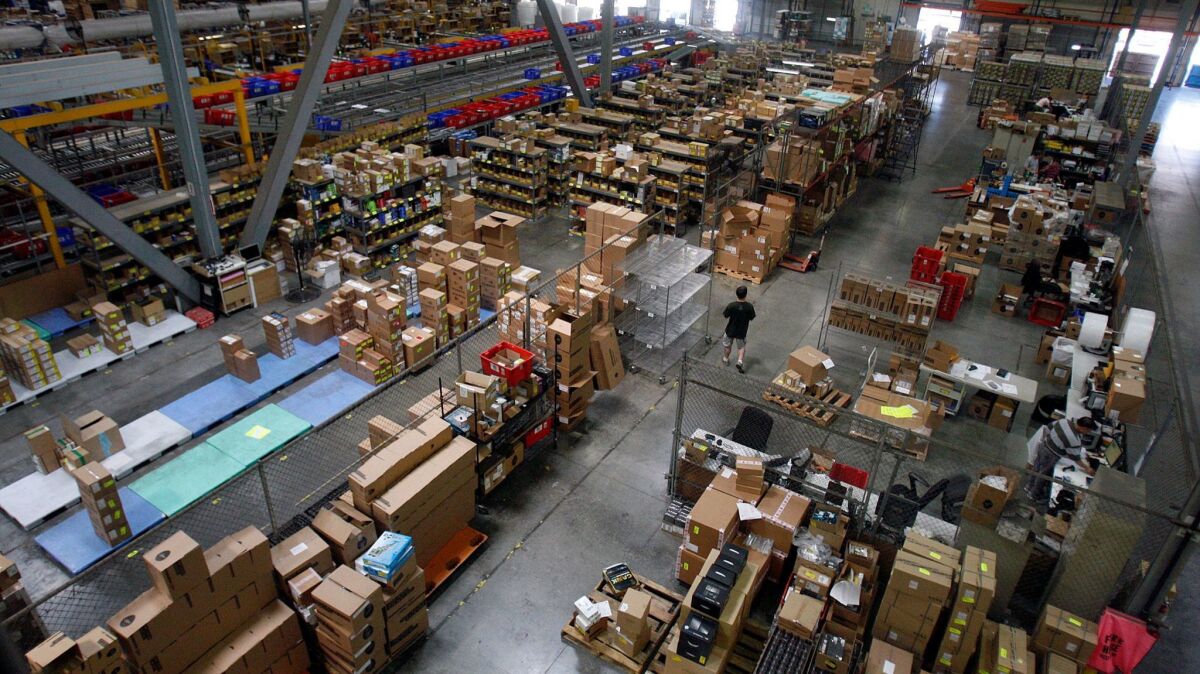 Reporting from San Francisco —
Four South Korean banks filed a lawsuit against Newegg, Inc. on Friday alleging that the City of Industry company, which operates the computer parts and accessories retailer Newegg.com, conspired with a South Korean hardware manufacturer to defraud the banks of hundreds of millions of dollars.
The lawsuit, filed in U.S. District Court in Los Angeles, alleges that Newegg, along with computer wholesaler ASI Corp., made fraudulent orders for home-theater personal computers from Moneual, a Korean hardware manufacturer. Moneual, accused of masterminding the scheme, used these phony orders to secure financing from banks.
"Moneual then engaged in a classic Ponzi scheme," said the complaint, which was filed by U.S. law firm Gibson Dunn on behalf of the Industrial Bank of Korea, Nonghyup Bank, Keb Hana Bank and Kookmin Bank.
Moneual, according to the lawsuit, obtained additional financing from the banks backed by more fraudulent purchase orders from Newegg and ASI. The lawsuit alleges that Newegg and ASI received kickbacks for their participation.
In the end, Moneual secured more than $3 billion in loans from 10 major Korean banks through the intricate scheme of circular transactions. It defaulted on many of the loans and eventually owed around half a billion dollars. Moneual's chief executive, Hong-seok Park, was sentenced in 2015 to 23 years in prison for financial fraud (a high court later reduced his sentence to 15 years), and was subject to fines and forfeitures.
Two years on, the banks are now going after Newegg and ASI.
The banks allege that they lent Moneual hundreds of millions of dollars because the manufacturer had shown that Newegg and ASI had made sizable orders. Both Newegg and ASI were in on the scheme, the banks say, because Moneual priced the computers that were supposedly ordered at 300 times their actual market value.
"No such business would have bought the products at such an inflated price, unless it intended to create the illusion of extensive, profitable, high-value commerce between it and its supplier for the purpose of defrauding lenders into supporting the transactions," the complaint said.
In a statement issued three days after the lawsuit was filed, Newegg's legal counsel in North America Matt Strathman said: "Newegg prides itself on conducting business fairly, ethically and honestly. The company vehemently denies the allegations in the complaint filed last week, and Newegg intends to vigorously defend itself against those unfounded charges."
The plaintiffs demand a jury trial and monetary damages. The lawsuit alleges that, of the orders Newegg and ASI made to Monseual that were financed by the banks, more than $230 million is still owed.
Twitter: @traceylien
---
UPDATES:
Oct. 24, 2017 — 7:35 a.m.: This article was updated to include a statement from Newegg.
This article was originally published Oct. 20, 2017 at 2:05 p.m.