T-Mobile to pay $90 million to settle claims of wrongful charges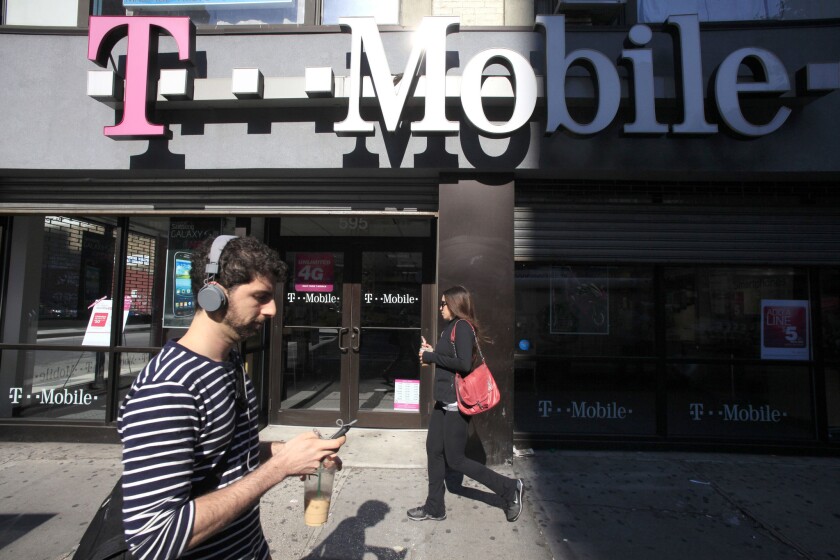 T-Mobile will pay at least $90 million in penalties and refunds as part of a settlement over its alleged practice of "mobile cramming," or placing unauthorized third-party charges on customers' cellphone bills, the Federal Communications Commission announced Friday.
The FCC has recently cracked down on the practice, which mostly involves premium text message services, taking up seven separate enforcement actions against carriers this year. The agency sued T-Mobile in July.
The settlement announced Friday was negotiated with T-Mobile, the FCC, the Federal Trade Commission and the attorneys general of all 50 states and the District of Columbia.
As part of the deal, T-Mobile will pay at least $67.5 million in refunds to customers and will be required to set up a free service that allows its existing customers to block all third-party charges on their phone bills.
The company also will pay a $4.5-million penalty to the FCC and $18 million to the state attorneys general, according to the terms of the settlement. California will receive $834,782, the largest share of any state, state Atty. Gen. Kamala Harris announced.
T-Mobile did not immediately respond to a request for comment.
The wireless carrier also has agreed to stop doing business with premium text message services, which typically charge $9.99 a month to deliver horoscopes, sports scores and other information, often which consumers never requested or authorized.
Some of the charges may be listed on bills as "service fee," "voicemail," or "calling plan," making it difficult to differentiate them from wireless carrier service charges.
According to FCC officials, T-Mobile continued to charge its customers for the third-party services even after receiving thousands of complaints. Regulators say the carrier collected as much as 35% of the unauthorized charges paid by customers, and even charged third-party services $10 penalty fees for every refund request they received.
"We have put all carriers on notice that they will be held accountable for their roles in charging wireless customers hundreds of millions of dollars in bogus third-party charges," said Travis LeBlanc, chief of the FCC's Enforcement Bureau. "Today's settlement has sent a clear signal that we ... will not tolerate any cramming by wireless carriers."
The deal announced Friday is the second-largest settlement by a wireless carrier over allegations of mobile cramming. In October, AT&T agreed to pay $105 million, including $80 million in consumer refunds, to settle federal and state investigations that it illegally billed customers for unauthorized ringtone and other services.
With the T-Mobile deal in place, about half of all wireless consumers are now protected from mobile cramming practices, the FCC said Friday. Three major mobile providers -- Verizon Wireless, Sprint Corp. and T-Mobile -- said last year that they would stop putting charges for premium text message services on their customers' bills, but did so voluntarily.
AT&T Mobility and T-Mobile are now legally bound to not engage in the premium text message services industry, which accounts for the majority of third-party charges and cramming complaints according to authorities.
The FCC declined to comment on whether investigations into other wireless carrier giants like Verizon and Sprint for mobile cramming practices are coming in 2015.
According to the Associated Press, the Consumer Financial Protection Bureau filed a lawsuit this week against Sprint, the third-largest wireless carrier in the U.S., over cramming. The Wall Street Journal reported Tuesday that the FCC was preparing to fine Sprint $105 million for the practice, which would equal the AT&T settlement from earlier this year.
T-Mobile will be required in the coming months to contact all customers who may have been victims of cramming from June 2010 onward and provide a clear and easy process for submitting claims.
For more breaking news, follow me @cmaiduc
---