California lawsuits accuse Uber and Lyft of discriminating against wheelchair users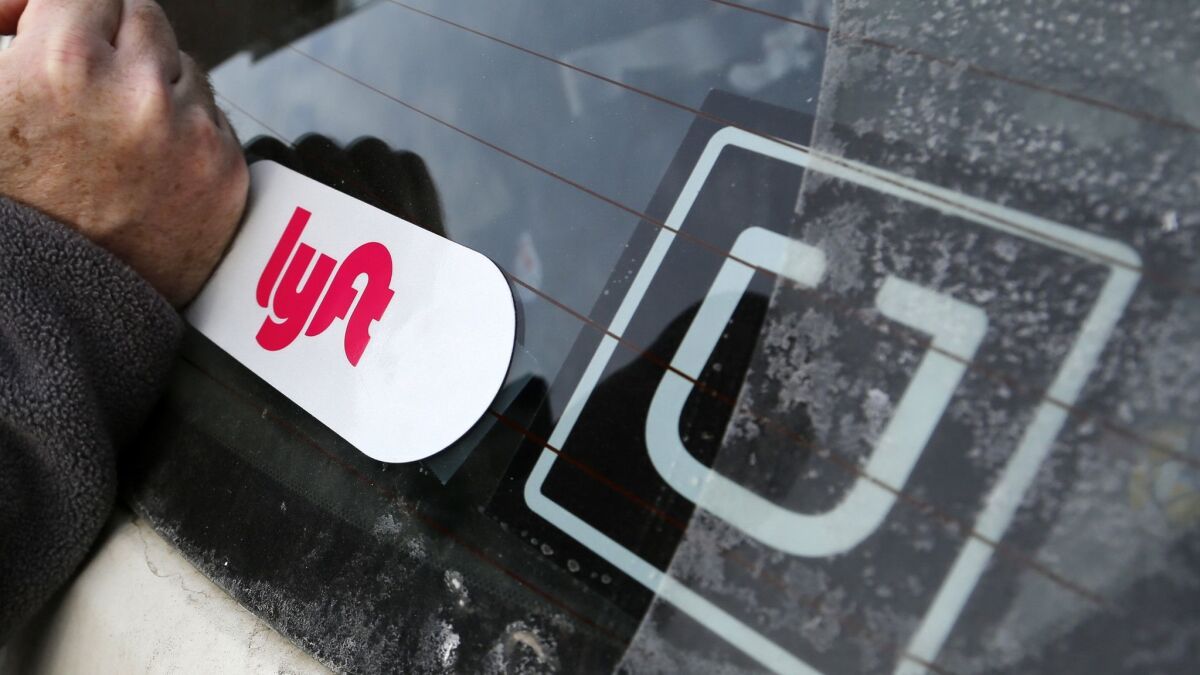 Reporting from San Francisco —
If a person wants to drive for Uber or Lyft but doesn't have a car, both ride-hailing companies steer them toward rental cars.
If a driver doesn't feel like getting behind the wheel when it rains, both companies sweeten the deal by offering additional pay.
If a driver's car isn't wheelchair accessible, should Uber and Lyft then encourage them to drive a vehicle that is more accommodating?
That's the question at the heart of two lawsuits that attorneys from Disabilities Rights Advocates, a nonprofit advocacy group, filed in recent weeks against Lyft and Uber.
The lawsuits, filed in California Superior Court in Alameda County, allege that both companies have failed to adequately extend their services to passengers who use wheelchairs, and that it is completely within their power to rectify the issue. Neither lawsuit seeks monetary damages; both call on the companies to change their current practices.
"These ride-sharing companies have tried to put out this myth that they're just middlemen who help the real businessmen and women — the drivers — connect with their customers, and that's just not true," said Melissa Riess, an attorney representing the plaintiffs.
The companies, Riess says, "exercise huge amounts of control over both drivers and riders, everything from what kind of vehicle the driver drives, to what condition it's in, to the fares they charge, and how they communicate with their rider.
"If they can use that control to serve Uber and Lyft's interests, they can exercise that control to create conditions where wheelchair-accessible service is a reality," Riess said.
Both companies currently offer wheelchair-accessible rides through their apps, but the lawsuits describe these efforts as inadequate.
Customers who want to book a wheelchair-accessible Uber ride can select "UberWAV" from the ride-hailing app, but the lawsuit against that company calls the feature a "sham" because such rides in the San Francisco Bay Area are rarely available. Wheelchair users also inevitably end up paying more for their rides because cheaper options such as UberPool and UberPool Express are not available to them, the suit says..
The lawsuit against Lyft is similarly critical of its "access mode," which, instead of connecting a passenger with a wheelchair-accessible Lyft ride, "sends the rider a text message with a link to a website listing phone numbers for paratransit, public transportation agencies, and local taxi companies around the country," the lawsuit read. "Almost a quarter of the links do not work, or are to websites that are irrelevant to people needing accessible transportation."
In a statement emailed to the Times, a Lyft spokesman said the company has partnerships and programs in place to provide wheelchair-accessible vehicle access "in various parts of the country, and we are actively exploring ways to expand them nationwide."
An Uber spokesman said that the company is "continuously exploring ways to facilitate mobility and freedom via the Uber App for all riders, including riders who use motorized wheelchairs."
The taxicab industry has faced similar lawsuits that resulted in wheelchair-accessible mandates at some cab and limousine companies (around 10% — or roughly 230 vehicles — of Los Angeles' LA Yellow Cab fleet is wheelchair-accessible, for example). Neither Uber nor Lyft have such mandates.
While many technology companies enjoy lighter regulation than the industry incumbents against whom they compete, even the newest of start-ups may have trouble skirting disability law without facing legal action, according to Thomas Cooke, a professor at Georgetown's McDonough School of Business.
Companies slapped with such lawsuits tend to quickly move to resolve them because "no one wants the extremely negative publicity that would come from prolonged litigation," Cooke said.
As both companies stand to influence the future of transportation — whether it's through ride-hailing, self-driving vehicles or even passenger aviation — disabilities rights advocates are hoping the courts will force them to serve everyone.
Both firms are already facing wheelchair-accessibility lawsuits in other parts of the country, with cases in New York City, Chicago, and Washington, D.C.
"This is an industry where people with disabilities are being left behind," said Rebecca Williford, another attorney representing the plaintiffs. "The further down the road ride-sharing goes without including people with disabilities, the harder it will be to fix."
Twitter: @traceylien