CNCO moves across drive-in cars during VMAs 2020 "Beso" performance
CNCO, the Latin boy band formed on the first season of the Simon Cowell and Ricky Martin-produced reality show "La Banda," performed at the 2020 VMAs from atop a bunch of cars in a New York parking lot. The Miami-based quintet — Joel Pimentel, Richard Camacho, Erick Brian Colón, Christopher Vélez, and Zabdiel De Jesús — danced their way through through their reggaeton-driven new track, "Beso."
Their performance, in fact, suggested a strategy if drive-in concerts are the future of the concert business. The group started the song on a stage, but soon went mobile, moving onto the hoods and roofs of automobiles.
The pandemic version of crowd-surfing, members leaped with little regard to dents or scuffs. Oh well. They can address those in the morning.
The Weeknd wins video of the year for 'Blinding Lights'
It seemed like Lady Gaga's award to lose — and lose it she did.
After picking up a handful of Video Music Awards earlier in the night (including something MTV is calling the Tricon Award), Lady Gaga stepped aside as Sunday's show neared its end to make way for the Weeknd, whose "Blinding Lights" was named video of the year.
The Weeknd opened the VMAs with a daring performance of the song that had him atop a Manhattan skyscraper as a helicopter whirled around him.
But the singer sounded a more serious note as he accepted his trophy, telling viewers he wasn't in the mood to celebrate.
"Justice for Jacob Blake and justice for Breonna Taylor," he said. Then he walked quietly offstage.
Doja Cat is your lost '90s MTV goth VJ
After a few years of needling YouTube and flirting with pop-rap fame, the singer and enthusiastic L.A. Times reader Doja Cat finally had her chart breakthrough with "Say So," an atypically gauzy disco single that proved her aesthetic range and straightforward vocal talents, and got both her and Nicki Minaj their first-ever Hot 100 No. 1s.
It's been an occasionally-bumpy ride since then, and her fluency in internet controversy is both a blessing and curse when it comes to getting the actual music to people. But Doja's acerbic attitude towards pop stardom is welcome in weird pseudo-events like these, which she kicked off with a pitch-perfect recreation of '90s MTV VJ goth attire before jumping into a medley of her big hit and "Like That."
If Disney is still casting villains for the live-action remake of "the Little Mermaid," they could do much worse than hiring Doja Cat's whole psychedelic sea-monster getup here.
Lady Gaga wins the VMAs
Even from behind a mask — albeit a high-tech one with digitized sound waves flickering across it — Lady Gaga brought serious star power to MTV's Video Music Awards on Sunday night.
Performing a nearly 10-minute medley of tunes from her recent "Chromatica" album, the pop star pole-danced by herself, did intricate choreography with a crew of dancers, dueted with Ariana Grande and left her fans with a helpful little public-service announcement.
"Mask up," she said — all the more impressive given that the sound-wave number was at least the third elaborate face-covering she was seen wearing on Sunday's show. (One of them, a sort of industrial pink muzzle, was reportedly a custom job by the Spanish designer Cecilio Castrillo.)
Read the rest of "Lady Gaga wins the VMAs" here
BTS hops into the disco roller rink with "Dynamite"
BTS brought some potent Valley Bar Mitzvah dancefloor energy to their VMAs performance, with schoolboy suits and finger-twirling dances.
The K-pop titans have always had a mixed relationship to the sonic trends driving U.S. pop, but this new single "Dynamite" is right in the same fizzy neo-disco lane as Doja Cat's "Say So" and Dua Lipa's"Don't Start Now." It's a treat for these grim times, and I wouldn't be surprised to see this single finally make some real inroads towards the top of the Hot 100, and not just continue the kind of general social/streaming-dominance the Army brings to everything BTS puts out.
No genre is better suited for this all-digital moment than K-pop, and no band's fandom is more capable out outlasting a year of lockdown than theirs.
Can the 2020 VMAs offer a blueprint for COVID-era concerts?
During Keke Palmer's opening monologue at the 2020 VMAs, she described one aim of the 2020 VMAs as "pushing the boundaries of music performance." In a time when big-ticket tours won't likely occur for another year (touches wood) at least, how these pop superstars try and replicate the live experience is instructional.
Miley Cyrus performed in the middle of a red dot which then turned blue. She dangled from a disco ball, to boot. DaBaby rapped while handcuffed in the back of a cop car. The Weeknd performed atop a Manhattan skyscraper, with helicopters circling him. Colombian heartthrob Maluma performed with face-masked dancers and to attendees parked in a drive-in. BTS performed on a set that mimicked a New York cityscape.
Each was its own set-piece, and despite at least some of the performances being lip-synched, provided evidence that artists are actively working out how to translate the concert experience in the age of social distancing.
Miley Cyrus is born again. Again
She looked like Pat Benatar (or maybe Joan Jett).
But Miley Cyrus' rendition of her new single "Midnight Sky" was pure Stevie Nicks — a pulsating, high-attitude synth-rock jam balanced precisely between "Edge of Seventeen" and "Stand Back."
Having evidently finished her recent country phase (and an even shorter-lived return-to-hip-hop phase), Cyrus seemed to be enjoying the heck out of her new pleather-and-lace look.
And yet for the performance's climax she happily invoked another of her previous lives when she climbed atop a gigantic wrecking ball.
Then again, makes sense: Nicks in her heyday could've killed "Wrecking Ball."
DaBaby takes on faceless cops in his medley
Read whatever protest you like into DaBaby casting a bunch of faceless Jabbawockeez dancers as cops in this performance. But at least those guys properly wear face masks and haven't hurt any protesters yet.
I don't envy anybody the task of performing in this situation, camped out atop a bunch of buildings in New York and having to hype yourself to an invisible crowd. But at least DaBaby sounded like he was actually performing his medley of hits like "Blind" and "Rockstar," and made the best of this in-the-flesh-Zoom-call of a disembodied live show.
It's going to be a long night of these muted, weird sets, and while political protest is often a part of the VMAs, who knows how volatile anyone can actually be with this many production hoops to jump through?
The Weeknd opens the show from a great height
The Weeknd made the most of the VMAs' last-minute venue change in his show-opening performance of "Blinding Lights."
Originally scheduled to take place at Brooklyn's Barclays Center, the annual production was forced this month to vacate that arena thanks to safety concerns over the COVID-19 pandemic.
For the Weeknd, that meant taking to a sky deck on a building in Manhattan's Hudson Yards — in his signature red-suit-and-bloody-nose get-up — to sing his electro-pop smash all by himself as a helicopter hovered around him and dramatic lights cut into the inky New York night sky.
As he finished the song — one of the year's biggest hits, with a flashy clip nominated for video of the year at the VMAs — fireworks exploded over the Hudson River.
He even appeared to be singing live. (Or at least singing along live.)
Lady Gaga's meat dress turns 10, and other 2020 VMAs anniversaries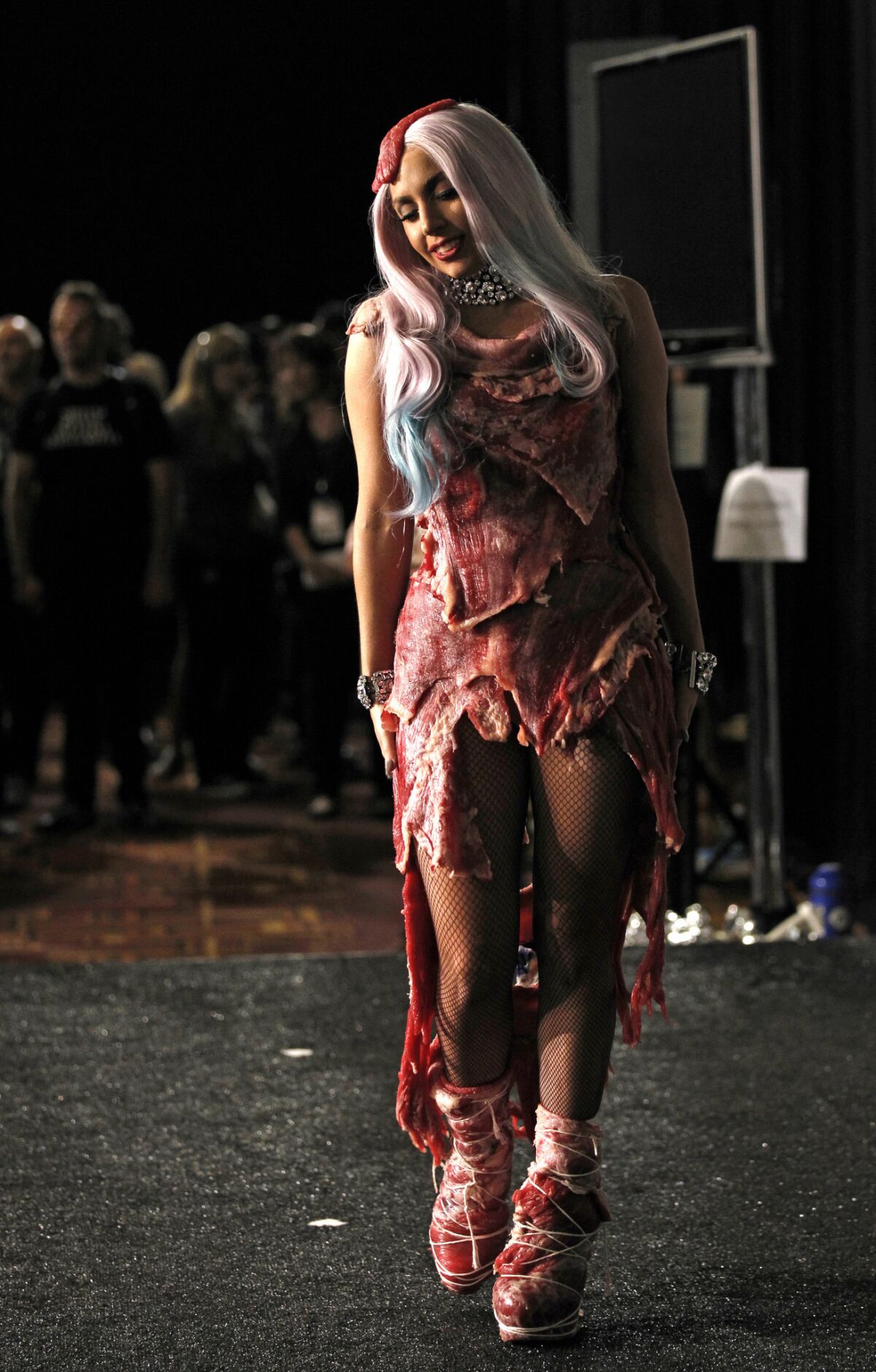 In the best of all possible worlds, Lady Gaga will arrive at the 2020 VMAs dressed in a dress made of beef jerky. Ten years ago the artist sizzled her way into the pantheon when she accepted her best music video award donning a dress made of raw meat. Flank steak, specifically, which, aged under proper conditions, makes a terrifically chewy treat.
Twenty years ago, rap metal reigned at the VMAs. Remember Napster? In 2000, founder Shawn Fanning, in the middle of a beef with Metallica over MP3 file sharing, appeared onstage wearing one of their shirts. Metallica was furious. The bassist from Rage Against the Machine climbed a scaffolding while Limp Bizkit's Fred Durst egged him on.
It was wild. Not pandemic-level wild, but... good times, man.

There will be lip-syncing
If the pre-telecast performance by young Canadian singer Tate McRae is any indication, the "live" quotient of the VMAs will be more-or-less non-existent, as artists are forced to pre-record their video-like performances.