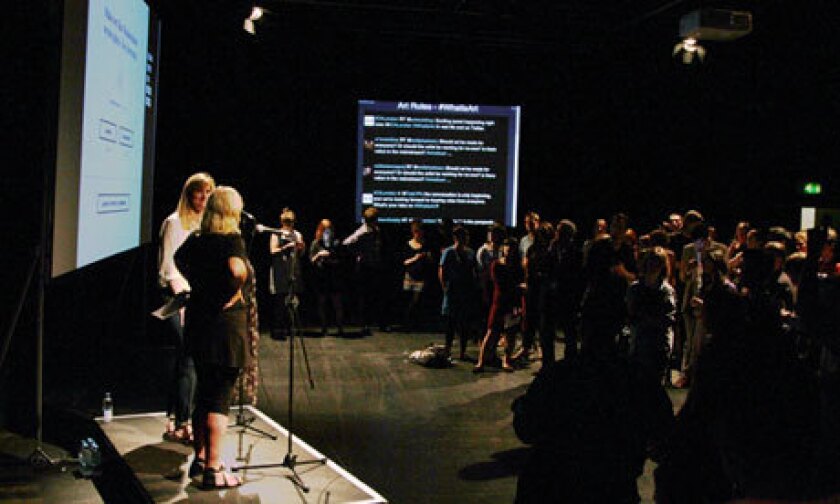 Art rule No. 1: There are no rules.
Or maybe there are -- tons of rules -- but they are just chaotic, freewheeling and ever-changing.
The London-based Institute of Contemporary Arts will launch a Twitter-like social media platform on Aug. 21 dedicated entirely to art, the Guardian reported. The site, called Art Rules, aims to draw a younger, more digitally-focused audience and spark their interest in art.
PHOTOS: Arts and culture by The Times

It also hopes to start a global, online conversation about the nature of art -- from esoteric questions about what is and isn't art to more practical artist survival tips.
Like Twitter, posts to Art Rules must stay within a character limit: 100 maximum, compared with the already brief 140-character tweets.
Art Rules was designed by former ICA council member Malcolm Poynton, who's now the design and technology firm Sapient Nitro's chief creative officer for Europe.
A number of artists and ICA members are tweaking the site, including Britartists' Tracey Emin and conceptual, video and installation artist Jeremy Deller. Art Rules is also soliciting ideas from a wider pool of artists, curators, critics and others. Its temporary homepage asks visitors to submit "what you think the rules of art really are?"
Poynton told the Guardian that his goal with the site was "world domination" and that he hopes Art Rules will be "genuinely at the centre of the conversation about the contemporary arts."


ICA director Gregor Muir added, on the institute's position at the forefront of innovation, "It would look odd in five years' time if we weren't doing something like this."
ALSO:
Inner-City Arts undergoes abrupt leadership changeRime, Dabs and Myla, and others unveil mural collaboration in L.A.
Backers of national museum on Latino history call on Congress to act
---