Albert Frey's 1931 Aluminaire House waits for a permanent home in Palm Springs
Albert Frey may be remembered as one of the celebrated fathers of Desert Modernism, but the Swiss-born architect's first American project was actually a model house in New York.
Soon after Frey arrived from Paris, where he had worked for Le Corbusier, Architectural Record managing editor A. Lawrence Kocher enlisted Frey to help design a house for the biennial Allied Arts and Industries/Architectural League of New York expo in 1931.
Dubbed the Aluminaire House, the boxy three-story structure was erected in 10 days with ready-made materials. Its aluminum-panel exterior and its sleek interiors were a hit with visitors and critics.
Almost 90 years later — a meandering history that nearly included demolition — the Aluminaire now sits in a container in Palm Springs, to be rebuilt in a city park being designed by Rios Clementi Hale Studios.
A full-size representation of the house — scaffolding covered with a printed scrim — sits on the site this month for Modernism Week, which runs Thursday through Feb. 25. A scale model of Aluminaire will be on view at Modernism headquarters, part of the campaign to raise the $475,000 still needed to erect the house and restore it.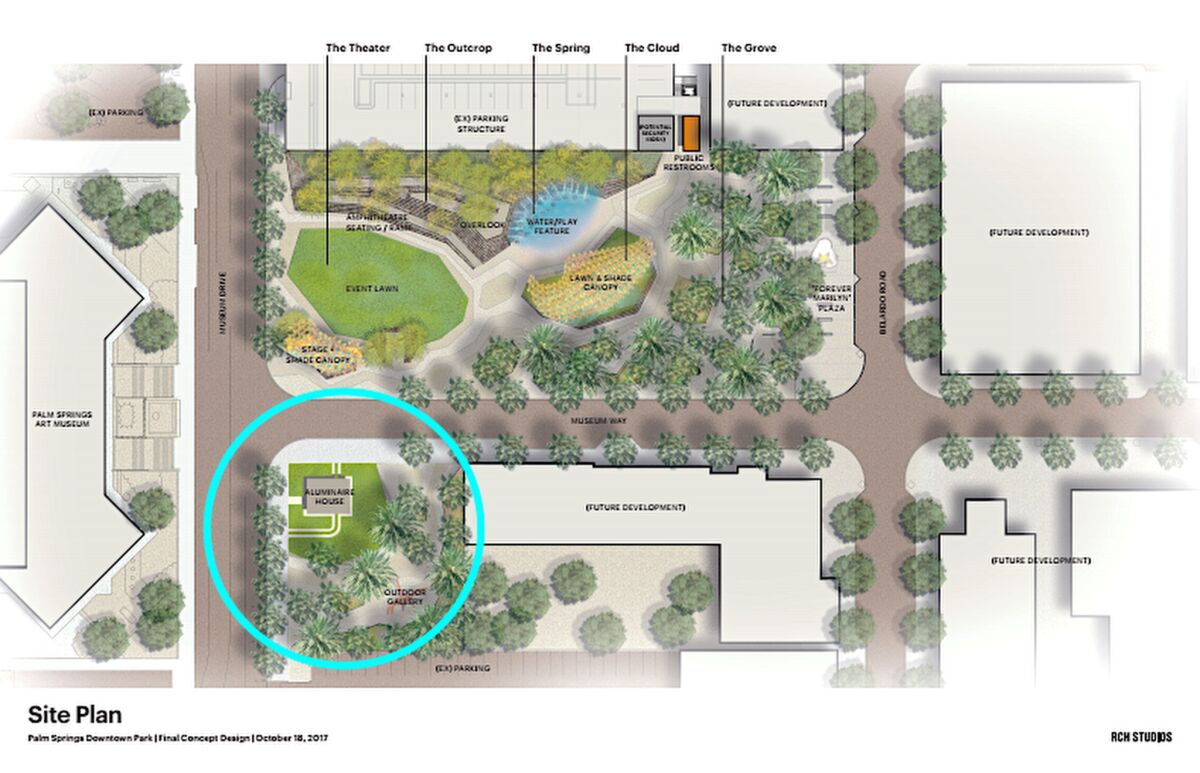 "Much of the interior needs to be refabricated," said Frances Campani, who, along with Michael Schwarting, has been shepherding the house through its incarnations for three decades. Both are architects and academics. Schwarting was responsible for bringing the house to the Islip campus of the New York Institute of Technology in 1988 for use as a teaching tool for students.
"It had been altered over the years," Campani said, "and as we took off the layers that had been added, it began to look better and better."
In 2005, the institute decided to close its Islip branch, and the Aluminaire had to pull up roots again.
In 2014 architectural devotee Mark Davis invited Schwarting and Campani to talk about the Aluminaire at Modernism Week. They received such a resounding welcome that a California branch of the Aluminaire House Foundation was established to bring the house to Palm Springs.
"Frey is so important to Palm Springs, and most of his work is here," said Davis, a foundation board member. "It's very rare for one city to have the entire arc of an architect's career, from the first building to his last." During Modernism Week, several events will honor Frey, including the premiere of the documentary "Albert Frey: Part 1 — The Architectural Envoy" on Sunday. A community update on the Aluminaire project at the Palm Springs Art Museum (free but reservations no longer available) and a fundraiser at the estate of the late industrial designer Raymond Loewy are scheduled for Feb. 23.
Modernism Week
Film: "Albert Frey: Part 1 — The Architectural Envoy" is a screening and reception that runs 5-9 p.m. Sunday. Camelot Theatres, Palm Springs. $25-$125.
Tour: Raymond Loewy estate tour and reception runs 3-5 p.m. Feb. 23. $150-$250.
MORE ARCHITECTURE
Los Angeles, Houston and the appeal of the hard-to-read city
From Minneapolis to Inglewood, the shifting politics of NFL stadium design
Postmodern architecture at risk, Part 2: The saga shifts to Chicago
---
UPDATES:
Feb. 16: This article was expanded to add A. Lawrence Kocher's position at Architectural Record.
Get our L.A. Goes Out newsletter, with the week's best events, to help you explore and experience our city.
You may occasionally receive promotional content from the Los Angeles Times.