Tech mogul Oliver Luckett connects with emerging artists in a big way
Oliver Luckett, cofounder and chief executive of tech start-up theAudience, stands in front of a mural painted by street artist Jim Rockwell, a.k.a. Jim Vision, on one of his offices in Los Angeles.
(Francine Orr / Los Angeles Times)
Oliver Luckett's passion for collecting art is visible at his tech start-up, theAudience, where works by Shepard Fairey, DevNgosha and others are on display.
(Francine Orr / Los Angeles Times)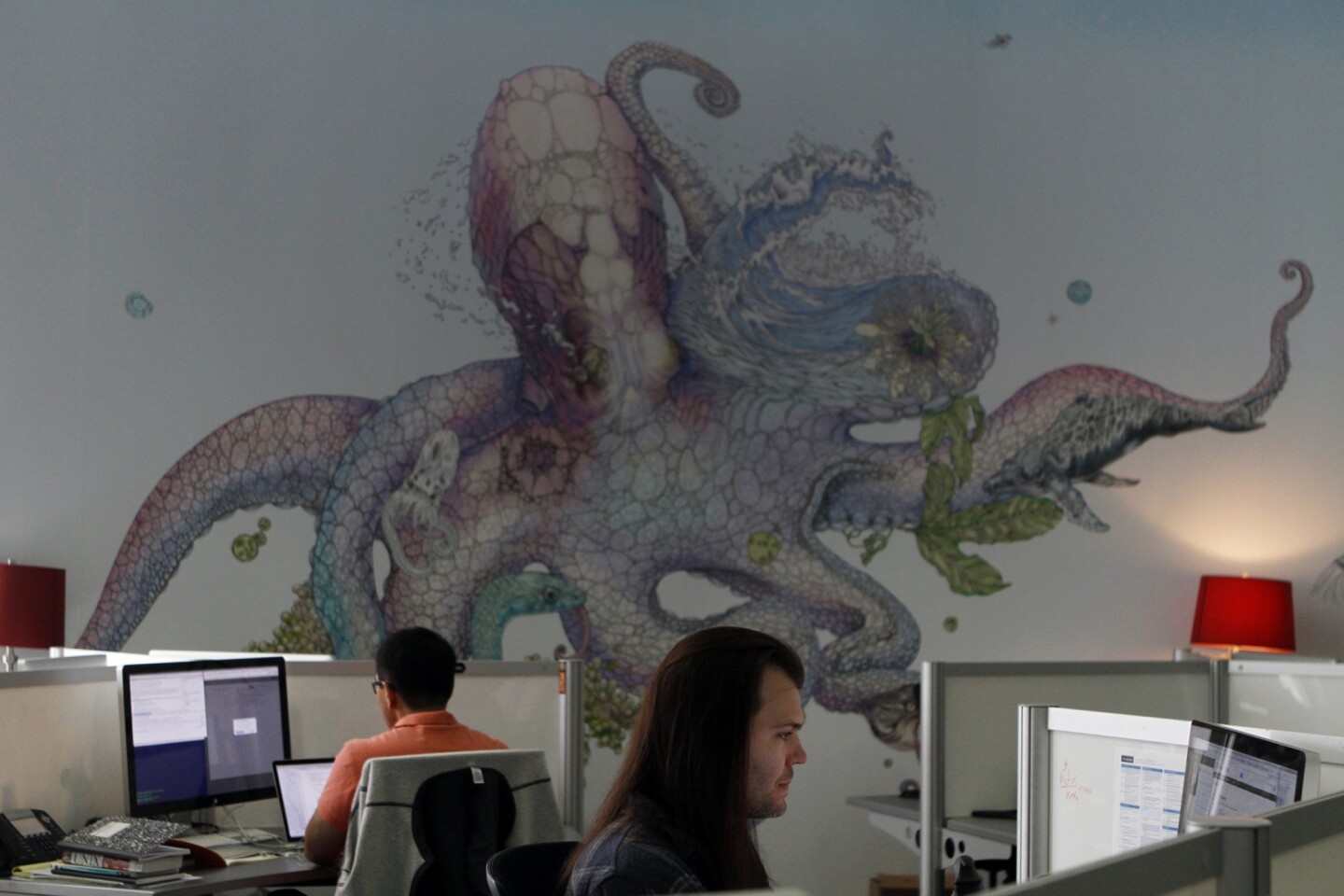 An image of a sea creature floats above employees, one of two oceanic murals from the duo Kozyndan on view at theAudience. The office has also been host to an "artists in residence" program.
(Francine Orr / Los Angeles Times)
Social media entrepreneur Oliver Luckett with a sign of found objects made by Kate McLean, Luckett's friend and past president of theAudience.
(Francine Orr / Los Angeles Times)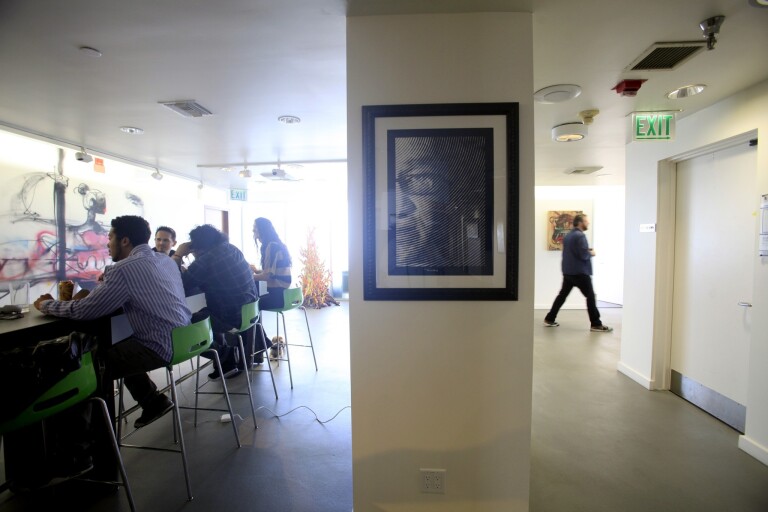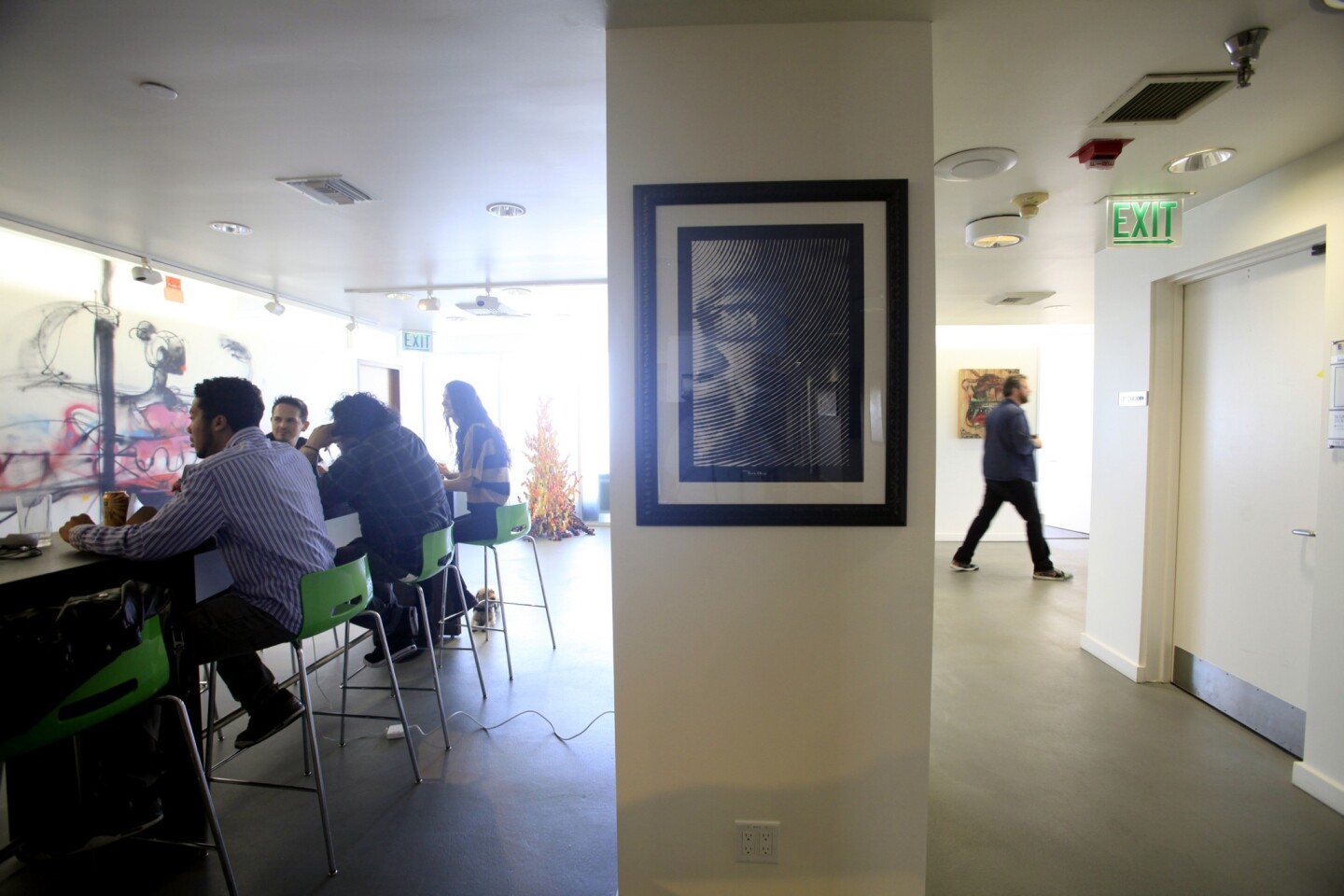 Oliver Luckett, right, walks though his office. Luckett showcases artists' work throughout the office, which is trafficked by high-profile entertainment figures.
(Francine Orr / Los Angeles Times)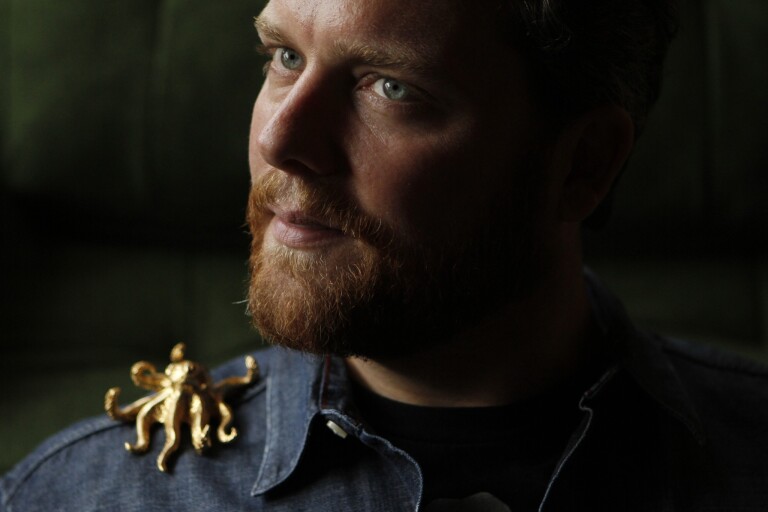 When Oliver Luckett is smitten with an artist, he has been known to buy 40 or more pieces of their work at a time and offer commissions.
(Francine Orr / Los Angeles Times)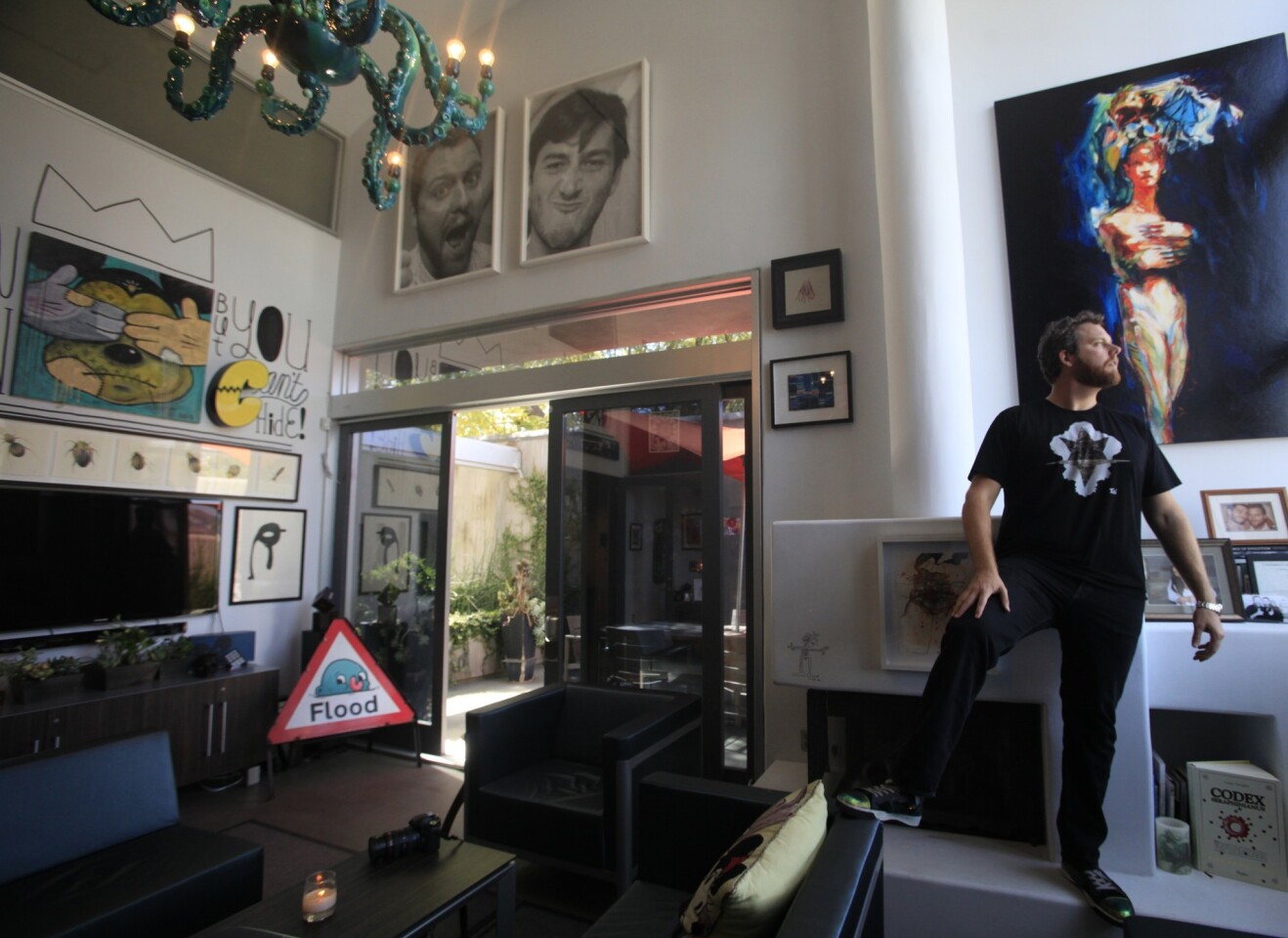 Oliver Luckett surrounded by some of his art in his office. Working with visual artists gives Luckett a much-needed retreat from his tech career and heavy international travel schedule of speaking engagements, he says.
(Francine Orr / Los Angeles Times)
Oliver Luckett at his home in Los Angeles with a mirror by Neal Small from the late '60s.
(Francine Orr / Los Angeles Times)
Oliver Luckett has perfected the art of excess. Seemingly every inch of the walls in his Los Angeles tech start-up, theAudience, is crowded with murals and framed works by street artists such as Shepard Fairey as well as contemporary artists like Jere Allen and Iceland's Gabriela Fridriksdottir, all from Luckett's personal collection.
Luckett, 39, founded theAudience with William Morris Endeavor Chief Ari Emanuel and Napster cofounder Sean Parker in 2011 to manage the social media pages of celebrities and brands. The company says it unleashes about 6,000 pieces of content — photos, videos, funny comments — to more than 1 billion people a month, earning Luckett the reputation as "the man behind the curtain" when it comes to creating buzz for clients on Facebook, Twitter, Google Plus and YouTube. Though his role in the tech world has been well documented — this year he was featured in the PBS "Frontline" documentary "Generation Like" — not as many people know of Luckett's passion for art. He leverages his connections, online and offline, to help break emerging artists.
As the new media mogul gives an art tour of the office, there's little hint he arrived home last night from Miami, where he had hosted parties at the Ultra Music Festival, or that tomorrow he jets off to Rome for a speaking engagement. On this rare day in Los Angeles, whether he's talking about his company's growth from 10 to about 150 employees in three years or his voluminous social circle of Hollywood power player friends, or his fluorescent sneaker collection, or his insatiable appetite for street art, illustration and design — a collection that fills additional office space down the street, the London offices of theAudience and his Hollywood Hills home — less is not more in Luckett's world. More is … barely enough.
Artful offices
Inside the Beverly Grove office, there's practically no retreat from the explosion of visual stimuli. Floor-to-ceiling murals of fantastical purple sea creatures by the husband-wife duo Kozyndan bookend a wide-open work area, abstract sculptures rise in corners and custom art chandeliers include a hand-blown glass octopus and another composed of dangling, razor-sharp scissors. Small prints rest against employees' cubicle walls, and even the exterior of the office has not been spared: Enormous murals by JR, Anthony Lister and the British street art crew End of the Line cover three sides of the building.
Luckett zigzags frenetically through the narrow hallways, enthused by his surroundings. Broad and burly, his full, auburn beard lends him a handsome, rustic quality, a look softened by a cartoony bear T-shirt and iridescent blue and green Lanvin sneakers.
"These are Jordan Crane, these are Kozyndan, these are Icelandic mountain ranges by Hrafnkell Sigurdsson that I found when I was there," Luckett says in a Mississippi drawl, flicking his finger at each artwork as he zooms past. "So much great art there, I came home with a crate!"
Suddenly Luckett stops in his tracks and goes silent, scrolling intently through his iPhone, his brow furrowed. "There's always a fire, always a crisis," he says with a laugh, before continuing. "This is another by Fairey, this is DevNGosha, more Kozyndan, these are by Birgir Andresson …"
TheAudience's A-list clientele has included actors Mark Wahlberg, Charlize Theron and Hugh Jackman, musicians like Usher and superstar DJ Steve Aoki, and even politicians. (The firm handled President Obama's main Facebook page during his 2012 reelection.) It also represents "influencers" — regular people whose online platforms might include upward of 6 million followers on Vine. Increasingly, theAudience provides social media production, distribution and analysis for global brands such as American Express, Ford Motor Co. and Dove. It builds social media followings, a new kind of currency in today's economy, and creates content such as a concert photo from the recent Coachella Valley Music and Arts Festival or the Chainsmokers' "#Selfie" music video, which has gotten more than 86 million views since January on YouTube.
Although theAudience has officially represented Fairey, Lister and Takashi Murakami, among others, most of the artists Luckett cultivates are not clients.
"I nurture them, mentor them," he says. "I've always tried to make art accessible to people because the art world is so inaccessible. It becomes a rich man's game. I love the democratization of art that happens in the streets. And so I back a lot of those young artists because I think I can bring a network of influencers to get them exposure."
Luckett's support often comes in the way of old-fashioned patronage. When he's smitten with an artist, he has been known to buy 40 (or more) pieces of their work at a time and offer commissions. He gives their work as gifts to friends such as Morgan Freeman and Bjork and showcases artists' work in the office, which is trafficked by high-profile entertainment figures.
Usher saw the work of Kozyndan on theAudience's walls and featured the artists on the cover of his 2012 album, "Looking 4 Myself."
"I was so impressed by Kozyndan's ability to create a world within an everyday setting," Usher says. The art "felt very connected to what my 'Looking 4 Myself' album experience was."
Comic actor Mike Epps' manager bought him a DevNGosha piece for his birthday, Luckett says. "A lot of people have come through our office and been like, 'Oh, my God, hook me up with that artist.'"
For Emanuel's 2012 Oscar party, Luckett featured work by the street art collective Cyrcle in an outdoor party tent. Emanuel ended up purchasing all three works for his home.
"They met Pharrell at the party, and the guys now continue to work with him," Cyrcle manager Benjamin Kaufman says, adding that Cyrcle members David Leavitt and David Torres appeared in Pharrell's 24-hour music video for "Happy," dancing down Highland Avenue. "Oliver also brought them to London to create an installation at his office there. He's helped spread their work internationally."
Most recently Luckett took on painters Devin Liston and Gosha Levochkin, who work under the name DevNGosha, as "artists in residence" for sixth months. He provided a stipend for living expenses so they could focus on creating work to be featured in a solo show, and he turned the entire third floor of theAudience into a DevNGosha art gallery. At the March 26 show, the artists sold about 80% of their work, which included originals and limited edition prints, with an artist-friendly 60-40 split of proceeds between DevNGosha and Luckett.
He also had DevNGosha create a piece for an Aoki fan art event, an image of which appeared on the DJ's Facebook page. "Steve's content on social reaches about 27 million unique people a month," Luckett says, so it was a way of getting DevNGosha work in front of all those fans.
"It was amazing," Levochkin says of the residency. "I gave up my job at an art supply store to commit to art. The residency's over now, but it created momentum, we're sitting on a body of work, and we're getting commissions every day, mostly people who saw us online."
Luckett's efforts aren't selfless. Beyond the financial returns from the gallery show, which he says went toward covering his costs, working with visual artists provides a much needed retreat from his tech career and heavy international travel schedule of speaking engagements.
"I have to deal with all these corporate people all day long, and being around artists balances out my mind," he says. "It's literally an escape for me."
Over dinner at Pingtung on Melrose Avenue, he puts it another way: "Being around creative minds is what keeps me alive."
Creative beginnings
Art has long been a part of Luckett's life. He grew up in a wealthy home in Clarksdale, Miss., with art-loving parents, both lawyers. His father, Bill, owns a blues club with actor Freeman and filled the family's home with paintings by "the Mississippi Rembrandt" Jere Allen, Gerald DeLoach and the Russian artist Mihail Chemiakin. Luckett's mother, Kay Farese Turner, is also a sculptor. She sparked his love of the Swiss artist Alberto Giacometti, whose work — along with that of Cuban sculptor Carlos Gonzalez and two Daft Punk helmets — adorns Luckett's living room.
"They threw great parties with well-known artists," Luckett says. "They made me value art."
Growing up gay in the South wasn't easy, but Luckett found solace in his love of technology. When he was 6, he was offered a three-wheeler or a TRS-80 color computer. The latter won out.
After graduating from Vanderbilt University in Nashville with a degree in French literature, Luckett moved to San Francisco and fell into technology jobs, eventually landing at Qwest Communications as chief Internet protocol services architect. He went on to found tech start-ups including iBlast and Revver ("I was a serial entrepreneur in the technology space," he says), and in 2003 he took nine months off to live on the Spanish isle of Majorca and hang out with artists.
In 2008 Luckett sold his company Digisynd to Disney, where he stayed on to head the social marketing efforts for cartoon characters. That caught the eye of Emanuel.
"Ari said: 'I want you to leave Disney. Come with me and Sean Parker, and I want you to build the first social publishing studio,'" says Luckett as he races down the sidewalk connecting theAudience's two buildings on Beverly Boulevard. As a gaggle of his digital content producers in stylish glasses and skinny jeans passes, Luckett high-fives one of them.
"Hey, buddy, how's it going?'" Luckett says.
In the distance, the Lister mural is visible — a brightly colored, twirling figure. Lister painted it so that employees looking down from the sixth floor of theAudience would feel connected to the smaller sister building below.
"We're like a big family," Luckett says. "The artists too. I really believe we all benefit from the connections we have, and I wanna bring a bunch of artists together with the influence I have, encourage them to work together, and expose people to new art."
He squints into the sun. "Because the status quo — it's just boring."
---
The complete guide to home viewing
Get Screen Gab for weekly recommendations, analysis, interviews and irreverent discussion of the TV and streaming movies everyone's talking about.
You may occasionally receive promotional content from the Los Angeles Times.