These quilts with messages about gun violence and racial injustice issues aim to discomfort
She found her inspiration in the overnight violence report sent every morning to her husband, a district leader for the Chicago public school system. It cataloged students who had been shot, stabbed and killed the night before.
Jacquie Gering said her husband wore that weight on his shoulders, and that they would watch the news, and the kids in those reports were never mentioned. She felt profoundly disturbed, so Gering did what she does best. She made a quilt.
See more of Entertainment's top stories on Facebook >>
It featured a 5-foot tall black handgun with blood dripping out of its muzzle and pooling beneath its trigger. She titled her quilt, "Bang You're Dead." She put the quilt on her blog and wrote that it was not meant to be humorous. It was meant to be final.
The finality of death, whether at the hands of a police officer or a rogue armed citizen, is at the heart of some striking quilts on display at QuiltCon West in Pasadena through Sunday. These quilts are a rarity at the show, where nearly 10,000 people from 49 states and 15 countries are expected to come largely to see more traditional designs. But work centered on racial inequality and the violence rooted in racism signals the strength of a modern quilt movement, which emphasizes individual feelings and experiences.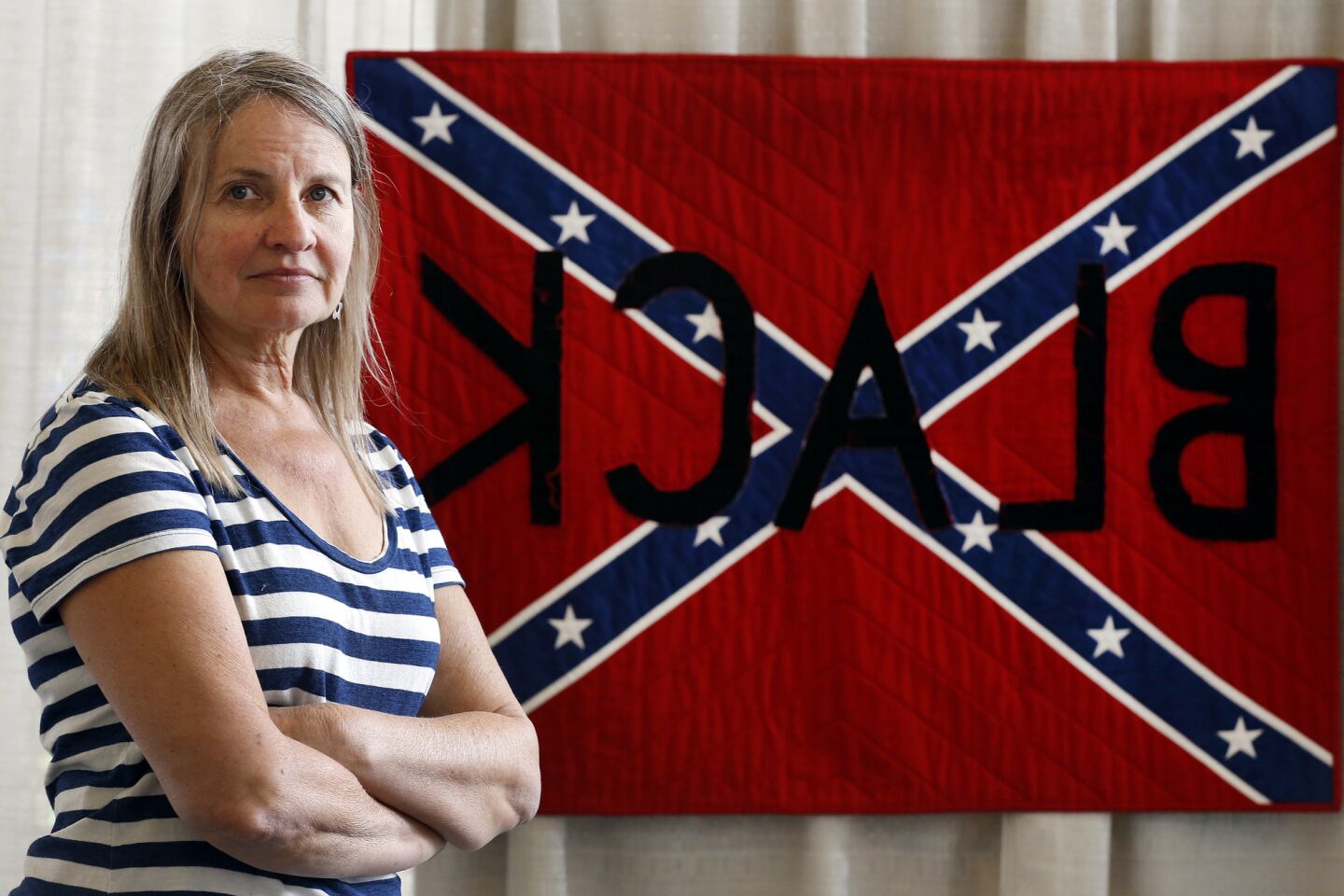 Karen Maple with her quilt "Black Lives Matter" at QuiltCon West in Pasadena on Feb. 18. Many of the creations address social justice issues, including gun violence and racial inequality.
(Al Seib / Los Angeles Times)
"Hillary Quilton" by Diana Vandeyar on display at QuiltCon West.
(Al Seib / Los Angeles Times)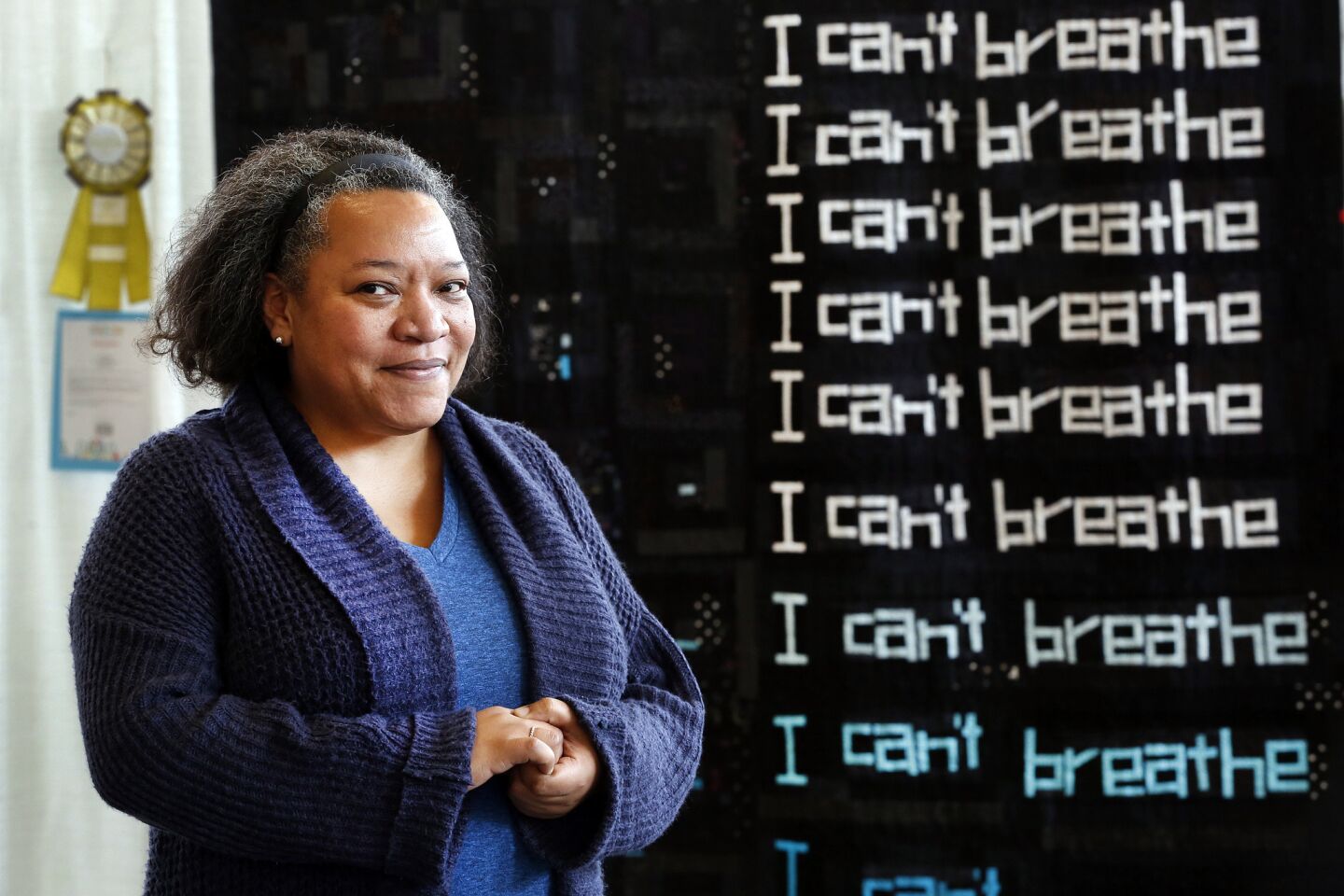 Chawne Kimber won first place in improvisational piecing for her quilt about the death of Eric Garner, titled "The One for Eric."
(Al Seib / Los Angeles Times)
Patrons examine "My Brothers Jeans," a quilt Melissa Averinos made from jeans worn by her brother, who committed suicide.
(Al Seib / Los Angeles Times)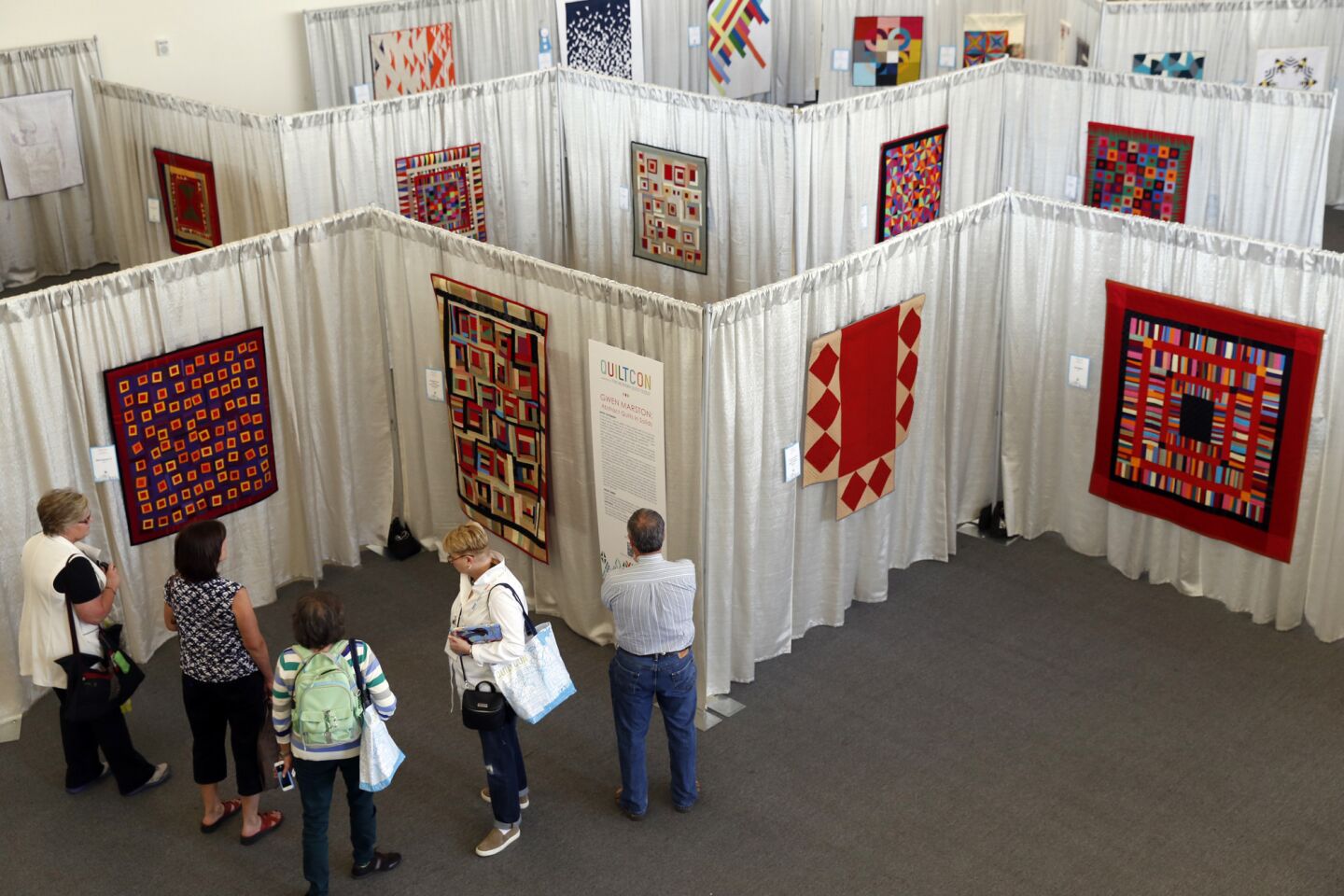 QuiltCon West in Pasadena is expected to draw almost 10,000 people.
(Al Seib / Los Angeles Times)
Jacquie Gering addresses violence in Chicago in "Aftermath."
(Al Seib / Los Angeles Times)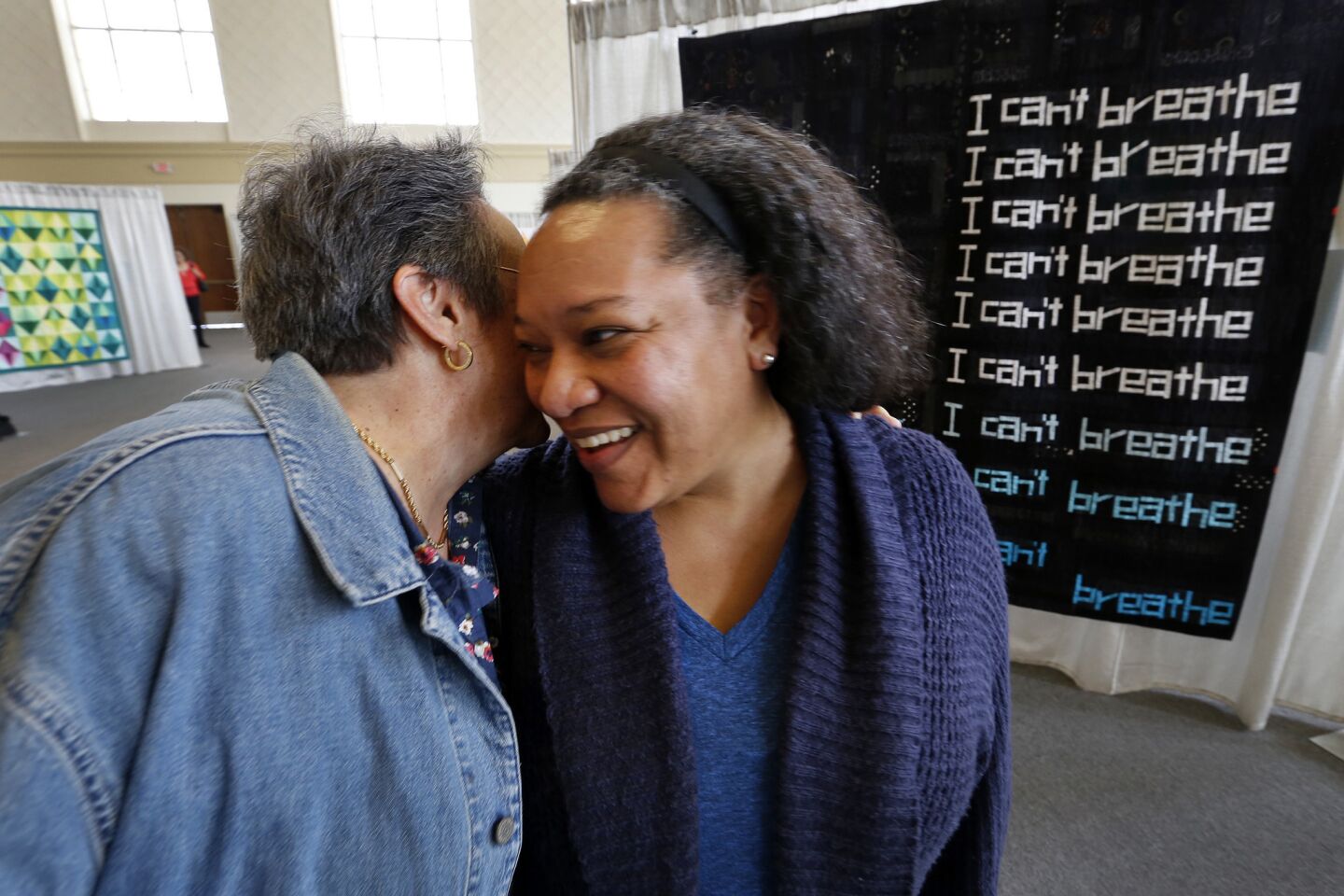 Improvisational piecing winner Chawne Kimber, right, is congratulated by Joan D'Angostino.
(Al Seib / Los Angeles Times)
These quilt artists are using "their needle and thread to prick the consciousness of the people," says Marsha MacDowell, professor at Michigan State University, curator of folk arts at MSU Museum and author of a forthcoming book about quilts and human rights.
MacDowell points out that textiles have long served this purpose. In the 19th century and early 20th century, quilting provided some women's only voice, resulting in quilts that championed women's suffrage and Fannie B. Shaw's "Prosperity Is Just Around the Corner," whose imagery depicted optimism at the height of the Great Depression. Decades later the massive AIDS Memorial Quilt made its statement in 1987 on the National Mall in Washington, D.C.
Recently, however, heightened interest in the art of quilt making has mixed with nationwide protests over social injustice. Add the Internet and you've got explosive results. Blogs with titles such as Subversive Stitchers and organizations like QuiltForChange.org are gaining traction, as are community-driven efforts, including the Lynch Quilts Project spearheaded by LaShawnda Crowe Storm. Its mission is to examine the "history and ramifications of racial violence in the United States," and its quilts feature gut-punching images from some of America's darkest days. In another sign of how much the quilting world has cracked open, last year the Craft & Folk Art Museum in Los Angeles staged "Man-Made: Contemporary Male Quilters."
"The quilting world can be conservative, politically speaking," says quilter Chawne Kimber, 45, adding that the Internet brought powerfully diverse voices into the fold. Kimber's QuiltCon offering is "The One for Eric" and features the tragic last words of Eric Garner, the African American man killed on Staten Island by an apparent police chokehold. "I can't breathe" is quilted over and over again, in white block letters on a black background.
I really wanted to challenge the notion that quilts are sacred and made by saintly grandmas.
— Quilter Chawne Kimber
When QuiltCon opened Thursday, "The One for Eric" won first prize in the improvisational piecing category. When Gering, who is chairwoman of the Modern Quilt Guild, announced the win, she could barely conceal her tears.
Kimber, who has gained a following for her quilting blog "Completely Cauchy," holds a cult-like status in the modern quilting community. A professor of mathematics living in Pennsylvania, Kimber is a descendant of a long line of quilters from Alabama. She came from a family that farmed cotton, "Not because they wanted to," she says dryly. For her, quilting represents a deep connection to her family's past.
Her quilts have been controversial from the get-go. She originally made quilts featuring four-letter words and was immediately told that she was ruining the quilt world, she says.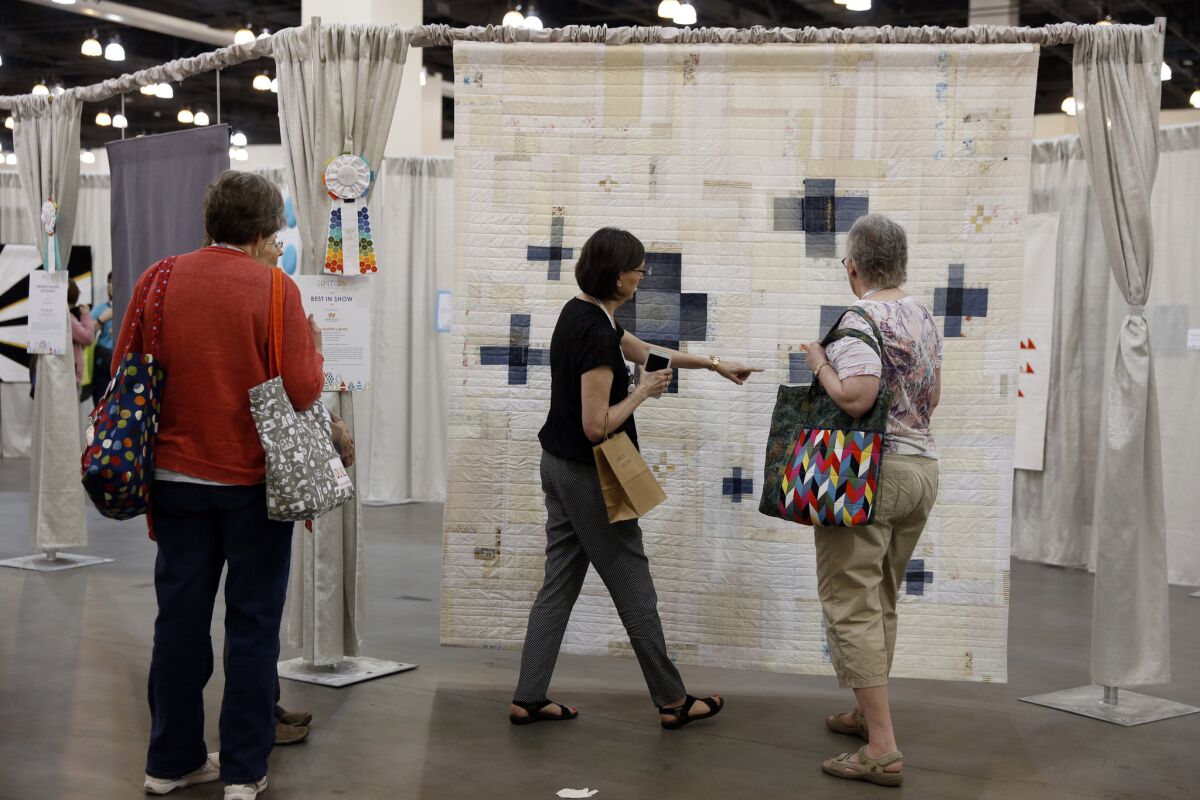 "I really wanted to challenge the notion that quilts are sacred and made by saintly grandmas," she says. "My viewers are from the quilt world. These are elementary artistic pieces, but most viewers were stunned."
The way the medium conveys the message is key to the makers of social justice quilts. Kimber says that in the art world, themes such as racism and violence can be considered unremarkable because artists have addressed them over and over again. They are relatively new to the quilt community, though, which is why it's shocking to see a gun on a quilt.
And that's precisely the idea. Kimber made a quilt featuring the words "Legit Rape Here," after former Missouri congressman Todd Akin commented in 2012 that "legitimate rape" rarely results in pregnancy. If it were a painting on a wall, it would mean one thing, Kimber says, but lay it on a bed and suddenly you've added dynamite to its meaning.
Quilter Karen Maple expands on that idea. An early retiree from the tech world, Maple stitched a quilt titled "Black Lives Matter" emblazoned with the word "Black" in all capital letters written backward over a Confederate flag after last summer's church shooting in Charleston, S.C.
"The goal is to make that quilt's message break through the fabric," Maple says. "And what I like about being able to display it at a quilt show is that so many people are going who are not expecting it. If you affect one of those people with thoughts about racism, maybe it will touch their heart."
Gering, 58, made a quilt called "Aftermath" featuring a large red blood stain on a white background, inspired by the Boston Marathon bombing. She adds that quilt messages passed on via the Internet inspire others to create bold work. If she hadn't seen Kimber's quilts online, she says, she never would have had the courage to make "Bang You're Dead."
"Because of our online community and the way we share on our blogs, Instagram and Facebook, our messages get out a lot further," she says.
Those messages inspired Diana Vandeyar, 53, an Australian-born quilter who relocated to Virginia from South Africa, where social justice quilting is a way of life. She says that "modern quilt revolution beginning in America" is exciting and expands on the art quilting that has been happening for years in South Africa in response to the apartheid era.
Vandeyar's QuiltCon submission is "Hillary Quilton." It's made from fabric emblazoned with images of the former secretary of State's face. Depending on the viewer's stance on the deeply polarized presidential election, the images are likely to arouse passionate emotions. Vandeyar purchased the fabric in Bangkok in 2008 but didn't do anything with it until it called out to her, which it did this year.
"This is the perfect place to make the quilt, and the perfect time," she says.
The heightened political and social divisions create the ideal moment for these quilts to shine, says MacDowell, pointing to the national debates about the Black Lives Matter movement, police brutality, the prevalence of guns, anger at Wall Street, healthcare and environmental issues.
Quilts are effective at addressing these topics not just because they are unexpected, but because they are tactile, MacDowell says.
"It's almost as if you were extending a hug to somebody else," she says. "Reaching out your hand because you have touched this fabric and now this fabric will touch them."
Perhaps that's why quilts are among the first offerings sent to places where tragedy has struck — to New Orleans after Hurricane Katrina, to New York City hours after the planes hit the World Trade Center, to Flint, Mich., after the contamination of drinking water.
Now quilts are both political and intimate — a swift slap in the face before the hug, a way to thread the needle of change.
ALSO:
Debbie Allen tackles gun violence, race relations in 'Freeze Frame'
San Jose cop who taunted Black Lives Matter protesters on Twitter gets job back
Get our L.A. Goes Out newsletter, with the week's best events, to help you explore and experience our city.
You may occasionally receive promotional content from the Los Angeles Times.