Review: Three L.A. cellists save the day with last-minute musical theatrics for the Phil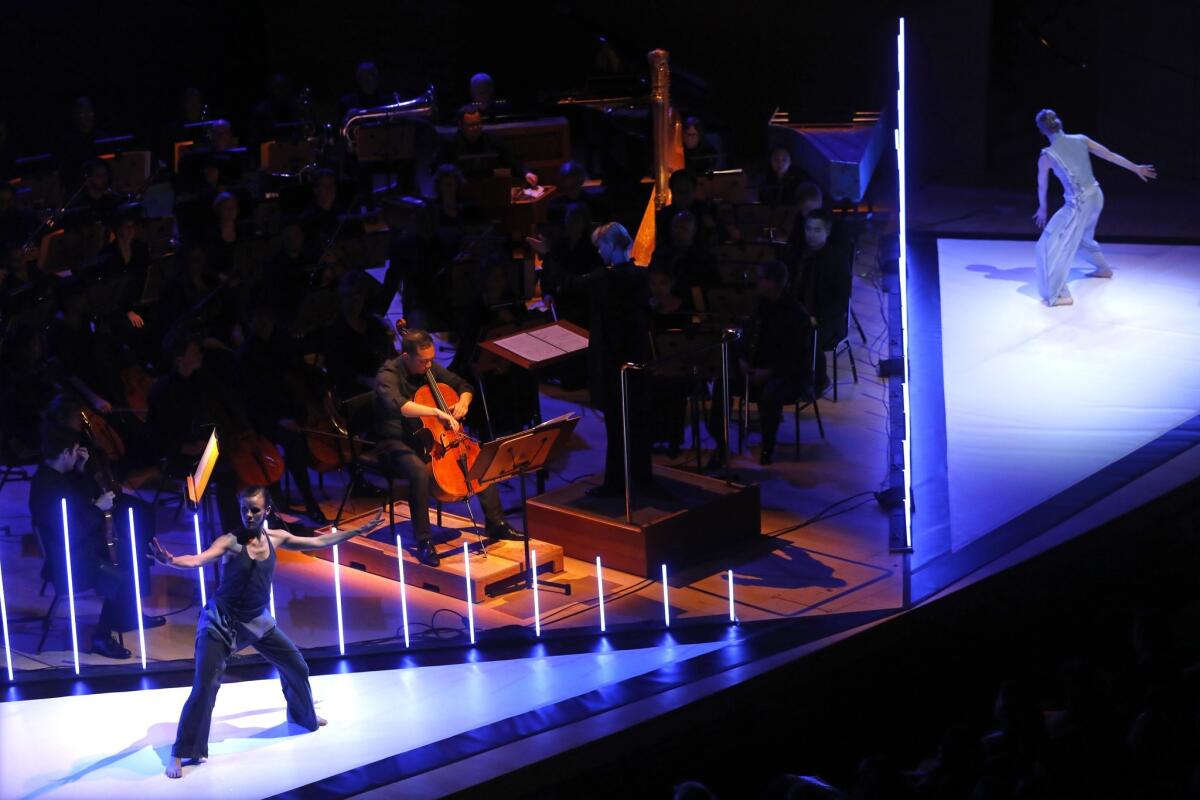 The week before returning to Walt Disney Concert Hall on Friday night, Los Angeles Philharmonic principal guest conductor Susanna Mälkki had a date with the New York Philharmonic. Lucky L.A., was the critical consensus in the Big Apple.
In New York, as with most of the Finnish conductor's U.S. orchestral appearances so far, she has been admired for refreshing standard repertory with vivid instrumental colors, rhythmic energy, textural clarity and all around good sense. That's well and good, but what makes Mälkki special happens to be her imagination and risk taking. She champions challenging European modernism that is little wanted in cautious American concert halls these days. She also likes bringing theatrical elements into symphonic settings.
She thinks daringly big with risky and expensive undertakings that may not always be easy to sell, but they are exactly what makes Mälkki so attractive to the L.A. Phil. A lot, of course, is on the line, and a lot can go wrong.
Friday night, Mälkki programmed the U.S. premiere of Bernd Alois Zimmermann's Cello Concerto, a difficult score that requires exotic instruments in the orchestra, boasts a killer solo part and is conceptually in the form of a highly abstract pas de trois, with the option (rarely selected) of including an actual pas de trois with three dancers.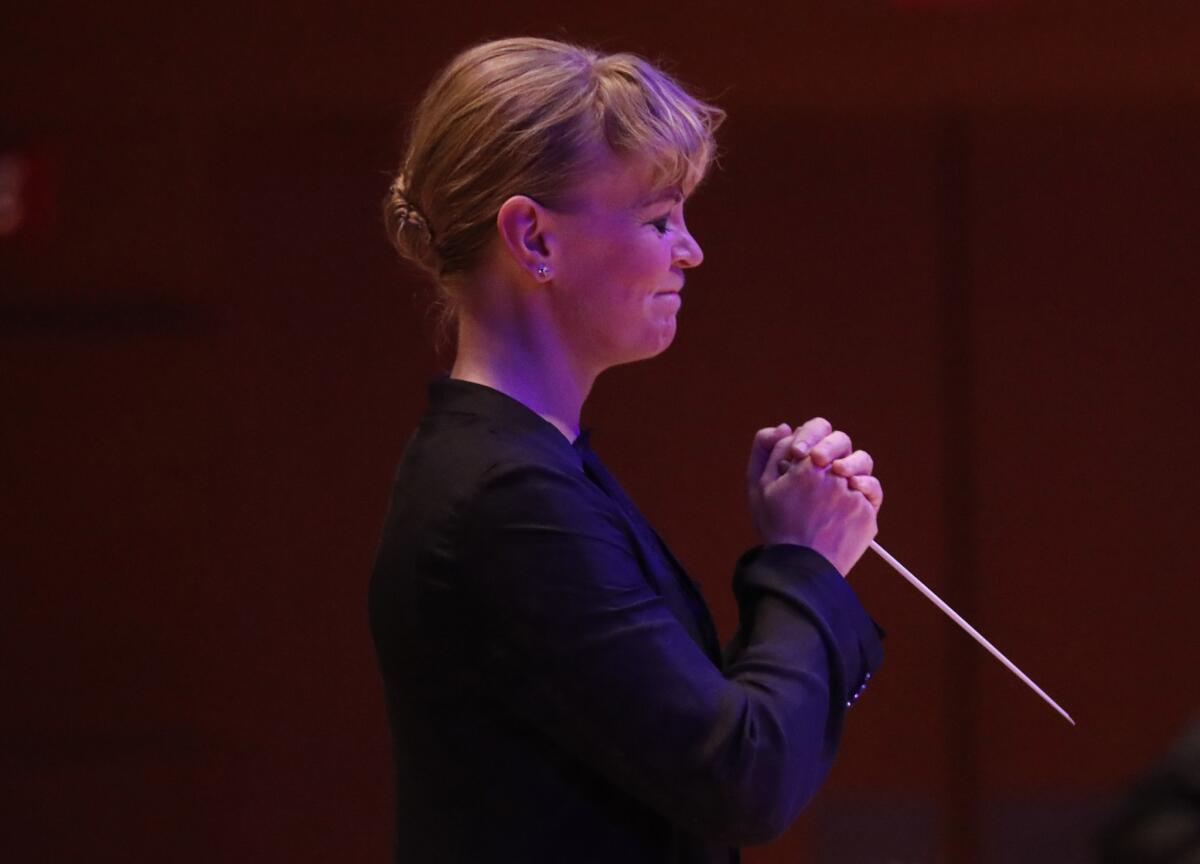 The L.A. Phil went all out for Mälkki by commissioning the choreographer Tero Saarinen to create a half-hour dance with his Finnish company for the three weekend Disney performances, complete with costumes, set design and lighting. Mälkki surrounded the concerto with Anton Webern's brilliant orchestration of a Bach fugue and Richard Strauss' colossal "An Alpine Symphony," requiring a vast orchestra.
The evening's soloist was to have been popular L.A. Phil principal cellist Robert deMaine, who on Tuesday withdrew for undisclosed personal reasons. There are said to be only three cellists on the planet who have played Zimmermann's incredibly demanding concerto, all in Europe.
I'm not sure any other orchestra would have dared, or even could have dared, to go on. But management turned to three local musicians with exceptional new music chops — L.A. Phil associate cellist Ben Hong, Calder Quartet cellist Eric Byers and Lyris Quartet cellist Timothy Loo — to divide the solo part. They got their scores Wednesday morning. Rehearsals were Thursday afternoon and Friday morning.
Only knowing Zimmermann's concerto from recordings, I can't say that the cellists were able to achieve the last word in interpretive nuance under such unreasonable conditions. But I can say that not only were all three utterly convincing, the addition of a third pas-de-trois element to the performance turned out to be a terrific theatrical idea. Moreover, the sense of camaraderie among the players, the orchestra, the dancers and Mälkki added an unexpected endearing aspect that is otherwise disturbingly lacking in Zimmermann's music.
He was a powerful voice in post-World War II German music who saw the world as a dark and tragic place, not as a bright new universe unfolding, one that made the European avant-garde particularly dazzling at the moment and Zimmermann an outlier. He refused to forget and tried instead to stretch time in his music to include the past with the present.
Ultimately Zimmerman admitted defeat by taking his own life in 1970. To some observers, the works of his last four years, beginning with the Cello Concerto, can be read as a systematic suicide note putting the blame for his neglect on the success of such younger, dogmatic composers as Pierre Boulez and Karlheinz Stockhausen, who were getting all the attention.
But nearly half a century has passed since Zimmermann's death, and his champions now proclaim him as a proto-Postmodernist who broke barriers of style and era. Plus the modern mania for Shostakovich has raised the value of the tortured composer with a rare talent for producing dramatic atmosphere, hauntingly beautiful instrumental effects and highly dramatic formal structures.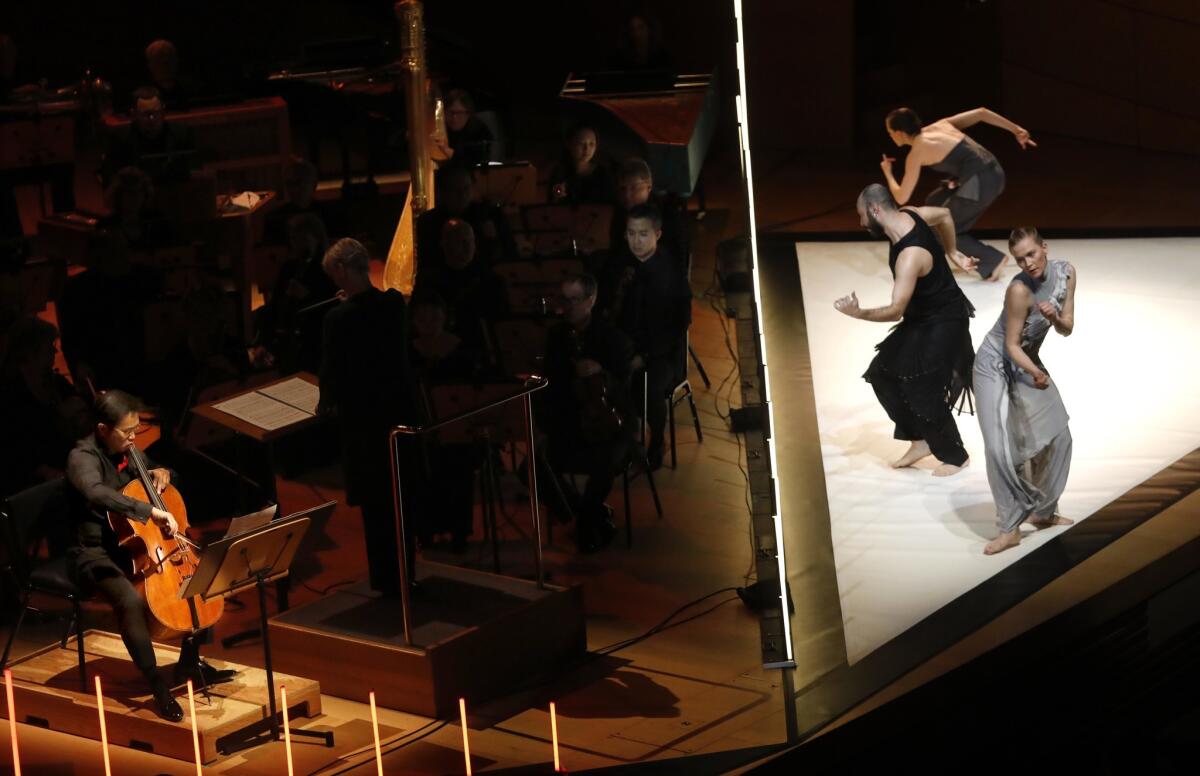 The Cello Concerto opens dreamlike, with a muted orchestra, otherworldly solo cello and a group of nontypical orchestral instruments (cimbalom, mandolin, electric bass) with a mind of its own. That is followed by an Allegro indicated, without explanation, to be for a fairy, Don Quixote and a princess. Hong, as soloist here, could be counted on for his customary eloquence.
A central slow movement revolves around a cello solo that was rapturously played by Byers. Loo excitingly led a frightful march and played a cantankerous blues with the electric bass followed by a coda in which the fairy is supposed to take her leave.
The orchestra was placed on stage in a triangular formation, bordered by rows of neon pillars. That left two areas on the front of the stage and a platform behind the orchestra for the dancers.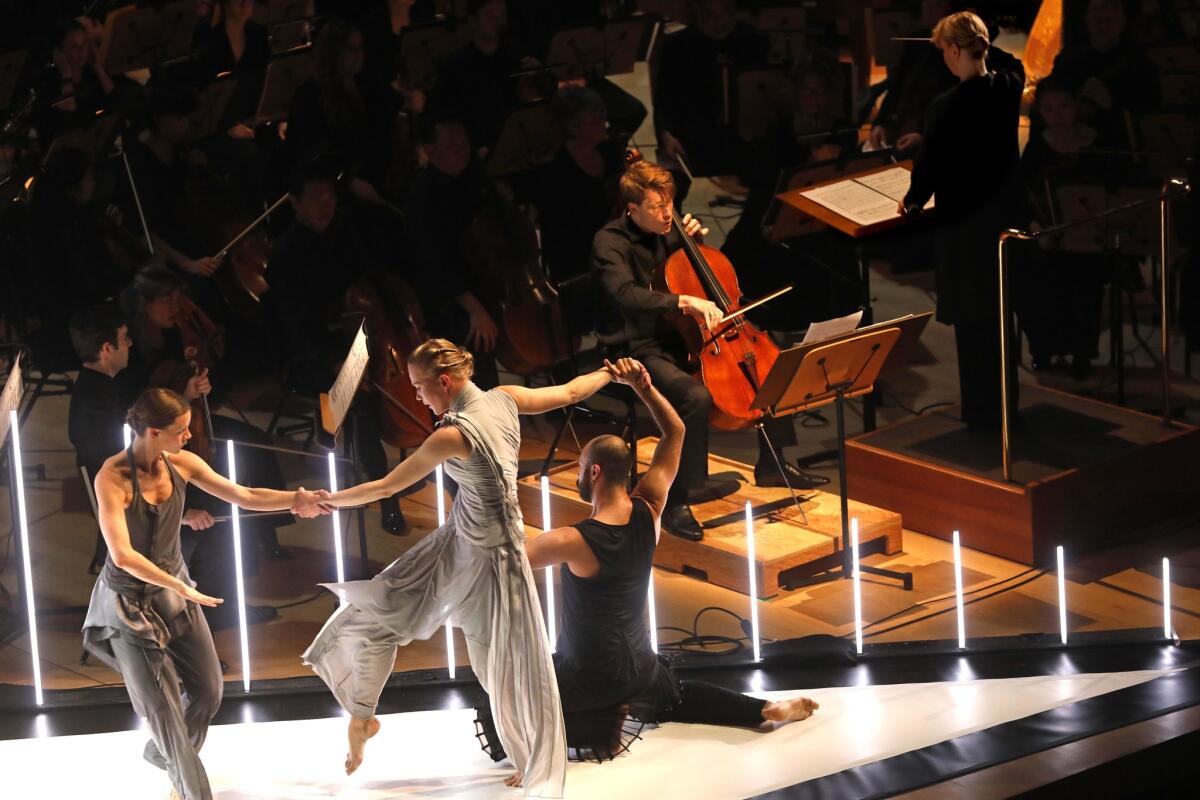 Saarinen's movements often followed the musical lines, creating a feeling more wistful than nightmarish. Just as Zimmermann's relationships between instrumental groups and between musical styles remain unpredictably fluid, so too were the dancers — Auri Ahola, Misa Lommi and David Scarantino — as they wavered between sociability and individuality. Departure and loss became the affecting inevitables.
But what proved most affecting of all was the sheer gumption of not giving up, but making the performance happen. The orchestra was at its flexible best, with many riving solos. The L.A. Phil has yet another flamboyant feather in its cap.
Mälkki has one, too. She made all evening a great case for color. Webern didn't change a note of Bach's in the excerpt from "The Musical Offering," but with the continual alteration of timbre from one instrument to another, the fugue takes on an entirely new 20th century character.
Strauss' "Alpine Symphony" is a riot of color for an orchestra as big and brilliantly hued as it gets. Mälkki climbed the peak like a brazen adventurer who was also a harmonic geologist capable of examining inner workings. She let the sun shine and the climactic vistas speak for themselves. She bathed in the waterfalls, peeked into the flowery forests and had a blast in the storm.
No sentimentalist, she cleared away the mystical pathos the score has acquired over the years (as did the composer in his own recordings of the work). Given her proven fearlessness, however, Mälkki did have to give what Strauss labeled as "The Dangerous Moments" a near Zimmermann level of disquiet, however temporary. It was a spectacular performance.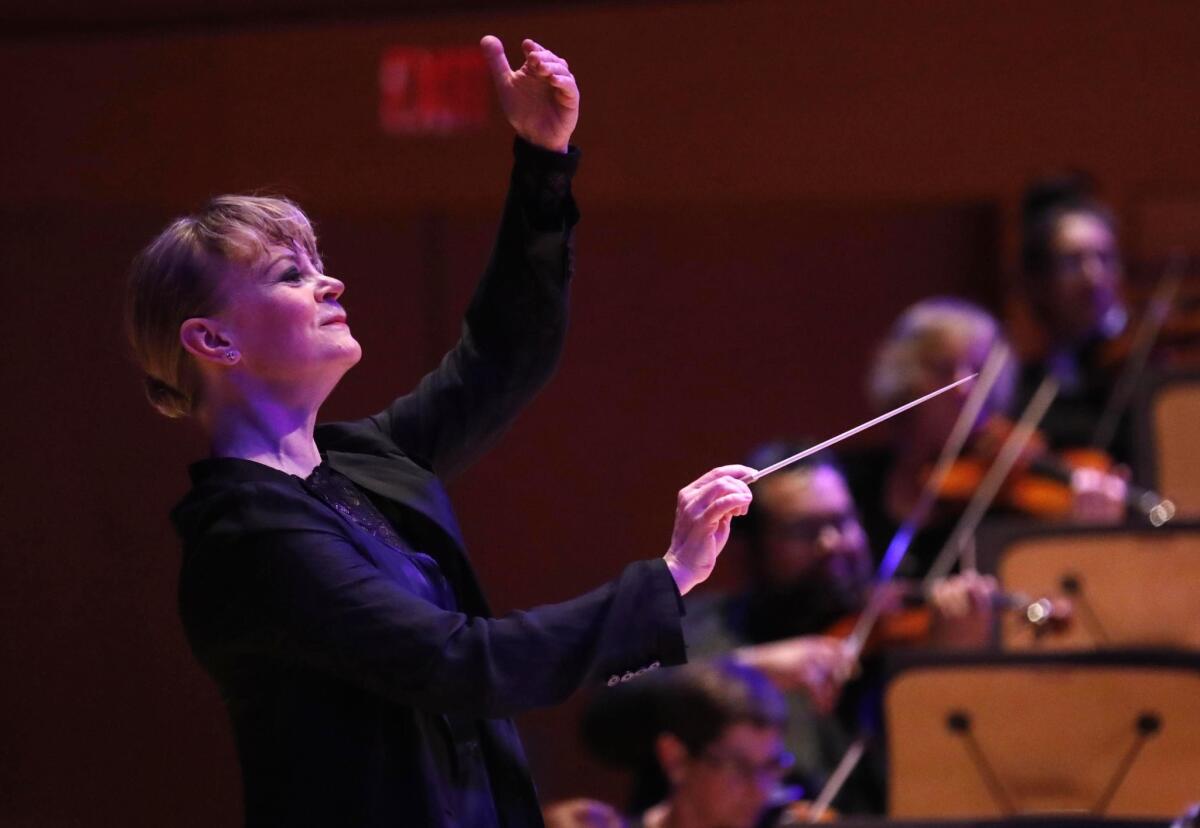 MORE ARTS:
Interview: Susanna Mälkki and classical music's glass ceiling
Architecture faces its own award-season controversy
Astrid Hadad, 'Lady Gaga of Nixtamal,' thrills in PST's fest
Get our L.A. Goes Out newsletter, with the week's best events, to help you explore and experience our city.
You may occasionally receive promotional content from the Los Angeles Times.