L.A. Philharmonic's notable lead clarinetist scales down her career after 54 years
Principal clarinetist Michele Zukovsky retires after 54 years with the Los Angeles Philharmonic. But she'll never leave music behind, she says, because "life is music."
On a balmy evening at the Hollywood Bowl not long ago, Los Angeles Philharmonic principal clarinetist Michele Zukovsky was socializing backstage with fellow musicians during a concert intermission.
"Do you want to know a secret?" she asked with a wily smile. "Feel my right arm."
The bicep was taut and sinewy, not the muscle of your average septuagenarian. She later explained that playing the clarinet is a kind of anaerobic exercise that builds up arm strength from holding the same position for long periods.
See more of Entertainment's top stories on Facebook >>
Even her bust size has expanded over the years, thanks to all the air she's had to push through her instrument: "I was a 32A, now I'm a 40B," she said, poking fun at herself.
Another notable number for Zukovsky: 54, the number years she has played for the L.A. Phil, giving her the longest tenure of any musician currently serving in the orchestra. On Sunday, she will take a final bow with the group in Walt Disney Concert Hall.
Zukovsky's career can be measured out like the intervals of a musical scale. Five is the number of music directors she has worked with since 1961, predating Gustavo Dudamel, Esa-Pekka Salonen, even the legendary Zubin Mehta by a year. Three is the number concert halls she has called home, starting with the old Philharmonic Auditorium at Pershing Square. Ninety nine is the combined number of years that she and her father, the late principal clarinetist Kalman Bloch, have played with the L.A. Phil.
When Zukovsky joined the orchestra at 18 — she lied and said she was 19 to improve her chances of getting in — she earned about $110 a week. These days, though she doesn't say, the salary is more than 25 times that amount.
She is a gregarious, often effusive presence with few social filters. Her reputation as one of the great orchestral clarinetists in the world doesn't stop her from cracking jokes about her age.
"I'm 72 and I don't look a day over 71!" she proclaimed during an interview at her Franklin Hills home, a simply furnished two-story house that she's owned for nearly 40 years.
The other reason I lasted so long is that a sense of humor is important. I laugh a lot.
— L.A. Phil lead clarinetist Michele Zukovsky
Deborah Borda, the orchestra's president and CEO, described her as a "great and mischievous personality. … You know, Michele is Michele."
Zukovsky said her secrets to longevity with the orchestra were simple.
"Don't get fired," she said. "Be, you know, under the radar."
She added: "The other reason I lasted so long is that a sense of humor is important. I laugh a lot."
Zukovsky's tenure with the L.A. Phil won't break the record. Bassist Richard D. Kelley played with the orchestra for 57 years until his death in 2013.
Though she could try to beat that mark, Zukovsky said the job of principal clarinetist can be very consuming, and she wants to do other things. "It felt like it was time," she said.
She has been an outlier: The median length of time for American workers to stay in the same job is a mere 4.6 years, according to a 2014 report from the U.S. Bureau of Labor Statistics. For workers ages 55 to 64, the median is about 10 years.
After a recent rehearsal at Disney Hall, Zukovsky joked that she won't miss performing certain pieces. "I don't really need to play Tchaikovsky's Fourth Symphony again," she said.
At the same time, she will miss the job terribly. "It's all I know," she said. "But I think I'm lucky — I'm healthy enough to start another life."
Her new life will include more chamber music, teaching and possibly traveling.
And actually having to practice.
"The buffer of the orchestra means you get away with years of not practicing," she said. "Now I have to practice because I'll be playing chamber music. You can actually hear the clarinet."
Zukovsky began studying the instrument at age 7. But she didn't see herself making a profession out of it.
"I wanted to be a paleontologist," she recalled.
One of her first jobs was folding clothes at a laundry, where she was paid about 75 cents an hour. She was fired after complaining about her wage.
Her second job lasted longer. Despite the family connection, she auditioned for the Phil like other candidates and was accepted. She played alongside her father until he retired in 1981.
Thomas Hooten, L.A. Philharmonic principal trumpet, practices with his wife, Jennifer Marotta, while their son, Tommy, sits in at their La Crescenta home on Sept. 3, 2014.
(Lawrence K. Ho / Los Angeles Times)
Hooten, third from left, leads off Mahler's Fifth Symphony at Walt Disney Concert Hall on Oct. 2, 2014.
(Lawrence K. Ho / Los Angeles Times)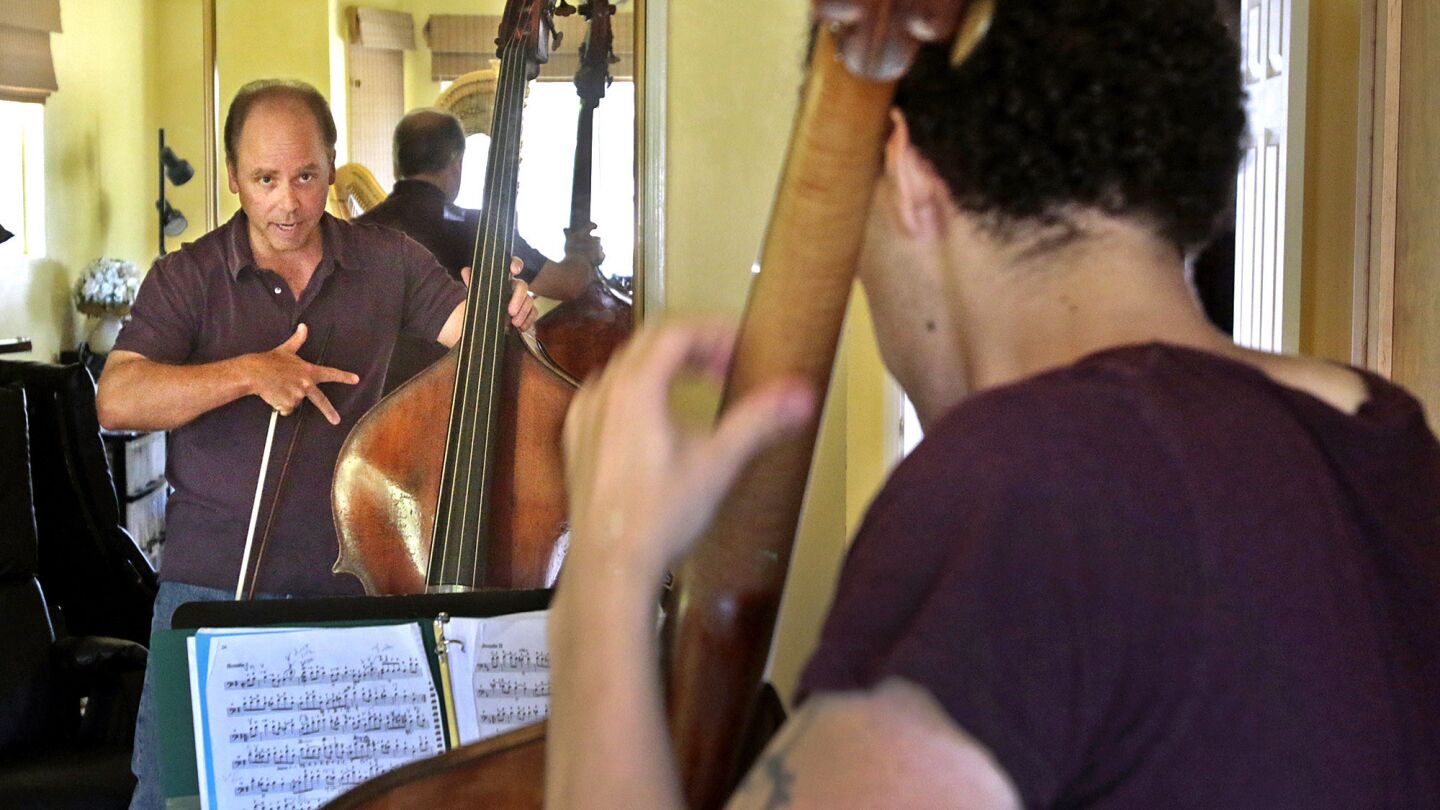 Christopher Hanulik, left, gives a lesson in his Studio City home to Jules Levy on Aug. 13, 2014.
(Lawrence K. Ho / Los Angeles Times)
Hanulik, right, performs with the L.A. Philharmonic at the Hollywood Bowl on Aug. 19, 2014.
(Lawrence K. Ho / Los Angeles Times)
Principal timpanist Joe Pereira on the piano with wife Minyoung Chang, first violinist, at their home in Silver Lake on Aug. 27, 2014.
(Lawrence K. Ho / Los Angeles Times)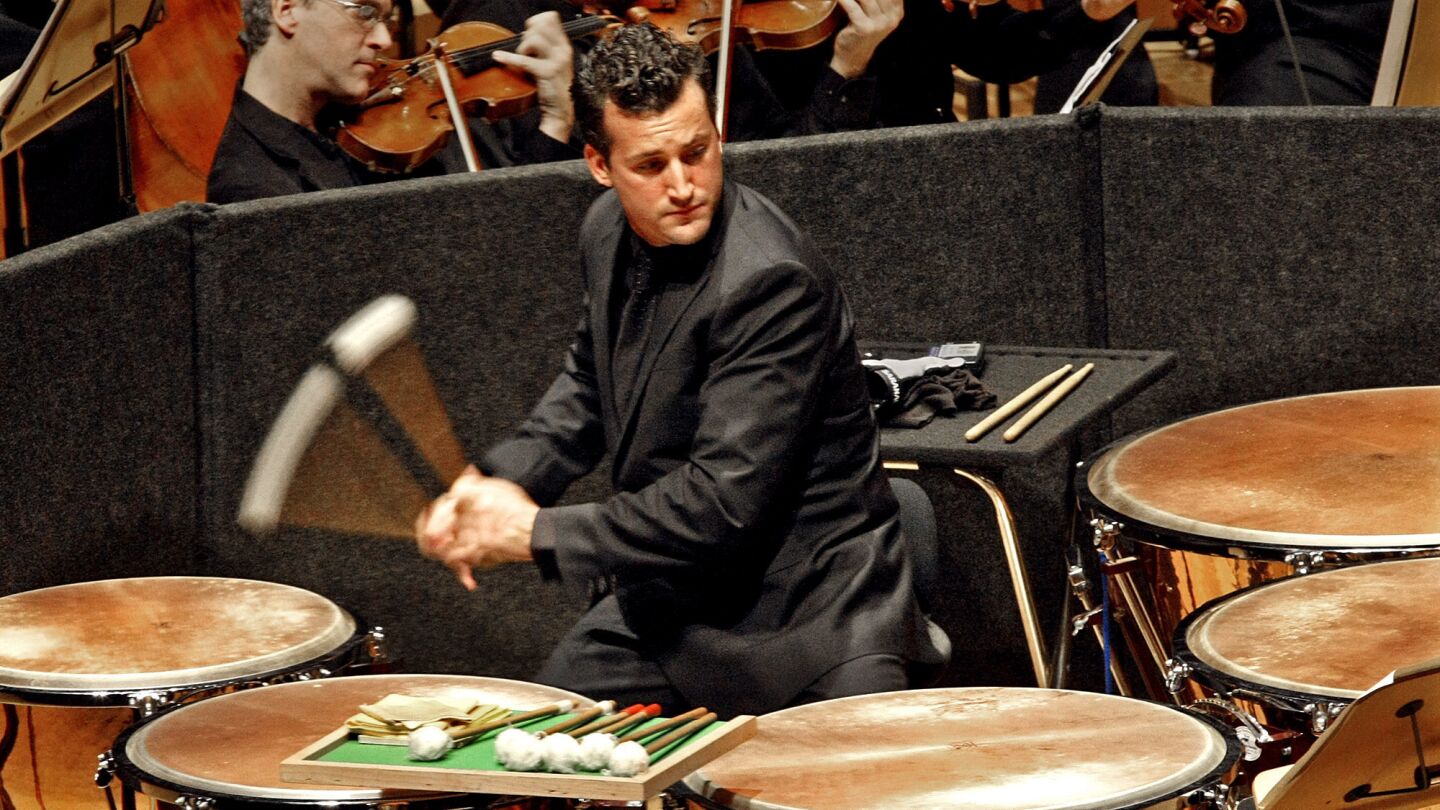 Pereira plays the timpani in a piece by William Kraft at Walt Disney Concert Hall on Dec. 5, 2009.
(Anne Cusack / Los Angeles Times)
Bass clarinetist David Howard practices at home with his son, Benjamin Howard, a baritone singer, on Aug. 28, 2014.
(Lawrence K. Ho / Los Angeles Times)
Johnny Lee, left, Vicki Ray and David Howard perform as part of the L.A. Philharmonic's Chamber Music Society in Disney Hall on May 8, 2007.
(Gary Friedman / Los Angeles Times)
Her parents were radical leftists. "I was a red-diaper baby," Zukovsky said. In 1956, Bloch was called to testify in front of the House Un-American Activities Committee. A Times report characterized him and other witnesses that day as "uncooperative."
She described her mother — the artist Frances Bloch-Heifetz, a relative of violinist Jascha Heifetz — as an even more extreme radical: "She was really an anarchist. A total Commie."
Zukovsky herself isn't overtly political, describing herself as an old-fashioned homebody devoted to her music. She has never lived anywhere except L.A., despite overtures from other companies.
One of the highlights of her career, she said, was performing John Corigliano's Concerto for Clarinet and Orchestra in 1979.
"That was the hardest piece I've ever played," she said.
Oscar-winner John Williams even wrote a concerto specially for her that she performed in 1991.
During conductor Salonen's tenure with the L.A. Phil, Zukovsky thought about retiring, but "it didn't happen because my husband got very sick and we needed the money."
Her husband, clarinetist Charles Zukovsky, died in 2008. The couple had no children, but Zukovsky remains close to her extended family and often refers to her grand-nieces and nephews as her grandkids. She has a life partner — Jim, a lawyer and Episcopalian priest — but she declined to say more.
"As outspoken as she can be, she can be very shy," said David Howard, a clarinetist with the Phil and a close friend. But "she could certainly let one fly without planning it. That's how she works."
Borda also said Zukovsky has "the most beautiful sound I have heard emanate from the clarinet. No question. Her tenure is historic, a contribution I don't believe that can ever be matched."
Zukovsky is more modest in her self-appraisal.
"I feel like I did a good job," she said. "I don't have anything to prove, and when you don't have anything to prove, it's time to move on."
---
Get our daily Entertainment newsletter
Get the day's top stories on Hollywood, film, television, music, arts, culture and more.
You may occasionally receive promotional content from the Los Angeles Times.