Michael Patterson and Candace Reckinger turn animation into a wild sensory art installation
Patterson + Reckinger project animations onto artfully arranged screens and architectural elements.
Michael Patterson and Candace Reckinger are the types of artists who are perfectly comfortable remaining unclassifiable. They create work that is as comfortable on television as it is in a museum.
You could describe what they do as animation. After all, they teach in the animation department at the University of Southern California and have long created animation sequences for commercials, film and music videos — most famously for the smash 1980s single "Take on Me" by the Norwegian band A-ha. (A video, incidentally, that is part of the permanent collection at New York's Museum of Modern Art.)
You could also call Patterson + Reckinger (their professional moniker) installation artists. They often create elaborate displays for their work, projecting animations onto artfully arranged screens and architectural elements in ways that shape their designs.
They are musical innovators of sorts as well. Though not musicians, the pair have worked with important avant-garde composers and other musical groups to create animated sequences for an array of live performances.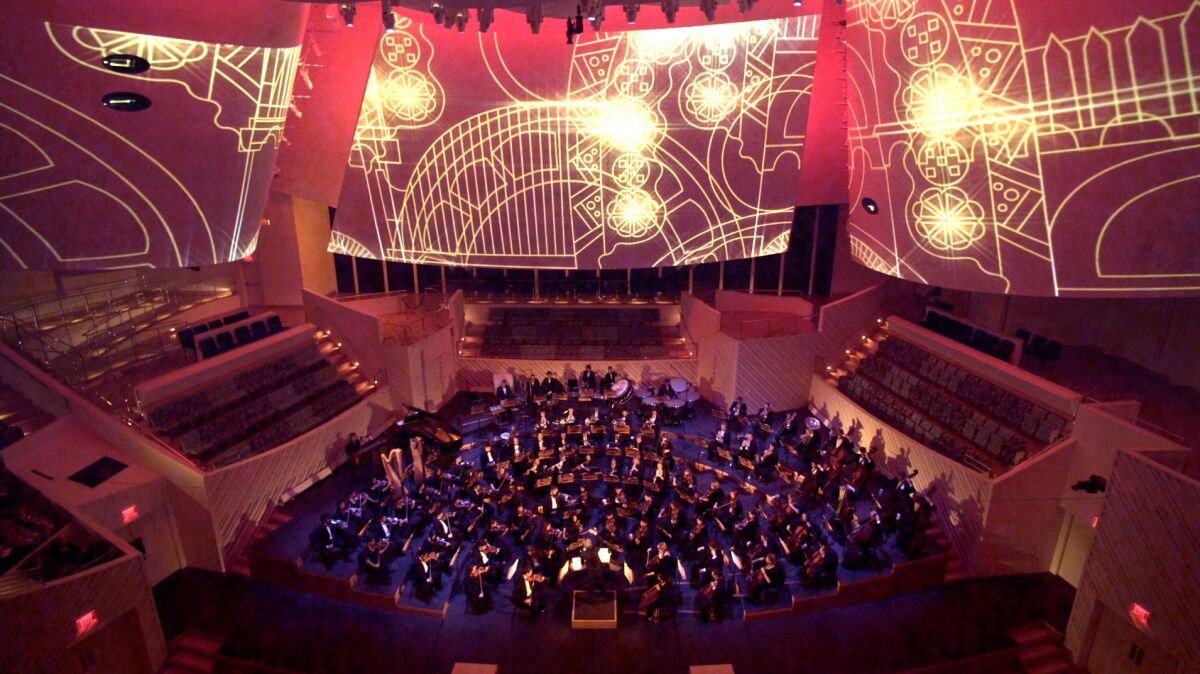 This has included an expansive installation that accompanied a performance of Mussorgsky's "Pictures at an Exhibition" at the opening of the New World Symphony in Miami in 2011. It also included a rainfall of geometric patterns that accompanied a performance of work by experimental composer Tristan Perich at the Broad Art Center at UCLA in 2015 — a composition that incorporated toy pianos and one-bit digital tones.
"Ever since we started our careers, we've been hybrid," says Patterson as he admires a wall-sized animation still at the Zemeckis Center for Digital Arts at USC, "whether it was mixing live action and animation or blending media."
And while their work has long eluded categories, Reckinger says this is of little matter to audiences.
"People are very sophisticated now, having computers, having programs and apps," she says. "People are so sophisticated with making media themselves."
"So the aesthetic bar and the quality bar is higher," adds Patterson. "People are really acute in their visual tastes."
Now the pair is about to raise the bar — and the melding of genres — even more.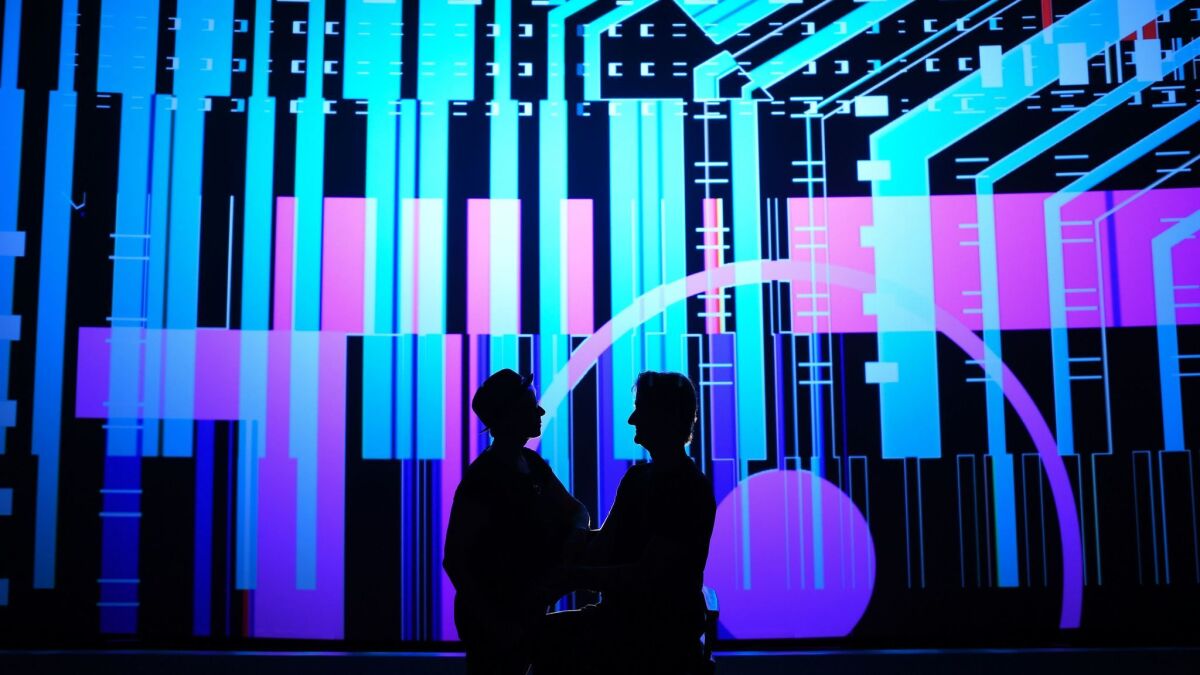 On Friday evening, Patterson + Reckinger are hosting the latest iteration of "Rhythms + Visions" at USC, an event that features animations, projections, live music and even virtual reality. The show will feature their work and that of more than six dozen others, including Grammy Award-winning pianist Gloria Cheng and multimedia artists Refik Anadol and Miwa Matreyek, the latter of whom is known for merging live performance with animation.
"It's performance, installation art, architectural project and music all mixed up together," says Reckinger.
The display will include projections on weather balloons and a custom 70-foot-wide screen that will be installed outside the School of Cinematic Arts on the USC campus.
But even though the concept is very high tech, "Rhythm + Visions" will also incorporate touches of the analogue. For one of the performances, musician Zi-Zhu Zhao will play the guzheng, a traditional Chinese zither that has been around for more than 2,000 years.
"It's like an art walk," says Patterson of the event, "but really refined."
Patterson and Reckinger are a unique artistic team. He is tall, with shaggy brown hair and an unhurried demeanor; she, petite, a wearer of stylish hats and the sort of conversationalist who can't convey all the ideas she holds in her head fast enough.
The pair are also a couple — finishing each others sentences, polishing each other's ideas and occasionally exchanging knowing smiles.
They both hail from Chicago and attended graduate school in Southern California. She studied film at UCLA. He was at the California Institute of the Arts, where he studied with, among others, the late Jules Engel, known for his work on Walt Disney's "Fantasia," which quite famously married music and animation in unique ways.
But Patterson and Reckinger didn't meet until they attended a festival of short films in Europe in 1982.
"We went all the way to Paris to discover we were both from Chicago and lived in L.A.," says Patterson. "And in both of our schools, we were doing new kinds of work."
Two years later, they were married (and are now the parents of two adult sons: Jasper and Barney Patterson, both of whom work in the area of electronic music).
It was around the time that they wed that the music video industry came calling.
At CalArts, Patterson had created a nearly five-minute animated short called "Commuter" that was crafted from a series of his hand-drawn sketches. The film, which aired on Z Channel, an early cable channel devoted to experimental and other film, caught the eye of producers at Warner Bros., who then tapped Patterson + Reckinger to animate A-ha's iconic music video.
The video combined live-action footage, still images and hand-drawn black-and-white animation in equal measure. It also riffed on the nature of drawing itself, with a character, in a very meta moment, attempting to bust out of the comic book frame.
The project changed their lives.
"That was amazing," recalls Patterson. "It was in heavy rotation on MTV. It was played for 60 weeks! Imagine having your video all over the world."
That assignment led to others, including the video for Suzanne Vega's "Luka" and Paula Abdul's "Opposites Attract," for which they rendered MC Skat Kat, the singing and dancing cat that appears in the video. The latter gig earned them a Grammy in 1990.
There have been countless commercial and musical gigs since. But in recent years, Patterson + Reckinger have turned their attention to live classical and avant-garde music — creating, often in collaboration with other artists and animators, wild visual sequences that accompany musicians on stage.
That turn began in 2011, when Michael Tilson Thomas — whom the duo affectionately refer to as "MTT" — then the director of the New World Symphony, approached USC about commissioning animators to create visuals for the debut show at the orchestra's new Frank Gehry-designed hall in Miami Beach.
"It was unbelievably exciting," says Patterson. "We'd have Skype sessions together. Often, MTT would be playing the piano. He's a very intense, detailed guy. With a team of students and graduates we built that whole thing out. "
For that project, the pair designed a five-screen installation that featured animations — created by themselves and other artists — inspired by "Pictures at an Exhibition," one of Mussorgsky's signature compositions. (Interestingly, one of Mussorgsky's other renowned works, "Night on Bald Mountain," had a central role in "Fantasia.")
The scenes Patterson + Reckinger compiled for "Pictures at an Exhibition" featured ghostly landscapes, abstract plays on light and space and even a group of dancing chickens. The result was an unforgettable sonic performance that also bathed the audience in visuals.
"It was five screens and they lit the ceiling," recalls Reckinger. "I remember thinking, this more like a hybrid theater experience than it was just an animation experience or a cinema experience."
Over the years, orchestras have increasingly incorporated animation into their live performance programs. The Los Angeles Philharmonic, for example, has featured animation and video by the Quay Brothers and Bill Viola to accompany musical works by contemporary composers Louis Andriessen and Arvo Pärt.
Patterson + Reckinger have set their animations to compositions by the likes 17th century German composer Johann Sebastian Bach and the very contemporary Thomas Adès.
It's a process that begins with deep listening — both alone and together.
"We listen to the music a lot," says Reckinger.
Reckinger will often do some digging into the history of a composition, or interview the composer about inspirations — in the case of Adès, over "a nosh" and a couple of bottles of wine. Then, together, she and Patterson will gather colors, images and video that convey a work's pattern or intent. They put this into a timed slide show that serves as a conceptual mood board for a work.
"What we'll do is visualize imagery against music," says Patterson. "Then we'll listen to the music again, and we create assemblages of pictures to look at while we're hearing the music to see if combinations work with the sounds."
Over time — and a lot of long animation and editing sessions — this mood board evolves into a finished work (sometimes one that bears little resemblance to the starting point).

Patterson pulls up a still from the finished animation of Adès' "Aracadiana," which was performed by the Penderecki String Quartet at USC in 2015.
"This piece has 250 layers and it took 20 hours to render it," he says. "It's made of illustration, of photography, of computer animation."
Reckinger says that animation can draw neophyte classical audiences into difficult pieces of music.
If you create a visual approach to the music, people can hear the music better. They can understand the design of the music better."

— Candace Reckinger, animator
"If you create a visual approach to the music, people can hear the music better," says Reckinger. "They can understand the design of the music better. … It's not that the visuals illustrate it. It's that the visuals make you aware of certain patterns."
And that's some of what they're hoping to achieve at "Rhythm + Visions" at the end of the week — the animation-meets-music show they first launched at USC in 2011.
One of the musical selections for the show is "Phrygian Gates," a piano piece by minimalist composer John Adams.
Says Patterson: "Hopefully people will come and see everything and say, 'There's this music by this guy named John Adams and it's really great.'"
+++
"Rhythm & Visions / Expanded + Live 3"
Where: USC, School of Cinematic Arts, 900 West 34th St., University Park, Los Angeles
When: Friday, 8 p.m.
Admission: The event is free, but an RSVP via the website is required for admission onto the campus
Info: visionsandvoices.usc.edu
Sign up for our weekly Essential Arts & Culture newsletter »
Get our L.A. Goes Out newsletter, with the week's best events, to help you explore and experience our city.
You may occasionally receive promotional content from the Los Angeles Times.