Triforium Fridays offer trippy performances beneath L.A.'s strangest sculpture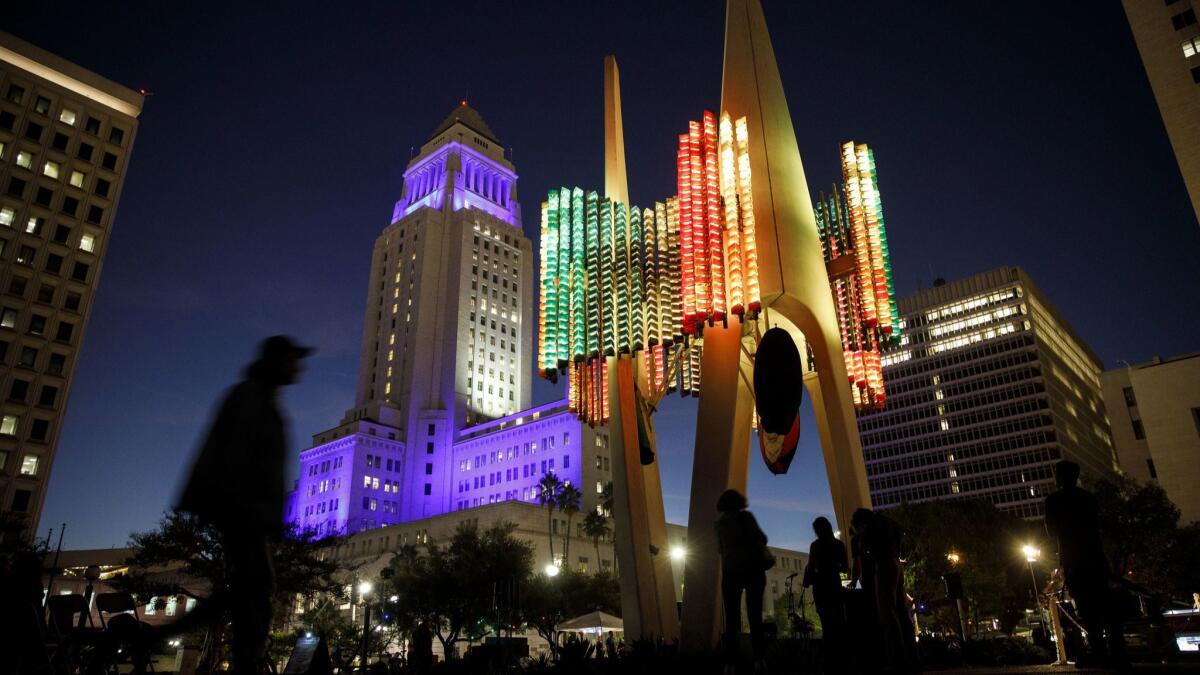 With its trippy, wavy bands of blinking rainbow colored lights and hulking, six-story-tall concrete legs, the Triforium looks like a retro alien spaceship that crash landed into downtown Los Angeles. Its new mission: throwing the universe's chillest rave.
For the last two weeks, hundreds of Angelenos have gathered in Fletcher Bowron Square at dusk each Friday to picnic on the knoll, listen to an eclectic mix of synth-driven indie pop and classical music, and gawk at the Triforium's lights as they pulse and shift hues in sync with each note.
Curated and produced by the group behind the Triforium Project, the Triforium Fridays series is designed to activate this widely misunderstood public artwork for the first time in decades. Its third and final iteration is Nov. 2.
Originally imagined in the 1970s by artist Joseph Young as a one-of-a-kind "polyphonoptic" instrument, the Triforium is, perhaps, L.A.'s strangest public artwork. For more than 40 years it has stood tall at the corner of Temple and Main streets in various states of repair and disrepair, functionality and lack thereof.
Plagued by technical problems and budget woes, Young's massive "instrument" never quite worked the way he imagined.
The artist's inspiration for the structure came in part from Russian composer and synesthete Alexander Scriabin's orchestral work "Prometheus," the score for which calls for a "color organ" to produce illuminated hues in direct correspondence to musical harmonies.
To achieve his own color-music instrument dreams, Young taught himself the basics of computer coding. The Triforium included a subterranean control room where the artist housed three bulky 1970s-era computers and 79 amplified glass bells designed to be played by a "polyphonoptician."
Young's computer program, which is preserved today on original eight-bit paper tape, created a responsive relationship between each note of the chromatic scale and each of the structure's 1,494 light bulbs.
The consensus among members of the Triforium Project, a group that won a $100,000 grant to restore the sculpture/instrument, is that Young's vision was ahead of its time. What he imagined for the Triforium was just never quite possible using '70s-era technology.
As they pursued their restoration project, Triforium Project members Jona Bechtolt, Claire Evans, Tom Carroll and Tanner Blackman determined that restoring the work's original technology would cost at least $1 million, and the results would likely be expensive to maintain and operate and less than successful functionally.
And so the group shifted its focus from restoring the structure's old systems to using new technology to achieve Young's vision. Their goal was simple: make the Triforium work and bring back its joyful, blinking, colorful ribbons of light so that Angelenos could gather together and enjoy it the way Young intended.
LED lights (designed and installed by Light Riders) and a laptop computer are affordable and, it turns out, more efficient and effective than the structure's original technology.
On Oct. 27, 27, the "phonoptician" looked more like a hipster DJ hovering over his laptop a few feet from one of the Triforium's three, giant wishbone-shaped legs and grooving to the beats flowing from Julianna Barwick's keyboard.
Douglas Dunn, a computer programmer with a passion for retro technology and for the Triforium (he lives nearby), was also manning the laptop.
Dunn spent months this year digging into Young's archives and translating the work's archaic code into a new, more responsive modern computer program that works two ways: translating every pitch played or sung into light, and allowing some color and hue decisions to be made live by the phonoptician.
"Just as Young described it working in his papers," Dunn says
For Triforium Fridays, the open space beneath the structure is transformed into a makeshift stage.
Before Barwick's set last week, artist-composer Carolyn Pennypacker Riggs led members of the Community Chorus through a vocally driven work of performance art. Members of the choir drifted through the crowd in flowing white robes with masks perched on the backs of their heads, giving them the illusion of possessing two faces. They handed out strips of woodsy-scented cloth — courtesy of the Institute for Art and Olfaction — and created blasts of beautifully dissonant sound and color as they screamed and sang.
During one of the more transfixing moments of the second Triforium Friday, tenor Sean Panikkar, who sings the lead role in L.A. Opera's ongoing production of Philip Glass's "Satyagraha," stood tall and still below the artwork. A nearby piano churned out hypnotizing Glassian patterns as Panikkar sang, in Sanskrit, the mantra-like ascending modal scale of the opera's final act. The lights of the Triforium flickered in response to the pitch and intensity of his voice, and the crowd was nearly completely silent, with all eyes fixed on the mesmerizing light show above.
Young passed away in 2007, but both of his daughters — Cecily Young and Leslie Young — have been involved in the Triforium's restoration plans and on hand to experience each iteration of Triforium Fridays. They'll be back this Friday for a show that includes Taiko drumming, an extraordinarily talented whistler and a set by Thao Ngyuen.
"For me, looking at this, I'm seeing that this is what my father really wanted to do," Leslie said during the second Triforium Friday event as she watched kids dancing and groups of friends picnicking under the bright glow of her father's artwork.
Cecily agrees. Her dad's vision was just four decades ahead of its time, she remarks. And she's convinced he would've loved the results the Triorium Project team achieved through modern technology. "I can only imagine this is what he really had in mind."
The Young sisters are concerned about the future of their dad's artwork.
"This plaza is slated for destruction, according to a downtown master plan," Cecily says. "We are distressed to think that the city has no commitment to save this artwork. They seem to regard it as disposable. And we don't think of it as that. We think it is now fulfilling what it was always meant to do. Look at this huge crowd, everyone looking up and everyone just beating to the music. It's such a wonderful feeling. Do we really want to throw it away?"
Triforium Fridays
When: Nov. 2, 6 p.m. - 10 p.m.
Where: Fletcher Brown Square, Temple and Main streets, downtown Los Angeles.
Price: Free
Info: triforium.la
Get our L.A. Goes Out newsletter, with the week's best events, to help you explore and experience our city.
You may occasionally receive promotional content from the Los Angeles Times.