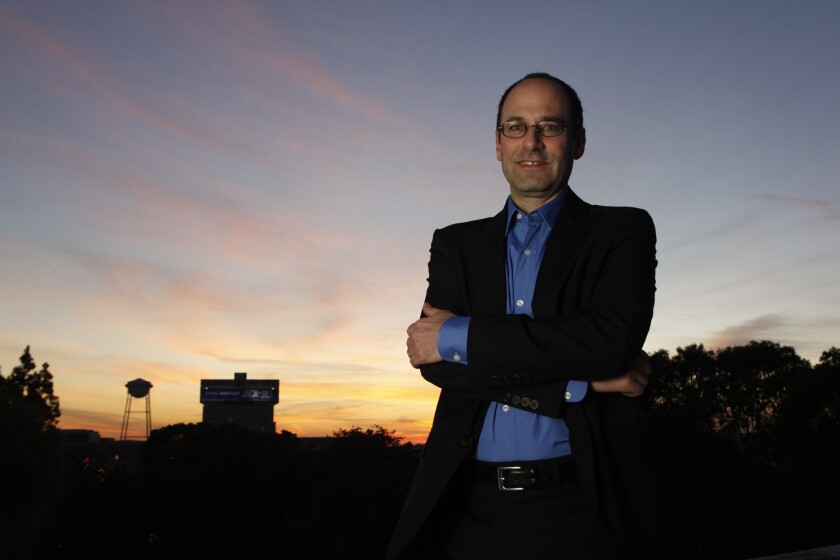 There's a shakeup going on at Sony Pictures Entertainment as the studio moves to reposition itself in the fast-changing entertainment business.
In the last week, the Culver City-based studio has made moves to significantly restructure the top ranks in both its film and television units, resulting in the departure of two long-serving and respected executives.
The shifts come at a time when Sony's film business continues to lag behind its competitors. Sony currently ranks last out of the six major studios in terms of domestic ticket sales so far this year with flops such as "The Brothers Grimsby' and "Pride and Prejudice and Zombies." Last year, it landed in fifth place, ahead of Paramount Pictures.
In that kind of environment, hard choices need to be made, according to Jason E. Squire, a film business professor at USC.
"Transition is stressful in any company, and that's certainly true of studios," Squire said.
On Friday, the studio announced the promotion of Sanford Panitch to lead its Columbia Pictures division. He effectively replaces Doug Belgrad, who disclosed a day earlier that he would resign as head of Columbia and the company's broader motion picture division.
Sony said the installment of Panitch as Columbia's president emphasizes the studio's growing focus on the international marketplace, a key initiative for his boss, Motion Picture Group Chairman Tom Rothman. Panitch arrived at Sony last year to lead the company's international film and television division, after working with Rothman for years at the Fox film studio as president of its international productions business.
"His big film background and international expertise fits exactly with our expanded global emphasis and ambitions," Rothman said in a statement.
Despite a poor track record this year, the film division has enjoyed recent success with "The Angry Birds Movie," which has grossed $75 million in ticket sales in the United States and Canada since its release on May 20. It has also seen successes from its faith-based movies.
But Sony also endured recent flops, including "The Brothers Grimsby," a Sacha Baron Cohen comedy, that took in just $25 million worldwide. And "Pride and Prejudice and Zombies," a horror mashup of the Jane Austen novel, wiped out with just $16 million in global box office receipts.
The Chloë Grace Moretz sci-fi movie "The 5th Wave" failed to take hold among the intended young adult audience in the United States, and last year's Robert Zemeckis film "The Walk" flopped. Sony's most recent live action offering, the star-studded "Money Monster," has grossed a modest $53 million.
John Davis, a film and television producer, said Panitch is a strong choice to lead Columbia.
"He's the hardest-working person I've ever met," Davis said. "He can literally out-work anyone in Hollywood. "
Belgrad, speaking Friday in an interview, said he plans to set up a company to finance and produce movies and TV shows for Sony, something he has wanted to do for years. But Rothman wanted him to stay on until the company had firmed up its upcoming film slate, which includes the sci-fi epic "Passengers," the Stephen King adaptation "The Dark Tower" and a "Bad Boys" sequel.
Belgrad has promised to remain in his post until after the July 15 release of the studio's key summer gamble, a "Ghostbusters" reboot starring Melissa McCarthy and Kristen Wiig.
"I feel like after serving the studio for more than 25 years, that I had paid my dues and it was time to go into business for myself," Belgrad said. "I wasn't prepared to do that until Tom and I felt the company was on solid ground. I feel like I've completed my mission here and I'm leaving the company in great shape."
Belgrad, who first joined Sony in 1989, was considered to be in the running to replace then-studio chief Amy Pascal after her ouster last year following the devastating 2014 cyberattack on the studio. Sony Pictures Entertainment Chairman and CEO Michael Lynton ultimately chose Rothman for the position, but Belgrad said his resignation had nothing to do with being passed over.
Belgrad's departure became public one day after the resignation of Sony Pictures Television Chairman Steve Mosko, who oversaw Sony's TV production business, including hits such as "Breaking Bad" on AMC and "The Blacklist" on NBC. Several people with knowledge of the situation say Mosko had clashed with Lynton. The two had been negotiating a new agreement to replace Mosko's employment contract that was due to expire this fall.
Mosko's responsibilities will be shared by a handful of current Sony TV executives who will report directly to Lynton.
The exit came just nine months after Mosko was promoted to chairman of Sony Pictures Television after serving for years as president. The promotion recognized his value to Sony's entertainment business and his steady hand during the computer hack that roiled the studio.
Sony executives disputed the perception of internal upheaval at the studio, maintaining that the close proximity of the changes is a coincidence. Though the moves were seen as surprises in much of Hollywood, Sony countered that both are strategic moves that have been in the works for months and should not be viewed as blows to the company.
Though Mosko's ouster, after 24 years building Sony's TV business, took the entertainment industry aback, Mosko downplayed the unexpected nature of his departure. Speaking at an event at the Paley Center for Media in Los Angeles, Mosko said the move had "been brewing for a while."
"I think it's sort of a sign of instability, and of Sony trying to get their feet under them," said Wheeler Winston Dixon, a film professor at the University of Nebraska-Lincoln. "I don't know that this is the way to do it. With television performing so solidly under Mosko … is this really the right move?"
Follow Ryan Faughnder on Twitter for more entertainment business coverage: @rfaughnder
---