Are we witnessing the death of young-adult dystopia at the movies?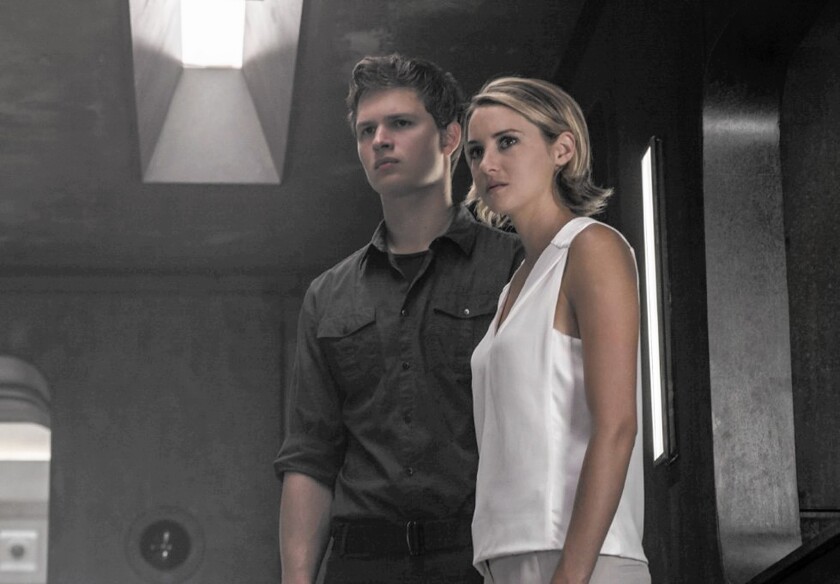 In movie theaters this past weekend, a reluctant teen hero led a rebellion comprising an implausible clan of oppressed but likable young iconoclasts. Together they rose up around their chosen one to fight their government's evil social engineering.
Sound familiar? No, it wasn't a new installment of "The Hunger Games," "The Maze Runner"or "The Giver." And it wasn't a reprise of "Saturday Night Live's" "The Group Hopper" sketch, which blended almost every current dystopian teen trope into a trailer for a fake movie "written entirely," the joke went, "in the comments section of a 'Hunger Games' trailer."
The real film was "The Divergent Series: Allegiant — Part 1," the third in the franchise starring Shailene Woodley and Theo James.
But with an opening weekend box office of just $29 million — compared with a $54-million start for "Divergent" (2014) and a slightly lower $52 million for "Insurgent" (2015) — "Allegiant" debuted at a disappointing No. 2 behind the rabbit-fronted "Zootopia, calling into question whether we are witnessing the end of the young adult dystopian wave at the movies.
Certainly we haven't seen the end of this franchise: "The Divergent Series: Ascendent — Part 2" is scheduled for a 2017 release. And "The Maze Runner" is filming "The Death Cure," the third and final installment of the series, which halted production last week after star Dylan O'Brien was injured on set.
But few films in this genre have been able to claim "The Hunger Games'" big bucks. The 2013 science-fiction thriller "The Host" made just more than $26.5 million in its entire domestic run, even though it was adapted from a novel written by "Twilight" author Stephanie Meyer and starred two-time Academy Award nominee Saoirse Ronan. Another alien-centric adaptation "The 5th Wave," still in theaters, has made just under $34 million since its January debut.
Most discouraging was junior-high and grade-school English class mainstay "The Giver" by Newbery Medal-winning author Lois Lowry. The longtime passion project of actor Jeff Bridges boasted a hefty cast including himself and fellow Oscar winner Meryl Streep. But critics found the film flawed — L.A. Times Film Critic Kenneth Turan called it "disappointing" — and it made just $45 million in its domestic run.
These days, studios are increasingly looking to turn popular young adult books into movies. Do fans rush to theaters or stay at home and tightly clutch their books? Take a look at 25 examples.
By Tracy Brown, Noelene Clark, Christy Khoshaba and Jevon Phillips/Los Angeles Times
(Warner Bros. / Summit Entertainent / Disney)
Based on "I know What You Did Last Summer," a 1973 novel by Lois Duncan, a group of teens hits and supposedly kills a man one summer. They cover it up and promise not to speak of it, but are terrorized by a man with a hook, and it starts with a note stating, "I know what you did last summer."
(James Bridges / Mandalay Entertainment)
Based on the series by Meg Cabot. When an average girl discovers she is a princess from the country of Genovia, her entire life turns around. She realizes life's problems don't just disappear when one is royalty.
(Ron Batzdorff / Disney Entereprises Inc.)
The Divergent trilogy are novels by Veronica Roth set in a post-apocalyptic dystopian Chicago telling the tale of a society that is defined by personality traits. If you don't fit in, you're removed, and Tris is in danger of being killed if her divergence is discovered. Shailene Woodley is Tris and Theo James is Four in the films. Box office totals are just over $310 million for three films.
(Daniel McFadden)
Based on the books by J.K. Rowling, the film series about the Wizarding World's "Boy Who Lived" grossed $7.7 billion worldwide. "The Deathly Hallows Part 2" was the top-grossing film in the series with $1.3 billion worldwide.
(Warner Bros.)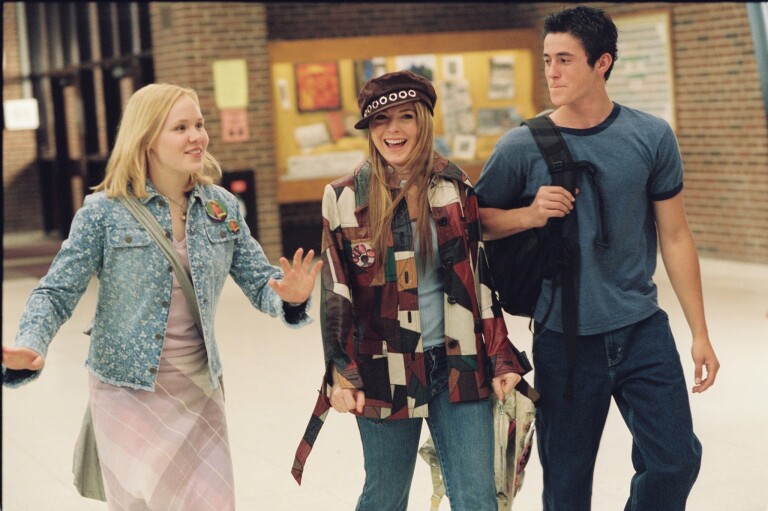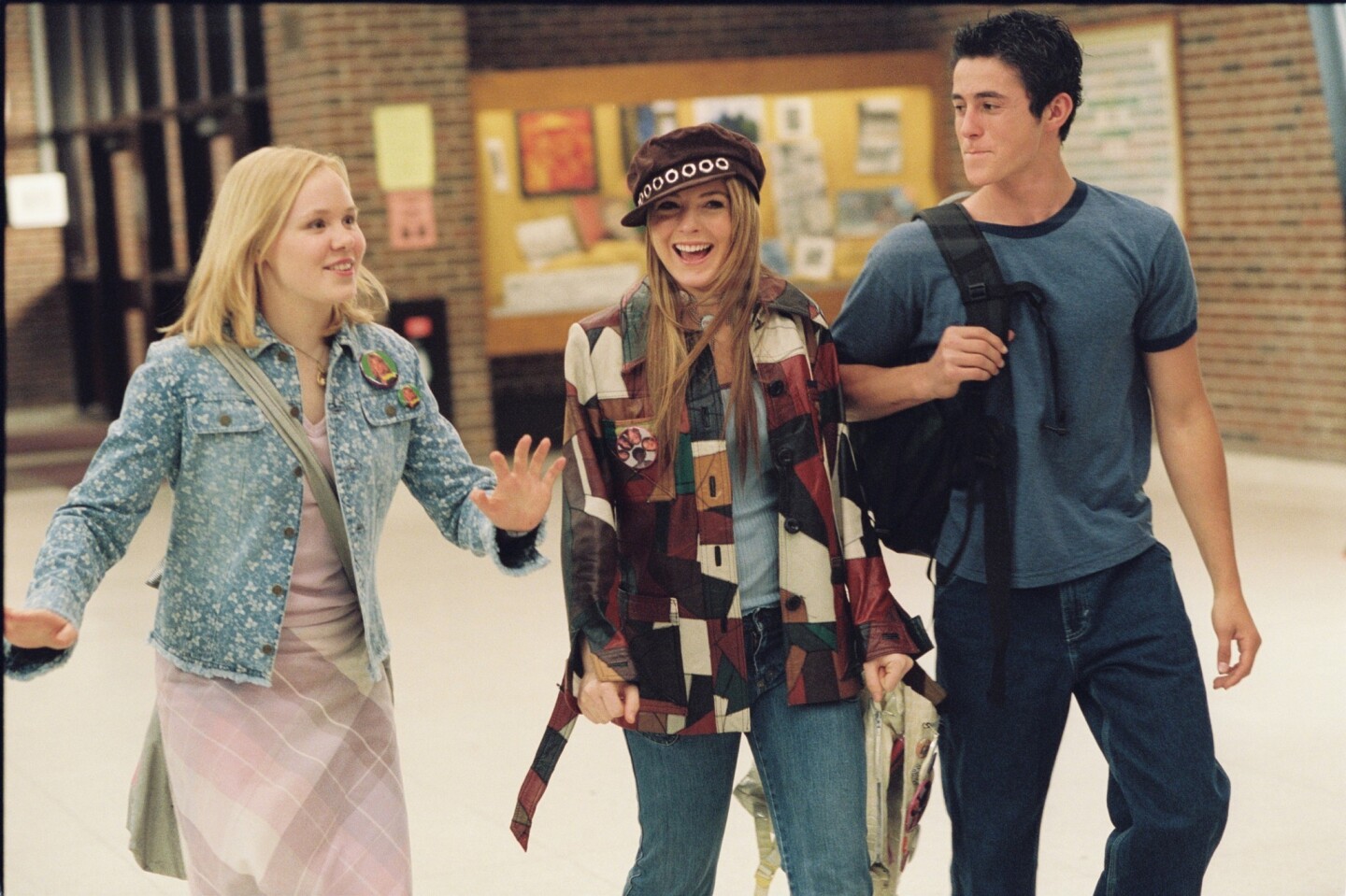 Based on "Confessions of a Teenage Drama Queen" by Dyan Sheldon, the film starred Lindsay Lohan, center.
(George Kraychyk / Disney Enterprises Inc.)
Based on the book series by Ann Brashares. A group of teens discovers a pair of jeans that magically fits each of them perfectly. While their lives lead them in different directions over the course of four summers, they maintain their childhood friendship through the jeans.
(Phil Caruso / Warner Bros.)
Based on the books by C.S. Lewis. The Pevensie children discover a wardrobe that leads them to the magical world of Narnia.
(Phil Bray / 20th Century Fox)
Based on the first book in the Inheritance Cycle by Christopher Paolini, it tells the tale of a boy, Eragon, and his dragon.
(20th Century Fox)
Based on the novel "Nick and Norah's Infinite Playlist" by Rachel Cohn and David Levithan, the movie stars Kat Dennings and Michael Cera.
(K.C. Bailey / Screen Gems)
Based on the Cornelia Funke novel, the movie stars Brendan Fraser as a father with the power to read books and bring characters off paper and into real life.
(Close Murray / New Line Cinema)
The first of Jeanne DuPrau's "Books of Ember" tells the story of a city where there's no light at all unless the electricity is on -- and the electricity is beginning to fail.
(Fox Walden )
Based on "The Lovely Bones" by Alice Sebold. A teenage girl has been raped and murdered, but she watches from the beyond as the people in her life try to keep going, and she tries to steer them in the right direction to find the killer and her body.
(Paramount Pictures / DreamWorks)
Based on the "Percy Jackson & the Olympians" series by Rick Riordan. Logan Lerman stars as a boy who finds out he is the half-human, half-god son of Poseidon.
(Murray Close / 20th Century Fox)
Based on the first book in the "Lorien Legacies" series by Pittacus Lore. A teenager is actually an alien with superpowers.
(DreamWorks)
Based on Suzanne Collins' bestselling trilogy, the film series is about a post-apocalyptic world where 12 districts are forced to send children to fight each other in an annual televised battle to the death as atonement for a past rebellion.
(Murray Close / Lionsgate)
When her mother goes missing, teenager Clary Fray finds herself entangled in the world of Shadowhunters -- demon-hunters of angelic descent. Based on the series by Cassandra Clare, Clary's quest involves demons, vampires and long-hidden family secrets.
(Rafy / Screen Gems)
Lena Duchannes is a spell caster at a crossroads. Ethan Lawson Wate, introduced to the magical world at this critical time, is put in danger because of it. They met in their dreams. The movie is based on the book by Kami Garcia and Margaret Stohl.
(John Bramley / Warner Bros.)
A young girl seeks calm amid chaos in World War II Germany by stealing books and sharing them with others while a young Jewish refugee, taken care of by the girl's adoptive parents, lives underneath the stairs in her home. Based on Markus Zusak's book.
(Jules Heath / 20th Century Fox)
Based on John Green's novel, "Fault" is about the unconventional romance between Hazel, a 16-year-old cancer patient with a cutting sense of humor, and Augustus, a 17-year-old cancer survivor and amputee, who meet in a cancer support group.
(James Bridges / 20th Century Fox)
Based on the first book in Richelle Mead's series, Rose Hathaway, a half-human, half-vampire guard-in-training, and her best friend Lissa Dragomir, a Moroi (peaceful mortal vampire) princess are brought back to St. Vladimir's Academy after running away.
(Marion Curtis / Starpix)
In the movie based on James Dashner's book, Thomas wakes up with no memories of his life among a community of boys in a large, enclosed space called the Glade. The day after Thomas arrives, a girl is sent into the Glade for the first time.
(Ben Rothstein)
Do these falling numbers indicate we are nearing the end of the teenage dystopian dynasty?
Senior media analyst for comScore Paul Dergarabedian doesn't agree that the weight can be placed solely on the genre in question. "Athough as a whole the YA dystopian movies have had massive success, many films from this category have fallen short, so their continued relevance in the marketplace has come into question," Dergarabedian said in a email.
He added, "The overriding premise of most of these films seem very similar and thus the natural conclusion is that YA audiences may be looking for other, perhaps fresher options."
The pileup in genre films is not a new phenomenon. "Twilight" spawned a resurrection of vampire films. "Fright Night," "Dark Shadows" and even "Abraham Lincoln: Vampire Hunter" all sought to capitalize on the fang trend but failed to pump new blood into the genre. After the "Harry Potter" films made enough gold to fill the many vaults of Gringotts, Potter-fodder filled theaters serving up fistfuls of piping-hot childlike wonder. "The Spiderwick Chronicles," "The Seeker," "The Bridge to Terabithia" and others all hoped to enchant some of that Hogwarts crowd or carve out their own fan-verse.
But most of those offerings failed to fly. Meanwhile, others are being totally revamped. The source material for "Golden Compass," author Philip Pullman's "His Dark Materials," is being rebooted into a TV series at BBC One, much to the delight of disappointed fans who found the movie translation less than worthy.
Even though the movie dystopia looks to be slowly dwindling in box-office numbers, the "bleak future" trend is alive on television. The CW's critically adored "The 100" just got renewed for another season, USA premiered Carlton Cuse's alien-occupied Los Angeles thriller "Colony" in January and AMC's "The Walking Dead" (while mostly teen-free) is still running strong with a spinoff "Fear the Walking Dead" in tandem. More is on the way. The CW gave the green light to an adaptation of Louisa May Alcott's "Little Women" with a dystopian bent. Wrap your head around that.
On the film front, you only have to look at the coming attractions to see what the studios are hoping will capture the disposable income of the young-adult crowd. One exciting trend appears to be fairy-tale adaptations. Disney has already cued up a live-action "Beauty and the Beast" starring "Harry Potter's" Emma Watson, and Chloe Moretz has been cast to star as the titular character in Universal's live-action "Little Mermaid." Will "The Huntsman: Winter's War," the Snow White-inspired film with a dash of Snow Queen, cash in on the new trend this April? Only time and money will tell.
ALSO:
Lionsgate shares slip after weak opening for 'Allegiant'
Ben Affleck talks about the possibility of directing his own Batman movie
'Mockingjay' finale, or all four 'Hunger Games' films, now available for fans and collectors
---
The complete guide to home viewing
Get Screen Gab for weekly recommendations, analysis, interviews and irreverent discussion of the TV and streaming movies everyone's talking about.
You may occasionally receive promotional content from the Los Angeles Times.