L.A. movie openings, Nov. 25-Dec. 2: 'Mowgli,' 'The Mercy' and more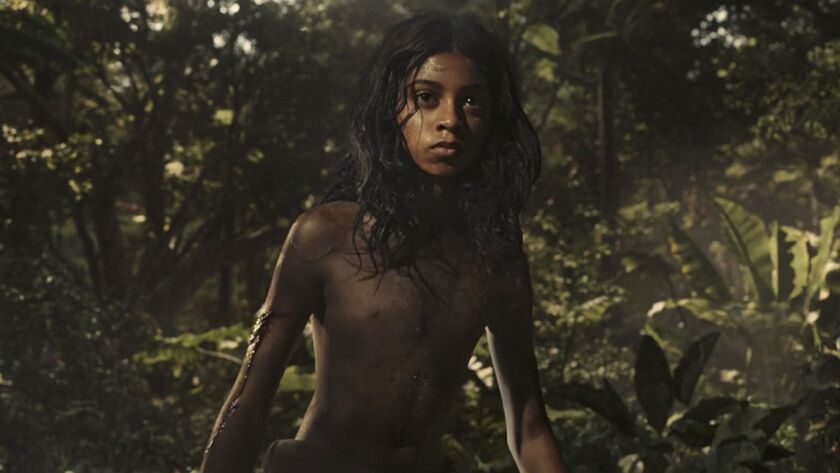 Nov. 26
Narcissister Organ Player
Feminist performance artist Narcissister is the subject, writer and director of this documentary focusing on her explorations of gender, racial identity and sexuality. (1:31) NR.
Roll With Me
Paraplegic and recovering addict Gabriel Cordell tries to become the first person to cross the U.S. in an unmodified wheelchair in this documentary. Directed by Lisa France. (1:30) NR.
Nov. 29
Default
South Korean drama about the 1997 Asian financial crisis. With Ah-In Yoo, Hye-su Kim, Vincent Cassel. Written by Seong-min Eom. Directed by Kook-Hee Choi. In Korean with English subtitles. (1:54) NR.
Meow Wolf: Origin Story
Documentary about the DIY artist collective that built a massive Lovecraftian funhouse in a bowling alley in Santa Fe. With George R.R. Martin. Written by Morgan Capps, Christina Procter, Jilann Spitzmiller. Directed by Capps, Spitzmiller. (1:28) NR.
Mowgli: Legend of the Jungle
Dark retelling of the tale of the man-cub from Rudyard Kipling's "The Jungle Book" mixes live action, motion-capture and animation. With Rohan Chand, Freida Pinto, Matthew Rhys; voices by Andy Serkis, Christian Bale, Cate Blanchett, Benedict Cumberbatch. Written by Callie Kloves; based on the novel by Kipling. Directed by Serkis. (1:44) PG-13.
Nov. 30
Anna and the Apocalypse
Zombies threaten to ruin a quiet town's Christmas in this musical comedy. With Ella Hunt, Malcolm Cumming. Written by Ryan McHenry, Alan McDonald. Directed by John McPhail. (1:37) R.
Blood Brother
Released from prison, a man seeks revenge on the childhood friends he believes betrayed him. With Tremaine "Trey Songz" Neverson, China Anne McClain, Fetty Wap. Written by Michael Finch, Karl Gajdusek, Charles Murray. Directed by John Pogue. (1:30) R.
DriverX
A struggling family man plunges into a sex- and alcohol-fueled world of ride-sharing. With Patrick Fabian, Tanya Clarke, Desmin Borges, Oscar Nuñez. Written and directed by Henry Barrial. (1:38) NR.
Elliot: The Littlest Reindeer
A miniature horse sets out to replace the retiring Blitzen on Santa's team in this animated tale. Voices by Josh Hutcherson, John Cleese, Martin Short, Samantha Bee, Jeff Dunham. Written and directed by Jennifer Westcott. (1:29) PG.
Everybody Knows
Penélope Cruz stars as a woman who returns home to Spain from Argentina for her sister's wedding, only to have her daughter abducted. With Javier Bardem. Written and directed by Asghar Farhadi. In Spanish, Catalan and English with English subtitles. (2:12) R.
The Great Buddha+
A security guard and his trash collector friend are drawn into the sordid affairs of a wealthy factory owner. With Cres Chuang, Bamboo Chen. Written and directed by Huang Hsin-yao. In Minnan with English subtitles. (1:42) R.
Happy as Lazzaro
The tale of an enigmatic man who may be a time traveler. With Adriano Tardiolo, Nicoletta Braschi. Written and directed by Alice Rohrwacher. In Italian with English subtitles. (2:05) PG-13.
Head Full of Honey
A young woman attempts to help her Alzheimer's-afflicted grandfather. With Nick Nolte, Matt Dillon, Emily Mortimer, Jacqueline Bisset, Eric Roberts. Written by Til Schweiger, Lo Malinke, Jojo Moyes; story by Hilly Martinek and Schweiger, based on a 2014 German film. Directed by Schweiger. (2:07) PG-13.
Invisible Hands
Documentary explores how the world's largest corporations profit from child labor and child trafficking. Written by Shraysi Tandon, Chad Beck. Directed by Tandon. (1:20) NR.
Making of the Five Heartbeats
Writer-director Robert Townsend's new documentary revisits his 1991 drama about an African American vocal group. (1:25) NR.
Martyr
A young man's drowning transforms the lives of friends in Beirut. With Carol Abboud, Hadi Bou Ayash. Written and directed by Mazen Khaled. In Arabic with English subtitles. (1:24) NR.
The Mercy
In 1968, an Englishman sets out to become the first person to sail solo around the world without stopping. With Colin Firth, Rachel Weisz, David Thewlis, Mark Gatiss. Written by Scott Z. Burns. Directed by James Marsh. (1:52) NR.
Mirai
A 4-year-old boy travels through time meeting relatives from different eras in this animated fantasy. Written and directed by Mamoru Hosoda. In Japanese with English subtitles. (1:38) PG.
Never Look Away
A young artist who fled East Germany is haunted by memories of his life under the Nazi and Communist regimes. With Tom Schilling, Paula Beer,. Written and directed by Florian Henckel von Donnersmarck. In German and Russian with English subtitles. (3:08) R.
People's Republic of Desire
Documentary explores how digital relationships via live streaming affect real-life human interactions in China. Directed by Hao Wu. In Mandarin with English subtitles. (1:35) NR.
The Possession of Hannah Grace
A morgue attendant fears a newly delivered, disfigured corpse is possessed by a demon. With Stana Katic, Shay Mitchell, Grey Damon, Kirby Johnson. Written by Brian Sieve. Directed by Diederik Van Rooijen. (1:25) R.
Senso
Re-release of director Luchino Visconti's 1955 drama about the love between a countess and an officer during the Italian-Austrian war of unification. With Alida Valli, Farley Granger, Massimo Girotti. Written by Visconti, Suso Cecchi d'Amico; with collaborators Carlo Alianello, Giorgio Bassani, Giorgio Prosperi, Tennessee Williams, Paul Bowles. In Italian and German with English subtitles. (2:03) NR.
Sex Weather
Two people spend the next day talking in bed after a drunken one-night stand. With Al'Jaleel McGhee, Amber Stonebraker. Written and directed by Jon Garcia. (1:28) NR.
Song of Back and Neck
"The Office's" Paul Lieberstein wrote, directed and stars in this comedy about a lawyer living with chronic pain whose life begins to change when a beautiful client refers him to an acupuncturist. With Rosemarie DeWitt, Brian d'Arcy James, Robert Pine. (1:27) NR.
Stadium Anthems
Mockumentary-style look at a faltering record label. With Toddy Walters, Jude Moran. Written and directed by Scott Douglas Brown. (1:39) NR.
United Skates
Documentary about the intersection of roller skating and hip-hop culture. With Coolio, Salt-N-Pepa. Written by Dyana Winkler. Directed by Winkler, Tina Brown. (1:29) NR.
---
Get the Indie Focus newsletter, Mark Olsen's weekly guide to the world of cinema.
You may occasionally receive promotional content from the Los Angeles Times.