11 of the most political moments in Oscar history
January's Screen Actors Guild Awards turned out to be one of the most politically charged in memory, with multiple winners taking the opportunity to challenge President Trump's policies. Since then, the atmosphere has become even more politically charged, and Hollywood is unlikely to stay out of the fray on Oscar night this year. But if things get political, it certainly won't be the first time the event has been used as an amplifier for activism.
Here are 11 of Oscar's most notable political moments:
1972
In the 1970s, the Vietnam War, Watergate and the increasing visibility of various rights movements ushered in a new politically outspoken attitude among stars. Jane Fonda, frequently derided as "Hanoi Jane" by some for her visit to North Vietnam and outspoken opposition to the Vietnam War, was one such Hollywood fixture known for speaking her mind when given the opportunity. On Oscar night in 1972, after thanking the Academy for her lead actress win for "Klute" — itself a political statement — Fonda kept it brief and simply asked viewers to read between the lines by saying, "There's a great deal to say and I'm not going to say it tonight. I would just like to really thank you very much."
1973
When Marlon Brando won the lead actor award for his role in "The Godfather," the audience was surprised when a woman in Native American dress, who identified herself as Sacheen Littlefeather (Marie Louise Cruz), took the stage and informed the crowd that Brando was declining the honor in protest of "the treatment of the American Indian in motion pictures and on TV, and because of the recent events at Wounded Knee," where federal agents clashed with hundreds of Native American protesters between February and May of 1973.
1978
Prior to Oscar night, Vanessa Redgrave had already raised the ire of the Jewish Defense League after she produced the pro-Palestine TV documentary "The Palestinian." Upon winning the supporting actress Oscar for her portrayal of an anti-Nazi activist in "Julia," Redgrave doubled-down with an impassioned speech that drew audible boos.
Referring to people protesting "The Palestinian," Redgrave labeled them "a small bunch of Zionist hoodlums whose behavior is an insult to the stature of Jews all over the world and to their great and heroic record of struggle against fascism and oppression," before also condemning President Nixon and Wisconsin Sen. Joseph McCarthy. Later in the show, Paddy Chayefsky (the writer of "Network" and "Hospital") countered with, "I'm sick and tired of people exploiting the occasion of the Academy Awards for the propagation of their own personal political propaganda." That push and pull has continued ever since.
1993
Like many in the audience, the famously politically active couple Susan Sarandon and Tim Robbins wore red ribbons to the ceremony, which they used as a way to call attention to HIV-positive Haitians who were being held at Guantanamo. Sarandon addressed Washington politicians, asking them to "admit that HIV is not a crime and to admit these people into the United States."
1993
Richard Gere took a moment from introducing the nominees in the art direction category to bring up the still-unresolved issue of Tibetan independence, asking Chinese leader Deng Xiaoping to "take his troops and take the Chinese away from Tibet and allow these people to live as free, independent people again."
1999
Lifetime achievement awards are rarely controversial, but when Hollywood legend Elia Kazan was given the honor in 1999, the audience was visibly divided because of Kazan's 1952 testimony before the House Un-American Activities Committee. He informed on old friends who had been members of the Communist Party and later refused to apologize. While such A-listers as Warren Beatty, Kathy Bates, Kurt Russell and Meryl Streep rose to applaud, others including Nick Nolte, Ed Harris and Amy Madigan glowered at the stage with their arms crossed.
2002
In 2002, Halle Berry became the first black actress to win an Oscar in the lead actress category for her role in "Monster's Ball." She took her moment on the stage to highlight the past, present and future of African American actresses. "This moment is so much bigger than me," she explained. "This moment is for Dorothy Dandridge, Lena Horne, Diahann Carroll. It's for the women that stand beside me: Jada Pinkett, Angela Bassett, Vivica Fox. And it's for every nameless faceless woman of color that now has a chance because this door tonight has been opened."
2003
Documentarian Michael Moore made his career on political cage rattling, but he brought his beliefs to the Oscar stage in 2003, when his film "Bowling for Columbine" won in the feature documentary category. Wagging his finger, Moore chastised then-President George W. Bush for the Iraq War, which had started just days prior, calling him a "fictitious president" and saying "Shame on you!"
2009
In November 2008, California voters approved the controversial Proposition 8 banning same-sex marriage to a massive outcry from the bill's opponents. Just a few months later, Sean Penn picked up an Oscar for portraying slain gay rights icon Harvey Milk and he took the time to confront the issue head-on. "I think that it is a good time for those who voted for the ban against gay marriage to sit and reflect and anticipate their great shame and the shame in their grandchildren's eyes if they continue that way of support," he said. "We've got to have equal rights for everyone." Likewise, "Milk" screenwriter Dustin Lance Black spoke passionately about the issue.
2010
When "The Cove" was named best documentary in 2010, the filmmakers extended its animal rights themes to Oscar night, when one of the film's subjects, "Flipper" trainer-turned-activist Ric O'Barry, prominently displayed a phone number for more information about dolphin activism.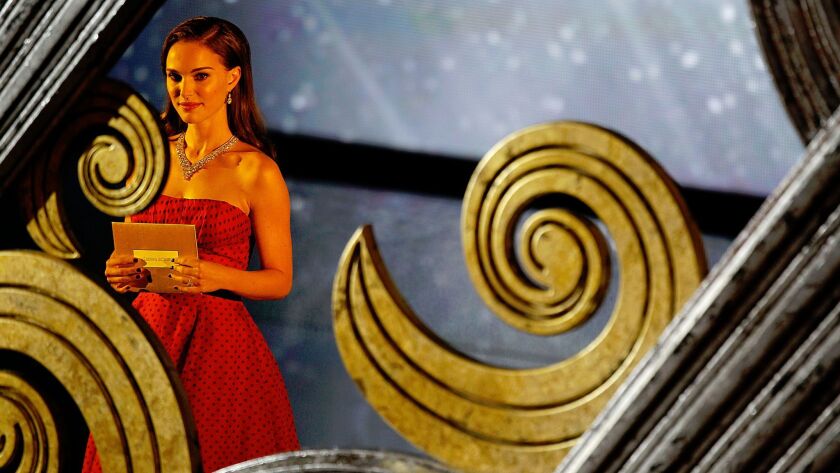 2012
As Oscar winner Natalie Portman announced the year's leading actor hopefuls, she described nominee Demián Bichir's "A Better Life" character as an "undocumented immigrant," eschewing the then-more prominent term "illegal immigrant," and added, "you gave a voice to the voiceless." Even more surprising was the fact that the term was used in what appeared to be a scripted speech, and not during the often-times off-the-cuff speeches given by winners.
ALSO:
Some Oscar speeches truly stand out — for better or worse
Some tips for getting that Oscar speech just right — first, start writing it now
What this year's Oscar-nominated producers say they're doing to close Hollywood's gender gap
---
The complete guide to home viewing
Get Screen Gab for weekly recommendations, analysis, interviews and irreverent discussion of the TV and streaming movies everyone's talking about.
You may occasionally receive promotional content from the Los Angeles Times.