Cannes 2017: New movie about Jean-Luc Godard, from 'The Artist' director, shows auteurs can be funny too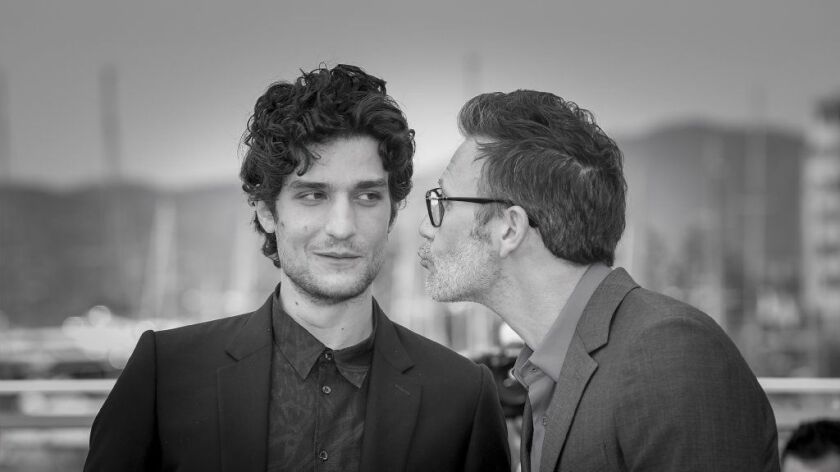 Reporting from CANNES, FRANCE —
Michel Hazanavicius can imagine what people think. I mean, he's heard what people think.
A movie about Jean-Luc Godard? At the Cannes Film Festival? While the master himself is still around?
Godard himself called it a "stupid, stupid idea." May as well say the French New Wave was a waste of time, so resistant will the reigning powers be.
But then, Hazanavicius — whose "The Artist" won the Oscar for best picture after its premiere at Cannes six years ago — has never much cared what the reigning powers think. "The Artist" was an accident, of sorts, or at least an anomaly: the French director was at that point best known for making the "OSS" series of spy parodies and had never swam in such holy waters.
"I'm like the guy playing for a team outside my own city when I'm here," he said playfully in an interview at the festival several days ago. "I make movies for popular audiences — movies that don't go to festivals. I'm always thinking that I'm going to disappoint these guys [festival critics]. They don't look like guys who want to laugh."
So when his Godard movie, titled "Redoubtable," was announced for the 2017 Cannes competition in April and drew its share of criticism, Hazanavicius, well, laughed it off.
Turns out he may be laughing last. The film, which premiered at the festival last week before selling to the U.S. distributor Cohen Media Group, did not earn the best reviews of Cannes. And when awards were announced Sunday night, it was not among the hallowed few to receive a prize.
No matter. The notices were solid. And Hazanavicius was vindicated because he did what he always said he would: make a movie that treated its subject substantively but cheekily, with respect but not reverence.
"I was touched by this love story. It really was an allegory of this very unique period for Jean-Luc Godard," Hazanavicius said. "How he killed his love is really an allegory of how he killed himself."
"Redoubtable" covers a particular chapter of the French cinema master's life — when he married a young Anne Wiazemsky (it's based on her book) during the same 1960s period as he was moving from commercial successes like "Contempt" and "My Life to Live" to more stridently political work like "La Chinoise," about a Maoist group of students. Derided by both audiences and critics, the latter title dinged the director's reputation for years to come, and served as both reason for and product of a major Godard shift, claiming his marriage with it.
Louis Garrel plays the late-thirtysomething director and Stacy Martin his wife nearly half his age. Each infuses their characters with a comic verve rarely seen in biopics, let alone one about great living artists. When Godard stands up to give tedious political speeches he persists through the booing like a stoner-philosopher in a vintage Judd Apatow movie; when he keeps losing his glasses during stampedes at political rallies, it provides as durable a running physical gag as in any Laurel & Hardy sketch.
The Godard seen here is also deeply acerbic and funny — hardly the earnest tightwad normally shown in strident-artist portrayals. It ensures he's getting in as many laughs on others as we're getting on him.
Martin offers her own comedic foil, the kind of character who illustrates just how stale and problematic the put-upon wife in Hollywood male biopics tends to be.
"I called Anne and wasn't sure if I could convince her [to sell me the book]," Hazanavicius, thoughtful and soft-spoken, said. "Them I told her 'I see the book as a comedy' and she just opened up. She said, 'I see it that way too; why does nobody else?'"
Hazanavicius carried out those comedic ambitions via other means, such as faux-pretentious chapter headings ("Wolfgang Amadeus Godard') and playful meta touches, including a brilliantly shameless scene about (and featuring) nudity.
There is a serious subtext here too, of course, mostly about the idea of the aging revolutionary. Godard shook up the status quo, culturally and formally, with many of his early movies. But by the late 1960s the world was catching up to him and, at least as Hazanavicius tells it, he was hardly seen as innovative.
"It's that moment when the revolutionary isn't one anymore — what happens when he realizes that?" Hazanavicius said
Though hardly a film historian, the director may be more qualified than people realize to tell this story. "The Artist" gave him an instant currency. He used it not for a U.S. studio project (though he has a few in development) but to make "The Search," a movie about the war in Chechnya that was roundly panned at Cannes a few years ago.
"That didn't go well," Hazanavicius said, with the same wryness that often marks his work. "But it made me pretty qualified to make a movie about a filmmaker who has all this success and then he makes a political film and people look at him differently."
He flashed a mischievous grin. "So in that way I'm like Godard."
See the most-read stories in Entertainment this hour »
Twitter: @ZeitchikLAT
---
The complete guide to home viewing
Get Screen Gab for weekly recommendations, analysis, interviews and irreverent discussion of the TV and streaming movies everyone's talking about.
You may occasionally receive promotional content from the Los Angeles Times.