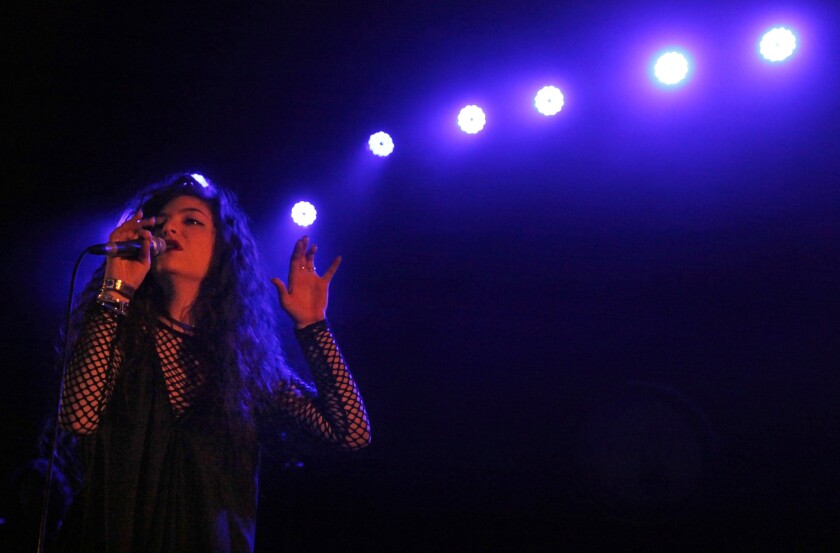 "The Hunger Games" is getting the royal treatment.
Grammy-winning singer-songwriter Lorde will write the first single for "The Hunger Games: Mockingjay — Part 1" and hand-pick the artists for the soundtrack, Lionsgate announced Thursday.
The 17-year-old New Zealand native, whose hit song "Royals" propelled her to international stardom and multiplatinum record sales, would seem to hit the demographic bull's-eye for "The Hunger Games" franchise, which is powered by another young female star in Jennifer Lawrence.
Lorde, who previously contributed a track to "The Hunger Games: Catching Fire" soundtrack, said in a statement that she "jumped at the chance" to work on "Mockingjay." She added, "The cast and story are an inspiration for all musicians participating and, as someone with cinematic leanings, being privy to a different creative process has been a unique experience. I think the soundtrack is definitely going to surprise people."
Francis Lawrence (no relation to Jennifer), director of the two-part "Mockingjay" finale, said in a statement that he "was immediately struck by how [Lorde] so innately understood what we, as both fans and filmmakers, were trying to accomplish with the film."
The soundtrack is set for release in the fall.
"Mockingjay — Part 1," which hits theaters Nov. 21, represents the third installment of the blockbuster film series based on Suzanne Collins' bestselling young-adult books. The dystopian thriller continues the story of the reluctant revolutionary Katniss Everdeen (Jennifer Lawrence) as she leads an uprising against the totalitarian government of post-apocalyptic Panem. Josh Hutcherson, Liam Hemsworth and Woody Harrelson costar.
"The Hunger Games: Mockingjay — Part 2" will conclude the series next year.
Follow @ogettell for movie news
---