No longer singing, Linda Ronstadt's latest tour is a conversation with the audience
In going through her archives to prep for a series of public talks she began last year, singer Linda Ronstadt came across a vintage cassette.
"I found an old tape of the night I learned [Warren Zevon's] 'Poor Poor Pitiful Me' from Jackson Browne," Ronstadt, 72, said from her home in the Bay Area, ahead of two Southern California tour stops. This week, she'll share that recording with audiences during "A Conversation With Linda Ronstadt," Oct. 4 in Cerritos and Oct. 6 at the Theater at Ace Hotel in downtown L.A.
She unearthed similar documentation of singer-songwriter J.D. Souther teaching her Roy Orbison's "Blue Bayou," another song she turned into a Top 40 hit in the 1970s, when she was one of rock music's most successful and expressive vocal interpreters.
The most amazing thing about those two lessons more than four decades ago? They went down on the same night.
Ronstadt belatedly earned a place in the Rock and Roll Hall of Fame in significant part for her early championing of talented songwriters including Browne, Zevon, Souther, sisters Kate and Anna McGarrigle, Karla Bonoff, Michael Nesmith, Libby Titus and numerous others over a remarkably rich and diverse recording career. And that says nothing of her urging members of her early-'70s backing band to go out on their own, advice they took and soon gained fame as the Eagles.
Yet her career screeched to a halt about a decade ago after Parkinson's disease robbed her of her ability to control the dark, full-bodied alto voice behind such pop, rock and country hits such as "You're No Good," "Different Drum" and "Love Has No Pride," not to mention savvy updated versions of earlier rock hits including Buddy Holly's "That'll Be the Day" and "It's So Easy," Smokey Robinson's "The Tracks of My Tears" and "Ooh Baby Baby," Chuck Berry's "Back in the U.S.A." and Martha & the Vandellas' "Heat Wave."
She'll share with audiences how her remarkable career came into focus and then evolved, in the program that she has designed to address what she finds to be common misconceptions about the music world.
"People always think careers are based on calculated decision-making, that your career is the outcome of how you think it's going to look," she said. "The process is so different than that. Mine was sort of based on intuition.
"I don't think I was the world's greatest singer, but I was a pretty good singer," the 10-time Grammy Award winner said. "How I was different is that I did a lot of different styles. In this presentation, I wanted to show that it wasn't arbitrary, to show where that music was in my life as I was growing up. I wanted to show the evolution of where it all came from."
That "all" is pretty breathtaking in scope: starting in the 1960s, having moved from her native Tucson to the vibrant folk-rock-country scene of L.A. in the mid-1960s, she first scored national success as a member of the Stone Poneys with the country-rock flavored single "Different Drum," written by Nesmith, soon-to-be-the-Smart Monkee.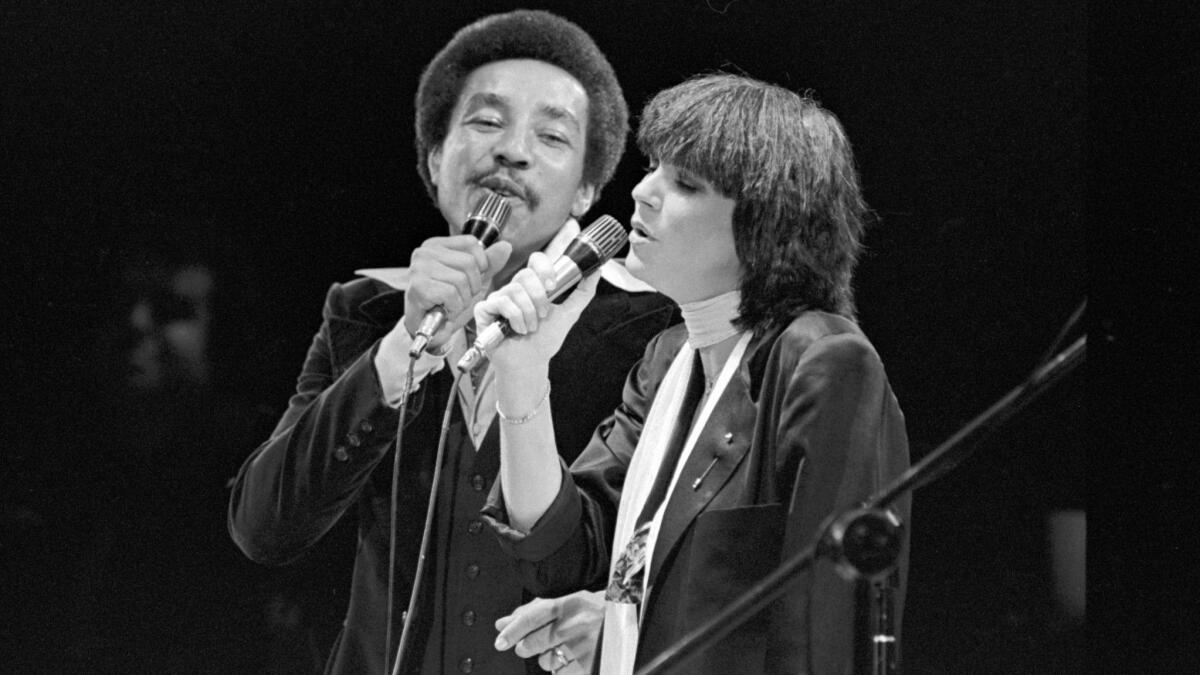 From there she moved into country-pop with Gary White's "Long Long Time," the introspective folk-rock of Browne's "Rock Me On the Water," country soul of Clint Ballard's "You're No Good," straight-ahead rock with her renditions of songs by Holly, Berry and the Rolling Stones' "Tumbling Dice."
In the 1980s, she went new wave with Billy Steinberg's "How Do I Make You," then defied music industry conventional wisdom and specific record-company admonishments by recording "What's New," her 1983 album of pop standards arranged by one of Frank Sinatra's favorite collaborators, Nelson Riddle.
It became the first of three albums of pre-rock material, followed by "Lush Life" in 1984 and "For Sentimental Reasons" in 1986.
Then she veered further afield from the rock, pop and R&B that long dominated the charts. Ronstadt in 1987 paid homage to her Mexican American heritage with "Canciones de Mi Padre," a collection of vintage mariachi classics that struck fear into the hearts of record label executives but which broke the Top 50 of the Billboard 200 Albums ranking and sold more than 2 million copies, earning double-platinum status from the Recording Industry Assn. of America.
It resulted in two more Spanish-language collections, "Mas Canciones" in 1991 and "Frenesi" in 1992. Along the way she also sang and acted the lead female role in Gilbert & Sullivan's operetta "The Pirates of Penzance" in New York for veteran theater producer Joseph Papp.
Those diverse endeavors were driven by her intuition and musical passion.
"A Conversation With Linda Ronstadt" grew out of the promotional tour she did after the publication of her 2013 book "Simple Dreams: A Musical Memoir." At those events, she shared the stage with a moderator in question-answer format.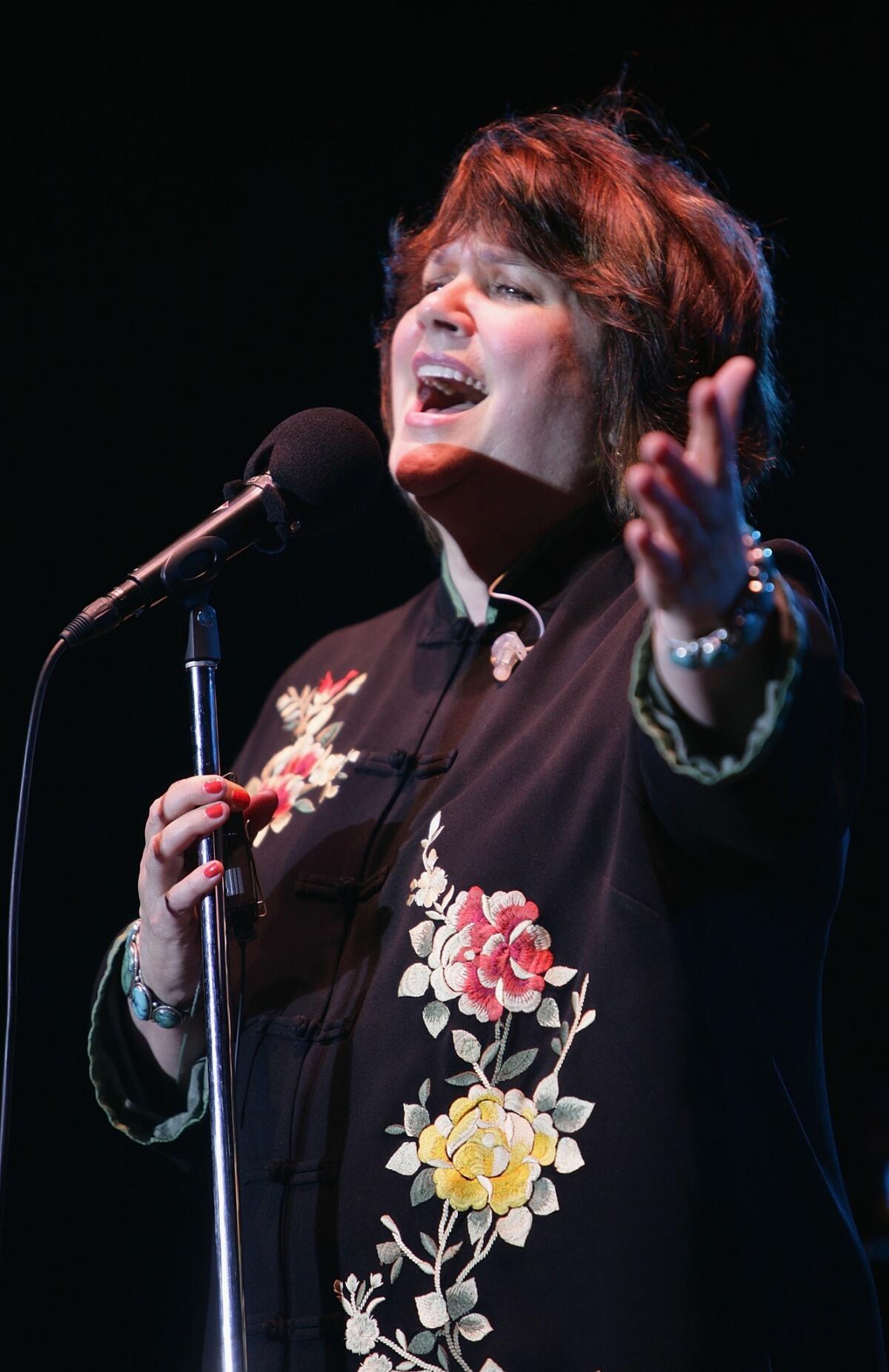 "I would talk about the book, usually in conversation with somebody else," she said. "Then I got some offers to do something not talking to somebody else."
Beyond the biographical and musicological insights she shared on the book tour, she's now put together a multimedia program — "sort of a PowerPoint presentation" — that illustrates and amplifies her words with samples from her recordings and what few video clips she's been able to unearth.
"I don't have a lot of video stuff," she said. "I just never went in that direction. There are some clips here and there."
The tour doesn't take her great distances from home. "It's hard for me to get on a plane," she said. "I have to go where I can drive, or take the train."
Still, she's looking forward to a return to the region where her recording career took off a half-century ago.
"I'll get to see all my friends in Los Angeles," she said. "I just get to come and rub shoulders with people in L.A. I really love Northern California, because the weather never gets out of the 60s. But it's always fun to come back to L.A. and find out what's happening, what's hip, what you should be wearing. They're the champions of wearing casual chic."
She treats her physical condition with remarkably evenhanded acceptance. As she put it to The Times five years ago: "I had cancer a couple of years ago but nobody wrote about that. A lot of people my age have health challenges. I didn't want it to sound like I was making an big announcement."
The "Conversation With" show often leaves space for questions from the audience, but she said those often zero in on her illness.
"A lot of people will say 'I have a cure for Parkinson's disease,'" she said. "I know it's well intentioned, but I don't know how many people have come up and said that. If somebody did have a cure, I think we'd know about it."
She added, "There are a bunch of different syndromes. I have progressive supernuclear palsy, which means it is slow-moving. In the next year it could be very different than it is now, or it could be very different next month. Trying to find the right way to medicate it is very difficult.
"The prescription medication is the ultimate Mr. Toad's Wild Ride," she said with a laugh. "That was hard, but I finally found the right medication."
That means that for now, at least, she's feeling stable enough to travel and talk about her life and music. When she's at home, she listens less to pop music than to the genre that most captivates her now.
"I listen to a lot of opera," she said. "That's the reason I moved up here," referring to her proximity to the San Francisco Opera, although that too has its limitations. "I can't go do the opera all that much because I can't sit in the seats very long. But I listen to opera all the time on YouTube."
That doesn't mean she doesn't keep an eye, and ear, on what's going on in other parts of the music world. She expressed admiration for Paul Simon's new album "In the Blue Light," portions of which she'd already heard on the day the album was released in early September.
In particular, she singled out his revamped version of the song "How the Heart Approaches What it Yearns," giving voice to a sentence that, like so many of her own recordings, was simultaneously enlightening and heartbreaking.
"If I could still sing," she said, "I would want to do that one. It's so good — I just love it."
♦ ♦ ♦ ♦ ♦ ♦ ♦ ♦ ♦ ♦
"A Conversation With Linda Ronstadt."
When: Oct. 4, 8 p.m.
Where: Cerritos Center for the Performing Arts, 18000 Park Plaza Drive, Cerritos.
Price: $35-$100.
Info: www.cerritoscenter.com.
Also:
When: Oct. 6, 8 p.m.
Where: Theater at Ace Hotel, 929 S. Broadway, Los Angeles,
Price: $35-$100
Info: https://www.acehotel.com.
Follow @RandyLewis2 on Twitter.com
For Classic Rock coverage, join us on Facebook
Get our L.A. Goes Out newsletter, with the week's best events, to help you explore and experience our city.
You may occasionally receive promotional content from the Los Angeles Times.