From 'The Handmaid's Tale' to 'I Love Dick,' the female gaze is thriving on television
Two girls, one guy.
It's the stuff a million pornographic fantasies are made of — except as depicted in "The Handmaid's Tale."
During one of the most talked-about scenes from the Hulu series, a young woman known as Offred (Elisabeth Moss) engages in a ritualistic act of intercourse known as "the ceremony." Lying on a bed, she stares wide-eyed at the ceiling while a powerful man known as the Commander (Joseph Fiennes) mechanically thrusts himself into her. Offred's head rests between the thighs of the Commander's wife, Serena Joy (Yvonne Strahovski), who looks on without expression.
Though technically a sex scene, this ceremony is far from a titillating threesome. Offred is a "handmaid" — a class of women designated as procreative chattel in a near future where birth rates have plummeted. Offred's subjugation is clear but so is her point of view. In one shot, the camera looks downward at Offred's torso and splayed legs; the Commander's groin is a distant blur, as if she's trying to disconnect from the experience.
If anyone is dehumanized in the sequence, it's the Commander, his face obscured by shadow and body viewed in fragments.
"I wanted the audience to see what she would be seeing," says Reed Morano, who directed the series' first three episodes. "It was very important to me that this was the most unsexy thing you could ever see."
Welcome to 21st-century television, birthplace of the female gaze.
You don't have to be a women's studies major to be familiar with "the male gaze," a term coined by film theorist Laura Mulvey in 1975 to describe film created through the lens of a heterosexual male, a gaze so ubiquitous in Western media as to be self-explanatory.
It's the jiggling blond holding the frosty bottle of beer in the Super Bowl commercial, the unnamed, topless stripper gyrating in the background of the premium cable antihero drama.
The female gaze has been trickier to define, mainly because so few examples of it exist — the dearth of women writers, directors and cinematographers in Hollywood has been documented in countless disheartening reports and outraged analyses.
But lately, as an explosion of original content on the small screen has led to greater opportunities for female writers and directors, a growing number of shows are turning women into the subject of the action rather than the object of desire.
If the male gaze takes one essential form, the female gaze takes many, including the matter-of-fact sex work of "Harlots," the anatomically precise humor of "Crazy Ex-Girlfriend" and the cheeky direct address of "Fleabag." Stories as disparate as "Transparent" and "Jane the Virgin" are upending conventional ideas about sex, power and women's bodies.
The female gaze is also defined by what it does not linger on — namely, gratuitous visual depictions of rape and other forms of violence against women, as not seen in the the Marvel/Netflix superhero tale "Jessica Jones."
The topic has been a particular obsession for writer-director Jill Soloway, creator of "Transparent." In a talk on the subject at last year's Toronto International Film Festival that had the feel of a women's studies lecture combined with a stand-up set, Soloway argued that "art is propaganda for the self."
Her goal as a director was to make viewers feel — rather than merely see — with her characters, to "create empathy as a political tool," she explained.
Soloway has put this theory into practice on "Transparent," a show that has broken new ground through its depictions of transgender people and its empathetic exploration of human sexuality in its myriad, messy forms.
Consider the much-discussed scene from the show's second season, in which Maura, a transgender woman played by Jeffrey Tambor, brought her ex-wife, Shelly (Judith Light), to climax in a bathtub. Both characters are women north of 60, a demographic that pop culture rarely acknowledges, particularly in a sexual light.
But realizing the female gaze means expanding who is allowed to have desire and be desired on television — and, by extension, which members of the audience are being served.
The time-traveling adventure "Outlander" has become a favorite of feminist critics for its portrayal of Claire (Caitriona Balfe) a spirited, sexually experienced heroine who winds up in an arranged marriage with a hunky but virginal Scottish warrior named Jamie (Sam Heughan). On their wedding night, she schools him in the ways of love.
Based on novels by Diana Gabaldon, the Starz drama unapologetically caters to the straight female viewer: Minutes into the pilot episode, Claire is seen, fully clothed, receiving oral sex from her other husband -- it's a long story -- Frank.
HBO's "Insecure" is a radically different kind of show that also suggests the possibilities of the female gaze. It follows the professional and romantic foibles of Issa (Issa Rae) and Molly (Yvonne Orji), two young professional women in L.A. The series was created by Rae and half of its first season was directed by Melina Matsoukas, the filmmaker behind Beyoncé's "Formation" video.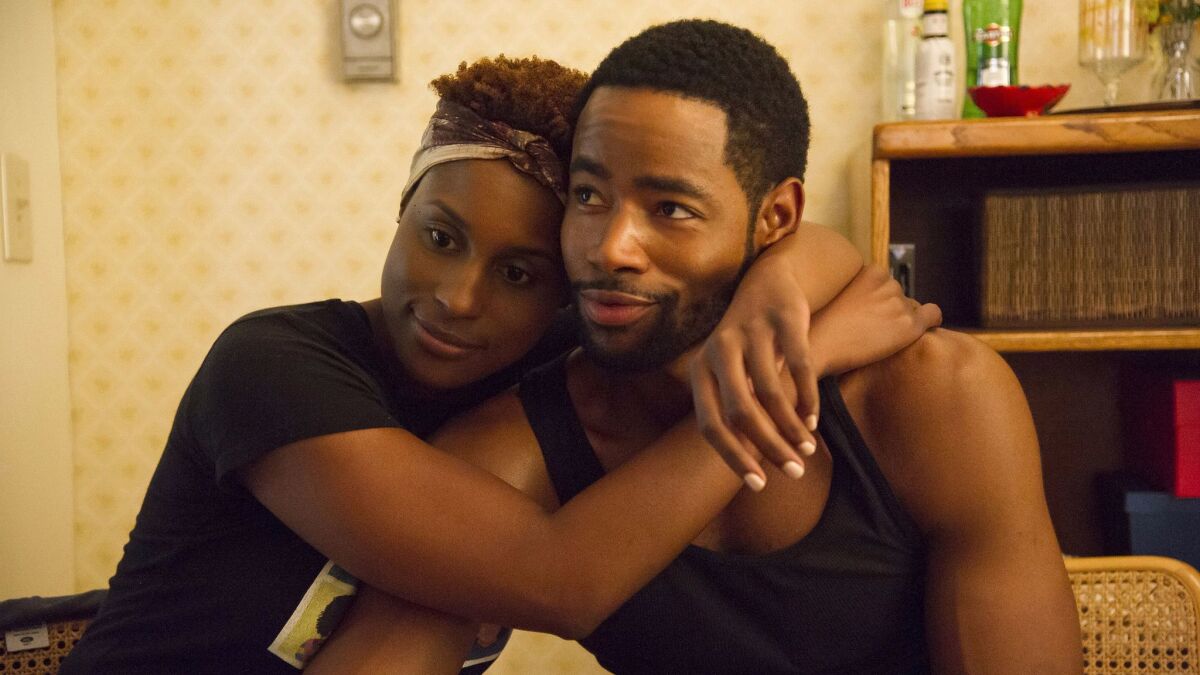 Typical of HBO programming, the sex on "Insecure" is frequent and graphic; unlike anything else on HBO, or virtually anywhere else on television, these scenes unfold from the perspective of black women.
It's difficult to bring the female gaze to life without women in primary creative roles. Though women account for just 17% of TV directors, according to the latest figures from the DGA, a number of shows are tipping the scales with women at the helm of most or all episodes. They include "Insecure" and "The Handmaid's Tale," as well as "Harlots," a Hulu drama about rival brothels in 18th century London, and the CW dramedy "Jane the Virgin."
Ava DuVernay intentionally enlisted an all-female roster of directors on the first two seasons of "Queen Sugar," a drama following a trio of estranged siblings running a Louisiana sugar cane farm; Melissa Rosenberg did the same for the second season of "Jessica Jones."
As DuVernay notes, the opposite scenario is so commonplace, it's rarely mentioned. "When the guys at 'Game of Thrones' get on the phone, the first thing they get asked is not 'so, why did you hire all men, every episode, for the last three seasons?'"
Soloway's new series "I Love Dick," premiering May 12 on Amazon, was also directed mostly by women. Co-created by playwright Sarah Gubbins, it is explicitly an exploration of the female gaze.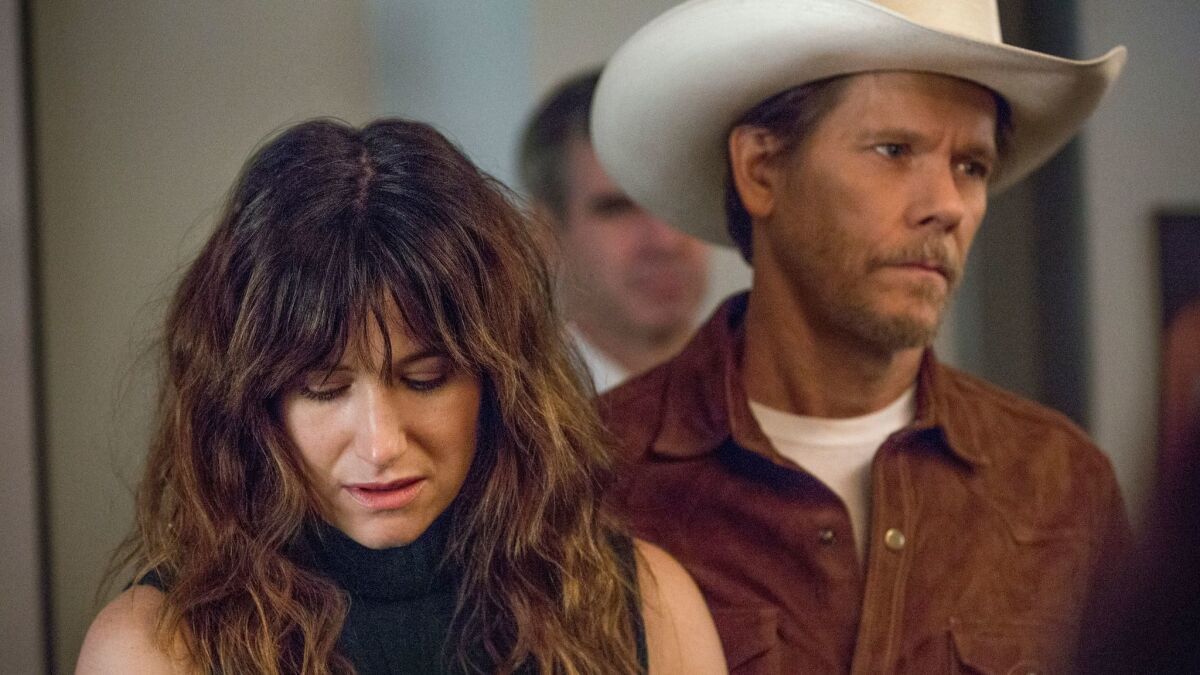 Based on the novel-cum-memoir by Chris Kraus, it concerns a frustrated filmmaker, Chris (Kathryn Hahn), who becomes obsessed with a macho sculptor named Dick — yes, Dick (Kevin Bacon).
In a phone interview, Soloway, who has won two consecutive directing Emmys for "Transparent," explains how she facilitates the female gaze on set by encouraging experimentation and improvisation.
"The industry of filmmaking has calcified around this idea of emotion as held in by numbers," says Soloway, noting concerns over things like budget overruns and how directors and showrunners are often likened to coaches or military leaders. Instead, Soloway thinks of her set as a kind of co-op.
"We're not banging the drum and singing and crying all day," she clarifies. "We just understand that the emotions, the feelings, the bodies of the actors are always getting prioritized."
Starring Krysten Ritter as a private detective with superhuman strength, "Jessica Jones" puts a woman at the center of a narrative that fuses two of the most male-dominated genres of all time: the superhero story and noir.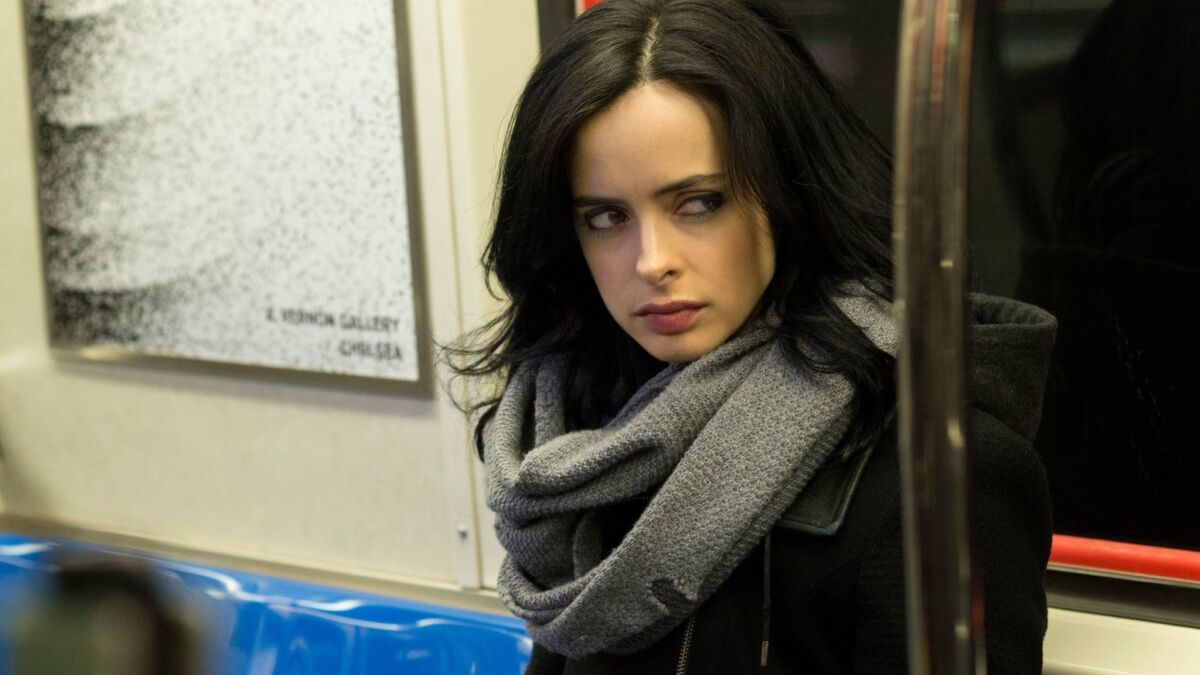 Though Jessica is a highly sexual creature — she has a bed-breaking romp with fellow superhero Luke Cage (Mike Colter) — she never uses her feminine wiles to get what she wants. "One of the rules I had going in was we are never going to see Jessica Jones being the honeypot putting on the heels and the bandage dress," says Rosenberg.
Though physically invulnerable, Jessica is a rape survivor struggling with PTSD. But in contrast to virtually every "serious" drama on television of the past decade, most notably "Game of Thrones," as well as middlebrow procedurals like "Law & Order: SVU," "Jessica Jones" did not visually depict the assault.
"We're telling a story of survival as opposed to the actual incident," Rosenberg says. "On any given day of the week, you'll turn on some show and you'll find some naked, tied-up, raped, dead girl, her underwear around her ankles, and that's your opening image. In the worst-case scenario you're seeing the sexualization of that."
Like Rosenberg, "Harlots"co-creator Moira Buffini had a strong sense of the kind of show she wasn't interested in making.
"In a lot of dramas, whenever you go into a brothel there's a lot of semi-clad women draped over the furniture," says the playwright, who created "Harlots" with Alison Newman. "The story is about what the man sees, what the man does, why the man is there."
In contrast, "Harlots" takes what Buffini calls a "whore's eye view" of the oldest profession in the world and is primarily a workplace drama.
The prostitutes are fully-realized characters who are "neither tragic, nor heroic," says Buffini, who hired an all-female writing and directing staff. Sex is a mundane part of the daily life in a city where, as a title card notes, one in five women make a living selling their bodies.
One of the most obvious ways the female gaze can be described is candor about women's bodily functions, from Hannah's struggles with breastfeeding in the series finale of "Girls" to tampon-related subplots in "Orange Is the New Black" and "Broad City."
Few, if any, shows on television are as honest about the female anatomy as "Crazy Ex-Girlfriend," a musical dramedy featuring songs with self-explanatory titles such as "Heavy Boobs," "I Gave You a UTI [urinary tract infection]" and "Period Sex."
Not merely raunchy for the sake of being raunchy, the show is also demystifying the "ickier" aspects of the female body. Aline Brosh McKenna, who created the show with star Rachel Bloom and has a predominantly female writing staff, happily embraces the show's reputation for gynecological accuracy.
"I know a lot about [penises] from pop culture, way more than I know about the lady parts," she says. "If more women had been writing television, you would have seen mentions of UTIs way earlier."
In addition to empathy-generating close-ups and point-of-view shots, "The Handmaid's Tale" also includes voice-over by Offred, much of it lifted directly from Atwood's prose. The 1990 film adaptation of "The Handmaid's Tale" omitted Offred's interior monologue almost completely. To star Natasha Richardson's reported frustration, screenwriter Harold Pinter objected to the use of voice-over.
He was hardly alone in this view. Techniques like voice-over are frequently denigrated as "bad writing" seemingly ripped from the pages of a diary -- at least when they're deployed in female stories, argues Soloway, whose "I Love Dick" is narrated by letters from Chris to Dick.
"People act like it has this immaturity about it. But the truth is, in patriarchy, it's so much more meaningful for women to feel like I'm cracking open my heart and I'm speaking directly to them," she says.
This lack of mediation between the protagonist and the viewer seems to be a defining feature of TV's female gaze. A number of other shows — including "Outlander," "Fleabag," "Crazy Ex-Girlfriend," "Insecure," "Chewing Gum" "Grey's Anatomy" and "Jane the Virgin" -- use narration, direct address and subjective fantasy sequences to convey the heroine's unfiltered point of view directly to the audience.
The tradition dates back at least to "Sex and the City," in which Carrie Bradshaw, in narration lifted from her newspaper column, often "couldn't help but wonder" about various romantic conundrums. It hardly seems a coincidence that these shows also frequently depict sex that's messy, fumbling, ill-advised, or just plain old bad; in other words, relatable.
See the most-read stories in Entertainment this hour »
Follow me @MeredithBlake
ALSO
Women writers and directors reflect on the female gaze
Meet the women who brought the misogynist world of 'The Handmaid's Tale' to life
Debra Winger and Tracy Letts on their chemistry in 'The Lovers' and, reluctantly, on Hollywood and women
Charlize Theron and other women power many of the summer's biggest movies
Get our L.A. Goes Out newsletter, with the week's best events, to help you explore and experience our city.
You may occasionally receive promotional content from the Los Angeles Times.