Having trouble keeping an exercise routine? Ted Vickey has ideas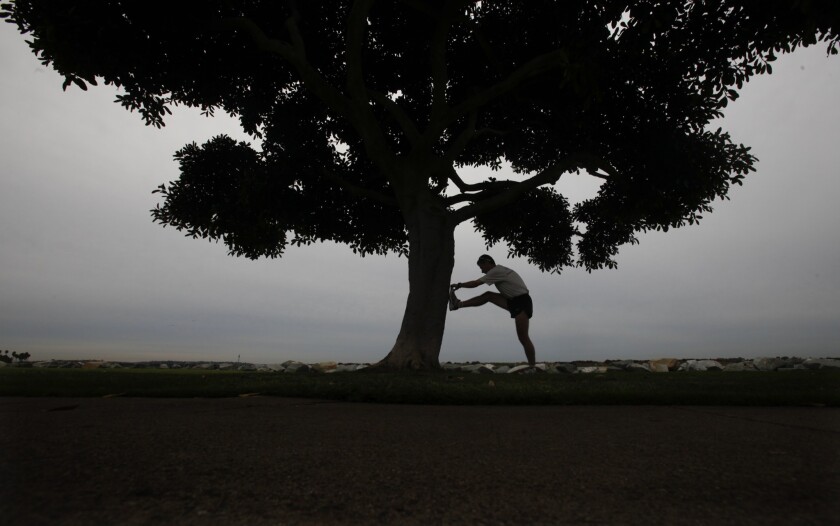 When Ted Vickey was 24, he was brought on to run the fitness center at the White House. At the time, Bill Clinton was president and Vickey — a young entrepreneur — was in charge of ensuring that his administration had access to everything necessary to stay in shape.
He grew accustomed to requests that taught him that exercise can be done just about anywhere, anytime. President George W. Bush wanted to exercise on the plane during an overseas trip. "I picked up the phone and called a big manufacturer," Vickey says, "and got him one of those treadmills that folds under the bed."
The rest of us live a little differently, perhaps. But Vickey, who was executive director of the White House fitness center from 1994 to 2005, says: "We all make excuses not to exercise. But if the president's finding time, you can. No offense, but he's probably doing a little more than you're doing."
Here are some ideas from Vickey, now a senior consultant on innovation at the American Council on Exercise, to keep in mind to keep those excuses off the table.
Be accountable
Perhaps the most effective technique, says Vickey, is to stay on your exercise and diet plan is to find a way to be accountable. That could mean hiring a personal trainer ("I have a personal trainer," he says, "and I probably know as much as he does. But I'm going because I want someone to be accountable to.") or simply sharing your goals and results with friends in person or through social media.
Track your progress
For those who are new to fitness, Vickey recommends tracking how many steps you take throughout the day. That way, you can set very clear goals, and find ways to reach them. "If my goal is 7,500 steps during the day," he says, "and I'm not at 5,000 by noon, I know I have to get out and do my exercise."
Vickey wears a device on his wrist that tracks his steps. "This," he says pointing to it, "serves as a little reminder."
Do what you can
"I suffer from former athlete's syndrome," says Vickey, a competitive swimmer in high school and college. "If I'm not in the corner of the pool throwing up, I think that it wasn't a good workout."
Most of us have been trained to believe we need to get 60 minutes of exercise, at least three times a week. But Vickey says that what's more important is simply doing what we can — even if it's for less time, or not at maximum output.
"I don't know about you, but I can't find 60 minutes to carve out of the day," he says. "So maybe you didn't get a full hour of exercise, but you got 45 minutes. That's good — it's better than nothing."
Get back on the horse
For many of us, if we make one mistake with our exercise or diet, the day was a waste. But Vickey says that what's most important is to get back on our plan if we stray.
"Everyone wants a straight line to their goals," he says. "But, well, then you went to a wedding, and had a steak and lobster, and that blew your calories for the day. But we want to tell people, 'Get back on the path. You had a bad day — so what?'"
Integrate your workout
When Vickey worked in Washington, he measured the time it took to walk from the White House to the gym. It took 17 minutes — that meant that if those using the facility walked, a good chunk of their workout was already done.
The rest of us — while we may have to do it ourselves — can integrate workouts into our daily routine as well. Rather than sweating it out on a treadmill for 60 consecutive minutes, says Vickey, walk to work and take the long way home. Or, "park in the farthest parking spot away."
"It can be small things that we change," he says.
Make time for change
Part of what makes workouts effective is working out not harder, but smarter. That means taking the time to implement things like Facebook apps that will let you share what you've done with friends, or going to the store to buy a device that will track your steps.
Conscientiously going through these initial stages is critical to long-term success, says Vickey. He suggests setting aside time before work or in the evening when you get home to get your personal systems in place, and then watch as they begin to work.
Use technology
Vickey considers himself an early adopter of many technologies that have been created to support people in reaching their fitness goals, and has tested apps and gadgets. His top three apps for those looking to make changes in their lifestyles are Runkeeper, Endomondo and My Fitness Pal.
Runkeeper tracks the length of your run, as well as the pace for each mile. Endomondo tracks running as well as cycling and other sports. And My Fitness Pal allows users to track what they eat as well as their exercise, and "elicits interactions between people on Twitter," says Vickey.
"People are going to find excuses to not exercise," he says. "We can use technology to minimize those."
---