The November Project encourages people of all ages and fitness backgrounds to motivate each other and work out together running the steps at the Hollywood Bowl.
It's not even 6 a.m., it's still dark and scores of people are about to utterly exhaust themselves. And yet they're so darned happy. An offer to shake hands is met with: "Oh, we hug here."
All those people. They cheer and clap and, good Lord, they even skip. All of that before they chug up and down — and up and down — the stairs at the Hollywood Bowl.
Work or live in a building with an elevator? How often do you take the stairs? (We know the answer.) But these early-morning people are woo-hooing (sprinkled with a generous share of f-bombs) their way through 1,142 stairs (an unofficial count) — and then doing it again, for a total of about 1.7 miles.
"It sucks, but it's awesome!" says one person as she goes by.
They are all participants in something called the November Project, a free fitness organization founded by some people who wanted to work out in the New England cold. Orrin Whalen, a participant while a student at Emerson College in Boston, founded the L.A. chapter last year, becoming the irreverent head cheerleader, goofball, nudge, coach, Mama Bear and organizer.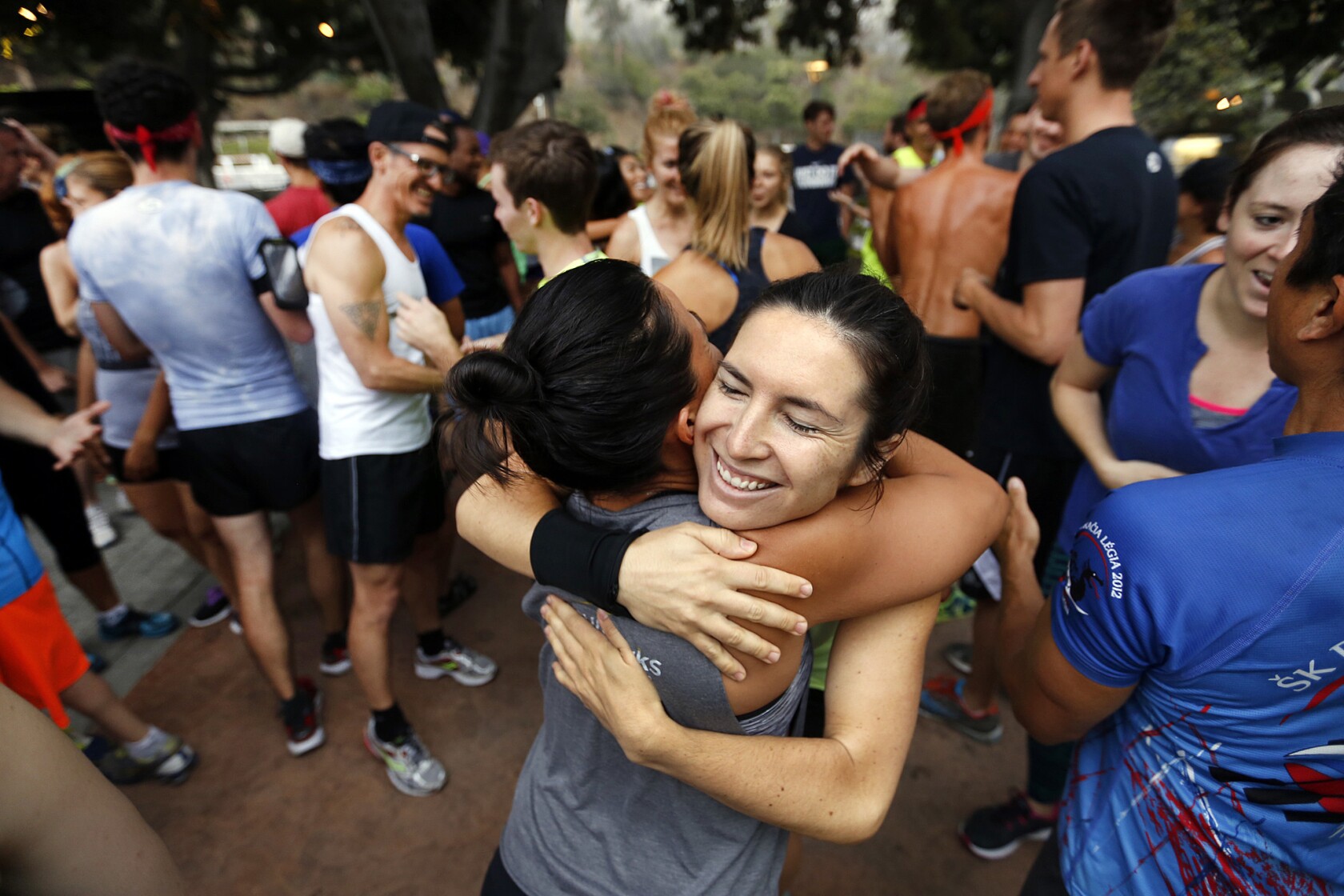 Runners gather at the Hollywood Bowl's box office to start with warm-ups and hugs in a show of camaraderie and encouragement before running the Bowl's steps with November Project L.A., a free fitness group that gathers year-round.
(Al Seib / Los Angeles Times)
Steve Selnick, center, a leader of November Project L.A., starts participants off with warm-up bounces and then hugs.
(Al Seib / Los Angeles Times)
After the preliminaries, runners make their way to the steps inside the Hollywood Bowl.
(Al Seib / Los Angeles Times)
Orrin Whalen, left, a leader in November Project, instructs runners to partner up as they gather to run the steps.
(Al Seib / Los Angeles Times)
Joey Kochick brought his dog for motivation as runners switch across walkways on their way up and down the steps.
(Al Seib / Los Angeles Times)
Virva Aryan, left, sprints up the steps at the Hollywood Bowl.
(Al Seib / Los Angeles Times)
Runners switch aisles on their way up and down the steps of the Hollywood Bowl with the November Project in Los Angeles.
(Al Seib / Los Angeles Times)
About a hundred runners join the stair run every Wednesday at 5:27 and 6:27 a.m. at the Bowl.
(Al Seib / Los Angeles Times)
Jonathan London, left, who ran in the earlier morning session, cheers on later runners.
(Al Seib / Los Angeles Times)
Runners cover every aisle on their way up and down the steps. The total course is 1.7 miles.
(Al Seib / Los Angeles Times)
Co-leader Orrin Whalen encourages Laura Martinez as she gets about halfway through the workout.
(Al Seib / Los Angeles Times)
Runners who complete the step course at the Hollywood Bowl form a tunnel to cheer finishers as they cross the finish line.
(Al Seib / Los Angeles Times)
Connor Hayes and Shelby Hutchinson embrace after they finish the Bowl stairs.
(Al Seib / Los Angeles Times)
And he, along with co-leader Stephen Selnick, is ready to shake you out of your complacency with sweat and positivity year-round. All you have to do is be ready at 5:27 a.m. or 6:27 a.m. on Wednesdays to join these 200 or so crazy happy people (or maybe they're happily crazy?) at the Bowl.
"The reason we chose the morning is that it makes it seem more badass in some ways," says Whalen, a 23-year-old who, when not running up and down steps, is a set decorator and art director. And those precise times? They provide "a sense of accountability — and you start applying that to other aspects of your life."
Members of the tribe, as they call it, first gather shortly after 5 a.m. Some people, like 23-year-old Max Snell from Calabasas, do both workouts.
"The feeling you get after a workout and seeing all the people ..." he trails off. "It doesn't matter if you are fast or slow." November Project "made me rethink my life. It gave me a lot more confidence, made me love the working out thing," he says.
Workouts begin with hugs and are full of high-fives. "If you stick your hand out, you'll get the most positive energy," Whalen says. (Not to mention a sweaty palm.) At the start there's applause for any first-timers. Everyone bounces up and down to a call and response.
The antics are part of the magic, says Selnick, 25, a former college volleyball player who hadn't found a compatible workout group until November Project. "We're weird just for the sake of being weird. It loosens people up." One morning Whalen randomly broadcasts "Fur Elise" from a portable speaker. If you're tapped while music is playing, you have to do three burpees (that's an exercise used in strength training, for the uninitiated) on the spot. On another morning, someone tossed buckets of water on the unwitting participants.
The general level of infectious exuberance might be really annoying if it weren't genuine.
"I really love all of these people," says John Grier, 34, a project manager for a government contractor. "I've only been doing this since the end of April, but I feel like I've known them forever — in the best possible way."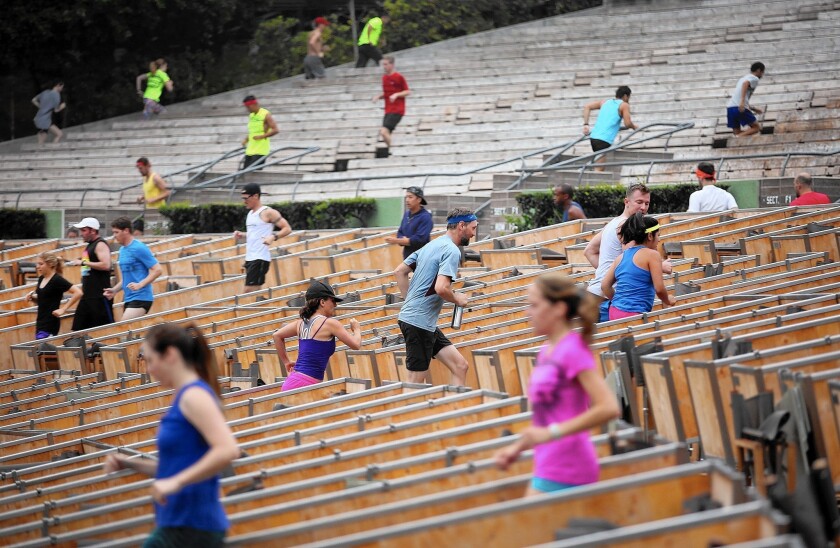 As people finish the workout, they form a tunnel with their raised arms that gets longer and longer, until everyone is cheered through. On one recent morning, the first finisher took 20 minutes, 54 seconds; Charlie Makary, 24, was second, finishing in 21:05. (The final finishers took almost an hour.)
"If you start your morning running these stairs, there's not much you can't accomplish later," Grier says.
At the end of a workout, Whalen and Selnick, an associate TV producer, hold a brief meeting that includes marking birthdays and making other announcements. And taking photos for social media. Then there is the Positivity Award, an oar handle brought from Boston, signifying that "our boat would not go straight if that person was not here," says Whalen. One morning, it was handed to Maggie Nolting, a 24-year-old actor who tells the crowd: "I love you. You are everything to me."
One reason, she says, "is that, without even knowing me, they would do anything for me right away." Two weeks after she joined, her car broke down, and through social media several members of the tribe immediately offered aid.
Lots of the athletes have never been to the Bowl at night.
Not so for Belma Michael Johnson, who stood after his workout at the very top walkway looking toward the stage and the hills behind it. "After this, I know that the worst seat in the house at the Hollywood Bowl has the best view."
::
How to join the November Project in L.A.
People who want to be part of the year-round November Project are encouraged to show up at the Hollywood Bowl on Wednesdays for the 5:27 a.m. or 6:27 a.m. run. There are no forms or fees. Parking is free and easy.
The two organizers have promised to get November Project tattoos if attendance increases to 300 by Nov. 11. That's about 100 new people: november-project.com/los-angeles-ca/
MORE GETTING OUT:
At Campowerment in Malibu, women find joy, inner strength or simple relaxation
You don't need to be in shape to try kiteboarding, but expect a few face plants before you're flying
---