Go inside four DTLA boutique hotels where style is the thing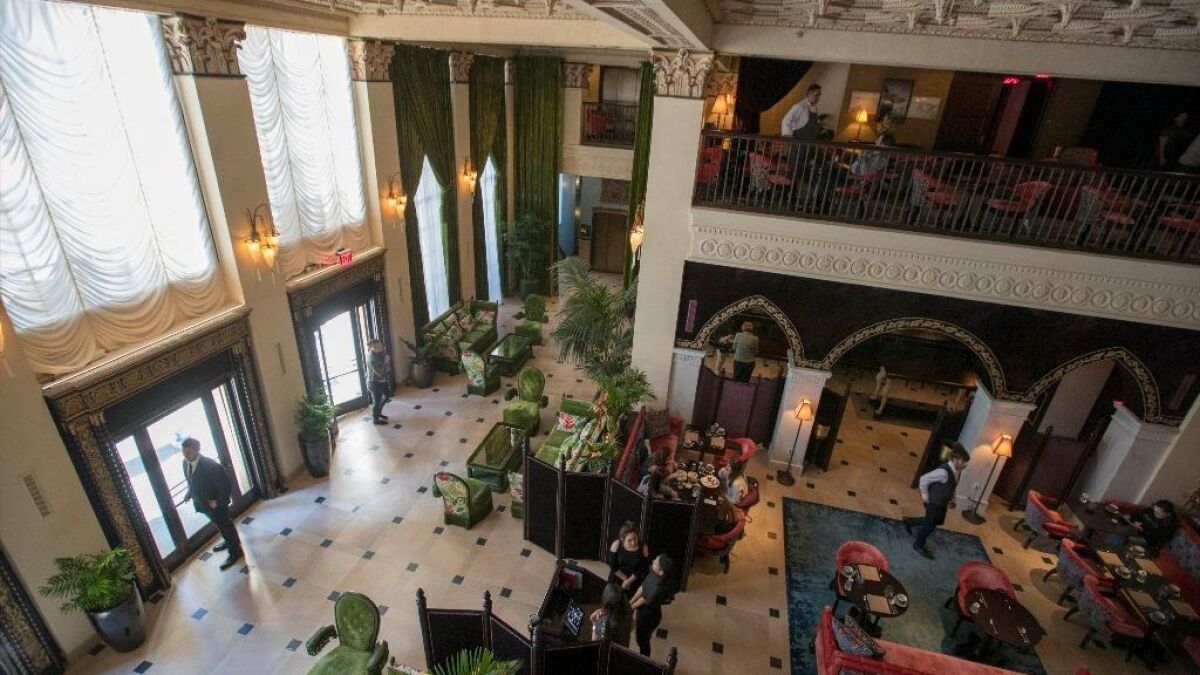 From the Beaux Arts grand dame Biltmore Hotel to the 1970s futurist vision of the Bonaventure, downtown L.A. hotels have always offered different versions of escapist fantasies. And yet all of these spaces remain firmly rooted in a sense of place.
The area's current hotel boom is a further boon for design lovers and hotel geeks. The new arrivals are visually dominated by the height, size and flash of the InterContinental Los Angeles Downtown in the Wilshire Grand building, but there's also plenty to excite those who dig adaptive reuse projects of historic buildings.
The Hotel Figueroa and Mayfair Hotel are in the process of makeovers that merge modern amenities with 1920s character and soul. Newly arrived in DTLA is the NoMad hotel in the 1923 Bank of Italy building at the corner of 7th and Olive streets. And hospitality entrepreneur Dustin Lancaster of the Hotel Covell in Los Feliz is currently transforming a former firehouse in the Arts District with design by Sally Breer.
These venues are more than just spots to crash. Each creates a distinct mood and immersive environment within a quickly evolving cityscape.
Here are some of our favorite boutique hotels in DTLA, and the design choices that make them stand out:
The eclectic hang
At Freehand L.A., earthy tones are mixed with handmade goods (think: eclectic pottery, custom macramé pieces) for a groovy vibe that seamlessly integrates with the 1924 Commercial Exchange Building's traditional classicism. The scheme continues throughout the hotel, including at the Exchange restaurant and Broken Shaker, the rooftop bar.
Freehand L.A. "is a place to meet people and feel a certain creativity," said designer Robin Standefer. She and partner Stephen Alesch of the prominent Manhattan-based firm Roman and Williams oversaw design duties for the brand's third über-hip hybrid hostel/hotel founded by Ron Burkle and Andrew Zobler's Sydell Group. (The other two Freehand locations are in Miami and Chicago.) "It's supposed to be bohemian and lighthearted," Alesch explained.
Don't miss: Designer Sean Knibb also has a presence with another location of his Flowerboy Project boutique.
Info: Freehand L.A., 416 W. 8th St., freehandhotels.com
::
An arty, intimate retreat
A map wall by Michael Kalish, Davis Factor photographs, and original pieces by artists Jesse Draxler and Walter Mazzarella contrast with polished concrete floors and walls to reflect owner Juan Torre's contemporary, edgy sensibility at the Tuck. (Folks who like soft, plush surfaces at every turn should stay elsewhere.)
The Tuck offers the intimacy of a small hotel with a residential feel that also offers full amenities. Its three-story building (a former brothel), near where Spring and Main streets intersect in the Fashion District, houses a library lounge bar area and restaurant that straddle both streets at ground level.
Don't miss: Torre, a veteran of both the hotel and restaurant industries, also oversees the Spanish-influenced menu at Delicat restaurant.
Info: The Tuck, 820 S. Spring St., tuckhotel.com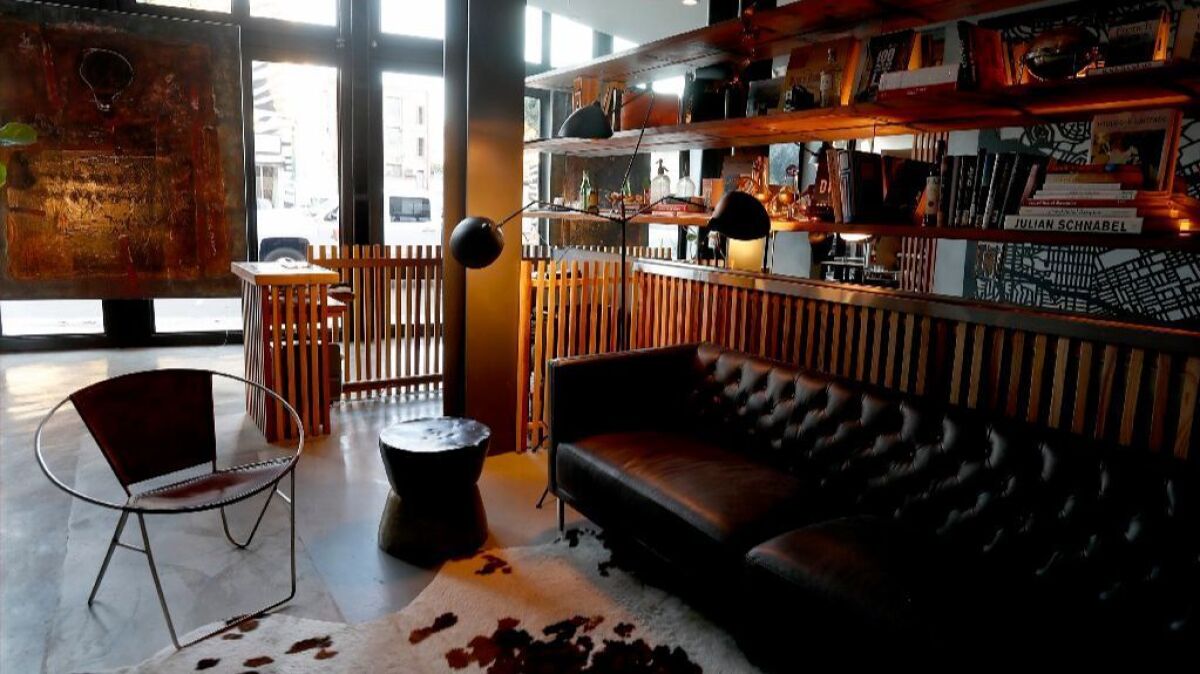 ::
The retro-future tower
Within the Hotel Indigo's newly constructed glass-clad tower that rises over the 110 Freeway, "we were able to explore the history of downtown L.A.," said Valeria Lassalle, senior project designer from Hirsch Bedner Associates. (The Santa Monica-based company is the world's largest hospitality design firm.) "We wanted to create something that tells a story without feeling that you're walking into a museum," Lassalle noted.
This approach translated into elements such as restrained yet visually arresting jewel tones, large-scale graphics reproduced from vintage photographs and newspaper clippings. Lasalle used the story of trailblazing Asian American actress Anna May Wong, along with the city's erstwhile Fiesta de las Flores parade and other historical narratives, to inform the color palettes and decor details.
Don't miss: Banquette niches in the Metropole Kitchen lobby restaurant evoke Prohibition-era smuggling tunnels.
Info: Hotel Indigo, 899 Francisco St., ihg.com/hotelindigo
::
Old world meets new deluxe
The gleaming marble, silken tassels, embroidered textiles, leathers and other materials used throughout NoMad Los Angeles would have impressed banker Amadeo Giannini, after whom the 1923 Giannini Place building is named. Noted French architect and designer Jacques Garcia's reinterpretation of the building, which sat vacant for many years, has resulted in different environments where visitors can meet and linger, starting at the lobby and continuing up to the rooftop lounge and pool.
Observe the lobby action unfolding beneath the restored coffered ceiling from the comfort of a flamingo pink-hued velvet seat, from the vantage point of a quieter table in the moody Giannini Bar or the relatively more formal Mezzanine restaurant upstairs.
Don't miss: The downstairs restrooms are accessed by a telltale reminder of the building's original function as the Bank of Italy headquarters: a massive vault, complete with a 50-ton door and 12,000 safety deposit boxes.
Info: NoMad Hotel, 649 S. Olive St.; thenomadhotel.com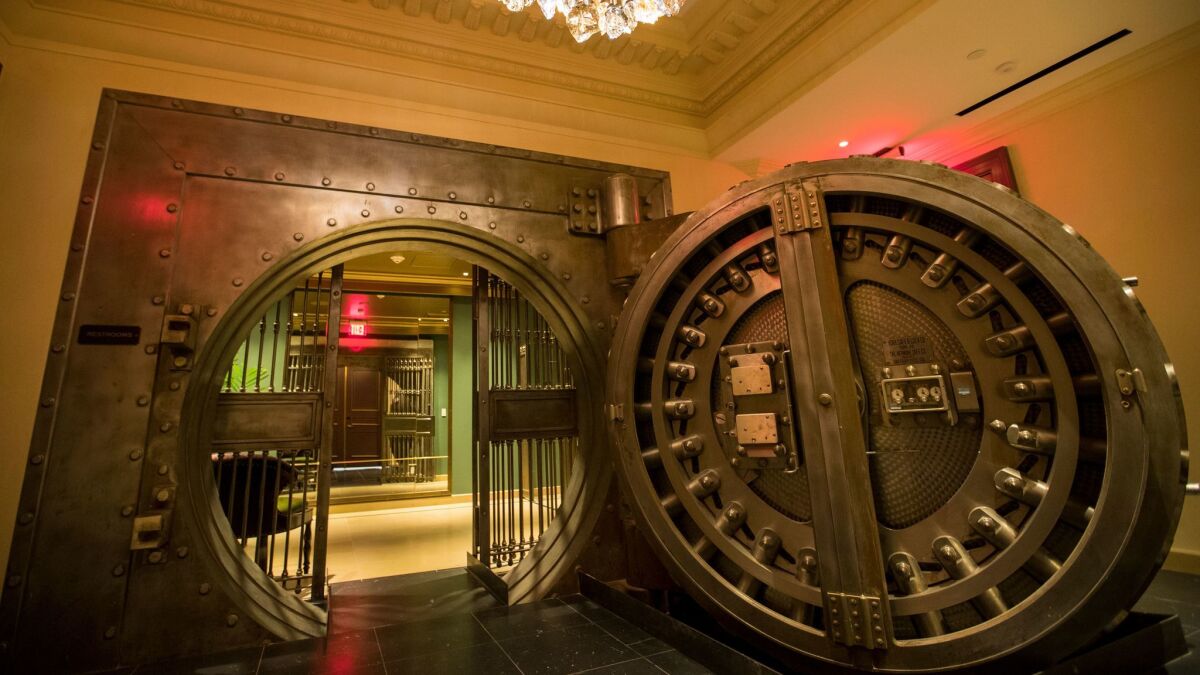 For an easy way to follow the L.A. scene, bookmark L.A. at Home and join us on our Facebook page for home and garden design, Instagram, Twitter and Pinterest.
ALSO:
This loft remodel in DTLA's Toy Factory building made these empty nesters go 'Wow'
An open, industrial loft in DTLA gets a cozy makeover
---