L.A. designers share refined furniture, accessories at NYCxDesign
Artist Mimi Jung, shown with her woven Four Teal Walls, which were exhibited during NYCxDesign and can be used as a sculptural piece or a room partition. Pricing by request at mimijung.com.
(Brian Hurewitz)
Merging the new technology of a 3-D milled top shelves and old technique of turned wood tapered trunk legs, 100xbetter's Group Six coffee table shown at Sight Unseen OFFSITE, is solid ash with smoked bronze glass and costs $3,200.
(100XBetter)
Los Angeles-born Alex Chow, 23, showed his prototype Clockwork Lamp, which incorporates a wind-up key for a dimmer switch, at the Wanted Design.
(Alex Chow)
Matthew Sullivan of AQQ Design references early 20th century Viennese and 1980s Milanese designs with the Lawrence chairs, $2,300 each and settee, $3,500 and a maple and cherry desk with marble feet, far right, $2,800. aqqdesign.com
(Mike Vorassi)
Ceramist Bari Ziperstein produces a range of low-fire XL Terracotta Pots, $450-$1,200, which mix Southwestern and 1980s postmodern style. Sold at Dream Collective in Los Angeles and the artist's website bzippyandcompany.com.
(Bari Ziperstein)
Designed by Gaurav Nanda's, founder of Bend Goods, this Love Seat shown at ICFF is made of iron with a powder-coated finish. Made to order for $3,500 from bendgoods.com.
(Bend Goods)
At ICFF, the Los Angeles lighting manufacturer Troy RLM melded industrial style and midcentury design with the Structure System — a customizable system of steel conduit and fittings that can accommodate rustic steel barn lights or Danish Modern pendants.
(Troy RLM)
Made from a brass frame with protruding blown-glass bubbles that refract light on the surrounding surfaces, Brian Thoreen's 10-foot long Torpedo Chandelier is $23,500 at brianthoreen.com.
(Don Miller Studios)
The handles on Brian Thoreen's Rubber Credenza are flexible and tactile, the designer says: "You have to push one side in to access the desired side." $18,000 from brianthoreen.com.
(Don Miller Studios)
DeJong & Co. salt and pepper mills, shown at Wanted Design, are $150 each in oak or black walnut from dejongandco.com.
(DeJong & Co.)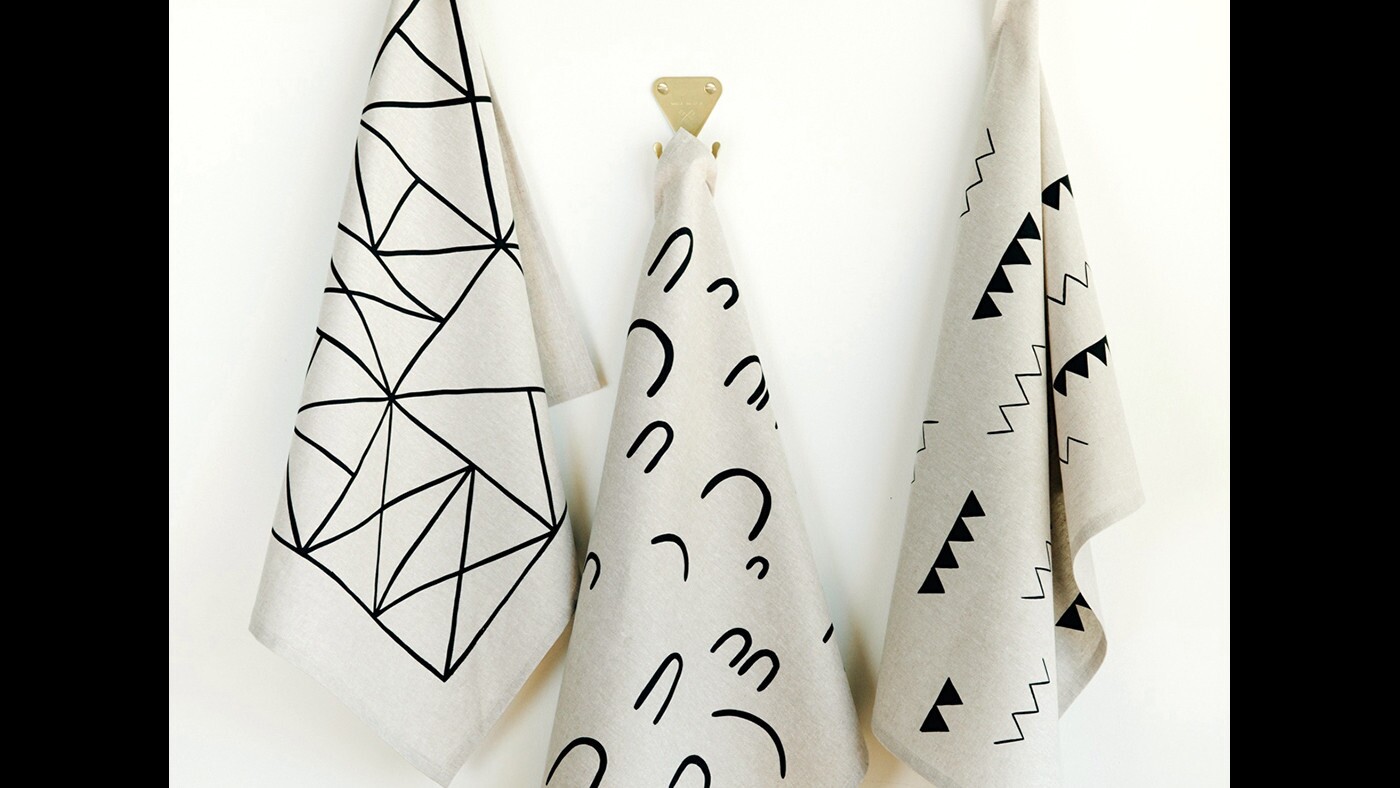 Designed, silk-screened and sewn by hand in California, Cotton & Flax's Zig Zag and Grid tea towels are a linen-cotton blend and sell for $24 each at cottonandflax.com.
(Jessica Comingore / Cotton & Flax)
Joe Cariati's new Emerald range of glass bottles, vessels and decanters, $195 to $975, are available at Jonathan Adler stores nationwide.
(Dana Maione )
For fall 2015, Bend Good's Lucy chair, $540, will be available in plated metallic finishes and can be upgraded with an optional saddle pad, handmade from cowhide in Los Angeles, price upon request.
(Bend Goods)
Luxxbox's pillow stools and chair, $250-$350, have polyethylene seats that can be upholstered and American ash legs that can be upgraded with copper-plated aluminum. Available at A + R in Los Angeles.
(Luxxbox)
Michael Felix's Flora Sofa was launched at the Sight Unseen OFFSITE show in New York and available for $6,500 at michaelfelix.com.
(Michael Felix)
The Friends stool, $225, by L.A. designer Michael Felix has a crescent shaped seat that allows it to be stackable in pairs.
(Brandon Wickenkamp)
Phase Design's Downtown series launched at ICFF 2015 includes architectural glass-topped metal tables that can be used separately or clustered in a group. Pricing available from phasedesign.com.
(Phase Design)
Bari Ziperstein's slab built stoneware lamps, $325 and $600, are sold at These Days and Ten Over 6 in Los Angeles and on her website bzippyandcompany.com.
(Claire Cottrell)
Bari Ziperstein's hand-built stoneware Totem vases, $200-$350, reference 1980s postmodernism and dusty rose, a popular color of that era.
(Bari Ziperstein)
Minimalist in form, the Reza Feiz-designed Trolley tables exude luxury with Negro Marquina marble tops and tubular brass frames. Pricing available from phasedesign.com.
(Phase Design)
Non Designs of Pasadena exhibited the Layer Collection of lightweight birch plywood stacking chairs with a table that has hinged folding legs for easy transport. Pricing from Non Designs.
(Non Designs)
At over 2-feet in diameter, Brendan Ravenhill's spun metal Grain Drum 25 shows the grain of its wooden mold and is illuminated by three bulbs that are concealed behind a wood grain reflector, "giving the impression of a standing under an eclipse," says the designer who sells it for $2,950 at brendanravenhill.com.
(Brendan Ravenhill)
In its third year, NYCxDesign, which held more than 300 events in New York City's five boroughs from May 8-19, boasted a strong Southern California presence. Some four dozen local designers and manufacturers exhibited at the 27th annual International Contemporary Furniture Fair, while a handful of Los Angeles home décor firms exhibited in the Wanted Design and Sight Unseen OFFSITE shows.
"People in New York City are always surprised when we tell them that we call Los Angeles home," says Echo Park lighting designer Brendan Ravenhill, who at ICFF showed a self-produced short film documenting the process behind his new Grain Drum pendant lamp, which is made in L.A. "Most New Yorkers expect young brands to hail from Brooklyn, but we are proud to represent a city where industry and manufacturing are still a vibrant part of our economy."
For Southern California designers and manufacturers exhibiting in the New York City shows, the simplicity of midcentury modernism and 21st century industrial style remains an inspiration. At ICFF, the Los Angeles lighting manufacturer Troy RLM melded the two with the Structure System— a customizable system of steel conduit and fittings that can accommodate rustic steel barn lights or Danish Modern pendants.
Steve Nadell, president of Troy-CSL Lighting, says the product allows consumers nearly unlimited design options for size, length, shape and color. "And the entire system can be produced in our California factory in about 60 days."
Designers who manufacture locally are also stepping up their game. In previous years, L.A. talents displayed work made from humble materials such as plywood and metal wire influenced by 1950s and 1960s furniture. Now, they are adding more luxurious materials and finishes to their creations.
At ICFF, designer Gaurav Nanda of Bend Goods showed his Lucy wire chairs with gold and jewel-colored metallic plating and leather seat covers, and Reza Feiz of Phase Design added marble and opaque architectural Spandrel glass to top his Trolley and Downtown tables available with metal bases in polished chrome, smoked brass and burnt copper finishes. Exhibiting at Sight Unseen OFFSITE, designer Brian Thoreen showed a lean brass credenza clad in black rubber with bulging handles.
Other Los Angeles designers at Sight Unseen OFFSITE put a contemporary spin on less-explored design styles and periods. Michael Felix's Friends stool and Flora sofa had a dash of New Wave-era minimalism and Brendan Sowersby, founder of 100xbetter, showed the Group 6 table with a bronze glass top that echoed the days of disco. Matthew Sullivan of AQQ presented furniture that recalled early 20th century Viennese parlor seating and tables in the style of the 1990s Italian design movement Memphis.
Though Los Angeles has a long tradition of earthy studio carpentry, work, ceramics, glass and weaving, the work on display in the New York shows was more refined in shape and vibrant in color than the granola-crunchy California crafts of yesteryear.
DeJong & Co offered elegant Danish-accented salt and pepper mills in turned oak and black walnut. The designer and artist Mimi Jung displayed a sculptural room divider woven with brilliant teal yarn, while Los Angeles glassblower Joe Cariati turned out elegant bottles and decanters in vivid yellow and emerald.
And Bari Ziperstein, the Glassell Park-based founder of B Zippy & Co., showed ceramics that reflected the geometry of postmodern design and pushed the envelope into Southwestern territory with a collection of vases in a shade rarely seen in decorative arts since the 1980s: dusty rose.
Twitter: @latimeshome
---