Brendan Ravenhill manufactures a design business for himself
Furniture and lighting designer Brendan Ravenhill, right, runs his small industrial design studio out of his Echo Park home. At left, designer Dash Krehel.
(Christina House / For The Times)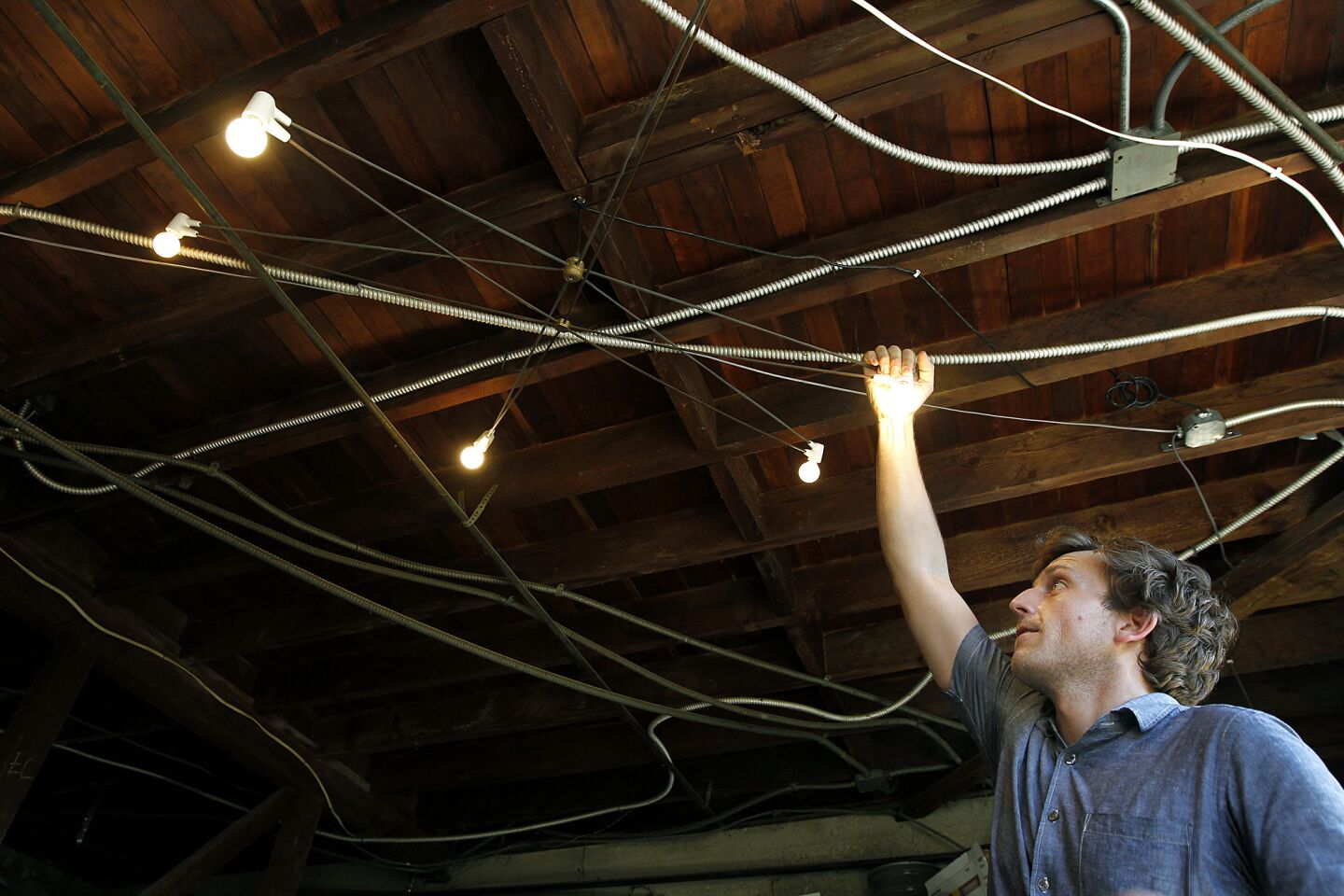 Brendan Ravenhill handles a chandelier prototype in his Echo Park studio.
(Christina House / For The Times)
Upstairs, Ravenhill notes the wood relief on his new Grain pendant.
(Christina House / For The Times)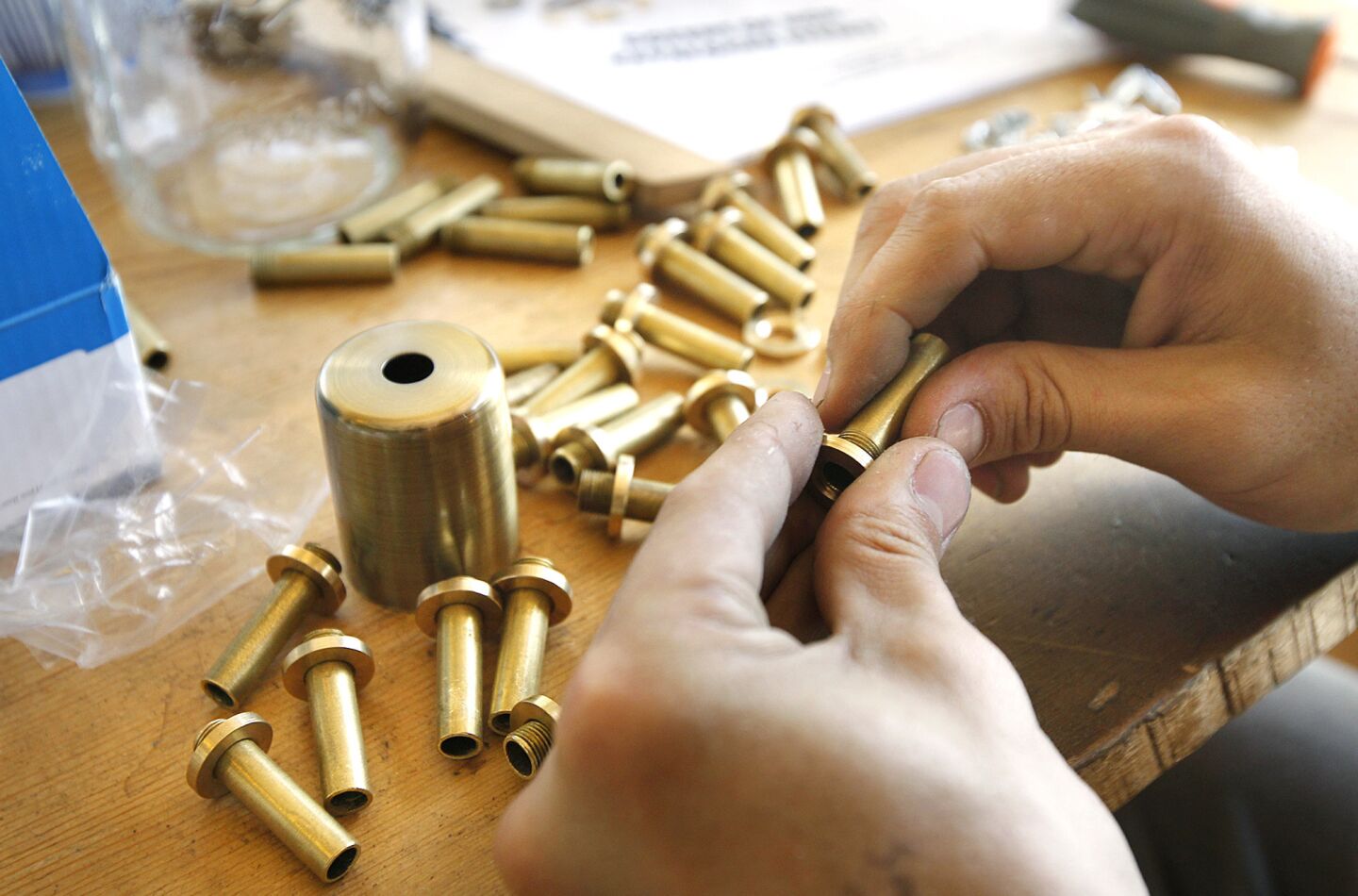 Matt Hunt assembles components for a light. All parts are sourced out to local manufacturers in Los Angeles.
(Christina House / For The Times)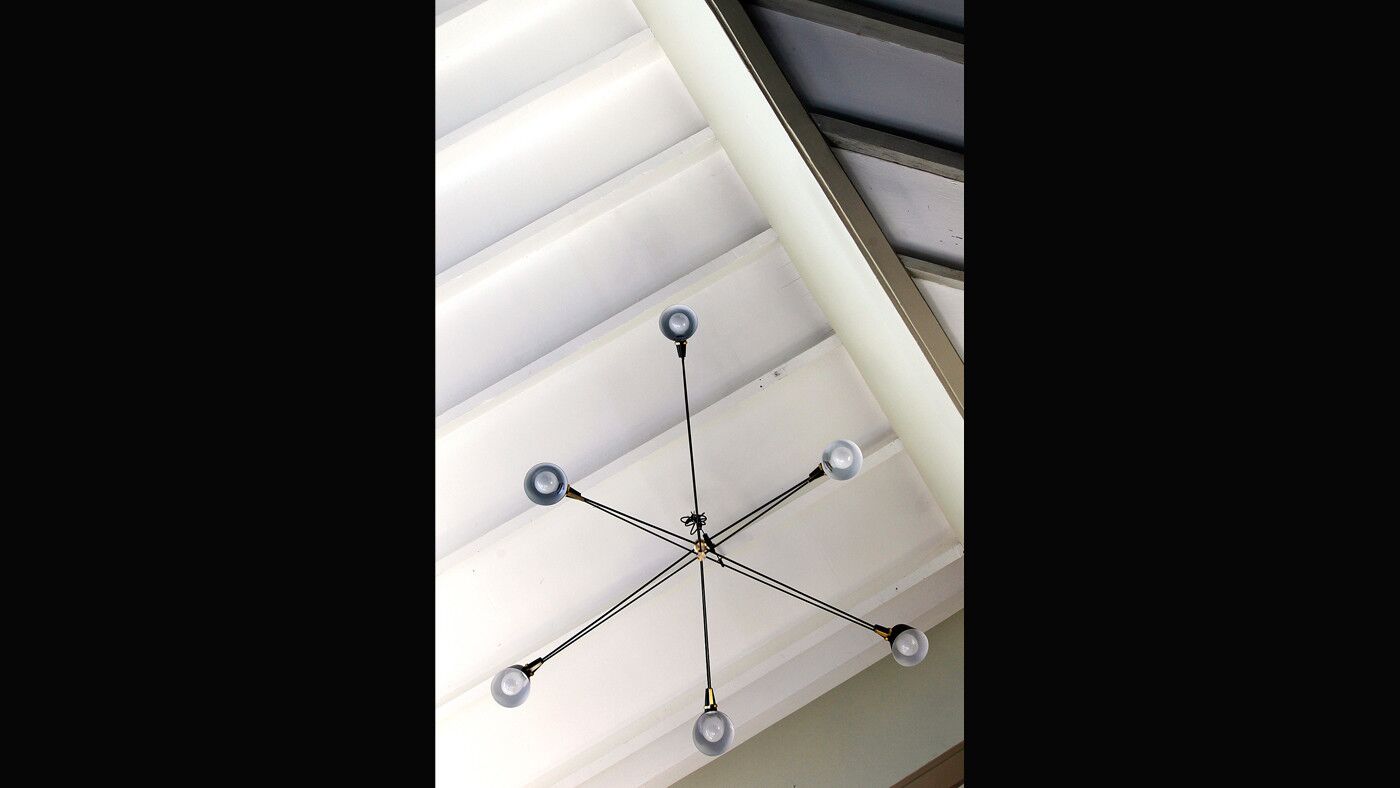 The Pivot chandelier (starting at $5,000), with spun-aluminum shades, hangs in Ravenhill's living room.
(Christina House / For The Times)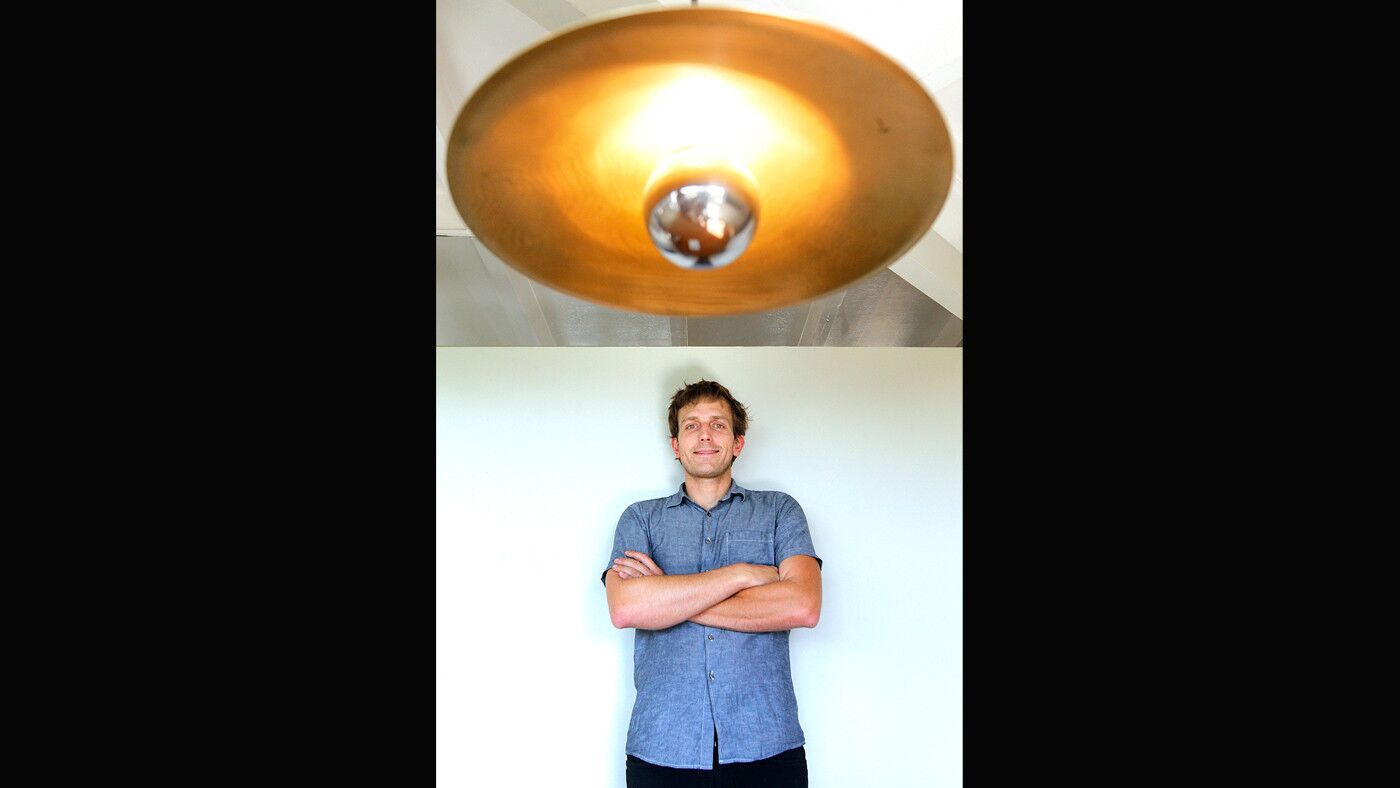 Furniture designer Brendan Ravenhill is captured underneath the Grain pendant he designed in his Echo Park home.
(Christina House / For The Times)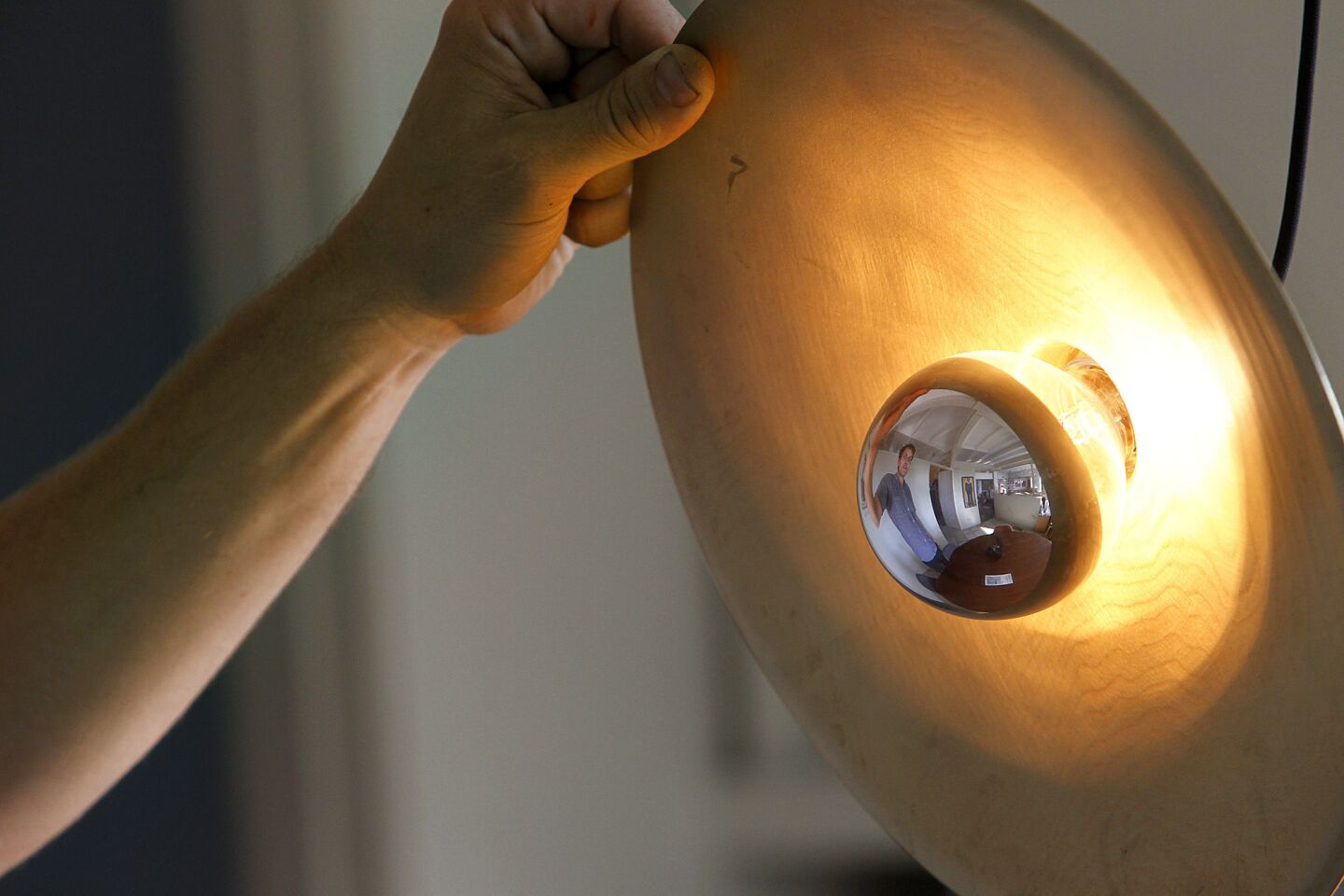 The Grain pendant lamp features a wood grain impression on the inside of the spun aluminum shade.
(Christina House / For The Times)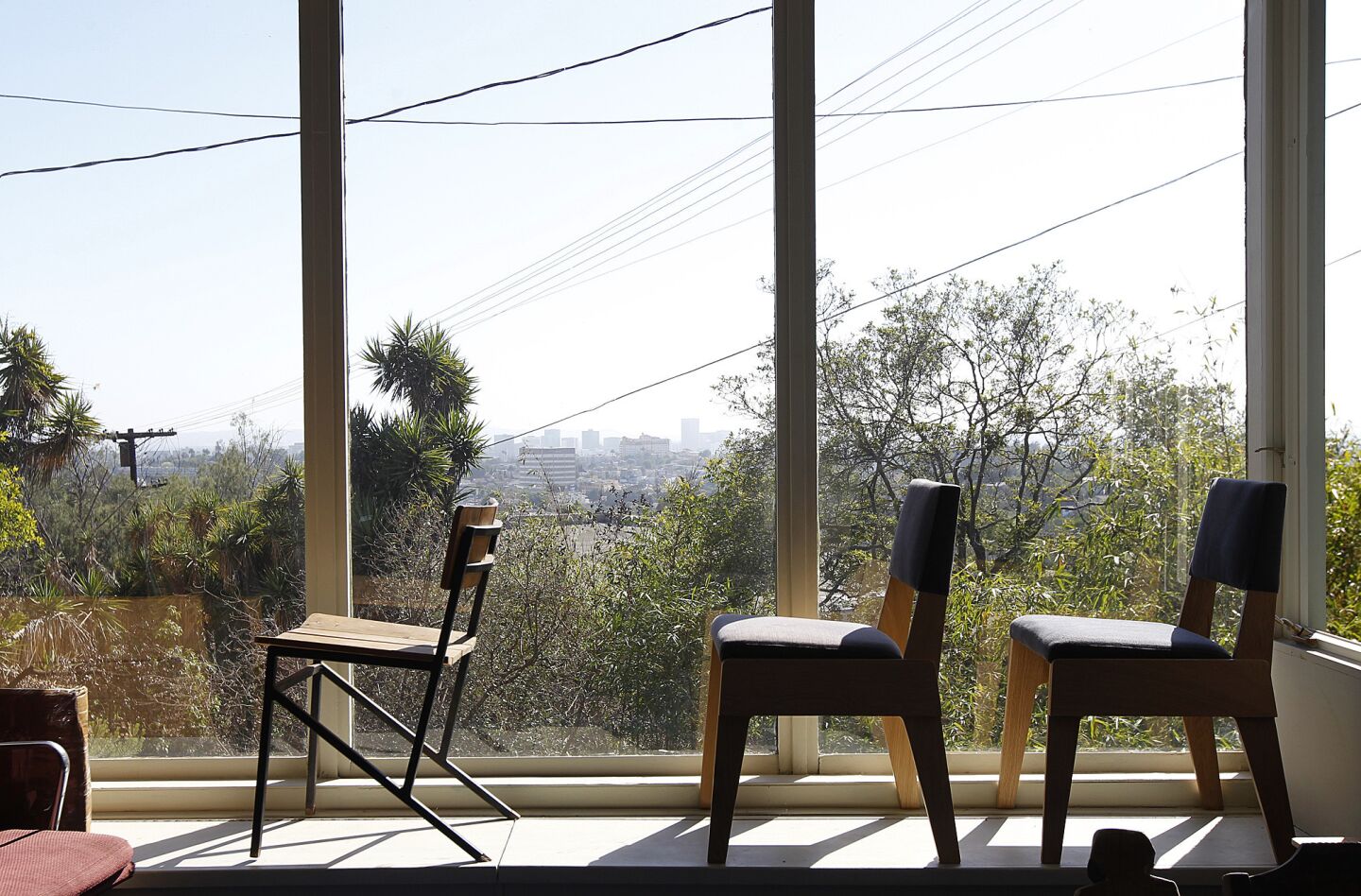 The La Buca chair, left ($495), and the Black Chair ($460) line up in the window of Ravenhill's live-work space.
(Christina House / For The Times)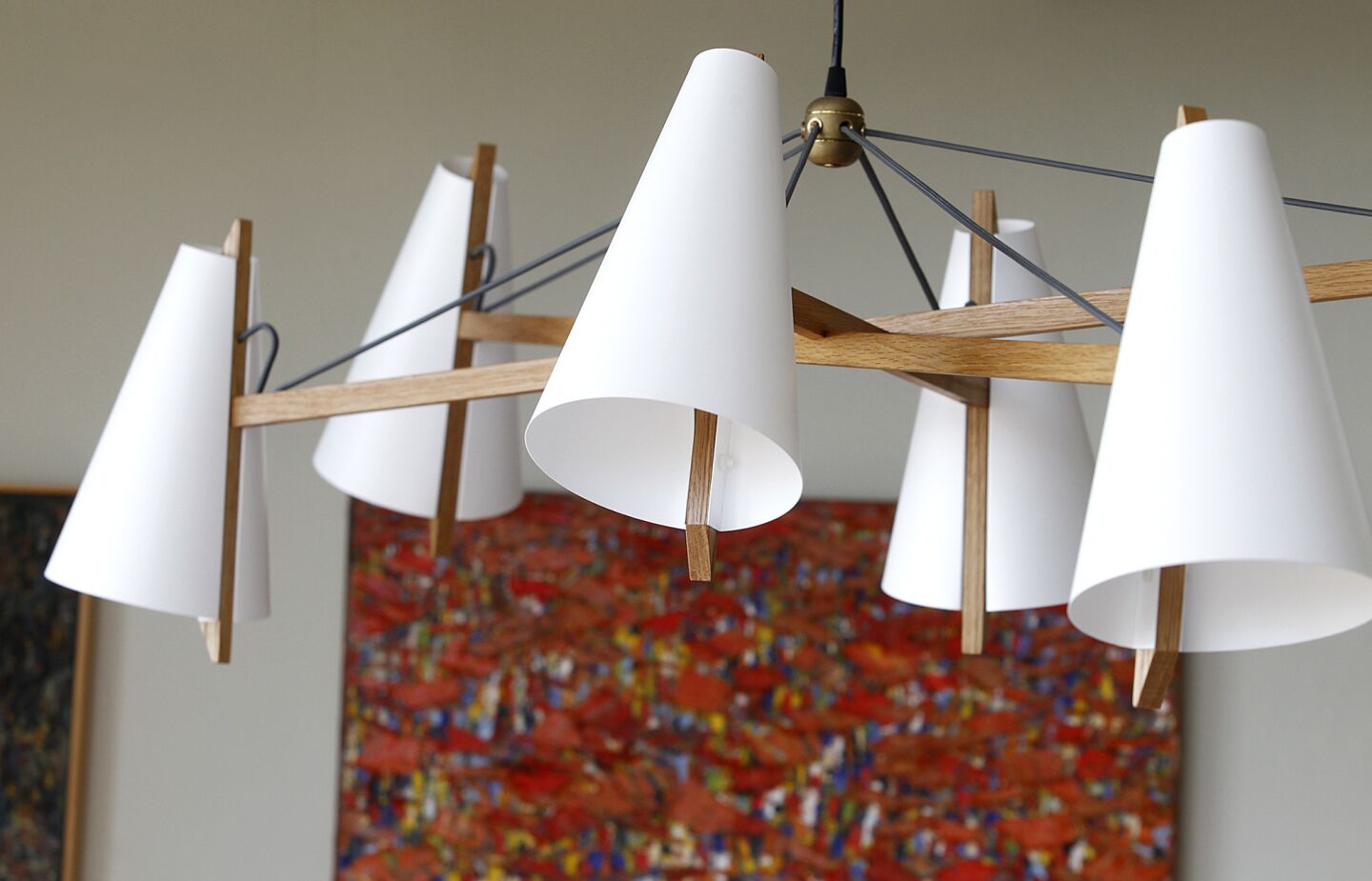 The Hood chandelier in white oak ($3,000).
(Christina House / For The Times)
At the International Contemporary Furniture Fair (ICFF) in New York in 2013, Ravenhill demonstrates how his pliable Cord chandelier ($2,000) pendant is like a toy.
(Michael Nagle / For The Times)
Osteria La Buca interiors, which Ravenhill redesigned, feature his chandeliers and La Buca chairs.
(Wally Skalij / Los Angeles Times)
Los Angeles-based designer Brendan Ravenhill creates furnishings, lamps and accessories that are surprisingly elegant given that they are driven by manufacturing processes.
Ravenhill describes himself as someone who "chases simplicity" in his designs. He is known for his industrial-looking chairs and bar stools, as well as pliable pendant lamps made of cloth-covered electrical cord, thin sheets of polyethylene and bare light bulbs.
Since his impressive 2011 redesign of Hollywood restaurant Osteria La Buca, Ravenhill's practice has quickly grown. Last month he debuted a new lighting collection at the International Contemporary Furniture Fair in New York, and he has just opened a show of new chandeliers and pendants at Fifth Floor Gallery in L.A.'s Chinatown. He also sells his designs online at www.brendanravenhill.com.
Ravenhill will be speaking on local manufacturing at the Dwell on Design show at the L.A. Convention Center on Sunday and is scheduled to be on a designer panel Friday at the Beverly Boulevard West Elm store as part of the Los Angeles Design Festival.
"Brendan Ravenhill is the type of designer that prioritizes form and function to create pieces that are sleek and thoughtfully simplistic," says Vanessa Holden, creative director of West Elm, which collaborated with him on a line of powder-coated aluminum dustbins. "His designs are smart, dynamic and just slightly nostalgic in a way that adds personality to the modern home."
Ravenhill, 35, runs his small design studio out of his Midcentury home in Echo Park. He grew up in Washington, D.C., and Maine and studied sculpture at Oberlin College in Ohio and industrial design at the Rhode Island School of Design. But he loves Los Angeles, where he's lived since 2010, for its "light, urban spread and Mexican food." He says his designs are influenced by modernists such as Rudolph Schindler and Charles Eames but that he is most inspired by fabricators in South Los Angeles and Bell Gardens.
"Local manufacturers are an instrumental part of our design, " Ravenhill says. "My greatest inspiration comes from how things are made."
Indeed, the design for his new Grain spun-aluminum pendant lamp is the result of a factory tour. After a fabricator tried to talk him out of using a tool that would leave a wood grain impression on his finished shade, Ravenhill devised a way to enhance the grain impression even further. "Constraints add so much to design," Ravenhill says. "We try to celebrate the way things go together."
Certainly other designers pursue austerity, but as Fifth Floor Gallery owner Robert Apodaca points out, Ravenhill's work is of interest because it is informed by his process. "His work exemplifies the current California design movement," Apodaca says. "There is beauty in his efficiency. It encompasses not just material and form, but production, via his orchestration of various skilled local fabricators."
It's a process that has been expedited by his move to Los Angeles, a city with an abundance of manufacturers.
And with more designers looking to L.A. as a creative capital, Ravenhill says he's found his home. "It's an ideal place to live and work," he says. "And an exciting place to get things built."
---