Ray Charles and Quincy Jones enjoy a light moment during recording break.
(LAT)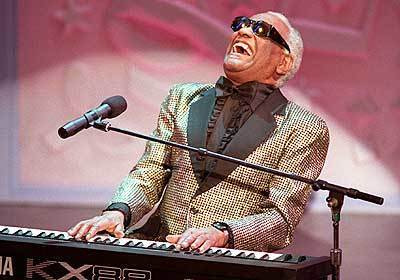 Ray Charles sings "Oh What a Beautiful Morning" during the 25th annual Easter Seal fundraiser event in 1996.
(AP)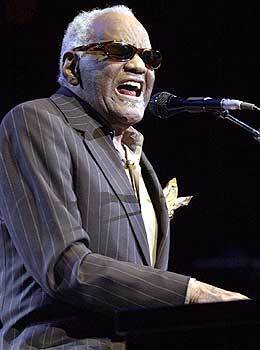 Ray Charles in concert at the Pond in Anaheim in January 2003.
(Christine Cotter / LAT)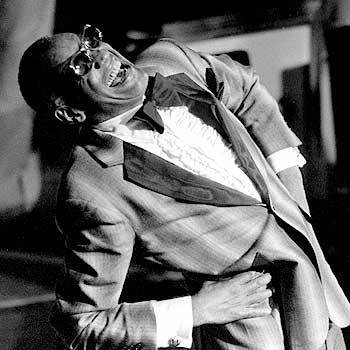 Ray Charles acknowledges the applause after his performance at Avery Fisher Hall in New York during the annual Kool Jazz Festival in 1983.
(AP)
Ray Charles united genres and audiences, making beautiful music in a melting pot.
(LAT)
Charles' best music taught us so much about shared human emotions and aspirations that it feels far too narrow to think of him only as a musician. Here he performs at the Universal Amphitheatre in 2002.
(Ken Hively / LAT)
Ray Charles accepted his Lifetime Achievement Award presented by the Blues Foundation at the House Of Blues in West Hollywood in 2000. He was also celebrating his 70th birthday.
(AP)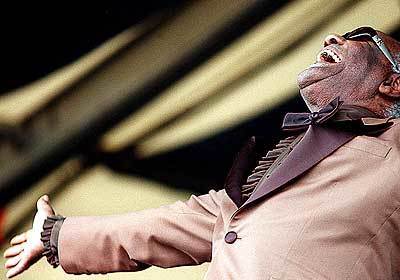 Ray Charles greets an enthusiastic crowd at the New Orleans Jazz and Heritage Festival in in April 1999.
(AP / The Times-Picayune)