California Journal: Trump blames her death on an immigrant. But why did her killer have a gun in the first place?
Reporting from San Francisco —
For more than two years, I have puzzled over the tragic death of Kathryn Steinle at the hands of an illegal immigrant named Jose Ines Garcia Zarate.
You may not remember Garcia Zarate's name, but you surely remember Steinle, a joyful and well-traveled 32-year-old California native who became the unwitting face of the border security hysteria that drove so much of the last Republican presidential campaign.
On a soft summer evening in 2015, Garcia Zarate found a stolen gun on San Francisco's Pier 14. It went off. Steinle, who was strolling nearby, died.
Garcia Zarate, 45, who is also known as Juan Francisco Lopez-Sanchez, was arrested and charged with second-degree murder, among other crimes. His immigration status and history — deported five times to Mexico, imprisoned by the feds for nearly four years for crossing back into the U.S., various drug convictions — made him the perfect foil for a country debating immigration law.
That allowed folks like Donald Trump to portray him as a depraved killer whose crimes were enabled by San Francisco's "sanctuary city" policy, and whose misdeeds underscored the need for a massive border wall.
But I have always been stuck on the gun. Of course, the man who pulled the trigger that cut short the promising life of an innocent young woman must be held to account. But I wonder if we are overlooking another person whose actions set the horrible chain of events in motion: the owner of the gun.
::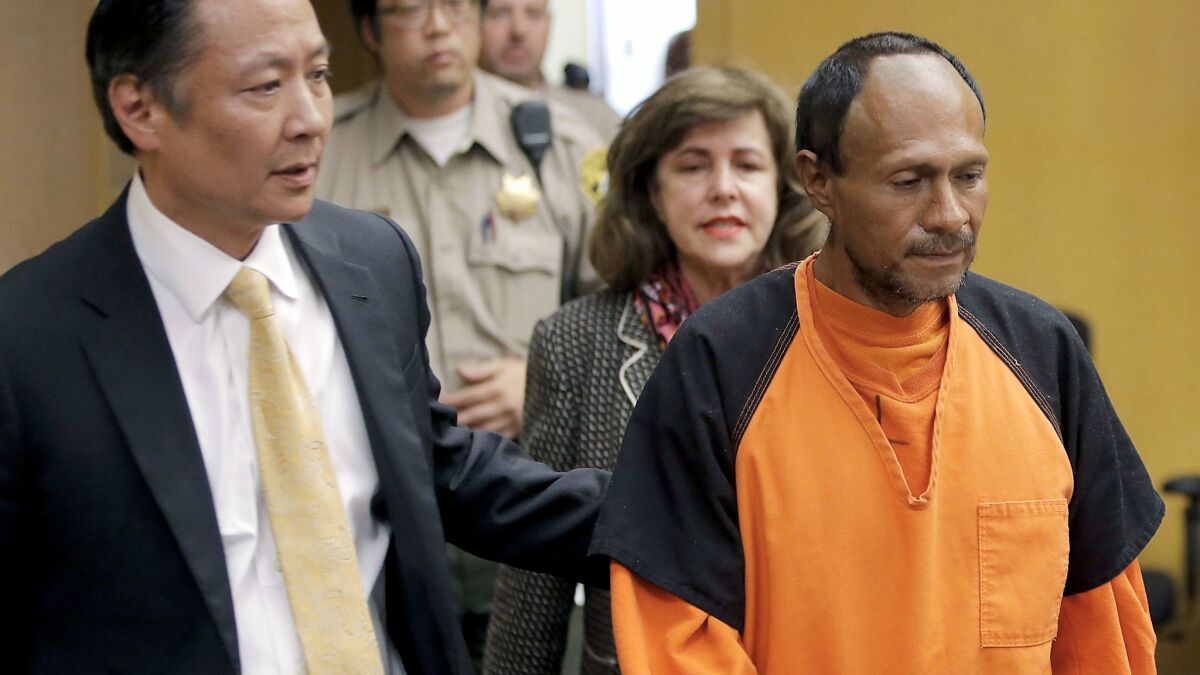 Garcia Zarate's murder trial began Monday morning in a stuffy Hall of Justice courtroom. The judge apologized for the broken air conditioning.
"This is the gun that this man fired at Kate Steinle," prosecutor Diana Garcia said as the defendant looked on, listening to a translation through headphones. "She is dead because this man … pointed this gun in her direction and pulled the trigger."
I flinched for her mother, Elizabeth Sullivan, and her older brother, Brad, who were sitting in the first row of spectators.
On July 1, 2015, while strolling along the Embarcadero with her father, Garcia said, Steinle was hit by a bullet that pierced her back and ripped through her abdominal aorta. She clutched her father and both fell to the ground.
"Help me, Daddy," she said. Those would be her last words.
Steinle, who had a job selling medical devices, was pronounced dead two hours later at San Francisco General Hospital.
Prosecutor Garcia told jurors that Garcia Zarate was sitting in a swiveling metal chair on Pier 14 when he fired the gun, a semiautomatic pistol.
Investigators have said that the bullet first hit the pavement 12 feet from Garcia Zarate, then ricocheted 78 feet into Steinle. No one saw the gun go off, the prosecutor said, but many people heard it.
There is grainy video, she said, that shows the moment Garcia Zarate tossed the gun into the water and walked away. When he was arrested a mile or so from Pier 14, he had gunshot residue on his hand.
Then-candidate Trump seized upon the case, calling Garcia Zarate an "animal," the embodiment of the "bad hombres" against whom he'd railed.
"This senseless and totally preventable act of violence committed by an illegal immigrant is yet another example of why we must secure our border immediately," Trump said in a statement two days after Steinle died. "This is an absolutely disgraceful situation, and I am the only one that can fix it."
Later, in a news release announcing a proposed "Kate's Law," which would stiffen penalties for immigrants crossing into the U.S. illegally, House Speaker Paul Ryan wrongly claimed that Garcia Zarate had stolen the gun used in Steinle's death. As prosecutor Garcia told jurors Monday, that case has never been solved, and there is no evidence linking Garcia Zarate to the theft.
::
No one knows how Garcia Zarate got the gun.
He told police that he had found it on the pier, wrapped in a T-shirt.
His public defender, Matt Gonzalez, plans to tell jurors it went off when he began to unwrap it. Gonzalez, a former San Francisco supervisor and Ralph Nader's 2008 Green Party vice-presidential running mate, will also argue the gun, a .40 caliber Sig Sauer P226, is known for its hair trigger.
I do not hold with those who claim that San Francisco's refusal to cooperate with immigration authorities is to blame for Steinle's death.
As KQED reported Sunday, federal authorities could have deported Garcia Zarate after he finished his prison term in 2015, but instead turned him over to San Francisco authorities to face a 20-year-old marijuana charge that was subsequently tossed. Surely the feds were aware of San Francisco's highly publicized refusal to cooperate with U.S. Immigration and Customs Enforcement.
Despite the political noise around this case, the jury will be asked to decide only one crucial issue: Did Garcia Zarate pull the trigger on purpose?
I find myself returning again and again to the role that Bureau of Land Management ranger John Woychowski played in this case. His irresponsibility led to a terrible chain of events.
Steinle's parents have filed a federal wrongful death lawsuit, alleging that former San Francisco Sheriff Ross Mirkarimi, ICE and the BLM had a hand in their daughter's death.
A federal judge threw out the case against Mirkarimi and ICE but allowed the lawsuit against the BLM to proceed.
According to the prosecutor, Woychowski was on his way from Southern California to a new assignment in Montana when he stopped for dinner in San Francisco. While he was away from the car, it was broken into and burgled.
A BLM review absolved Woychowski of violating its policies, according to KQED. Five months after Steinle died, he was promoted to a supervisory position.
In one of the most touristy areas of a city where drivers are constantly warned not to leave valuables in their vehicles, a federal law enforcement official left a loaded service weapon in a backpack stuffed under the front seat of his car.
This invitation to disaster was answered with an unspeakable tragedy. I would not suggest Woychowski be charged in Steinle's death. But I cannot shed the feeling that he shares some moral culpability.
To read the article in Spanish, click here
Twitter: @AbcarianLAT
ALSO
Regardless of what President Trump does on DACA, these Dreamers are defiant, optimistic and aren't going anywhere
Some good news for a family whose jailed father is facing deportation to Guatemala
Must-read stories from the L.A. Times
Get the day's top news with our Today's Headlines newsletter, sent every weekday morning.
You may occasionally receive promotional content from the Los Angeles Times.