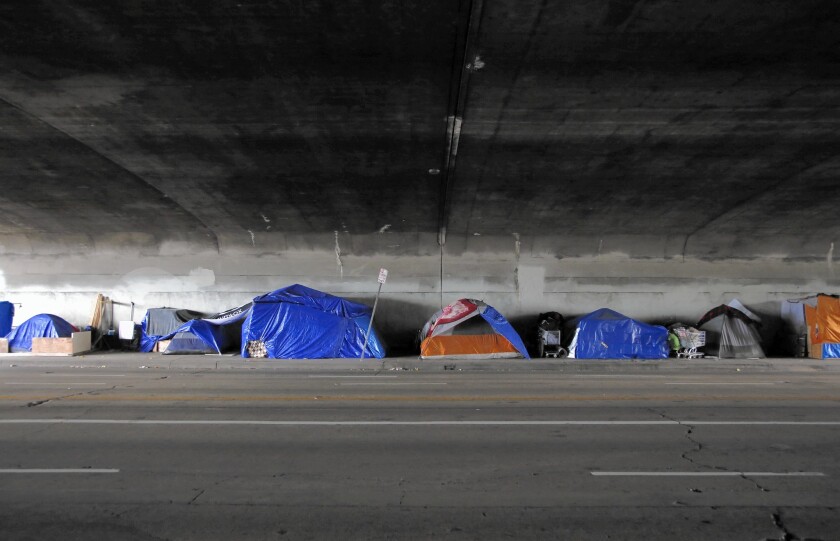 After years of restraint, the Los Angeles City Council is embracing aggressive tactics against homeless encampments, setting the stage for sweeps aimed at eliminating tent cities and makeshift shelters.
But amid widespread criticism that they have gone too far, some council members are talking about softening two ordinances that give authorities wide latitude in confiscating and destroying homeless people's property.
The council members' discomfort reflects the city's long struggle in balancing the public's desire for clean and safe streets with homeless people's basic rights.
"It's not perfect," Councilman Jose Huizar said Thursday after the inaugural meeting of the council's new committee on homelessness, which he chairs.
Advocates say the measures, approved Tuesday and up for final passage this week, offer nothing to help homeless people while opening the city to litigation. City Atty. Mike Feuer said they are "more specific and mindful of individuals' rights" than current law.
The measures came in response to a near doubling of street camps and car camping countywide, and a double-digit increase in the city's homeless population. Unlike in other cities — such as New York, with extensive shelter systems — 70% of L.A. County's more than 44,000 homeless people sleep in the streets.
A federal court in 2012 ordered the city to stop destroying homeless people's unattended possessions. The city began giving 72 hours' notice before confiscating property and opened a storage facility where homeless people could reclaim items for 90 days, but the camps kept getting bigger and more elaborate.
The new measures — one governing streets and sidewalks, the other parks — allow authorities to take people's property even if they have not left it unattended.
They allow the city to confiscate and destroy "bulky" items, such as sofas and mattresses, with no warning. Authorities can impound smaller items with 24 hours' notice, though advocates for the homeless complain that the city's only storage facility is on skid row, a trek for those living in other areas of the city.
"It's incredibly draconian," said retired UCLA law professor Gary Blasi, who has studied homelessness extensively and has represented homeless veterans in litigation against the Department of Veterans Affairs. "It's the kind of thing you'd expect in a little Southern town."
Councilman Mike Bonin proposed dropping the ordinances' misdemeanor penalty for blocking streets and sidewalks, and deleting "personal" property — such as luggage, backpacks and medication — from the list of items that can be seized. "I think we need to be kinder and gentler," Bonin told the full council Tuesday. The homelessness committee is considering his proposal.
Carol Schatz, president of the Central City Assn. of Los Angeles, said the ordinances are a "common sense" response to the enormous encampments. "The courts could not have envisioned the extreme nature of the trash and furniture that have ended up on the city's public sidewalks," she said in a statement.
In housing-pinched Los Angeles, most of the homeless population has nowhere to go but the streets. "We're full every night," said Larry Adamson, head of skid row's Midnight Mission.
"Many of our homeless have been approved for housing; it's trying to get them into housing," said San Pedro community activist Karen Caesar.
In an appearance on KCRW's "Press Play," Councilman Joe Buscaino, a former Los Angeles police officer, described the dilemmas he faced with homeless people in the street.
"What we have found is they will move to another location up the street, down the street," Buscaino said.
Host Madeleine Brand said: "But it sounds like you're just admitting right there this is kind of a whack-a-mole situation."
Replied Buscaino: "That's what we are presented with on numerous occasions."
Members of the homelessness committee called for locating services around the city and opening emergency shelters, transitional housing, showers, restrooms and storage.
"Housing only is not enough," Bonin said.
"Some do want to be on the sidewalk, but there are those who want some help," said Councilman Curren Price. "We have to do a better job."
Later this year, L.A. housing officials say they will reach a construction milestone that will allow the city to again press its street camping ban.
Under a 2007 court settlement, enforcement was suspended until the city could build 1,250 units of supportive housing for the homeless, with half of those units downtown. The settlement followed a federal court ruling that city homeless sweeps amounted to cruel and unusual punishment.
City officials say authorities will use discretion in dealing with vulnerable homeless people. Blair Besten, executive director of downtown's Historic Core Business Improvement District, said breaking up camps will help the homeless as well as the business community.
"We're finding more people hidden away in encampments and passing away," Besten said. "There's a sensitivity now in the city's approach.… We're coming back to the middle ground."
Twitter: @geholland
---