Religious leaders protest L.A. pastor's detention during a routine ICE appointment
Pastor Noe Carias' wife Victoria Carias and Rabbi Jonathan Klein react to Pastor Carias being detained by ICE. (Video by Al Seib / Los Angeles Times)
The arrest of a pastor during a routine appointment with an immigration officer Monday has sparked protest and sent worry through Los Angeles' Latino religious community.
Noe Carias, who now leads an evangelical church near Echo Park, was first deported in 1993 after crossing illegally into the United States as a teenager. The Guatemala native then returned to the U.S. and ignored a second deportation order in 1995.
According to lawyer Noemi Ramirez, Carias — who is married to a U.S. citizen — had been granted two, one-year stays in January 2015 and April 2016. Earlier this year, a third stay was denied.
At his immigration check-in Monday morning, Ramirez said, "they decided to say he's removable because of his '95 decision."
The U.S. Immigration and Customs Enforcement agency provided a written statement on Carias' case.
"Mr. Carias is a repeat immigration violator who has assumed multiple identities and nationalities over the years in order to evade federal immigration enforcement," the agency said. "During previous encounters with immigration authorities, his actions have established a pattern of misrepresentation or deception to law enforcement, resulting in his removal from the United States on at least three occasions."
President Trump was elected with a promise to crack down on immigrants who are in the country illegally — including those with criminal histories or previous deportation orders.
According to ICE officials in Southern California, there has been no change from the policies carried out under President Obama. But Trump's election has heightened fears in a city with a large population of people who are in it illegally.
In a case that received national attention, Romulo Avelica-Gonzalez — a Mexican citizen who has lived in the United States for 25 years — was pulled over by federal agents minutes after dropping off his 12-year-old daughter at her Lincoln Heights school. Another daughter who was in the car sobbed as she filmed the encounter earlier this year.
In May, The Times reported that while arrests by ICE are up 35% nationwide since Trump took office, they remain relatively flat in Southern California. Arrests of immigrants without criminal pasts have remained low in the L.A. region as well.
Carias was detained as his wife, Victoria Carias, was waiting in the lobby of the downtown building housing the U.S. Citizenship and Immigration Services field office. Victoria Carias said her husband had told her they would grab brunch after his appointment.
"He's a good man, he's a pastor, he's been a good citizen," Victoria Carias said. "He's never done anything wrong. The only thing he did was come here illegally."
Her husband, she said, had been living with relatives in Mexico before coming to the U.S. They met in church, and about six years ago he founded Iglesia Pentecostes Cristo la Roca de Poder. The couple have two children, who are American citizens.
Wednesday will be their 14th wedding anniversary.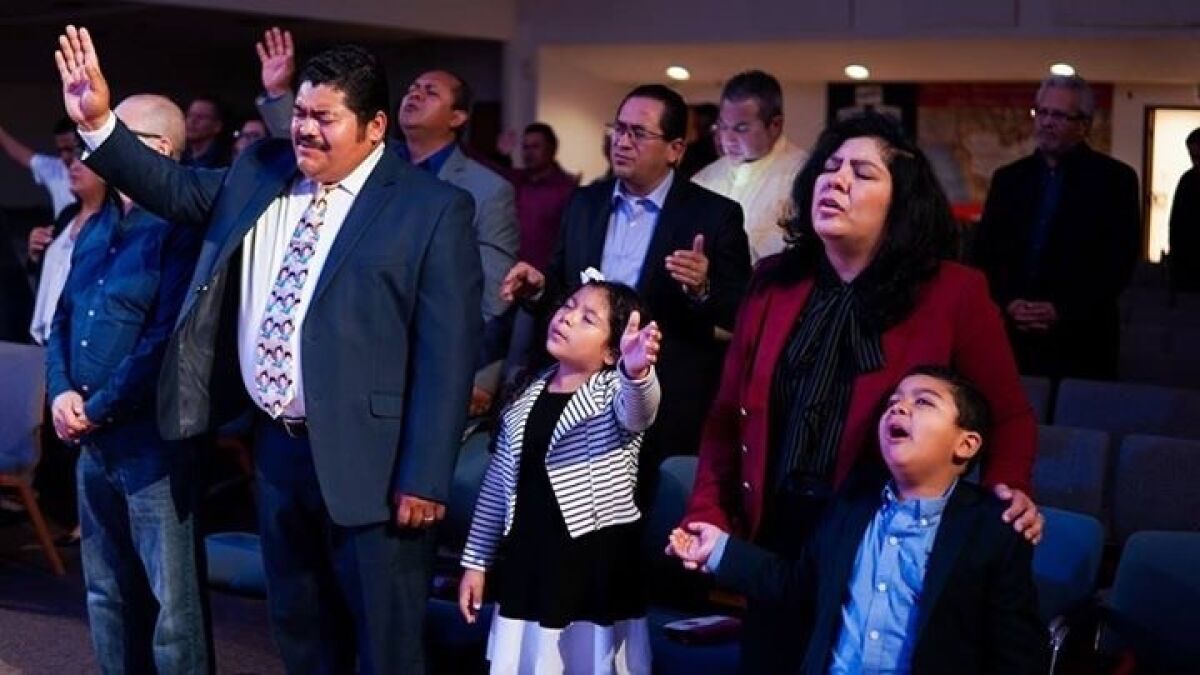 "We didn't expect this," Victoria Carias said Monday, clutching her children, ages 6 and 5. "We came with a lot of hope that everything was going to go well. He said, 'When we leave, we'll go and eat.'"
Then she found out that her husband had started praying when he heard he would be arrested — less than 10 minutes into his appointment.
According to Ramirez, Noe Carias, 42, has no criminal history. She quoted the immigration officer as saying: "Sorry, he's deportable.… We've removed people even if they have [deportation orders] since the '80s.'"
After November's presidential election, religious leaders in Los Angeles formed a network with immigration groups to support pastors facing deportation orders.
Guillermo Torres of Clergy and Laity United for Economic Justice connects evangelical Latino pastors with immigration attorneys. He said that pastors already had met with and sent letters to immigration officials about Carias' case.
"This case meets the criteria for [action] because it's an evangelical pastor that poses no threat to our country, to our community," Torres said. In addition, he said, situations like Carias' can spread fear among Latino congregations.
"What are the members going to think?" Torres said. "They're going to be afraid. They're going to say, 'If that happened to our pastor, imagine what's going to happen to us.'"
Maura Sandoval, a relative of Carias and a congregant at his church, said that she can't imagine it without him.
"This would leave us by ourselves," she said, crying as she walked away from the federal building with the pastor's wife. "He's the one who guides us. Just like his children are losing their father, we our losing a great leader."
To read the article in Spanish, click here
ALSO
San Diego teacher detained after refusing to answer Border Patrol questions at checkpoint
California teen arrested after posting live video of crash and dying sister on Instagram
Actress Hilary Duff is the latest target in a series of celebrity burglaries in L.A.
---
UPDATES:
4 p.m.: This article was updated with comment from ICE
This article originally published at 8:55 p.m. July 24
---
Life is stressful. Our weekly mental wellness newsletter can help.
You may occasionally receive promotional content from the Los Angeles Times.