Sex offender had GPS bracelet removed and went unmonitored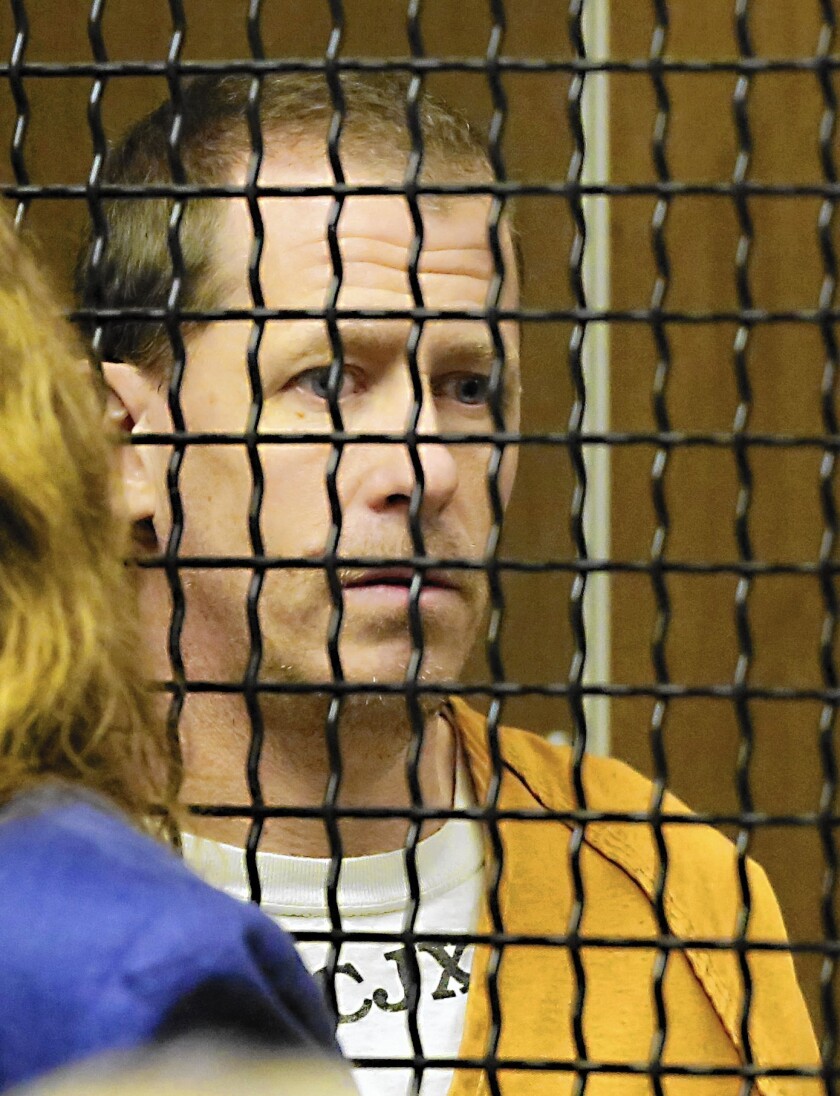 A high-risk sex offender now charged with raping and murdering four women had his GPS tracking bracelet removed and went unmonitored for nearly two weeks as the string of killings continued in Orange County, according to court records reviewed by The Times.
Steven Gordon is one of two men accused of luring women from the streets of Orange County, killing them and disposing of their bodies in trash bins in an Anaheim industrial neighborhood.
Gordon was allowed to remove his state-issued GPS bracelet when he finished parole in November 2013. Days later, a federal judge heeded arguments that Gordon's homelessness made him a public threat and ordered that he be outfitted with a new device to track his movements.
But for reasons that remain unclear, the U.S. Probation and Pretrial Services System waited nearly two weeks to place a GPS bracelet on Gordon. During that period, a third victim — a 27-year-old mother — vanished and is presumed to have been killed, records show.
Eleven days after her disappearance, a federal officer arrived at the Anaheim auto body shop where Gordon worked and fitted him with the new tracking device.
Prosecutors say they doubt a GPS monitor would have prevented that slaying because Gordon and his alleged accomplice, Franc Cano, were wearing GPS devices during the three other slayings for whch they have been charged.
But the gap does raise more questions about how the high-risk sex offenders were supervised, and the role that the government's reliance on electronic monitoring played in their alleged crimes. Both men had a history of removing their monitoring devices, and twice cut off their ankle bracelets and fled the state.
Both state parole and federal probation offices have declined to release records detailing the supervision of the two men, who both spent time in prison for sex crimes. The Los Angeles Times is challenging the state's secrecy in court.
The state corrections department said it has no responsibility for sex offenders once they leave parole. The agency typically notifies local law enforcement agencies two to three months before ending supervision, and will provide assistance if requested, but it is up to those agencies to initiate their own monitoring, the department said in a written response to questions from The Times.
In Gordon's case, a California parole agent told him he could cut off his state-issued GPS bracelet on Nov. 10, 2013, as he completed three years' parole for a 2002 kidnapping conviction.
Gordon had also been on federal probation since 2013 for skipping state parole and fleeing to Nevada, but court transcripts show he was not required to wear a federal monitor until the morning of Nov. 12, when a federal judge rejected Gordon's contention that he did not pose a public risk and ordered him to wear a new GPS device.
Eight hours later, testimony before an Orange County grand jury shows, Martha Anaya disappeared. She was the third woman to go missing in Santa Ana in less than six weeks.
An electronic tracking specialist who worked out of downtown Los Angeles told an Orange County grand jury he did not receive the order to put a monitor on Gordon until Nov. 21. Two days later he drove to Anaheim and put it on him.
The agent gave grand jurors no reason for the delay, nor did he respond to messages left by The Times. There also was no response from Douglas Bys, the regional U.S. probation chief for Central California.
Orange County Deputy Dist. Atty. Larry Yellin, who is prosecuting Cano and Gordon, said he doubts that the lack of a GPS device had a bearing on Gordon's behavior or activity.
"I think these murders would have happened anyway," Yellin said.
But Anaya's fiance, Jesse Fisher, 26, said that with the suspects' shared history of fleeing supervision, Cano and Gordon shouldn't have even been allowed out on the streets.
He said he didn't see the point of the devices if they were used only to find the women after they were killed.
Though GPS monitors did not prevent the women's deaths, there is testimony in the court records concerning the devices.
According to the records, Gordon told police that the first victim, Kianna Jackson, 20, asked about his ankle bracelet, which he said upset him. A police investigator testified that Gordon told her he later decided to kill the woman.
On the night the fourth woman was killed, a back-and-forth text message exchange between the two men suggests that Cano was forced to stay at a spot he used as his address in order to observe "curfew." At one point, according to the court records, Gordon texted Cano that he did not want to kill the young woman because she was so pretty, but didn't want to take her elsewhere because of his GPS monitor.
"You are forgetting what I'm wearing, hu?" Gordon texted to Cano.
Cano replied that he would do it himself "if it wasn't curfew."
---
For reporting and exclusive analysis from bureau chief John Myers, get our California Politics newsletter.
You may occasionally receive promotional content from the Los Angeles Times.