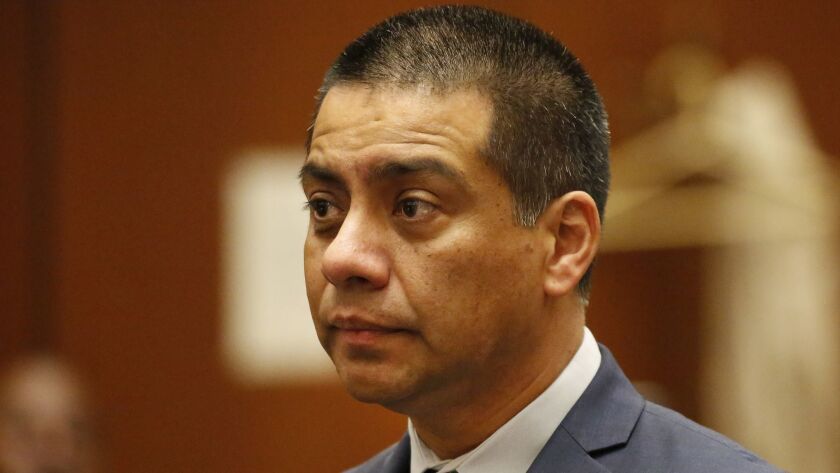 Los Angeles school board member Ref Rodriguez has resigned from the state's Commission on Teacher Credentialing, which oversees the integrity and quality of California's teachers.
Rodriguez faces felony and misdemeanor charges on allegations of political money laundering. Separately, his former employer, a charter school organization, has accused him of improperly authorizing checks to a nonprofit under his control.
Rodriguez, 46, has denied wrongdoing.
His resignation from the state body was effective May 4, days after he was part of a narrow 4-to-3 majority that voted to begin contract negotiations for Austin Beutner to become superintendent of the L.A. Unified School District. Beutner's first official day on the job is Tuesday.
The resignation from the commission is likely to fuel speculation about how long Rodriguez will remain on the Los Angeles Board of Education. But there are at least several reasons why he might wish to stay on, according to observers and legal experts.
Rodriguez could be relying on his $125,000-a-year board salary to pay legal fees, which mount quickly in a criminal defense. His position at the state commission was unpaid. According to public records, the house he owned with his husband in Glassell Park sold in March for $880,000.
Under a potential plea deal, Rodriguez might also need something to give prosecutors in exchange for reduced charges. That bargaining chip could be his school board seat.
Rodriguez also appears to remain strongly engaged in his duties as a board member. He said as much in his resignation letter to the commission.
"It is with a heavy heart that I submit this letter of resignation from my appointment to the Commission on Teacher Credentialing effective immediately," Rodriguez wrote. "As you are aware, the last few months have been incredibly challenging. In order to continue to serve my constituents and give 100% to fulfilling my duties as a member of the Board of Education, LAUSD it is necessary that I step down as a member of the Commission."
Rodriguez provided his resignation letter, but declined further comment.
He has attended one of the four commission meetings since his September arrest, according to meeting minutes and agency staff.
Gov. Jerry Brown appointed Rodriguez to the commission in 2013.
His departure removes one pressure point: Parents, teachers and community activists had questioned his fitness to stand in judgment over teachers with cases of alleged misconduct before the commission.
The mission of the state body is "to ensure integrity, relevance, and high quality in the preparation, certification, and discipline" of California's teachers. The 15-member panel reviews teacher discipline cases and can take action to remove a teacher's credential to work in a California classroom.
Teachers also can lose their jobs or teaching licenses because of serious lapses in personal behavior that have the potential to affect their performance.
Critics seized on this issue as well after police in Pasadena arrested Rodriguez on a weekday afternoon in March for public drunkenness. He was not charged in the incident and has apologized.
The commission disclosed Rodriguez's departure in a one-sentence announcement on its website.
Twitter: @howardblume
---