Coulter says she'll speak at UC Berkeley on Thursday, invited or not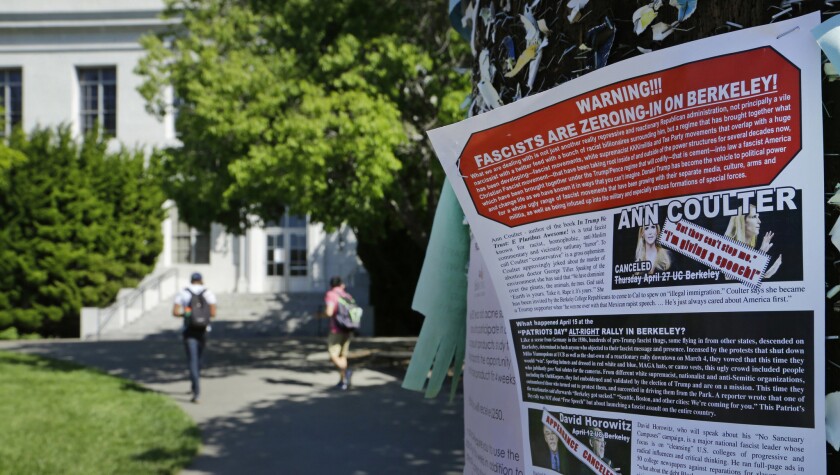 Conservative pundit Ann Coulter has told UC Berkeley student groups that she intends to speak on campus Thursday, leaving the consequences of her controversial appearance to be decided by university police, demonstrators and counter-protestors.
On the heels of three violent clashes this year between extreme left and right groups, administrators sought at first to cancel, then delay Coulter's appearance.
She responded by posting Thursday's Berkeley weather forecast with the comment: "Nice day for an outdoor speech."
A representative of one of the groups that invited Coulter to speak about illegal immigration said she intended to show up late in the afternoon on Sproul Plaza, defying efforts by university police to limit potentially violent demonstrations to earlier in the day and off the main campus. The administration had asked her to postpone her address until May 2, when most students would not be attending classes.
Coulter's decision to speak in an unprotected, public place concerned Pranav Jandhyala, 19, a political science and business student who is president of BridgeCal, one of the groups that invited her to Berkeley.
University administrators whom Jandhyala met with Tuesday, he said, did not seem to share his concern that Coulter would be met by violent demonstrators.
"They don't have the sense it could be dangerous, it could be damaging to our reputation as a school," he said.
Jandhyala said he was trying to find a location where Coulter could meet with an audience of a few dozen invited guests and was hoping to live-stream the event.
"Whatever happens on Sproul Plaza is what happens on Sproul. This will be more productive," he said.
Coulter posted a note on Twitter late Tuesday, remarking that she too hoped to avoid an open-air scenario: "Still expect Berkeley to provide a room."
Harmeet Dhillon — a lawyer for the Berkeley College Republicans, who originally were to host Coulter along with BridgeCal — noted that Sproul, in the heart of the campus, is a designated public speech location and permission for an appearance there is not needed.
"I do know that we have neither the desire or the ability to keep people off of Sproul Plaza," UC Berkeley spokesman Dan Mogulof said.
Coulter's appearance is being paid for by the Virginia-based Young America's Foundation. The Berkeley College Republicans and the foundation filed a federal free speech lawsuit Monday, accusing the university of using security concerns as a guise to censor conservative viewpoints. On Tuesday, Young America's Foundation pulled out as Coulter's official sponsor, saying it would continue the lawsuit but would not "jeopardize the safety of its staff or students" in the face of the dangers presented by an outdoor appearance.
In February, a campus event featuring right-wing provocateur Milo Yiannopoulos was shut down when the venue was swarmed by demonstrators — including some in masks who tore down barricades and smashed windows.
Two subsequent rallies have been staged in Berkeley by alt-right and conservative groups, each time drawing out anti-fascist protesters as well as white nationalists and resulting in violent clashes, beatings and arrests.
For updates and more, follow @paigestjohn.
ALSO
Ann Coulter, free speech and UC Berkeley: How a talk became a political bombshell
UC protests shut down Milo Yiannopoulos talk, sparking free speech debate
Column: The Bill O'Reilly case shows how much Fox News and UC Berkeley have (horrors!) in common
---
UPDATES:
7:25 p.m.: This article was updated with comments from a student organizer.
This article was originally published at 6:15 p.m.
---
The stories shaping California
Get up to speed with our Essential California newsletter, sent six days a week.
You may occasionally receive promotional content from the Los Angeles Times.