Must Reads: As city burns around it, a newspaper staff rises to cover unspeakable tragedy
It's an iconic if horrifying shot of the Camp fire pulverizing Paradise — a large ball of grayish-black smoke with fire radiating on the right, taken less than two hours after the Northern California inferno started a week ago.
The photo ran on the websites of the New York Times, the Washington Post and Time magazine. It was taken on an iPhone from the roof of the Chico Enterprise-Record's office by the paper's editor, David Little.

For the record:
4:20 p.m. Nov. 19, 2018A previous version of this article said a dozen other dailies are printed at the Chico office. Eight other dailies are printed there.
The responsibility fell to the Chico native because the newspaper's only photographer is on medical leave. The image also ran prominently in the Enterprise-Record's Friday print edition.
"It was just the first photo we posted on our website that morning and stayed there till [the] afternoon," Little said. Until "we got some real photographers in town."
Little has run the small paper and several others, which are part of the Digital First Media Group, for almost 20 years. The Enterprise-Record's staff was 45 when he started; now it's 10, with four part-timers pitching in. Journalists from their sister papers in the San Francisco Bay Area were dispatched to assist with coverage.
The last week has been like nothing else the 40-year-newspaper veteran has experienced. Like the community they're trying to keep informed, members of Little's staff have been displaced and are worried about missing friends and lost loved ones.
As the death toll rises to 56, hope fades for those missing in Paradise fire »
For several days after the fire started, two employees were missing. Both were found alive and well. Throughout it all, Little's staff continued to perform at the highest of levels. Informing the community in times of crisis is why many of them got into the business after all.
"We have had a lot of help from a lot of people," Little said in an interview, his tired voice hoarse from the smoke.
"Everyone has been dealing with evacuations, sheltering family and friends, and yet they're down here working hard all the time. That's why people are doing this, because they know people depend on it. It gives you hope that people appreciate newspapers in a time like this."
The boxes of free pizza sent by the Las Vegas Review-Journal and Redding Record-Searchlight tasted pretty good too.
Little also manages the Oroville newspaper, which covered last year's dam spillway failure that led to the evacuation of about 180,000 people.
That experience, he said, prepared his staff for the last week.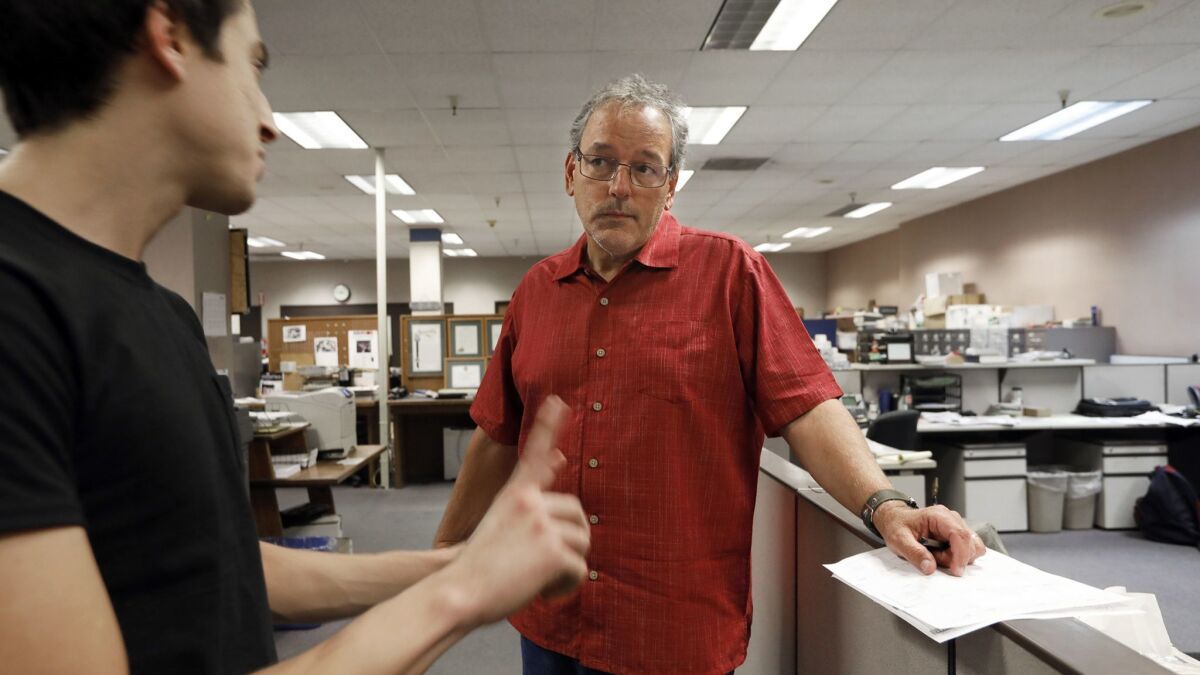 They came to understand what, with their limited resources, they should be focusing on — and that's getting out facts as fast as possible. With a bigger staff a lot more is possible, and for Little, his focus has been on maximizing what they — with the help of photographers and reporters from the East Bay Times and Mercury News — can do.
"The beautiful, heart-wrenching stories are fun to tell, but they take longer, whereas the nuts-and-bolts information is what's essential."
No one can get back into Paradise. So, the paper posted an interactive map Wednesday that allows readers to search by address to see what's been destroyed in the small town and its surrounding environs.
The twice-weekly Paradise Post also falls under his supervision, and its staff of two has been in overdrive, he said. They work in the Chico office, and the paper is printed there as well — along with eight other dailies and six weekly and semiweekly papers from Monterey to Eureka. The challenge, though, has been where to deliver the Paradise Post.
"How do you distribute a newspaper to a town that's not there?"
So they have been taking the full press run to evacuation centers while updating the website constantly. Little said he hasn't paid too close attention to readership numbers but was told they're receiving record traffic.
LIVE UPDATES: California fires »
The 55-year-old has also found time to write as well. His regular Sunday column was about his heartbreaking return to his grandmother's home in Butte Creek Canyon. The house survived, but the surrounding area didn't fare well.
"I only cried three times. I thought I did pretty well," he wrote.
The other was a searing unsigned editorial about President Trump's baseless tweet from the weekend concerning the state's "gross mismanagement of the forests." He pulled this together with longtime staffers Steve Schoonover and Laura Urseny. (Steve was supposed to retire this week but agreed to stay on to help out.)
Their response to the leader of the free world? "Zip it."
"One thing we will always do is stand up for our area," Little said. "If some outsiders want to try to run roughshod over our area, we're always going to fight back."
The stories shaping California
Get up to speed with our Essential California newsletter, sent six days a week.
You may occasionally receive promotional content from the Los Angeles Times.