Judge is optimistic about effort to reunify immigrant families by deadline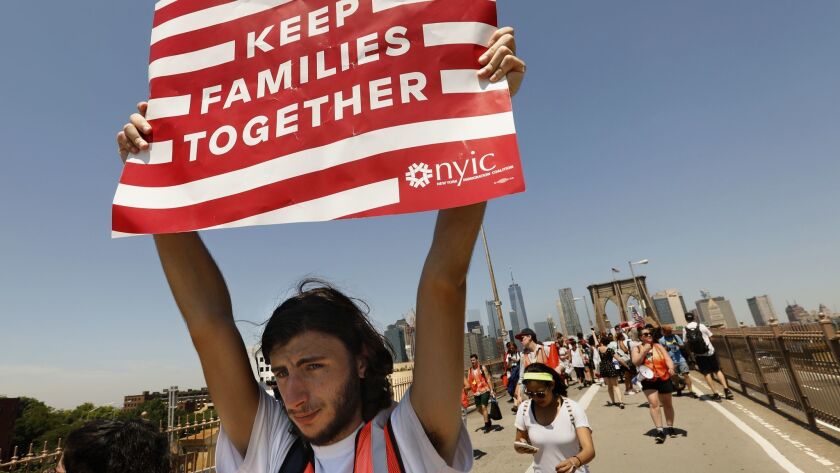 A San Diego federal judge on Friday said he was impressed with the government's effort to reunify some 2,500 children separated from their parents at the border and that a very significant number of families likely would be together again by next Thursday's deadline.
"It appears this process is working, is on track and is on time," U.S. District Judge Dana Sabraw said during a court hearing.
"There's a lot of work left to do," said August Flentje, an attorney for the U.S. Department of Justice. "We're hoping to get it done. I'm thinking there's going to be some complicated issues that are going to arise next week."
The reunions appear to be happening at a good clip within a large group of parents who are in immigration custody, have been vetted as mothers and fathers, and passed a background check.
As of Friday morning, 450 children ages 5 and older had been reunited, and 954 parents had been green-lighted, according to the latest numbers.
The complicated issues the government is anticipating involve tracking down parents who have either been released into the U.S. — which is more than 200 — or deported to their home countries, a figure that hasn't been released. Authorities also are working to confirm the parent-child relationship in an unknown number of situations that have raised red flags.
The judge has ordered the government to use DNA testing if necessary.
The American Civil Liberties Union, which filed the class-action lawsuit challenging family separations, expects to receive detailed lists by Monday of parents who either have been deported, have final removal orders or have been released into the interior of the U.S.
The delay appears to be caused by the continuing effort to match up databases from separate federal agencies — Immigration and Customs Enforcement and the Department of Health and Human Services — as well as federal and state law enforcement agencies that might have some parents in criminal custody.
The ACLU has asked for the lists so it can attempt to locate parents, as well as make sure those facing imminent deportation have been counseled on their options as a family.
About 860 parents already have final removal orders. However, removals of reunited families have been temporarily halted by the judge until he can consider whether to implement a waiting period between reunification and removal. A briefing on the issue is due on Monday and a hearing to discuss it will occur Tuesday.
Authorities said at least 136 parents so far have told officials in their final interview that they would like to be removed without their child — likely so the children can pursue their own immigration claims or because the parent has identified a sponsor in the U.S.
ACLU attorney Lee Gelernt urged the government to provide the organization with a list of those parents as a priority to make sure they understand their rights.
"The decision they made is fairly momentous to not ever see their child again," said Gelernt, appearing via telephone for the hearing.
The government has given few details about what is happening to families after they are reunited at one of eight immigration facilities.
Most families that have been reunified have been released on parole at the offices of local social services agencies for assistance, according to the DOJ. But it is unclear how many. It appears some parents with final removal orders are being detained with their children upon reunification.
When at least 57 children under age 5 were reunited with their parents under an earlier deadline this month, the families were released into the community on parole.
Sabraw's optimism at the current progress has grown considerably since a week ago Friday, when he asked attorneys to call in for a last-minute status hearing to address a filing by an HHS official.
The filing portrayed a reluctance on the part of the government to carry out a truncated vetting process to reunify families and repeatedly warned that children could be put in danger.
Sabraw said the comments made him question if the government was in fact acting in good faith, and he scolded HHS for seeming to be "operating in a vacuum where they are either not reading the court's orders or they are reading the court's orders and selectively plucking out the provisions it likes and then disregarding the ones it does not like," according to the transcript.
DOJ attorneys assured Sabraw on the call and during a later hearing that the government understood its duties and was carrying out the judge's orders to reunite families safely and quickly.
kristina.davis@sduniontribune.com
Davis writes for The San Diego Union-Tribune.
---
UPDATES:
5:30 p.m.: This article was updated throughout with detail's from the court hearing.
This article originally published at 7:40 a.m.
---
The stories shaping California
Get up to speed with our Essential California newsletter, sent six days a week.
You may occasionally receive promotional content from the Los Angeles Times.