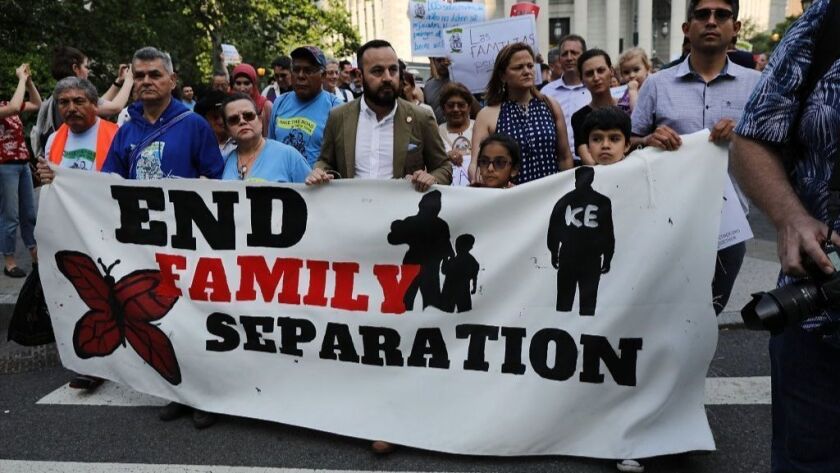 The federal government, under orders from a San Diego federal judge to reunite families who have been separated at the border, is asking for more time.
In a motion filed late Thursday night, the Department of Justice says it has dedicated "immense" resources to reunifying families since the June 26 order.
But the process that the U.S. Department of Health and Human Services has put into place to match up family members will take some time if it is to comply with existing law meant to protect children from human trafficking, the DOJ argues.
The order, filed last week, gives the government until July 10 to reunite children younger than 5 with their parents and until July 26 for older children.
The motion will be discussed with U.S. District Judge Dana Sabraw and attorneys for the American Civil Liberties Union during a telephonic status conference at noon Friday.
The government said it believes it is in compliance with other aspects of Sabraw's preliminary injunction, including no longer separating families in immigration detention and making sure parents who are separated are able to communicate with their children. Friday marks the deadline for the communication part of the order.
But the reunifications have been time-consuming, the government says.
The process includes taking DNA swabs from parents and children to verify their familial relationship, as well as checking parents for any criminal history that might make them unfit to care for their children.
The DNA verification has been expedited to comply with the court's timeline, although the government worries that some cases could prove to be more complex and might not be verified by the imposed deadline.
"Given the possibility of false claims of parentage, confirming parentage is critical to ensure that children are returned to their parents, not to potential traffickers," the motion says.
The government says the reunification process is going faster for parents currently in custody by Immigration and Customs Enforcement than those who have been released.
The motion also asks for clarification on the class of immigrants to which the order applies, including whether it includes parents who already have been deported.
The government suggests the class be contained to border-crossers who were separated from their children on or after March 9, the date the ACLU filed class claims in the lawsuit.
The lawsuit was filed on behalf of two named plaintiffs — a woman who asked for asylum at a port of entry and another woman who crossed the border illegally — both of whom were separated from their children. Both mothers since have been reunited with their children.
As many as 3,000 children remain separated from their parents, according to new estimates by HHS.
Davis writes for the San Diego Union-Tribune.
---