LAPD analysis shows homicide victims are overwhelmingly young, nonwhite and poor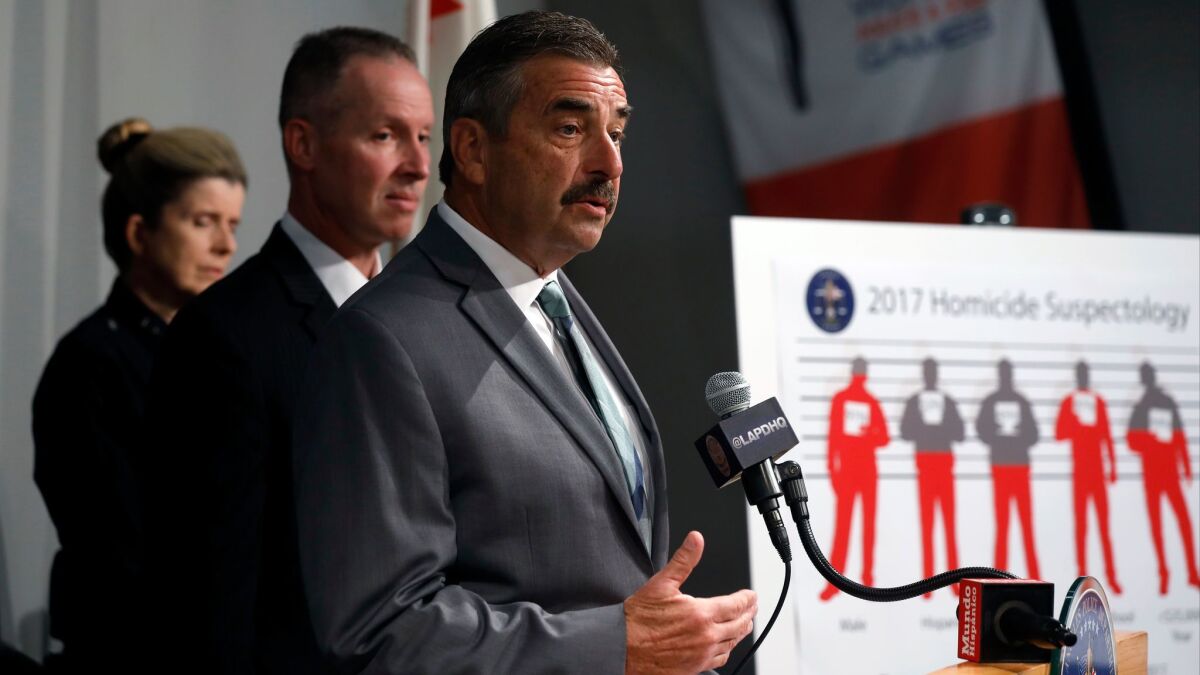 For years, homicide detectives have known all too well which groups of Los Angeles residents are most likely to end up the victims of a violent death in the city.
The results of a new demographic analysis released Wednesday by Los Angeles Police Chief Charlie Beck confirm what his investigators have so often seen — that young men from minority, low-income neighborhoods suffer disproportionately from the impacts of deadly violence.
In Los Angeles last year, more than 90% of homicide victims were black or Latino, the analysis found. Most were poor and lacked college degrees.
Many homicides are committed by people who also fit those descriptions, according to the analysis.
Beck, who is retiring this summer, began a Wednesday news conference by highlighting a 4% drop in homicides last year.
For the eighth year in a row, the city had fewer than 300 homicides, nearly four times less than in the 1990s.
Then, Beck's presentation turned to the victims.
"I've been with the families. I've stood over the victims in the middle of the night and seen the tragedy, seen my kids' faces in theirs, because these are primarily young men," said Beck, who worked homicides for years. "It is a waste of a generation."
About 8% of Los Angeles' population is black, but 36% of homicide victims last year were black.
Slightly more than half of homicide victims were Latino, and the city is about 49% Latino.
Whites, who make up 29% of Los Angeles' population, comprised 5% of homicide victims. Asians make up 11% of the population but 1% of victims.
About 90% of victims were male, and more than 60% were 35 or younger.
Fewer than 4% of victims had some college education, and about two-thirds had household incomes of $25,000 or less. Of the 282 people murdered last year, 44 were homeless.
James Jones Jr., who is known in South Los Angeles as Pastor J.J., said the numbers were not surprising, considering the long-term "inequity and imbalance" that exists in the city.
Jones believes that sports and after-school programs for youths, as well as gang intervention programs, can reduce violence. But over the years, he said, he has seen many such programs come and go.
"If we put resources in certain areas, we'll watch crime go down. We need to be more consistent," said Jones, who leads the ministry Gangsters for Christ and has worked for decades to steer young people away from gangs.
Homicides were down from the previous year but up from a low of 251 in 2013.
Last year, the Los Angeles Police Department's homicide clearance rate was 73%, including crimes committed earlier but solved in 2017.
Gang-related homicides were up by 13% over 2016, with nearly two-thirds of last year's homicides classified as gang-related.
Reducing gang killings involves limiting the strength of gangs, mediating gang disputes and stopping rumors about "who did what to who," Beck said.
In Harvard Park, one of South Los Angeles' most violent neighborhoods, the LAPD launched an intensive community policing program in September. Officials credit the program, called Community Safety Partnership, with reducing homicides in the city's public housing developments.
Last year, there were three homicides in housing developments with CSP programs, compared with 11 in 2010. Nickerson Gardens and Jordan Downs did not have any homicides last year.
For more news on the Los Angeles Police Department, follow me on Twitter: @cindychangLA
The stories shaping California
Get up to speed with our Essential California newsletter, sent six days a week.
You may occasionally receive promotional content from the Los Angeles Times.