Third Cal State Northridge fraternity suspended over hazing allegations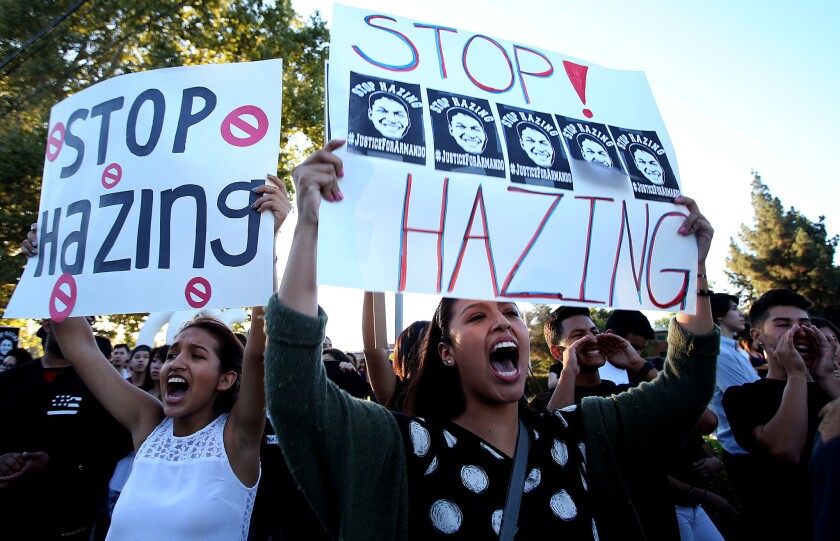 A third fraternity at Cal State Northridge has been suspended after an investigation of hazing and sexual misconduct allegations, officials said.
Tau Kappa Epsilon was stripped of all its Greek duties and will no longer be recognized as a fraternity, CSUN spokesman Jeff Noblitt said. The suspension took effect Jan. 21 and ends July 20, 2018, at which time the fraternity's future will come under review.
"CSUN has a zero-tolerance policy for hazing," Noblitt said.
The suspension comes after school officials investigated a hazing incident that occurred during a fall 2013 retreat. School officials believe sexual misconduct also occurred during that time, but that it was reported later.
Noblitt said a pledge was asked to take a photograph of a female student with the fraternity's letter written across her chest, but he declined and reported it.
The latest suspension comes after CSUN banned all pledging activity on campus while school officials come up with a thorough plan for the Greek system.
The university's move to suspend pledging was done in part to "change the culture" within the Greek system, Noblitt said.
The news follows the death of CSUN student Armando Villa, 19.
Villa became dehydrated July 1 during a mandatory hike while pledging for Pi Kappa Phi, which has since been shut down. School officials said the hike was part of a hazing incident and that Villa had hoped to join the fraternity.
University officials also suspended the Zeta Omicron chapter of Pi Kappa Alpha in October over allegations of hazing.
The fraternity is banned from operating on campus for six years.
For breaking news in California, follow @VeronicaRochaLA
---
The stories shaping California
Get up to speed with our Essential California newsletter, sent six days a week.
You may occasionally receive promotional content from the Los Angeles Times.