Draft master plan is unveiled for long-neglected VA campus in West L.A.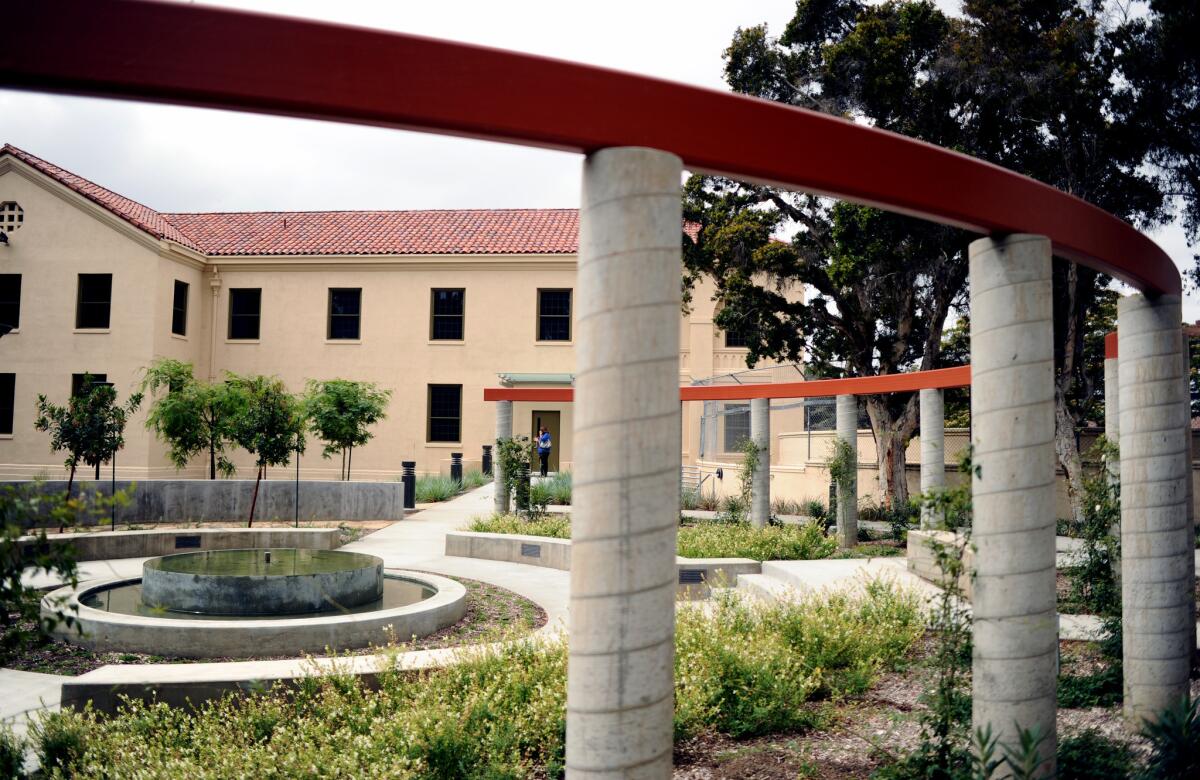 After months of often rancorous meetings with veterans, Westside residents, health professionals and elected officials, the U.S. Department of Veterans Affairs on Friday released a draft master land-use plan for the agency's long-neglected West Los Angeles campus.
The document satisfies a key requirement of the January settlement of a 2011 lawsuit filed on behalf of chronically homeless veterans. The suit alleged that the VA was illegally leasing land to corporations, schools and other entities while failing to provide adequate care for men and women who had served in the military.
VA Secretary Robert A. McDonald and attorneys representing homeless veterans vowed in reaching the settlement that the campus would be dedicated to serving and housing veterans in need, particularly those who were female, aging or disabled.
"This draft master plan provides the VA with a stronger foundation to build a 21st century healthcare campus and vibrant community for veterans," McDonald said in a statement Friday. "It also helps to ensure we will have the housing and healthcare resources needed to sustain the mission of ending veteran homelessness."
The settlement was seen as an important step forward in carrying out President Obama's commitment that no veteran should live on the streets or forgo necessary medical and psychological services.
Under the pact, the VA agreed to transform the 388-acre campus into a center of permanent housing with clinical services and to curtail the practice of leasing VA facilities to non-government entities. It also agreed to produce, by Friday, a master plan for the sprawling property.
"This is a good start and reflects hard effort," Gary Blasi, a professor of law emeritus at UCLA who works with the VA to end veteran homelessness, said of the draft plan. "There is still more work to be done, particularly to make sure all voices of veterans and the most important stakeholders have been heard and responded to."
Vincent Kane, special assistant to McDonald who is overseeing the West L.A. effort, said he expected the draft document to be posted Wednesday in the Federal Register, which publishes federal agencies' proposed and final rules. Interested parties will have 45 days to submit comments. A final document, he said, should be ready early in 2016.
"We had an aggressive timeline, and we've met it," Kane said. "[But] you don't get many opportunities to do a master plan. ... We all felt the community needed more time to look at the plan and comment on its entirety."
By last count, more than 4,000 veterans, many with addictions, brain injuries and other impairments, sleep in alleys, on park benches or in sidewalk shantytowns throughout Los Angeles County.
Last year, the federal Government Accountability Office assailed the West L.A. VA for improperly diverting funds and underbilling lease-holders, losing out on potentially millions of dollars of revenue. In one case, a hotel laundry service that missed $300,000 in payments was allowed to remain on the property, the audit found.
The VA has leased portions of its land to theater operators, the private Brentwood School for an expansive sports complex and UCLA for a baseball field.
U.S. Sen. Dianne Feinstein has introduced legislation, co-authored by Sen. Barbara Boxer (D-Calif.) and Rep. Ted Lieu (D-Torrance), that would authorize public-private partnerships to develop housing and services that "principally benefit veterans and their families" through "enhanced-use leases."
The services, the bill says, must promote health, nutrition and "spiritual wellness," education, vocational training, child care, transportation and physical and social recreation. Enhanced-use leases have been used to develop housing at VA properties across the country.
Kane said such public-private partnerships represented the most practical approach to ensuring the timely building of the 700 to 900 units that officials project would be needed on the campus to house the most vulnerable veterans. Kane said other veterans would be housed and cared for throughout the region, using Department of Housing and Urban Development vouchers that provide rental assistance for homeless veterans in need of clinical services.
To some veteran advocates, one building in particular reflects the neglect that has long characterized the campus. The decaying VA chapel on Wilshire Boulevard was dedicated in 1900 and added to the National Register of Historic Places in 1972. Squatters have left heaps of trash, liquor bottles and used toilet paper inside.
"It's a metaphor for how the VA has taken care of veterans and this sacred land," said Jonathan Sherin, a psychiatrist and veteran advocate who has been involved in the master plan effort.
Carolina Winston Barrie — the great-great niece of Arcadia Bandini de Baker, who donated the land for a National Home for Disabled Volunteer Soldiers in 1887 — received McDonald's permission to raise funds privately to rehabilitate the chapel and four other historic structures.
In recent years, she has harshly criticized the VA's failure to properly maintain the land. Her fledgling fundraising effort reflects the reality that the VA is unlikely ever to have the funds to restore the historic buildings.
"She wants the campus used for the stated purposes, always veteran-centric," said William Fain, an architect she enlisted for the project.
HOK, the design firm that produced the draft master plan, has proposed that the sprawling campus between Brentwood and Westwood be divided into four zones. Zone 1 would include the existing VA hospital, south of Wilshire Boulevard. Immediately north of Wilshire, Zone 2 would be devoted to transitional housing with short- and long-term treatment services. Zone 3, just to the north, would feature permanent supportive housing. Zone 4 (which includes Brentwood School's sports complex) would provide recreation.
Planners envision compact residential neighborhoods, with coffee and sundry shops and open space. A greenway would run through the zones.
The months-long process of devising the master plan has revealed sharp divisions among the stakeholders. Even veterans themselves can't agree on how best to use the campus. But Richard Valdez, a Vietnam veteran who is legislative director for Disabled American Veterans in California, said he viewed the draft master plan as a hopeful sign.
"This [could be] a model that eventually will be implemented in all VA medical centers," Valdez said.
Still uncertain is what would happen to the acres under lease to UCLA, Brentwood School and other entities. UCLA appears poised to maintain its hold on Jackie Robinson Stadium, in exchange for stepping up its care and services for veterans. "People want to see UCLA do more," Kane said.
Brentwood School might have a harder time justifying its claim to its sports complex, unless it develops a robust plan for providing access to veterans, Lieu said.
"In the past, I do not believe the facilities at Brentwood School were appropriately used by veterans," Lieu said.
Lieu praised McDonald for creating a sense of urgency around the campus. "A lot of details need to be worked out," he said, "but this will start the process so we don't go back."
Twitter: @MarthaGroves
Sign up for Essential California for news, features and recommendations from the L.A. Times and beyond in your inbox six days a week.
You may occasionally receive promotional content from the Los Angeles Times.