Drone strike kills terrorist tied to 2002 killing of Camp Pendleton Marine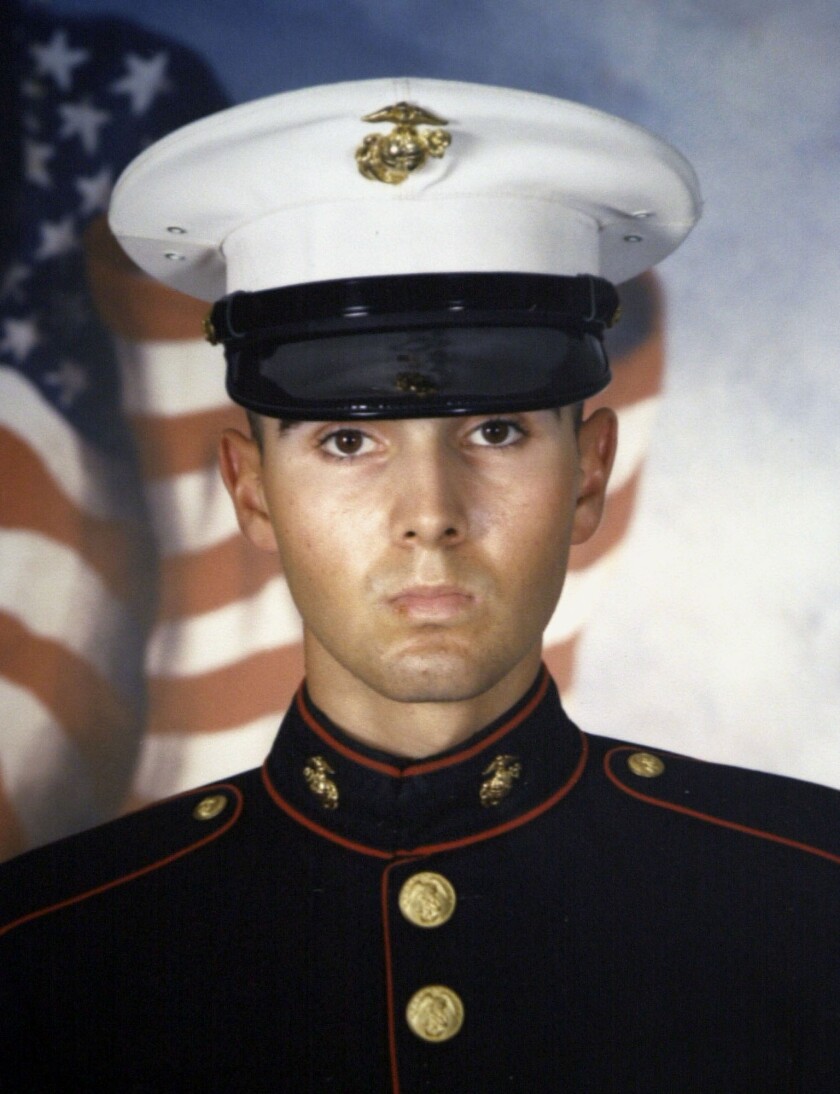 San Diego —
Nearly 13 years after terrorists killed a Marine from Camp Pendleton who was part of a training exercise off Kuwait, the U.S. has killed one of the leaders of the attack with a drone strike.
Muhsin al-Fadhli, identified as a "longtime Al Qaeda operative," was killed by a July 8 drone strike in northwest Syria, the Pentagon confirmed this week.
In announcing the drone strike that killed Fadhli, the Pentagon said the 34-year-old Kuwaiti was the leader of Al Qaeda operatives called the Khorasan group, which has been plotting attacks against the U.S. He was among those Al Qaeda leaders who knew about the Sept. 11, 2001, attacks in advance, the Pentagon said.
He was also "involved in terrorist attacks that took place in October 2002," including against Marines training on an island off Kuwait, the Pentagon said.
Lance Cpl. Antonio Sledd, 20, of Hillsborough, Fla., was killed in that attack.
Sledd was among 150 Marines from the Camp Pendleton-based 11th Marine Expeditionary Unit who were on Faylaka Island in the Persian Gulf. The Marines had been aboard the San Diego-based amphibious assault ship Belleau Wood.
During the exercise, several men infiltrated the area in a truck and began shooting at Marines with AK-47s. Sledd was mortally wounded and a second Marine also wounded as Marines returned fire and killed two of the gunmen.
Sledd's death has agonized many of the Marines who were there.
Time magazine this week quoted from an apology to Sledd's family left in 2009 by a Marine on a memorial website, "It was my job to bring him back and I didn't, I'm so sorry."
Fadhli's death will "degrade and disrupt ongoing external operations of Al Qaeda," the Pentagon said.
For more San Diego area news, follow @LATsandiego.
ALSO
Wildfire grows to 6,000 acres near Napa Valley; evacuations ordered
Judge must decide sentence for LAPD cop who assaulted woman on video
Bill Cosby request in sex assault lawsuit denied by California Supreme Court
---
The perils of parenting through a pandemic
What's going on with school? What do kids need? Get 8 to 3, a newsletter dedicated to the questions that keep California families up at night.
You may occasionally receive promotional content from the Los Angeles Times.