At emotional hearing, LAPD officer gets 36 months in jail in assault caught on video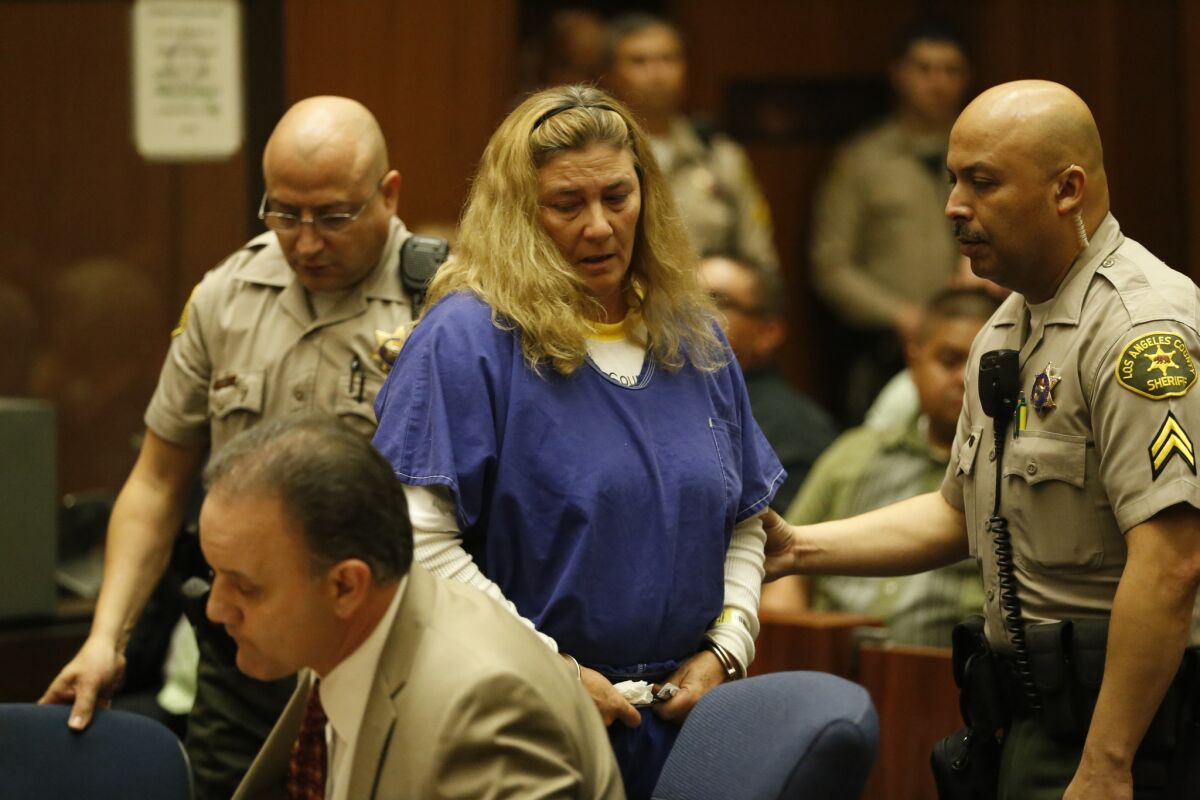 Wearing dark sunglasses inside a downtown L.A. courtroom, Sandra Thomas approached the witness stand Thursday and spoke about the Los Angeles police officer she holds responsible for her daughter's death.
"I have to ask God to help me learn how to forgive her," she said to a judge before the sentencing of LAPD Officer Mary O'Callaghan. Thomas' 35-year-old daughter was handcuffed and assaulted by O'Callaghan during an arrest in 2012. She died shortly after being placed in the back of a squad car, complaining she couldn't breathe.
The encounter, which was captured on a dashboard camera, showed O'Callaghan striking Alesia Thomas — a mother of two — with an open hand and kicking her in the crotch. The officer then can be seen smoking a cigarette on the street, as Alesia Thomas fell unconscious.
Sandra Thomas, who works as a medical assistant, asked why O'Callaghan didn't show her daughter more sympathy and try to revive her.
"You have to show compassion for people," she said. "It makes me feel like she wanted that to happen."
When it was O'Callaghan's turn to address the court, she faced Sandra Thomas instead of the judge.
"Mother to mother," O'Callaghan, a 50-year-old mother of three, said through tears, "I am extremely sorry for the loss of your daughter."
Those were O'Callaghan's first public comments since Alesia Thomas' death and her arrest for assault.
O'Callaghan, a Marine veteran who had been with the LAPD for nearly 18 years, said she prays every day for Alesia Thomas' children.
After the emotional testimony, Los Angeles Superior Court Judge Sam Ohta sentenced O'Callaghan to 36 months in jail, with the last 20 months suspended, meaning she could be released within five months with good behavior.
The case against O'Callaghan has attracted intense scrutiny amid the national criticism of excessive use of force by police. And the video evidence at trial underscored the value of monitoring police encounters with patrol and body cameras.
The LAPD is outfitting its officers with body cameras. Policy approved by the Los Angeles Police Commission in April required officers to turn their cameras on before most investigative or enforcement activities involving the public.
"It should be clear to everyone that the LAPD and the criminal justice system will hold officers accountable for their actions when they operate outside the law," LAPD Chief Charlie Beck said in a statement after O'Callaghan's sentencing.
The jury forewoman in O'Callaghan's trial said the video played "a big role" in the jury's decision to find her guilty. One camera recorded conduct outside the vehicle while another documented activity inside the patrol car. That camera recorded O'Callaghan's assault and showed Thomas losing consciousness.
Thomas can be heard on the video saying, "I can't move. I can't breathe," as O'Callaghan directs her into the back seat of the car.
As O'Callaghan gives Thomas commands about where to place her feet, Thomas says, "I can't, I can't." The officer then screamed a profanity at Thomas and struck her throat with an open hand.
Thomas then glances directly at the camera with wide open eyes.
The officer tells Thomas she'll get "crushed" if she doesn't move her feet. As Thomas begins to sit up, O'Callaghan jams her boot into Thomas' groin three times. When O'Callaghan tries to readjust a nylon restraint around Thomas' feet, she compares it to "roping cattle."
After the assault, the footage shows O'Callaghan smoking a cigarette. When she realizes Thomas is unconscious, O'Callaghan says, "That ain't a good sign."
Thomas had asked officers for an ambulance more than 30 minutes before one was called.
O'Callaghan was not charged in connection with Thomas' death. An autopsy by the Los Angeles County coroner determined that cocaine intoxication was probably a "major factor" in the death. It wasn't possible to determine what role, if any, the struggle with O'Callaghan or other officers who took part in the arrest played in her death. The official cause was listed as "undetermined."
O'Callaghan's attorney, Robert Rico, said his client had been relieved of duty by the LAPD pending the outcome of the trial. He said she will be fired because of her felony conviction and will also lose a job as an emergency dispatcher in Vermont that she got after her arrest.
Rico criticized Ohta's sentence as "excessively longer" than the 180 days in jail and probation the district attorney's office had recommended. "I wasn't shocked because this case has been politicized since Day One,'' Rico said.
After her tearful comments in the courtroom Thursday, O'Callaghan moved toward Sandra Thomas, who was seated with the rest of her family.
"Can I give her a hug?" Thomas asked Judge Ohta.
"No hugging," he replied as bailiffs blocked her way. "Cannot be done."
Later, outside the courtroom, Sandra Thomas said she was satisfied with the judge's sentence and O'Callaghan's contrition.
"I feel a great sense of relief," she said.
javier.panzar@latimes.com
For more news, follow @jpanzar on Twitter.
ALSO:
Autopsy pending for reality TV star killed in Redondo Beach
Video of Gardena shooting a rare view into police tactics under stress
Bill Cosby request in sex assault lawsuit denied by California Supreme Court
The stories shaping California
Get up to speed with our Essential California newsletter, sent six days a week.
You may occasionally receive promotional content from the Los Angeles Times.