L.A. Council President Herb Wesson names himself temporary overseer of Valley district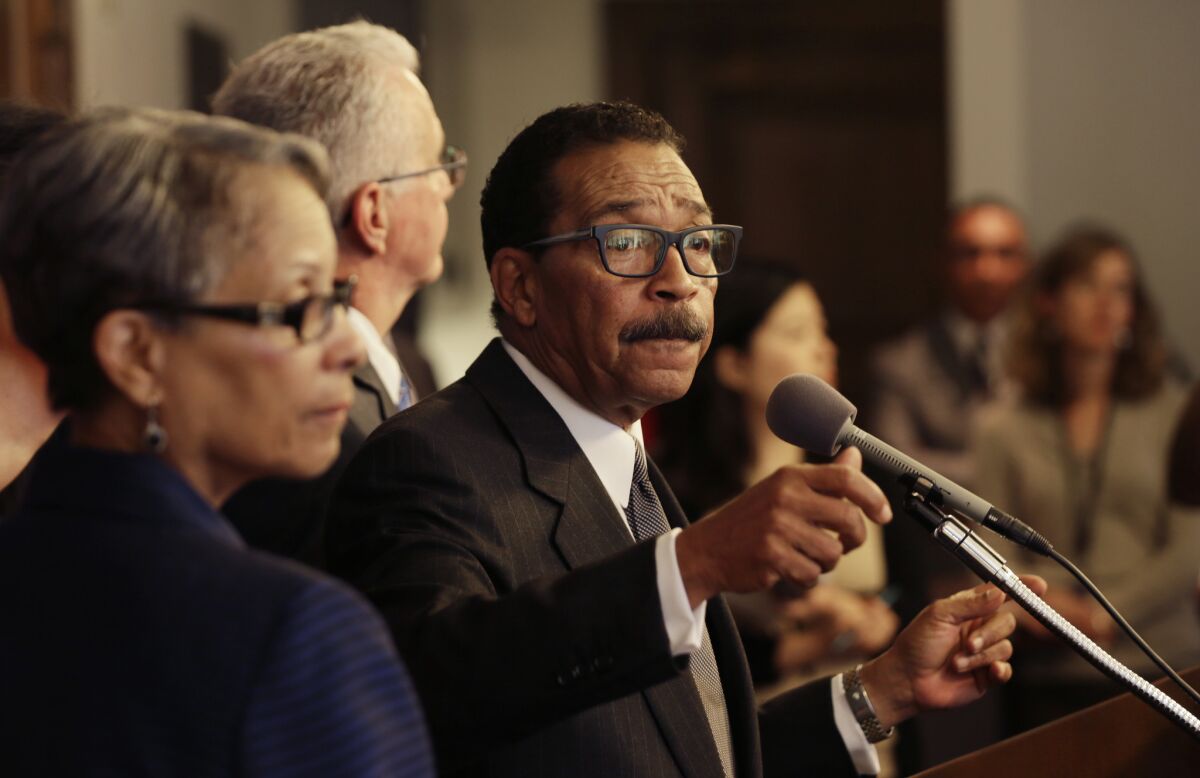 Los Angeles City Council President Herb Wesson said Thursday that he has chosen himself to temporarily manage the San Fernando Valley district that had been represented by Felipe Fuentes.
Wesson, whose own council district stretches from Koreatown to South Los Angeles, will oversee services in the northeast Valley for the next six to eight months, depending on when the contest to replace Fuentes is decided.
The decision leaves Wesson responsible for an array of issues — trash pickup, sidewalk repairs and graffiti removal, to name a few — for twice as many constituents, or around 500,000 people. It also could require his involvement in the contentious issue of where to place a high-speed rail route.
Wesson planned to meet with Fuentes' former staffers on Friday. He said in an interview that Fuentes' former constituents deserve to have a council member working on their behalf until voters pick a permanent replacement.
"It is important to make the folks within the district feel there is an elected person that they can reach out to," he said.
Fuentes resigned from the council Sunday to become a lobbyist, departing nearly 10 months early.
Although Wesson will oversee operations in two districts, he will continue to have only one vote on the council, said his spokeswoman, Vanessa Rodriguez. He also will not receive additional compensation, she said.
Serving constituents in the Valley, even for a short period, could enhance Wesson's political profile, helping him should he run for citywide office. But it could also produce headaches if Valley residents conclude that their needs aren't being met, said Dermot Givens, a political consultant based in Hollywood.
"Those neighborhood councils out there are very contentious and very active," Givens said. "He better be on top of it. Because if he's not, he's going to get all the blame."
Wesson's district has the multi-story office towers of Koreatown on one end and the African American cultural hub of Leimert Park on the other. Fuentes' former district, by contrast, sits next to the Angeles National Forest and is known for its foothills and horse trails.
On the west are the heavily Latino neighborhoods of Sylmar and Pacoima. On the east is Sunland-Tujunga, where residents are so skeptical of development that they succeeded in stopping a Home Depot from opening a decade ago.
Givens described the two districts as "worlds apart," both politically and geographically. Wesson, however, said residents in both districts have the same demands of City Hall: trees that are trimmed, roads that are fixed and parks that are properly maintained.
"They may want it at a different level or a different pace, but usually the wants, needs and desires are pretty similar," he said.
Wesson's decision was unusual for City Hall. In previous years, a little-known city department — the chief legislative analyst's office — has been assigned to serve as caretaker when a council seat is vacant.
When a council member steps down early, city lawmakers have the power under the City Charter to fill the vacant seat temporarily or call a special election. Wesson ruled out a special election last month, in part to spare taxpayers the extra cost.
Fielding complaints from double the number of constituents will be a challenge, said former Councilman Richard Alarcon, whom Fuentes replaced in 2013.
"It's a heavy lift, no question about it," Alarcon added. "But if there is one person on the council who has the expertise to lift heavy tasks, it's Herb."
The campaign to replace Fuentes already has 24 candidates, according to a preliminary candidate list on the Ethics Commission website. If no one gets a majority of votes in the March primary election, a runoff will be held two months later.
Wesson said he wants the winner to be installed ahead of July 1, to give the district elected representation as quickly as possible. The proposal will be introduced on Friday, Rodriguez said.
Lydia Grant, a neighborhood activist who lives in Lake View Terrace, said she hopes Wesson will reverse some of the actions taken by Fuentes over the last three years. One was his decision to push the Sunland-Tujunga Neighborhood Council out of a city building, she said.
Wesson "may be able to undo some of those things that were done wrong," Grant said. "So it actually could be beneficial."
Twitter: @DavidZahniser
ALSO
Life after Scientology is contentious for church leader's father
Former L.A. Coliseum executive sentenced to jail in corruption case
As Venice booms, some residents wonder whether L.A. is holding them back
---
UPDATES:
5:50 p.m.: This article was updated with additional reporting.
This article was originally posted at 11 a.m.
---
The stories shaping California
Get up to speed with our Essential California newsletter, sent six days a week.
You may occasionally receive promotional content from the Los Angeles Times.