Former L.A. Coliseum executive sentenced to jail in corruption case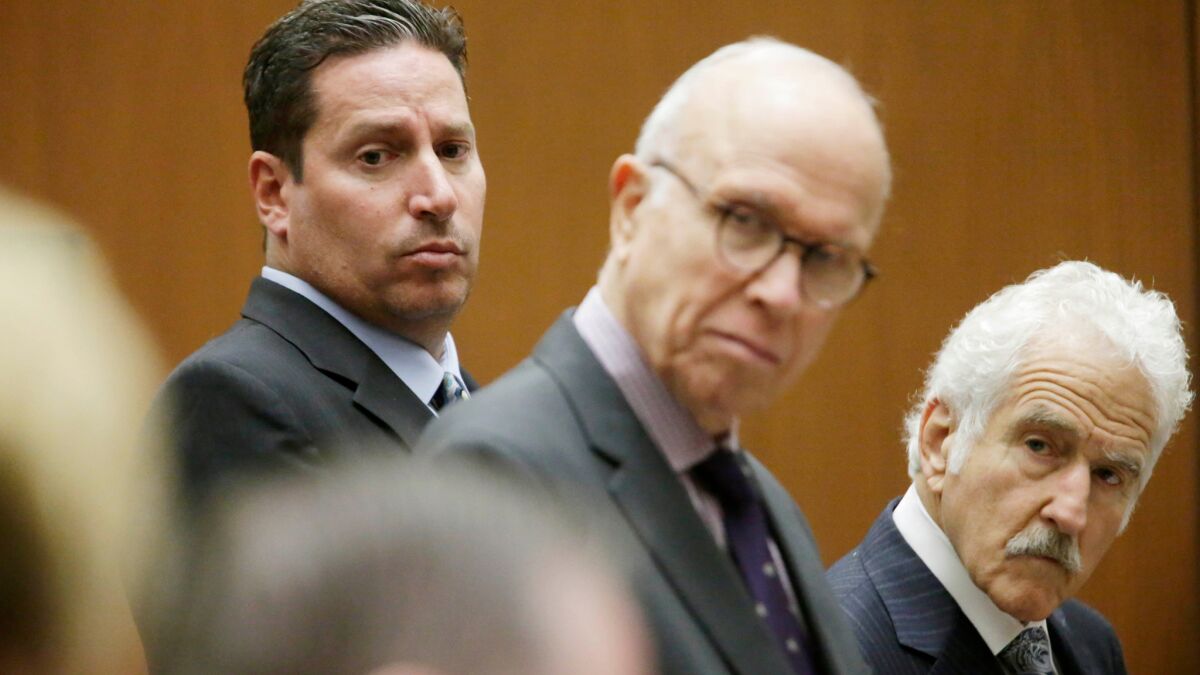 Six years ago, Todd DeStefano was an up-and-coming executive for the Los Angeles Memorial Coliseum, the storied stadium built to honor the veterans of World War I that has hosted two Summer Olympics.
It was a gig that promised glamour — if he and his boss were somehow able to entice the NFL back to Los Angeles.
But instead of celebrating the return of the Rams, the disgraced ex-manager, now 43, is heading to jail for his role in what prosecutors described as a wide-ranging corruption scandal that also implicated entertainment promoters who put on raves at the taxpayer-owned venue.
On Thursday, a judge sentenced DeStefano to six months behind bars, placed him on three years of supervised probation and ordered him to pay $500,000 to the Coliseum Commission as part of a deal with prosecutors in which he pleaded no contest to one felony conflict-of-interest count.
DeStefano faced trial last month on 12 felony counts and could have faced 10 years if convicted. Prosecutors, however, decided to settle the case after Los Angeles County Superior Court Judge Kathleen Kennedy rebuked the district attorney's office for repeatedly mishandling evidence. The remaining counts were dropped.
During Thursday's sentencing, Kennedy referred to the "ineptitude of prosecutors in the case" and said it was necessary that DeStefano be placed under formal supervision of the county's Probation Department for three years. She also faulted the structure of the public agency that oversees the taxpayer-owned Coliseum, which involves the state, the county and the city.
"One of the major problems that occurred by the way it was run was a joint powers agreement with no one in charge, and Mr. DeStefano and others took advantage," she said.
DeStefano's attorney, Richard G. Hirsch, said outside the courtroom that his client "was a great employee and asset" to the Coliseum and did nothing wrong. He said DeStefano agreed to the plea deal rather than risk a trial.
"Mr. DeStefano has always been a productive member of society in the past, and he plans to put this behind him, move on and use his talents to provide for his family in the future," Hirsch said.
A frozen bank account with only a little more than $20,000 will soon be empty, with the money headed to his former employer, the Coliseum Commission, he added.
DeStefano is scheduled to begin serving his sentence on Sept. 20.
A probation report filed with the court offered more evidence of DeStefano's fall from grace, saying he is living with his wife in his mother-in-law's Hacienda Heights home and facing foreclosure on his Pasadena residence, with creditors lining up to divvy up the equity.
The report, which recommended that DeStefano face a lengthy sentence if he had been convicted on all charges, said he "appears to have been driven and motivated by greed, which was at the expense of others."
The case also implicated one of the nation's best-known leaders in electronic dance music festivals, Insomniac founder Pasquale Rotella, 42, and forced the company's signature Electric Daisy Carnival out of Los Angeles and into Las Vegas. Rave fans have stood by Rotella, whom one rave fan website called the musical genre's "fearless leader," and who still runs Insomniac as a subsidiary of Live Nation, the concert giant.
At the heart of the controversy has been an ongoing battle to legitimize raves from their days as Ecstasy-fueled parties held in warehouses or the desert and allow them to be held in mainstream venues as marathon dance festivals. The events are big business — in federal filings, Live Nation has trumpeted Electric Daisy Carnival as a successful revenue maker.
Los Angeles County prosecutors, however, outlined business practices pursued by rave companies that they said were illegal, came at the expense of public health and safety, and defrauded taxpayers of millions of dollars.
In an indictment handed up four years ago, DeStefano was accused of playing a key role in a bribery and embezzlement scheme in which more than $2 million was siphoned away from the taxpayers who own the Coliseum and into his pockets or a side company he controlled.
The lion's share of the money — $1.89 million — came from Rotella's company and another firm, according to court records. The raves staged by those companies at the Coliseum property came under fire after the Ecstasy overdose death of a 15-year-old girl, Sasha Rodriguez, who attended the Electric Daisy Carnival at the stadium in 2010.
Prosecutors called DeStefano an "inside man" for the rave companies, alleging that he "argued strenuously" for rent discounts and saved them "significant sums of money" in exchange for the payments.
DeStefano, prosecutors alleged, was a "mole" who provided rave promoters with inside information as they sought to persuade Coliseum commissioners to keep raves at the venue after Sasha's death.
Prosecutors also accused DeStefano of embezzling at least $240,000 by tricking companies into making payments to his own "cleverly named company, 'Los Angeles Coliseum Events,' " instead of to the government agency that managed the venue. DeStefano was accused of directing companies such as Coca-Cola and DreamWorks to make checks payable to his personal company instead of to the Coliseum, court records said.
The payments to DeStefano, and the existence of his side company, remained a secret to the public until The Times began publishing stories in early 2011 detailing the former events manager's ties to the rave companies and other financial irregularities.
In a previous interview with The Times, DeStefano acknowledged simultaneously working for both the Coliseum and Rotella's company, but at the time declared "there was no conflict of interest" and said he had done nothing wrong.
The two men in charge of the rave companies, Rotella and Reza Gerami of Go Ventures, also negotiated plea bargains with prosecutors. Both men could have faced six or seven years in prison; instead, they each pleaded no contest to a single misdemeanor count of conflict of interest and will receive no jail time. Rotella agreed to pay $150,000 to the county and Gerami $30,000; both were placed on probation.
In all, prosecutors said the loss to the Coliseum from alleged crimes totaled more than $2.5 million, according to court records. The district attorney's office noted that the defendants had agreed to pay more than $1 million to county taxpayers.
"The resolution of this case resulted in the defendants being appropriately held accountable for their actions," Dist. Atty. Jackie Lacey said in a statement in August.
But Sasha's mother, Grace Rodriguez, said in an interview that she was disappointed in the no-jail deals for the rave promoters.
"They all knew what was going on, and they arranged it hush-hush," Rodriguez said. "I believe all of them should have gotten jail time."
She said she believed the defendants knew that rave attendees used drugs and that some would die of overdoses.
According to interviews and a Times review of coroner records, there have been at least 25 confirmed drug-related deaths nationwide since 2006 among people who went to raves organized by three Los Angeles-area companies: Go Ventures, as well as two firms that have become subsidiaries of Live Nation, Insomniac and Hard. Twelve have died in Southern California — four in San Bernardino County and eight in Los Angeles County — and six in the Las Vegas area.
The pleas leave only two defendants still facing charges in the case. Former Coliseum technology manager Leopold Caudillo Jr. is expected to go to trial, with his next court date on Nov. 18. A former stadium janitorial contractor, Tony Estrada, is a fugitive.
Patrick Lynch, the former Coliseum general manager, pleaded guilty to criminal conflict of interest in 2012 and received three years' probation. He agreed to repay the county $385,000 — the amount he was accused of receiving in kickbacks from Estrada.
For more California news, follow @JosephSerna and @ronlin on Twitter.
ALSO
Great Scott! Carjacker steals DeLorean and crashes after pursuit near beach, police say
Recall notices, a clown activist and a rowdy debate over marijuana. Welcome to a meeting of the Maywood City Council
Man wields stolen crucifixes in rampage through downtown Ventura, police say
---
UPDATES:
3:25 p.m.: This article was updated with additional details from Thursday's sentencing hearing, a probation report and background about the case.
This article was originally published at 10:15 a.m.
---
The stories shaping California
Get up to speed with our Essential California newsletter, sent six days a week.
You may occasionally receive promotional content from the Los Angeles Times.