County seeks state approval on 'millionaires tax' for homeless programs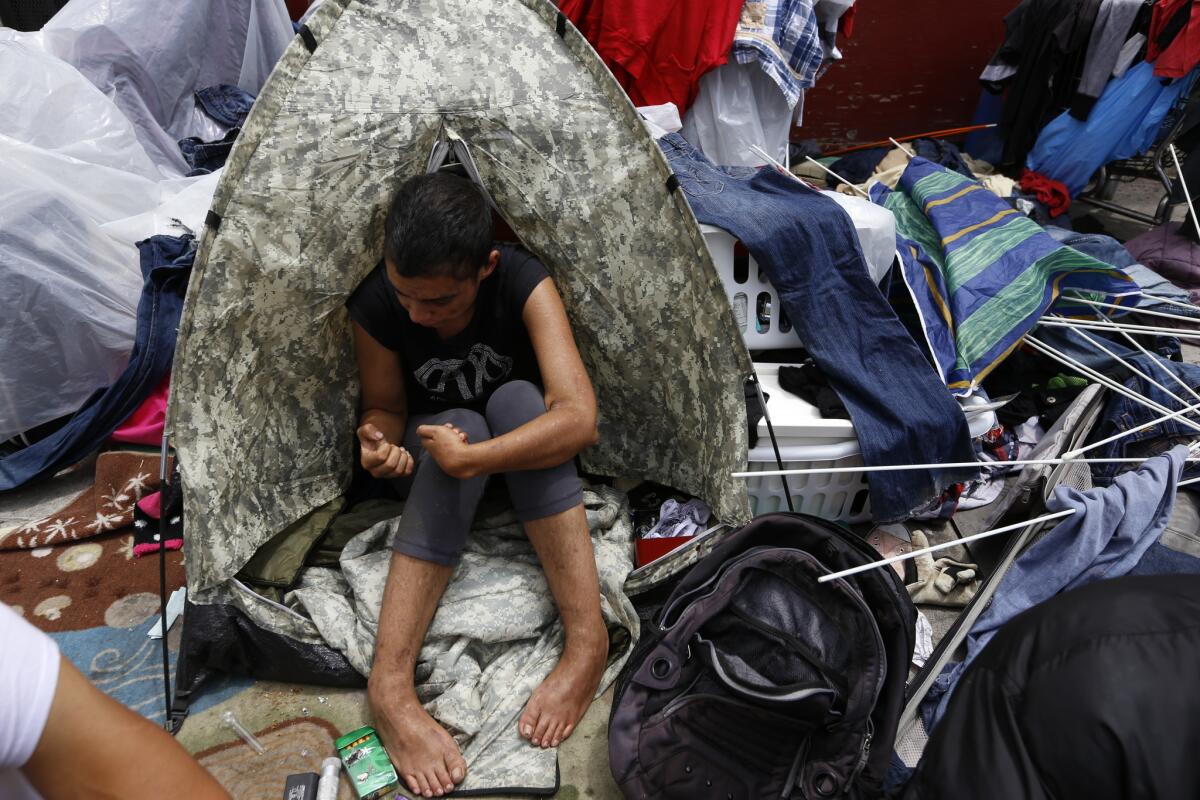 Los Angeles County supervisors voted Tuesday to pursue state legislation that would allow them to impose a "millionaires tax" to pay for housing and services for the homeless.
The vote signaled resolution of a rift that opened between members of the county board's liberal majority on the issue last week.
The supervisors also approved a separate proposal to look at the nearly $1 billion a year the county is spending on homeless single adults in programs not directly related to reducing homelessness -- such as emergency medical care, mental health treatment, cash assistance and incarceration -- to see how the most chronic users of the system could be more effectively addressed.
Supervisors Mark Ridley-Thomas and Sheila Kuehl proposed lobbying the state for legislation that would give the county authority to impose a new tax on personal income over $1 million a year to fund efforts on homelessness.
The question would still need to go to voters and receive two-thirds approval before it could take effect, but because the county does not have authority to increase income taxes, it would first require a change in state law.
A recent county-commissioned poll that looked at various possible funding measures for the November ballot found that likely voters were most supportive of the millionaires tax option, which would raise an estimated $243 million a year, with 76% of those surveyed being supportive.
The city and county of Los Angeles passed plans earlier this year aimed at reducing the region's growing problem of homelessness, and the county has approved $150 million in initial funding, but the source of ongoing funding to build housing and provide services remains in question. County analysts say almost $500 million a year would be needed to make significant reductions in the countywide homeless population, which currently stands at nearly 47,000.
But Supervisor Hilda Solis last week put the brakes on the proposal to move toward a millionaires tax, raising questions about the methodology of the polling and of the most recent homeless count conducted by the Los Angeles Homeless Services Authority.
She said Tuesday that the majority of her concerns had been addressed and joined Ridley-Thomas and Kuehl in voting to pursue authority for counties to impose a millionaires tax for homeless services, probably through a budget trailer bill that would take effect in July.
"We all share a common goal here," Solis said. "We know that we need to find sustainable funding to address the homeless crisis."
The state is also considering a proposal to issue $2 billion in bonds to build 10,000 to 14,000 units of housing for mentally ill homeless people statewide. The money would be repaid over 20 to 30 years with money provided under Proposition 63, another millionaires tax that was approved by voters in 2004 to fund mental health programs. But the bond money would pay only for construction, not services or housing subsidies.
Kuehl asked that the county staff look into what effect a county tax measure might have on that state effort, but called the potential for a new local revenue stream dedicated to homeless services "a historic opportunity."
"The county has already stepped up in a big way on homelessness," she said. "But we already know that given the magnitude of the homeless population in L.A. County, it's still insufficient."
The board's two Republicans, Don Knabe and Michael D. Antonovich, voted against the proposal.
Antonovich said the proposed new tax would not address the problem and that laws should be changed to allow for more mandated mental health treatment of people who are homeless because of mental health issues.
"It is not a simple resolution that we will provide a house and therefore there will be no more homeless on our streets," he said.
The board voted unanimously to approve the proposal by Solis and Knabe to examine existing spending on services to the homeless.
Dozens of advocates and services providers urged the board to pass both proposals.
Marsha Temple, who runs the nonprofit Integrated Recovery Network, said the homeless crisis represents "the breakdown of society stretched out before our very eyes."
"We must do everything within our power to end this crisis," she said. "The cost of doing nothing is too high."
Lola Smallwood Cuevas, director of the Los Angeles Black Worker Center, told the story of one of the center's members, a construction worker who spent seven months living in his van down the street from a job site.
"This is not a one-time fix, this is not a one-vote fix," she said. "These problems weren't made yesterday."
If the county does receive state approval to pursue a millionaires tax, the board would need to vote again to place it on November's ballot.
Twitter: @sewella
Sign up for Essential California for news, features and recommendations from the L.A. Times and beyond in your inbox six days a week.
You may occasionally receive promotional content from the Los Angeles Times.