Bucking the trend, Irvine may repeal its living wage law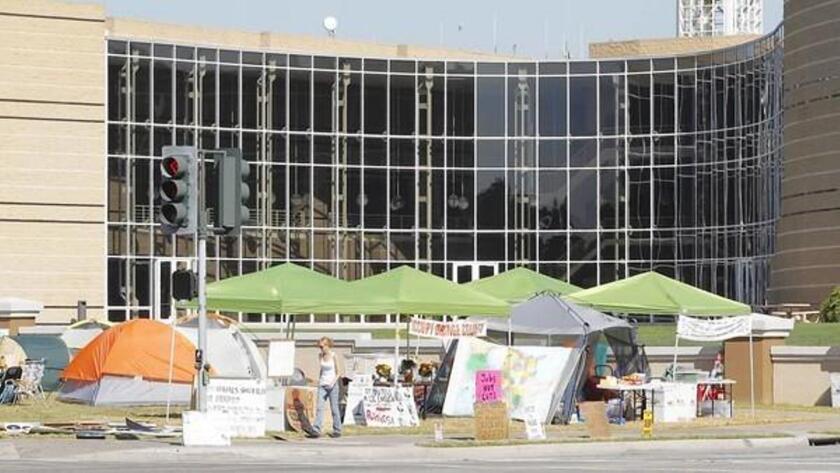 A week after Los Angeles became the largest city in the nation to adopt a major minimum-wage increase, suburban Irvine in neighboring Orange County is considering going in the opposite direction.
Irvine council members tonight will consider repealing its living wage ordinance, which was celebrated by some as a progressive step when it was adopted in 2007.
The Irvine law requires that certain city contractors match payment for their employees to the lowest rate that the city sets for its own workers, $10.82 an hour.
That rate is established by resolution and intended to be "an hourly wage that is sufficient to live with dignity and to achieve economic self-sufficiency," the ordinance states.
The minimum wage in California is currently $9 an hour. In Los Angeles, council members voted to increase the minimum wage to $15 an hour by 2020.
Irvine's rules apply to companies whose contracts with the city are valued at $100,000 or more a year. The companies must also pay the established wage to all employees who conduct a majority of their work in Orange County, according to the city staff report.
The living wage ordinance also requires that contractors provide health benefits and time off comparable to that offered by the city, or else add an additional "benefit factor rate" to the hourly rate, the staff report said. For the 2014-15 fiscal year, that additional benefit rate was $2.52 an hour.
If the ordinance is repealed, current contracts that expire in the next few months would be extended and then rebid when the repeal takes effect, according to the staff report. Others will be rebid when they expire.
---
The stories shaping California
Get up to speed with our Essential California newsletter, sent six days a week.
You may occasionally receive promotional content from the Los Angeles Times.