Lyft may share data on rides that start and end at Metro stations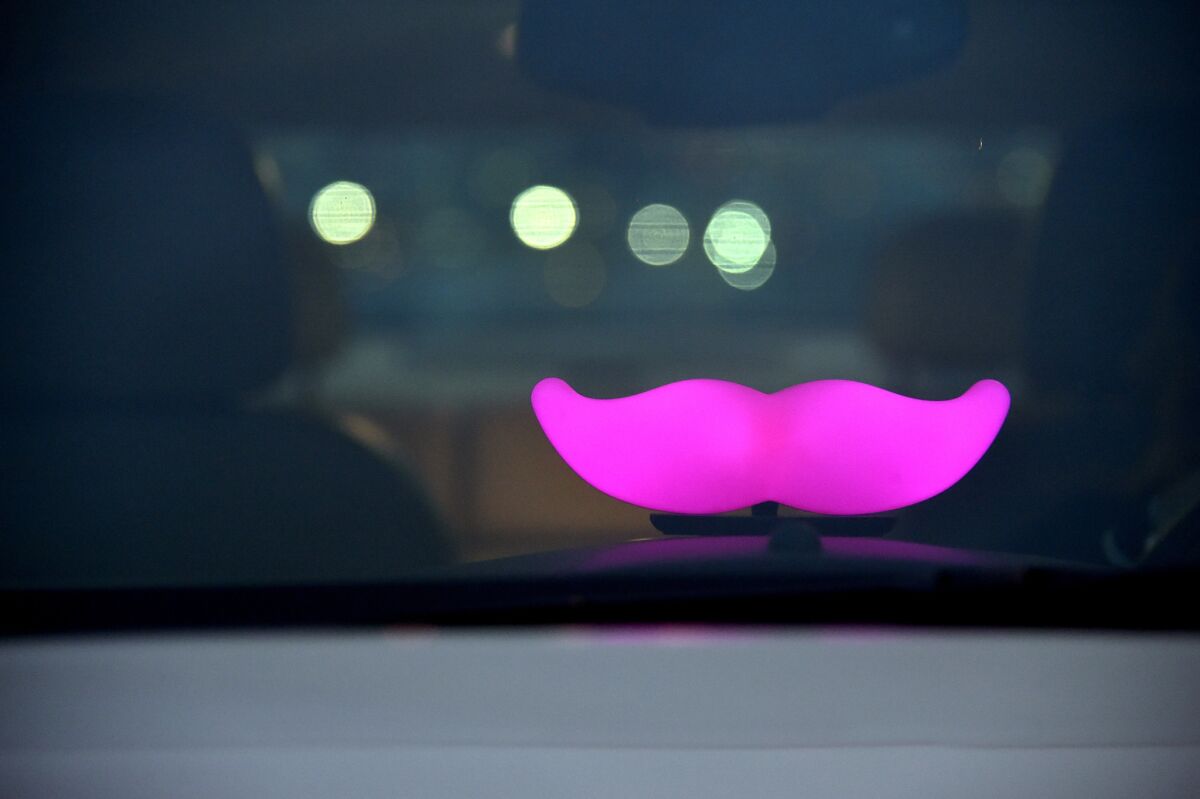 Since Uber and Lyft arrived in Los Angeles County more than three years ago, transportation officials have been looking for any data that shows how the car services interact with the traffic-choked region's network of buses and trains.
The Metropolitan Transportation Authority may finally be approaching an answer to that question.
Metro is negotiating an agreement with Lyft aimed at learning more about ride-share trips that begin and end at key Metro stations, agency staff members say. The relationship would last at least a year and would give Metro a rare peek at data typically kept private.
Interested in the stories shaping California? Sign up for the free Essential California newsletter >>
The deal, one of the first of its kind in the United States, would shed light on the role that ride-sharing plays in addressing one of Los Angeles County's most common public transportation problems: the so-called "first mile, last mile" gap, between transit stations and destinations that aren't within easy walking distance.
Metro staff say they hope to focus on stations at the end of a line, and major employment centers where routes are more heavily used for commuting. Even basic information on ride-share trips, with passengers' identifying information stripped away, could help Metro better understand their riders' needs and behavior, they say.
"We know that people use services like Lyft to get from home to transit, or to get to their final destination," said Jacob Lieb, a Metro sustainability policy manager. "But we don't have that much detail about how, and in what circumstances."
In exchange for Lyft's data, Metro would advertise the service to its riders, Lieb said. Metro is also considering adding Lyft to a trip-planning feature in the agency's mobile app, which creates an itinerary based on a user's starting point and destination.
Reached by email, a Lyft spokeswoman declined to comment further.
"These are the kinds of partnerships that we need to forge for the future," said Metro spokeswoman Pauletta Tonilas. "These days, none of us is the end-all, be-all of transportation options."
Last year, Dallas launched a similar program that allows mass transit riders to summon a ride through the local transportation agency's app.
Lyft has billed itself as a supplement to public transportation, including launching a national ad campaign to encourage people to use the ride service to get to and from transit stations. Nationally, the company says, transit stops are passengers' most common drop-off location. (In Los Angeles, the most-requested transit destination is Union Station.)
Still, some officials have suggested that Uber and Lyft are replacing some Metro trips entirely, possibly contributing to a recent dip in transit ridership across Southern California.
The agency's other major push this year to connect possible transit riders with Metro stations is bike-share, a concept familiar to most major cities, including New York City and Washington.
This summer, Metro will distribute 1,100 bicycles at 65 kiosks in and near downtown Los Angeles, with more bikes clustered near major transit hubs. The system is designed for short, point-to-point trips, rather than all-day rental: Users would pull a bicycle out of the adjacent racks, hop on, and drop the bike off at a kiosk near their destination.
"Walking and biking are fundamental" to Metro's goal of closing gaps between stations and destinations, said Diego Cardoso, the agency's executive officer of active transportation, shared mobility and sustainability. "Beyond that, our job is to provide as many options as possible to get people to the system."
For more transportation news, follow @laura_nelson on Twitter.
ALSO
Americans drive 3.1 trillion miles in 2015, a new record
Truck driver charged with manslaughter in 2015 Oxnard Metrolink crash
Apple could give shooting victims 'closure' by hacking gunman's iPhone, lawyer says
The stories shaping California
Get up to speed with our Essential California newsletter, sent six days a week.
You may occasionally receive promotional content from the Los Angeles Times.