Where can you open a pot shop? L.A. is hammering out those rules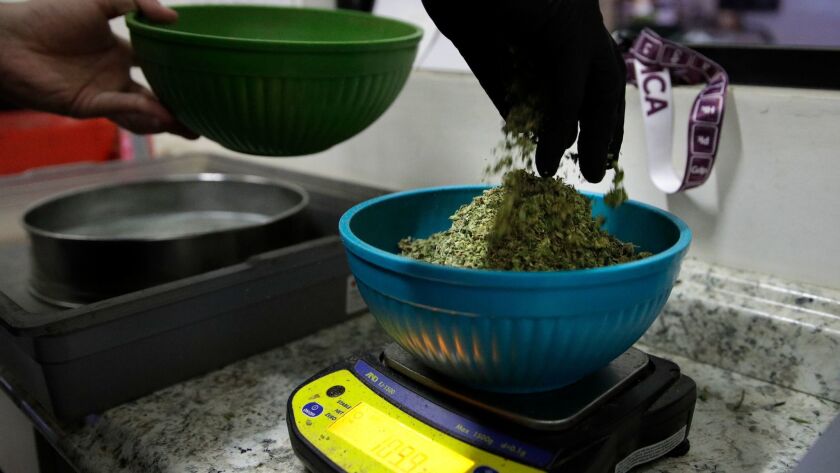 Los Angeles took another step Thursday to prepare for the legal selling of recreational marijuana, hammering out proposed rules on where pot shops and other cannabis companies can operate.
The Planning Commission voted unanimously to back proposed regulations that would limit marijuana retailers to most commercial and industrial zones and bar them from opening within 800 feet of schools, public parks, libraries, alcohol and drug rehabilitation programs and other pot shops.
The draft rules also set out which zones other kinds of cannabis businesses can operate in, including manufacturers, distributors and greenhouses where marijuana is grown. And they require marijuana companies to get both a state license and city approval to operate in L.A.
Cannabis industry groups were pleased to see the city taking steps to recognize marijuana businesses but argued that some of the zoning rules were too strict and would squeeze out local firms.
"If you do not add more land, you are dooming this industry," said Sarah Armstrong, policy chair for the Southern California Coalition.
The trade group argued that the 800-foot radius would make it impossible for an adequate number of shops to open, resulting in long lines and overflow crowds that would become a nuisance for neighborhoods.
State law sets a default radius of 600 feet from such sensitive sites for marijuana shops, though it also includes some additional sites, such as child-care centers, that L.A. is excluding in its draft regulations.
Industry groups also argued that L.A. should expand the zones where marijuana cultivation and manufacturing can occur. For instance, the Southern California Coalition said in a letter that some business activities, such as adding cannabis oil bought from another company to a brownie, were so benign they should be zoned the same way as bakeries.
Some residents countered that L.A. should have stiffer restrictions, not looser ones. For instance, L.A. is currently planning to ban outdoor commercial cultivation of cannabis but allow greenhouses growing marijuana as an "accessory use" in some agricultural zones. That alarmed Foothill Trails District Neighborhood Council member Nancy Woodruff, who stressed that some agricultural lots are nestled in residential neighborhoods and argued that the city should require buffer zones for those sites.
Sun Valley resident Mike O'Gara contended that if the city did not cap the number of cannabis companies in each neighborhood, they could drive away customers for other businesses in the northeast San Fernando Valley.
"We'll be inundated with them," he said. "We don't want to be the cannabis capital."
Not long afterward, another resident countered that though O'Gara might not want L.A. to be the cannabis capital, "I kind of do — and frankly, it kind of is."
"We can have things in the shadows, in the dark, in the black market … and it's not going to be good, or we can treat these like the normal businesses they should be," San Pedro resident David Greene told the commission.
The proposed restrictions still need to be approved by the Los Angeles City Council, which is also weighing a host of other rules on how cannabis companies will be able to operate before California starts issuing state licenses next year. Another set of proposed rules on operational requirements and city enforcement is scheduled for a City Council committee this month.
Many hotly debated issues — such as whether marijuana will be allowed to be consumed on-site — will be covered by that second set of regulations, city officials said Thursday.
Last year, California voters backed the legalization of recreational marijuana through Proposition 64, which set up state licensing and taxation for cannabis businesses. Months later, Los Angeles voters backed a ballot measure to replace Proposition D, which gave a limited number of marijuana businesses a defense against city prosecution but did not grant them official approval.
The cannabis industry has argued that the legal framework under Proposition D, known as "limited immunity," left shops in legal limbo. Since L.A. started crafting its new regulations, marijuana industry advocates have successfully prodded a council committee to back the idea of a city licensing or permitting system instead of limited immunity.
The draft rules approved by the Planning Commission on Thursday are "definitely a step in the right direction," said attorney Ariel Clark, chairwoman of the Los Angeles Cannabis Task Force.
However, "cannabis businesses have a number of challenges to open their doors," Clark said. The zoning restrictions "just make it less accessible for folks to participate in this emerging industry."
The commission, whose members are appointed by Mayor Eric Garcetti, asked for the draft regulations to come back to them for review if the City Council alters the rules significantly.
"This is so important to us that we would like to see … if substantial changes are made to this policy," commission President David Ambroz said.
Twitter: @LATimesEmily
---
Get breaking news, investigations, analysis and more signature journalism from the Los Angeles Times in your inbox.
You may occasionally receive promotional content from the Los Angeles Times.