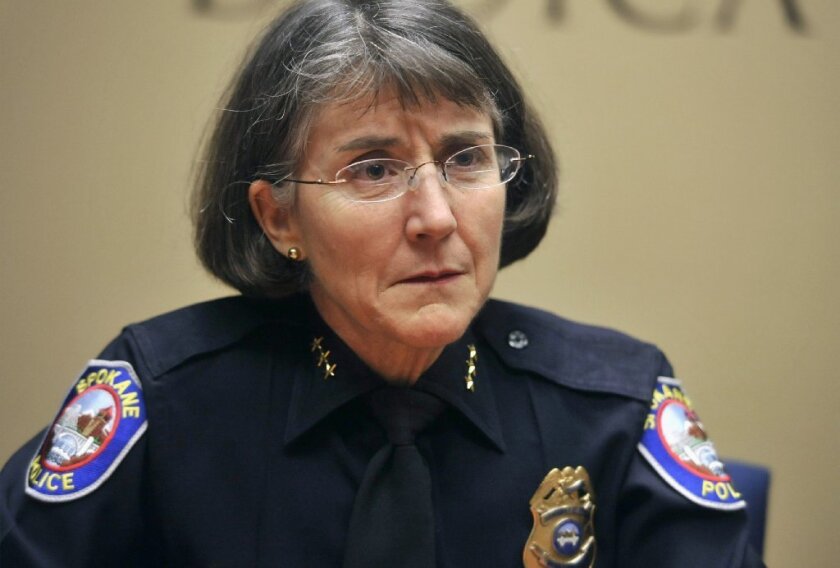 A high-ranking Chicago police official who was asked to lead reform efforts in one of the nation's largest police departments has been tapped to lead Oakland's troubled police force less than a year after the agency was caught up in a wide-ranging sexual abuse scandal.
Anne Kirkpatrick, a former police chief in Spokane, Wash., who was also a finalist to be named Chicago's top cop last year, was introduced as Oakland's police chief during a Wednesday afternoon news conference.
Oakland has been without a permanent chief for more than six months, after Chief Sean Whent resigned amid allegations that more than a dozen of his officers had sexual relations with a self-described sex worker. The woman has claimed that some of the encounters occurred while she was underage, and some officers have been accused of tipping her off about upcoming prostitution raids in exchange for sex.
Several Oakland police officers were fired as a result of the scandal, and a few face criminal charges. Whent resigned in June, and the city released a statement citing his departure as a "personal choice." Several city officials, however, told the Los Angeles Times that Whent's ouster was connected to the scandal.
Two other interim chiefs were appointed and dismissed in the span of a week last year, and the department was ultimately placed under the control of Oakland's civilian city administrator while Mayor Libby Schaaf led a search for a permanent chief.
Kirkpatrick hinted that she has wanted to move to Oakland for some time, though she did not explain why. Asked why she would leave one department beset by challenges for the chance to lead another entrenched in controversy, the veteran police leader said she welcomed the challenge.
"I don't consider it a mess," said Kirkpatrick, who has been a police officer for more than 30 years. "I consider it an opportunity."
In Chicago, Kirkpatrick was leading the department's newly created Bureau of Professional Standards, part of a wider reform effort that followed national outrage over the 2014 shooting death of 17-year-old Laquan McDonald. Video of the incident showed Officer Jason Van Dyke shooting the teen 16 times. Van Dyke now faces murder charges.
The firestorm that followed the release of the video led to the firing of former Chicago Police Supt. Garry McCarthy, and Kirkpatrick was one of three finalists to succeed him.
In Oakland, Kirkpatrick faces the task of cleaning up a culture that Schaaf once likened to a "frat house." The department has been subject to federal monitoring since 2003, but city officials were close to regaining local control of the agency until the sex abuse scandal gained national attention last summer.
In an interview with a Bay Area television station, 19-year-old Jasmine Abuslin claimed she had sex with dozens of officers across multiple East Bay law enforcement agencies. Four Oakland police officers have been criminally charged in the scandal, including Giovanni LoVerde, who prosecutors claim had a sexual encounter with Abuslin while she was a minor.
Three other officers face charges such as failing to report the abuse and illegally accessing law enforcement databases as a favor to Abuslin.
The Times does not normally name victims of sexual assault, but Abuslin has identified herself in a number of interviews and during a news conference with her attorney last year.
Kirkpatrick dismissed the idea that she would face unique challenges as a female leader trying to heal an agency dogged by sexual misconduct allegations against male officers, saying the skills that make her an effective police executive are not gender-specific.
"I am a leader, who is cloaked as a woman, and I'm grateful for being a woman," she said.
John Burris, the civil rights attorney who negotiated the settlement that placed the department under federal oversight in 2003, said he was glad Schaaf chose someone disconnected from Oakland's political power structures to lead what he believes will be a lengthy and complex reform effort. While Kirkpatrick's resume is impressive, Burris said the problems faced by Oakland police could prove difficult for even the most qualified candidate.
"I really thought it was good to have an outsider, to have fresh eyes looking at the problems that exist here. Someone who is not beholden to any vested interests in the department. So in that sense, it's a positive appointment," he said. "But it certainly remains to be seen whether or not she can tackle, in a positive way, some of the contentious issues that exist within the city."
Sweeney is a reporter for the Chicago Tribune.
Follow @JamesQueallyLAT on Twitter for crime and police news in California.
---
UPDATES:
2 p.m.: This article was updated with additional comments from Kirkpatrick's news conference.
This article was originally published at 12:45 p.m.
---