Lawyer looks to unseat L.A. Councilman Paul Koretz on the Westside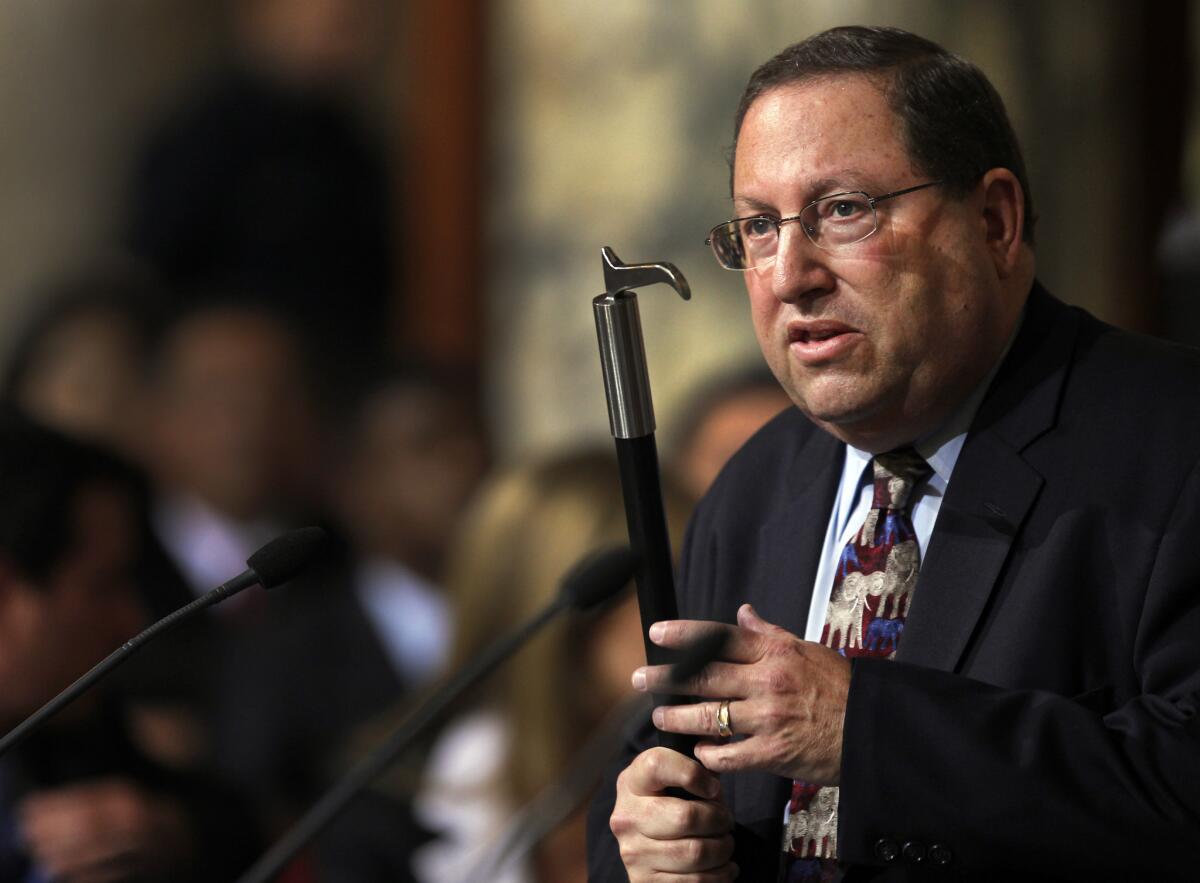 A lawyer who is working to bring housing for homeless veterans to the Westside said Tuesday that he's running to unseat Los Angeles City Councilman Paul Koretz in next year's municipal election.
Attorney Jesse Max Creed filed paperwork earlier this week to raise money for a campaign in Koretz's district, which stretches from Palms and West Los Angeles to Encino in the San Fernando Valley.
Creed, a resident of Beverly Grove, called Koretz a "classic career politician" who has shown a lack of vision on housing prices and homelessness.
See the most-read stories this hour >>
"Rent is really high. Housing prices are really high. So there's a real housing affordability issue," said Creed, 30, who works in the firm of Munger, Tolles & Olson. "We just need to have a conversation as a city about how we're going to grow and what we're going to be. And I just don't see the leadership for that conversation."
Creed is one of the attorneys working to implement a legal settlement with the federal Department of Veterans Affairs over the creation of supportive housing at the agency's West Los Angeles campus. He also sits on the board of Equitas Academy, a group of charter schools in Los Angeles.
Koretz said he has been working on multiple fronts to address housing and homelessness, advancing a plan to legalize some apartments that lack city permits and pushing for regulations to ensure that the home-sharing business Airbnb does not take away much-needed apartment units.
The councilman said he is looking to allocate $138 million for programs that address homelessness in next year's budget, a proposal first offered by Mayor Eric Garcetti.
"To imply that I'm unconcerned or uninvolved in the issue I think is a stretch," said Koretz, whose district includes such neighborhoods as Bel-Air, Cheviot Hills, Westwood and Carthay Circle.
Join the conversation on Facebook >>
The March 7 municipal election could have races for as many as eight council seats, as well as mayor, city attorney and city controller. Because the city is moving its election dates to even-numbered years, the winner of each contest will have a term lasting five and a half years, instead of the typical four.
Some of next year's contests are starting to show signs of competition.
Eighteen people have expressed interest in running to replace departing Councilman Felipe Fuentes in the northeast Valley. And last week, businessman and bicycle activist Josef Bray-Ali turned in the initial paperwork to run against Councilman Gil Cedillo, who represents part of the Eastside.
A resident of Lincoln Heights, Bray-Ali has fiercely criticized Cedillo over his decision not to add bicycle lanes to a stretch of Figueroa Street in Highland Park and Cypress Park. Cedillo halted the effort last year.
Bray-Ali, 37, contends that Cedillo's district is less safe for pedestrians and bicyclists. He also said the district, which includes such neighborhoods as Westlake, Chinatown and Highland Park, is experiencing rising rents, a proliferation of homelessness and an increase in crime.
"We live next to a park where a rape occurred yesterday night. Just that day my daughter and I were there at that park," he said, adding: "A bigger motivation to run for council I couldn't find."
NEWSLETTER: Get the day's top headlines from Times Editor Davan Maharaj >>
Cedillo said he's been working closely with the L.A. Police Department on public safety and has succeeded in opening multiple affordable housing projects across the district. He described himself as a "champion" on traffic safety, pointing out that the district has added stop signs, flashing pedestrian signals and other streetscape improvements.
"We've done great work in making the streets safer," he said.
Cedillo has already raised more than $174,000 for his reelection bid, according to reports that cover the period ending Dec. 31. Two others, Jesse Rosas and Miguel Amaya, have filed paperwork to begin raising money in the race.
Koretz has not yet turned in any fundraising reports.
Follow @DavidZahniser for what's happening at Los Angeles City Hall
ALSO
Suspect in monthlong crime spree pleads not guilty to 26 felonies, including murder
Clovis double-slaying suspect arrested after tip from homeless person
Large sinkhole traps family and their vehicle on busy San Francisco street
Sign up for Essential California for news, features and recommendations from the L.A. Times and beyond in your inbox six days a week.
You may occasionally receive promotional content from the Los Angeles Times.